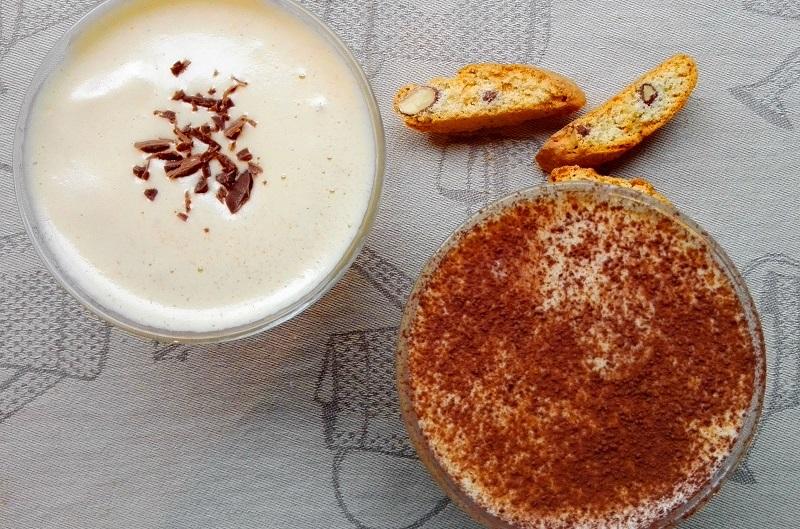 Zabaione is an Italian dessert made from egg yolk, sugar, and sweet or fortified wine such as Marsala, Moscato, or Porto. Countless variations exist, no doubt on account of zabaione's simplicity — requiring as it does three basic ingredients — and versatility, the ease with which its flavor can be modified with different wines and liquors. As a custard-like dessert, zabaione may be topped with chocolate shavings or a dusting of cocoa powder, or served with fresh berries (popular in summer) or hard biscotti. You can also use zabaione as you would any egg cream in making other desserts; it's the base of the Mantovan specialty torta Ostiglia, for instance, and some use it in tiramisù (in fact, coffee is often used in place of liquor in making zabaione, giving rise to the theory that zabaione is tiramisù's antecedent). It's also lovely alongside your favorite cake in place of ice cream. Make a slightly less dense, drinkable version, with an added splash of brandy and a pinch of nutmeg or cinnamon, and you've basically got eggnog. 
Like so many Italian dishes of note, zabaione is not without its share of historical anecdotes and competing claims of origin. In one such story, venture captain Giovan Paolo Baglioni is credited with creating zabaione by chance. In 1471, upon setting up camp with his troops at the city gates of Reggio Emilia, Condottiere Baglioni realized he was short on foodstuffs and sent some of his men to raid the local peasants. Unfortunately, the haul they returned with was rather scant: eggs, sugar, a flask of wine, and some herbs. Captain Baglioni mixed the ingredients together, and the concoction was served to the men in place of their usual soup. The soldiers so liked it they christened it Zvàn Bajòun, their leader's nickname — which later morphed into zambajoun, zabajone, zabaglione, and finally zabaione.
Another legend attributes the invention of zabaione to the 16th-century Franciscan Pascual Baylón, patron saint of pastry cooks. According to this tale, zabaione was known originally as San Baylon's cream, to be later simplified to Sambayon. Others speak of zabaione's ties to Mantua, where Gonzaga family chef Bartolomeo Stefani was known to prepare this dish, and included a recipe for it in his 1662 cookbook L'Arte di Ben Cucinare. However, given that Renaissance chef Bartolomeo Scappi was writing about a semi-sweet version of zabaione a century prior, Stefani could not have been the first to put the recipe down on paper.
The 19th century brought national fame to zabaione, thanks to the mass manufacturing of the liquor known as Vov. Created by a pastry chef from Padua, Vov earned a reputation for possessing 'strengthening' qualities, and by the early 20th century it was all but the official drink of the Italian military. Interestingly, drinks made with eggs have long been considered rejuvenating: many ancient recipes speak of their special power to 'wake up' love, revive the sick, and generally boost energy. For this reason, zabaione was also a favorite breakfast of hunters as well as those agricultural laborers who could afford it.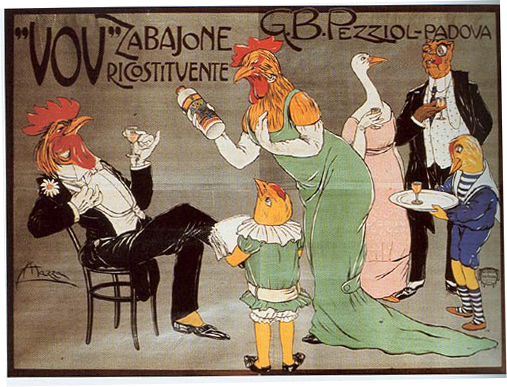 An old poster mentioning the 'ricostituente' aspect of the drink. Photo credit: http://www.untoccodizenzero.it/
Ingredients
Marsala wine
80 ml (or liquor of choice)
Instructions
Separate the yolks and place them in a heat-proof bowl along with the sugar. Whisk until you have a smooth and frothy blend that will be slightly lighter in color. While continuously whisking, slowly drizzle in the liquor. Now transfer the bowl to a bain marie, making sure the water does not touch the bottom of the bowl and that the water does not come to a boil. Whisk the cream for several minutes over the low heat. Test along the way to ensure you get the consistency you want. For an eggnog-like zabaione, whisk for around 5 minutes. For a custard, close to ten minutes. Keep in mind that once you remove the mixture from the heat, it will continue to cook a little. Transfer to dessert cups and garnish as you like. Store in the refrigerator if you make the custard in advance, but for no longer than 1-2 days.