Despite the crowds, despite the overhyping, and despite the high prices for even the most modest hotels, Venice…is still Venice. It remains one of the most intoxicatingly beautiful and unique places on the planet — and certainly within Europe. Part of its appeal is that it's not the easiest place to get to or get around in, and almost every mode of transportation involves a boat. You can fly there, and then take a boat, or take a train, and then a boat, or arrive on a cruise ship — though lately, that usually means mooring quite some distance from the lagoon city and being shuttled there for a day trip — likely on a boat. Once in Venice, your modes of transportation are pricey — but inarguably romantic — gondola rides, even pricier private water taxis, the affordable but often crowded vaporetti water buses that ply the Grand Canal, or your own two feet. 
So, thinking I knew just about every way to arrive in and see Venice by boat, I was intrigued to be invited to sail on La Bella Vita, a 20-person barge hotel that offers cruises from Venice to Mantua, exploring the Venetian Lagoon and the Po River. Now this was a different way to experience Venice! The European Waterways cruise stopped at several places in the region I'd yet to explore, including the fishing village of Chioggia and the Renaissance cities of Ferrara and Mantua and takes in three regions of Italy: Veneto, Emilia Romagna and Lombardia. 
Settling into La Bella Vita
Passengers gathered in the landside city of Mestre to be transported to the barge, waiting nearby. As soon as we were on board, we departed for Venice and in minutes, we were approaching the iconic cityscape en route to our overnight mooring right on the Giudecca Canal, in the city's Castello district. We set off for a private tour of the Doge's Palace before heading back to the boat for our welcome dinner. The next day, we took a walking tour of Castello and the Arsenale area before lunch and an afternoon departure for our next stop, Pellestrina, a barrier island on the southern end of the Venetian Lagoon. 
Northern Italy by lagoon, canal, and river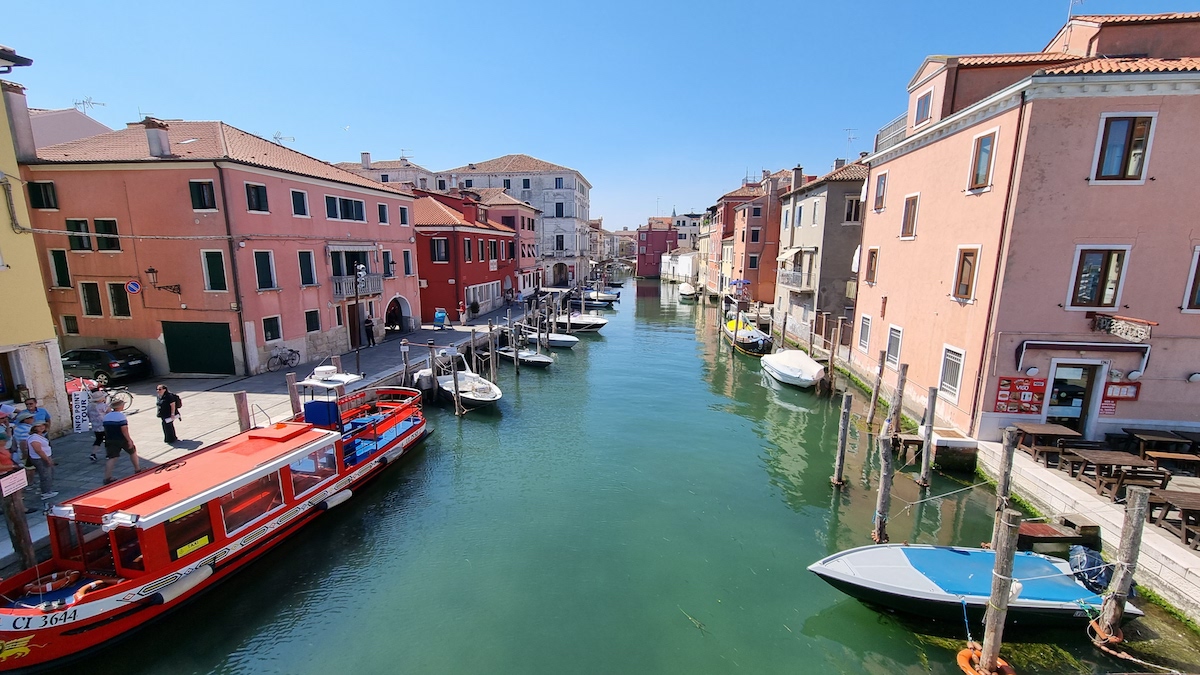 La Bella Vita's classic itinerary combines a mix of better-known destinations — obviously Venice, Ferrara and Mantua are not "undiscovered Italy" — with activities and experiences that are the product of Captain (and barge owner) Rudy Toninato's intimate knowledge of the Venetian Lagoon and the venues and purveyors of the Po River Valley. The result was a journey that mixed the expected — tours of Este Castle in Ferrara and the Ducal Palace in Mantua — with the unexpected — a cruise on a traditional bragozzo fishing boat, an aperitivo of local specialties at a tiny, locals'-only bar, dinner in a regal 17th-century villa where Lord Byron was once a guest, and a private wine tasting amid formal gardens. Guided tours were always just long enough — though we did occasionally wish for a little more time to explore a destination on our own. 
Life onboard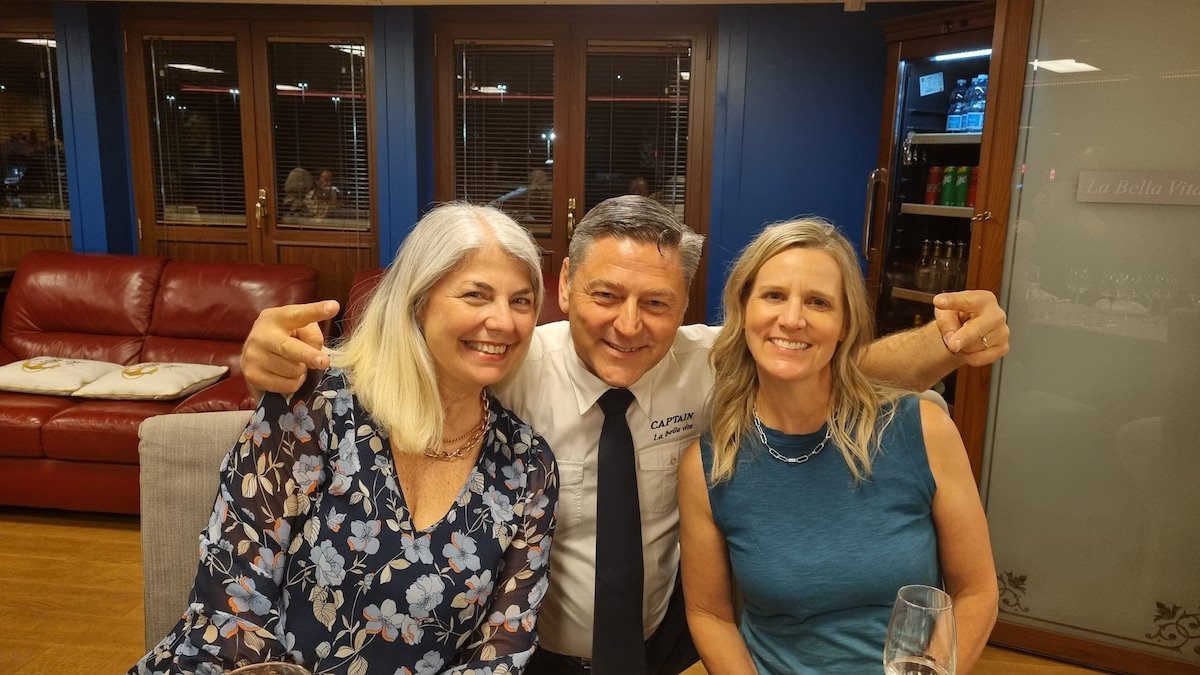 On a barge that holds only 20 guests in 10 double cabins, it doesn't take long to get one's bearings. Cabins are compact, but make good use of available space, with a wardrobe, nightstands with drawers, a small desk, hooks for hanging items, and a tiny, but clean and functional bathroom. My traveling companion and I had our room configured with two single beds, and were able to stash our suitcases under the bed, though the crew did offer to store them for us as well. But really, we mostly used our cabin for sleeping and for that, we had a cool, comfortable and quiet nightly retreat.
Common areas on La Bella Vita include the dining room, where guests were seated at two long tables, plus a lounge bar and a roof deck. The deck, with its shaded seating area and teak chairs, was the favorite gathering area, especially while the barge was navigating. The farther we journeyed up the Po River and the adjacent Canale Bianco, the more bucolic the scenery became, as we sailed past woodlands, estuaries, small towns, and some of the largest groupings of wild swans I've ever seen. Watching as Captain Rudy and his crew navigated narrow canal locks — often with just inches to spare on either side of the barge — never got tiresome. And sailing into Mantua, with its mighty Ducal Palace and 14th-century defensive walls, was a grand way to arrive at our last mooring for the week. 
All our meals except one were served onboard, and all were excellent. Fine wine and cuisine are hallmarks of European Waterways, and the emphasis on La Bella Vita was on locally sourced ingredients and recipes that reflected the culinary traditions of wherever we were moored for the evening. A fresh and varied breakfast was served buffet style, with hot items available ala carte, and lunches were either buffet or plated. Dinner, especially, always felt like an event, with the dining room staff presenting the evening menu, explaining the highly curated wine choices — including a comical show of pointing out the wine origins on a map of Italy. Evening meals always consisted of an appetizer, a main course, a cheese course, and dessert. 
A curated experience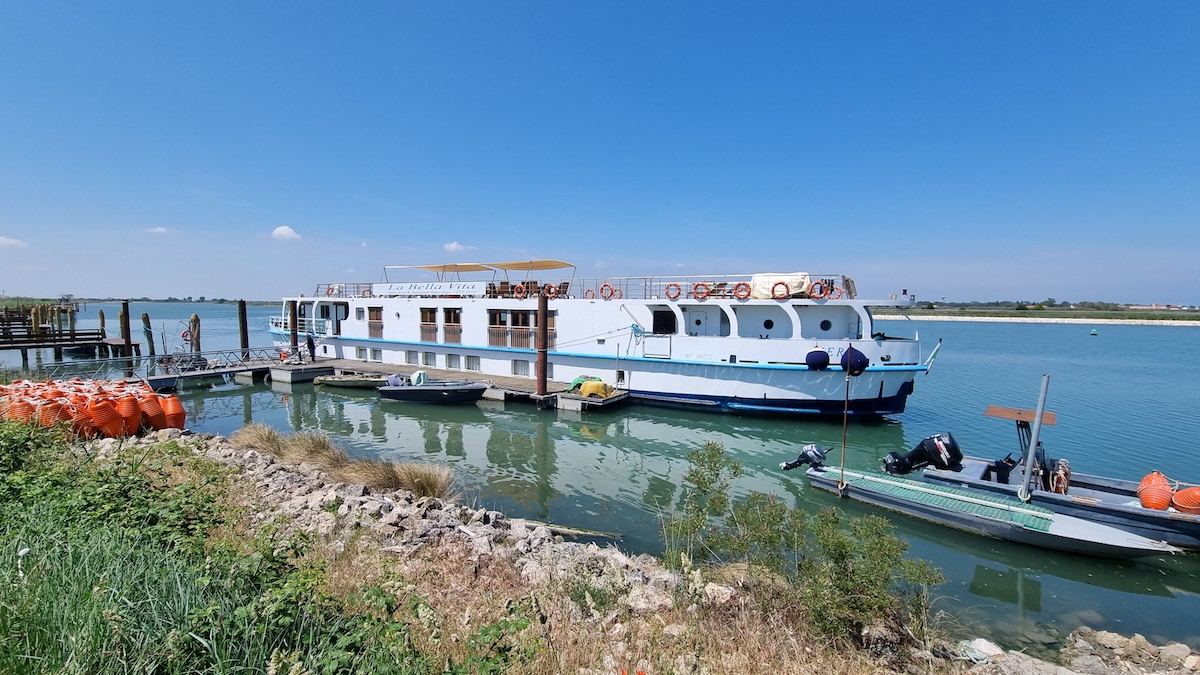 I've been asked for my overall impressions of our cruise on La Bella Vita, and the best way I can describe it is as a highly curated experience. A 20-person barge is by its nature going to lack many of the bells and whistles of a larger vessel — there's no spa, no pool, no choice of dining venues. La Bella Vita makes up for that by playing to authenticity — a phrase that's admittedly tossed around a little too frequently in travel lingo. Yet that's the word I go back to here, witnessed in the captain and crew's knowledge of the lagoon and its caprices, the nuances of the Po and the Canale Bianco, and the history, traditions, and hidden destinations that lay on its shores. Small things somehow take on bigger meaning on a cruise of this scale — being urged by the captain to try sarde in saor, a traditional Venetian appetizer of sweet and sour sardines (surprisingly good!), the playfulness of the dining room staff, the simple joy of a bike ride along the Po or a late night walk back to the barge to tuck in for the night. 
On reflection, a cruise La Bella Vita is an excellent option for travelers who might feel they've already "done Italy" — maybe they've seen the big cities, visited Tuscany and hiked the Cinque Terre — and are ready for something that's slower paced and more immersive and — to return to my earlier term — highly, highly curated. Sure, there are other ways to see Venice and the cities and small towns of the Lagoon and the Po. But there are few ways to cover as much ground in such a delightful way, and be brought to the doorstep of each destination without ever schlepping a suitcase or missing a train connection. Captain Rudy chose an apt name, La Bella Vita, for his trusty barge, and he and his team absolutely bring "the beautiful life" to their guests.
Six-night cruises on La Bella Vita start at $4,290 per person based on double occupancy. Rates include all meals and wine, an open bar, all excursions, tours, and admittance fees, the use of bicycles, and local transfers, including transfer back to Venice from Mantua, or vice versa. Crew tips and travel to the cruise pick-up point are additional. 
The writer was offered a complimentary cruise through Barge Lady Cruises, who are brokers of canal cruises throughout Europe. Opinions are her own.