It may seem strange that the face of a modern Italian renaissance would be a cherubic one, covered in a sandy beard, backed by a sandy bun on the languid frame of an Austrian yogi and heir to a crystal empire. But René Deutsch, 39, step-son to Gernot Langes-Swarovski, is behind a sustainable travel movement in the small archipelago of Venice's northern lagoon, which—perhaps coincidentally—has kicked into high gear just as the city plummets into environmental peril thanks to cruise ship tourism and the waves of visitors who crash daily on the city of bridges.
Today, Deutsch acts as "caretaker" of Isola Santa Cristina, a private island resort with 23 rooms, only 10 minutes away from the better-known islands of Burano and Torcello. It's a place to immerse in luxurious and private serenity, with wellness opportunities to be found exploring the grounds among the flora, fauna and the peacocks that roam free and the wild birds that pass overhead, or along the property's edge dotted with places to sit or rest in a hammock or cast a fishing line. A yoga studio is available for private classes or group retreats. The island's private boat and captain provides transportation to the nearby islands or the city center or even explorations of the pristine environment further north in the wilds of the lagoon.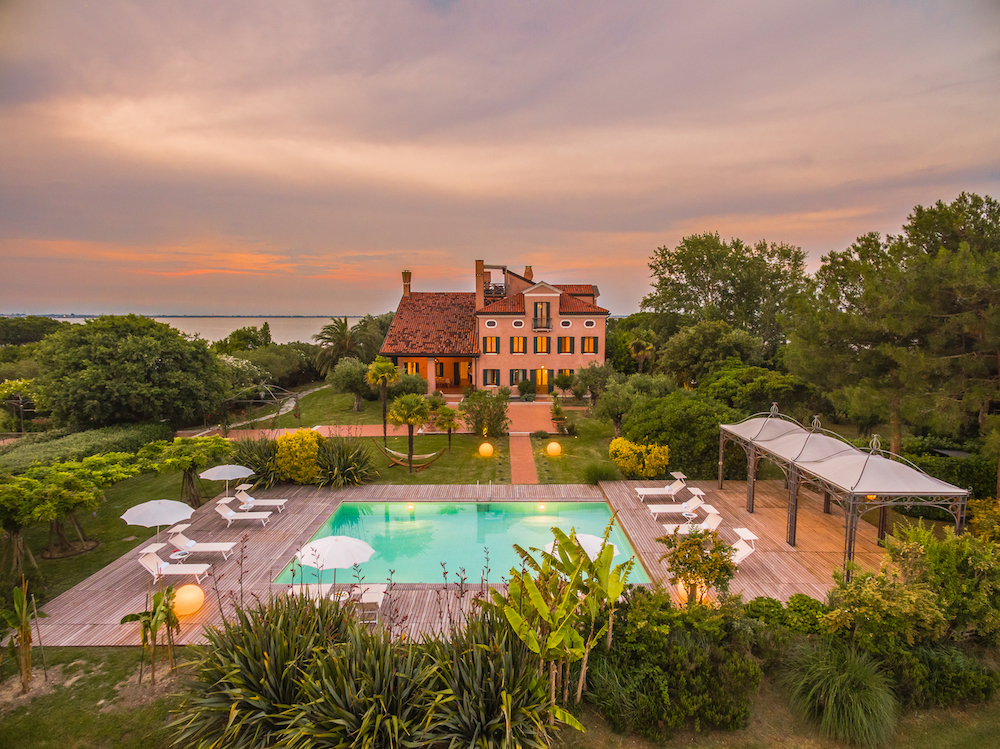 Santa Cristina is also an island firmly dedicated to a symbiosis of sustainability. Given its equal focus on small-scale, luxury tourism and keen environmental and cultural sensitivity, it represents not just a path forward for Venice tourism but a model of a 21st century travel ethos with global implications for the world's endangered destinations.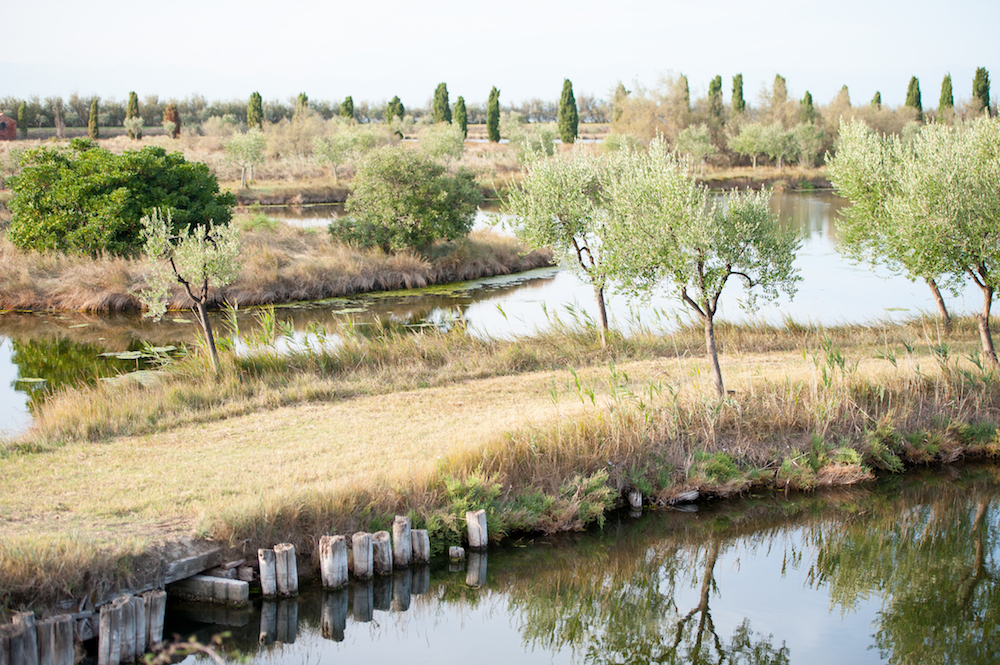 Isola Santa Cristina's pristine lagoon
The 75-acre island that bears the name Isola Santa Cristina might be the least-visited island in an otherwise easy-to-miss archipelago that stretches for 32 miles, all just a 20-minute boat ride from mainland Venice. Until the mid-1980s, Santa Cristina was home to nothing more than a monastery, convents, and churches—plus itinerant migrant birds and nyes of pheasants that sauntered through its spartina grass, wild herb growth and woodsy thicket among lanes of cypress groves. Then, in 1985, the Swarovski family made it a sometime home, building a three-story chalet on a tranquil corner near an accessible shoreline.
Deutsch was one of the rare people who associated Isola Santa Cristina with vacations—his family went each summer throughout his adolescence and he continued to visit on occasion into adulthood with his wife Sandra.
Between then and now, Deutsch followed his careers—as a Lucerne banker and organic food entrepreneur- and then as a world traveler with Sandra to places as varied as Australia, India and Tibet; never did they think it would lead them back to the tiny Isola Santa Cristina, but serendipity appeared in the form of a remote ashram in an Australian national park which inspired a dedication to yoga and a new-found perspective on the world at large, especially the antiquity of their native continent. The couple returned to Europe as certified Satayanda Yoga instructors with ambitious plans for the family island in the Venetian waters.
"Having lived some time abroad, you see a very old, traditional place like Venice, and Europe in general, through different eyes," Deutsch said. "Isola Santa Cristina goes back to the 7th century, and we felt a need not just to protect it but to share its beauty."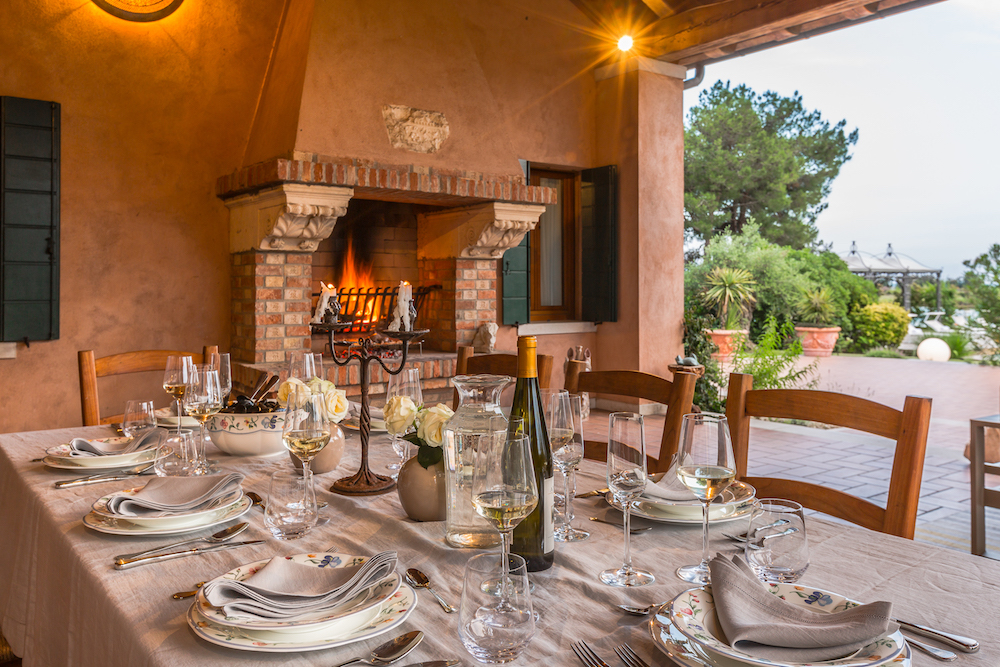 Isola Santa Cristina
Deutsch's biggest undertaking was the complete renovation of Ammiana, the island's chalet-style home, into a modern villa amenable to luxury tourism. After one year and half-a-million Euro investment, the result is a three-story, 9-bedroom ode to elegance, filled with light under vaulted ceilings and wood-framed archways, informed by exquisite details and luxury décor. Spacious and comfortable rooms of white and muted colors are undercut by blond wood floors; the walls hung with René and Sandra's personal art collection acquired in Tibet; an Art Deco library tucked into a second floor alcove; a gourmet kitchen adjacent to a dining room that seats up to 15, and a covered terrace with fireplace for dining and relaxing al fresco. From a lookout, or altana, on the rooftop you can survey the large pool with its teak deck and gazebos, the newly-constructed yoga studio across the island's lake, vineyards pruned back to the vine, the strong-rooted Tamerici trees that protect the craggy shoreline from the salty waters beyond with neighboring islands of Burano and Torcello in sight and the marble-topped Dolomites in the distance.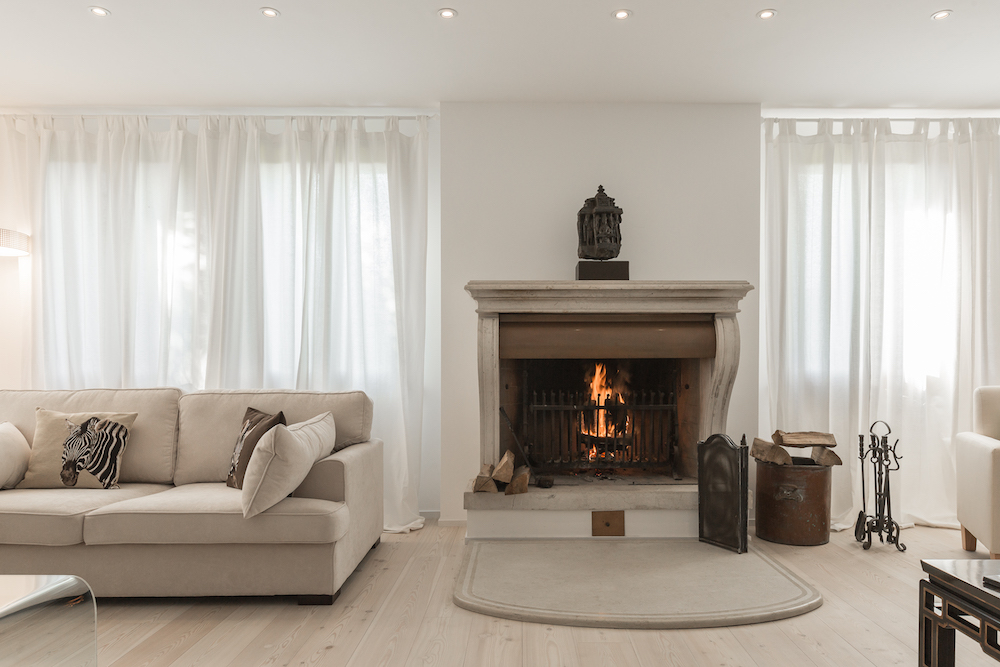 The only evidence of the original structure is a headstone sculpture and stone carving that date back to Roman times. And, of course, a sparkling Swarovski chandelier that illuminates the library.
But Deutsch didn't stop at bringing the building to modern luxury standards. His environmental consciousness, raised through the natural experiences abroad and formal study of yoga, inspired a goal to make the island fully sustainable. To that end, he restored and added to the vegetable patches, orchards and vineyards with organic principles employed, and worked closely with marine biologists at a Veneto university to revitalize the island's existing but previously dormant fish farm in the watery lanes that cut through the island's expanse. The island also has its own clean water system put in by the Swarovski's upon purchase of the island. All of the lights are LED; the home has state of the art insulation in the walls and windows. Isola Santa Cristina is now fully sustainable except for the heat and hot water provided by oil, though the majority of the heat is produced from newly installed insulated pipes connected to the building's generator. Solar panel use, currently awaiting approval from the local authorities, will provide all such energy in the near future and deliver on Duetsch's dream of 100% sustainability.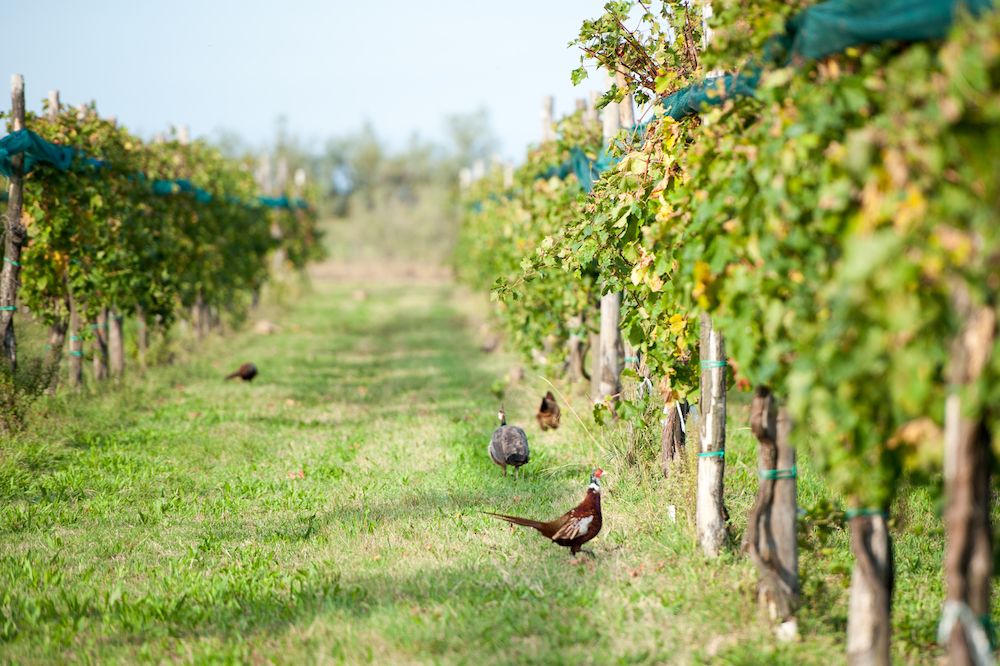 Vineyards of Isola Santa Cristina
Another part of the plan involved a presence in the area's cultural environment. The opening of Isola Santa Cristina created an opportunity for not only connecting with guests of the island but also the vibrant and historic community of lagoon denizens. The camaraderie among the locals and the newbies on the once inaccessible island was broached unofficially by Burano restaurateur Massimo Bovo--of the legendary Al Gatto Nero--who upon hearing about the work on the island and the plans to open to the public, hopped in his boat and arrived unannounced for an impromptu sit down with René. Afterward Mr. Bovo declared his blessing to the community at large, especially the community of fisherman from whom he procures most of his menu offerings, prompting regular drop-ins from many local fisherman and curious neighbors who can usually find René on the grounds engaged in one of his many revitalization projects or tending to the land. 
Local fisherman on Isola Santa Cristina with the day's catch
Another early advocate of both the island and its new inhabitants was Mauro Stoppa, a lagoon native and "Host of the Eolo" - a sailboat offering three-day tours of the lagoon with gourmet meals and luxury accommodations - that now includes the island as an imperative stop on his watery sojourns. "It's so nice to have the island open," he says. "And to have people like René and Sandra here with us because they have the same love and the same respect for these waters as we do." It was the green-thumbed Stoppa who helped René reinvigorate the fruit and vegetable production in a lagoon-style as well as arranging introductions to locals who work full and part-time on the island as private boat captains, grounds keepers, harvesters, kitchen and house staff.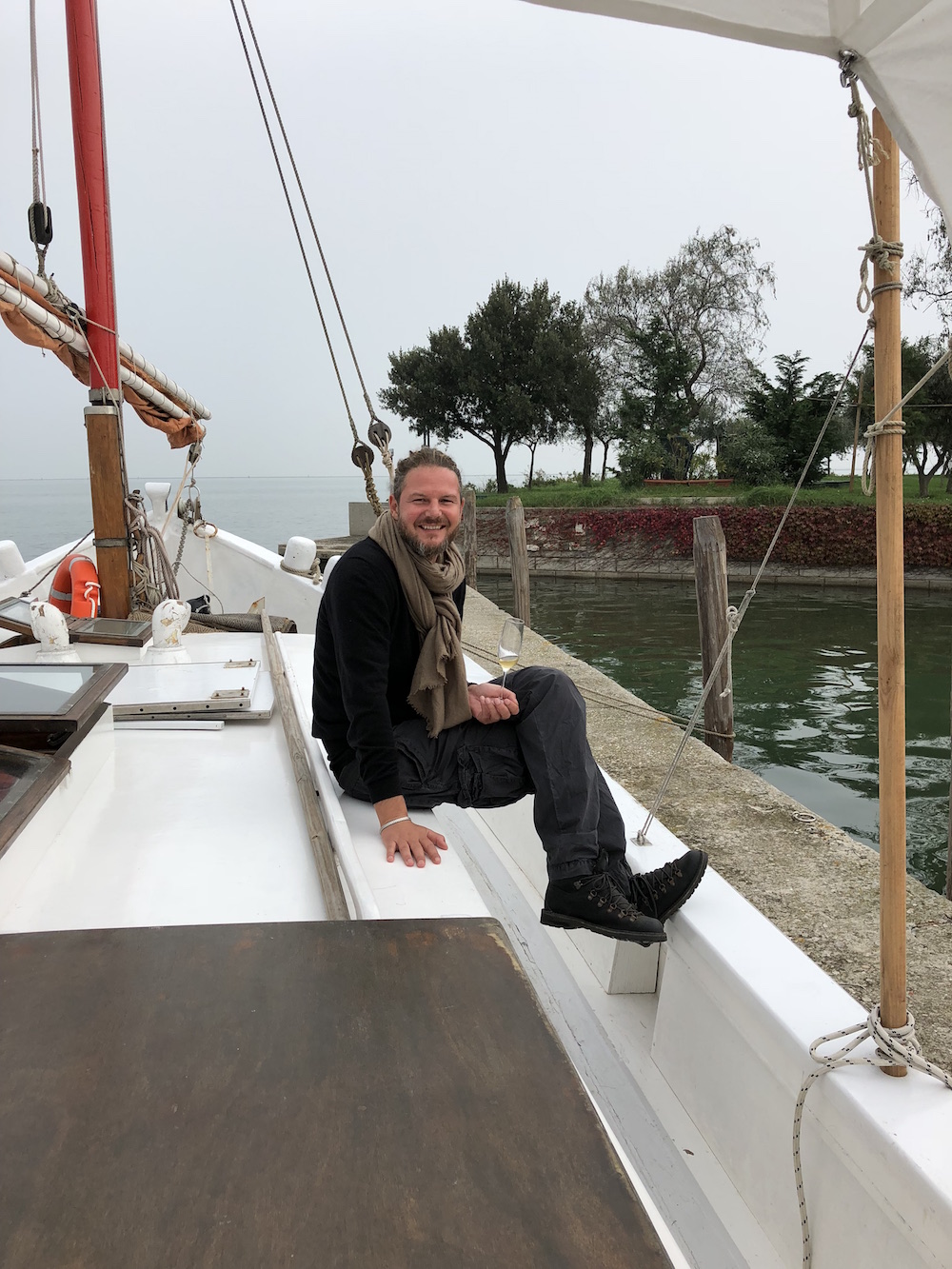 René Deutsch on Mauro Stoppa's boat
René Deutsch is not the only one taking a modern approach to tourism in the ancient Venetian waters. The Venissa vineyard, Michelin-starred restaurant, osteria and luxury inn of five rooms on the island of Mazzorobo (connected to Burano by a foot bridge) is owned by the Bisol family who have been making wine, most famously Prosecco Superiore, in the Veneto for 500 years.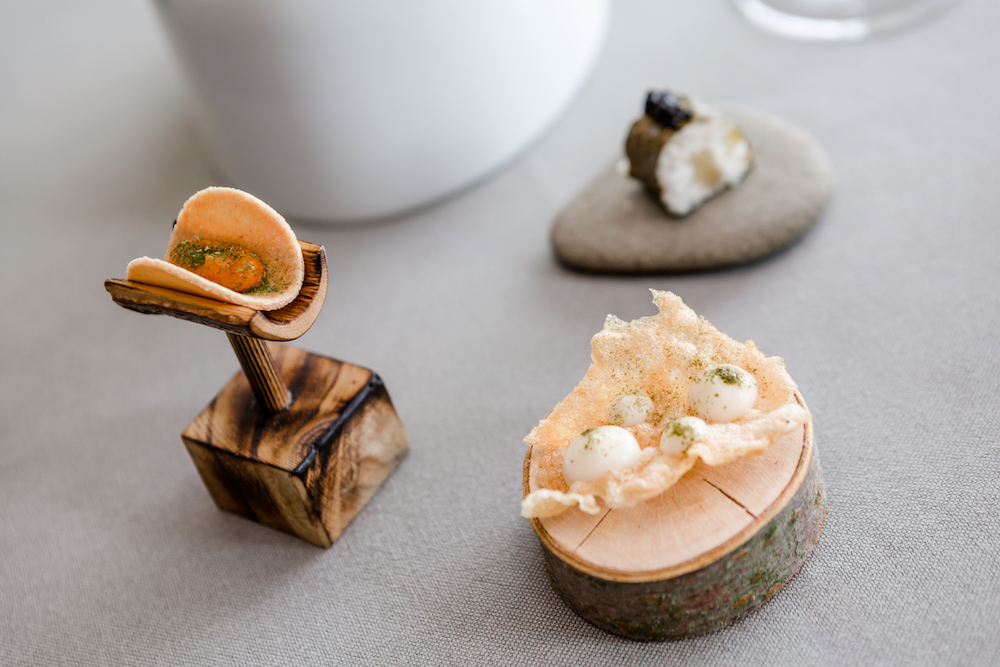 Aperitivo at Venissa, photo credit: mattia mionetto
The Venissa operation is headed by 30-year old Matteo Bisol, a 21st generation wine-maker and a 21st century entrepreneur who cherishes the splendor of the lagoon and aims to preserve it through an inventive new endeavor on Burano.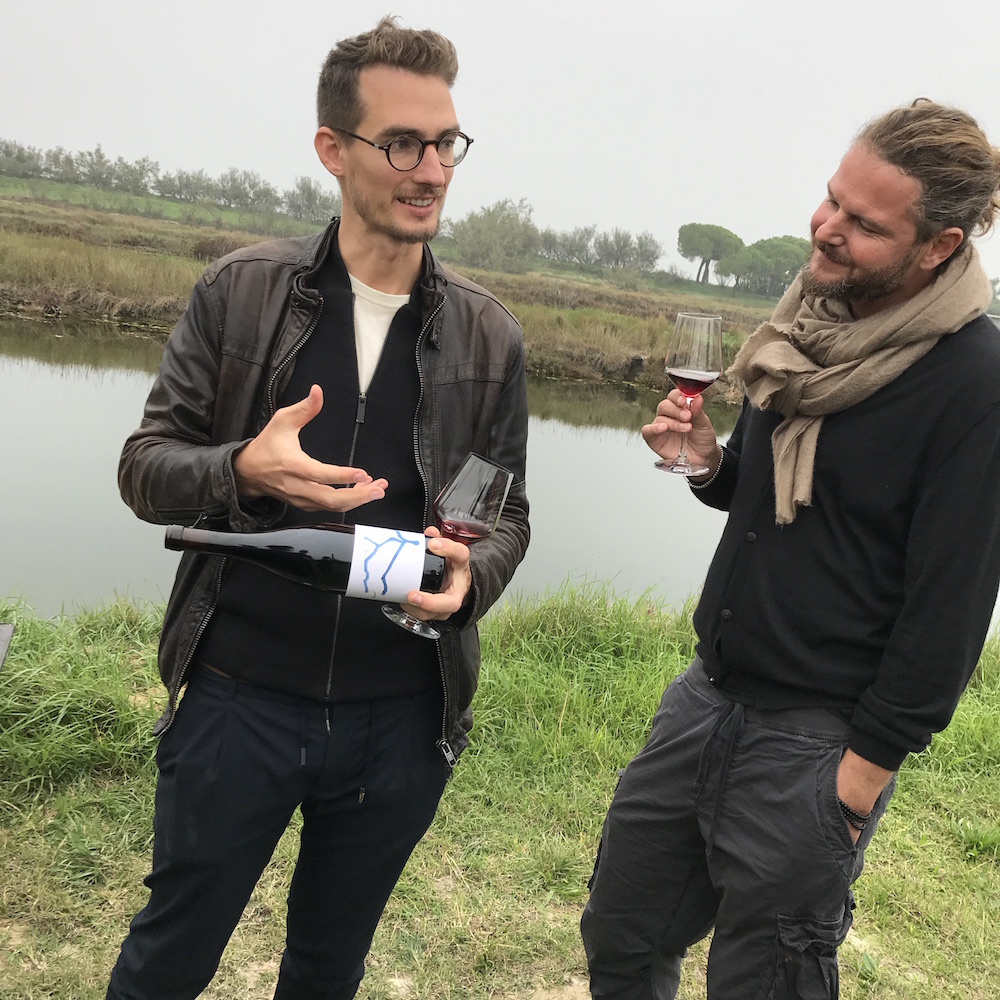 René Deutsch and Matteo Bisol
Famous for lace makers and the colorful houses that line the canals and quaint lanes, the historic fishing village of Burano draws steady traffic of day trippers from Venice, who embark after breakfast and depart before dinner. Matteo Bisol wants them to stay a night (or more), to further experience the culture and contribute to the economy, but due to the islands low-slung and residential configuration, there have been no hotels on Burano, until now.
Under the auspices of the Venissa brand, Casa Burano is a new style of seamless luxury paired with an immersive experience. Five traditional Burano homes were purchased and reconfigured with great attention to luxury and detail, though there's no evidence of such from the street. They appear as typical Burano homes on typical Burano streets, and the occupants stay, essentially, among the locals.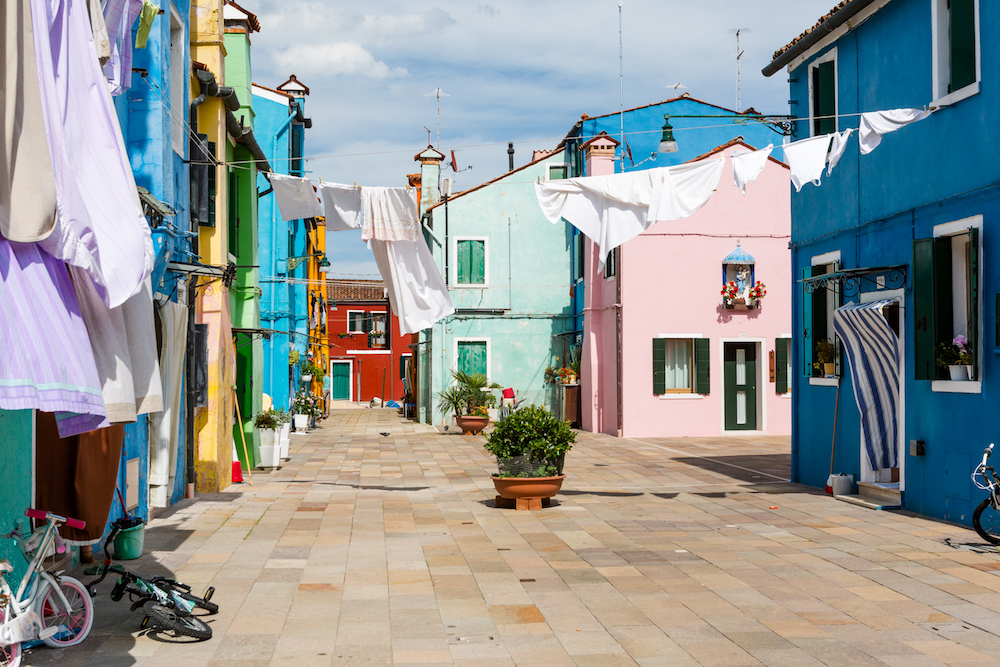 Burano, Italy, photo by: mattia mionetto
"With Casa Burano were trying to create a new kind of tourism, to have people discover the real life of Burano, where your neighbor is the fisherman, the lace maker. So you stay here like the Buranelli - it's really like the Italian life from many years ago, and it is - of course - good for the island also."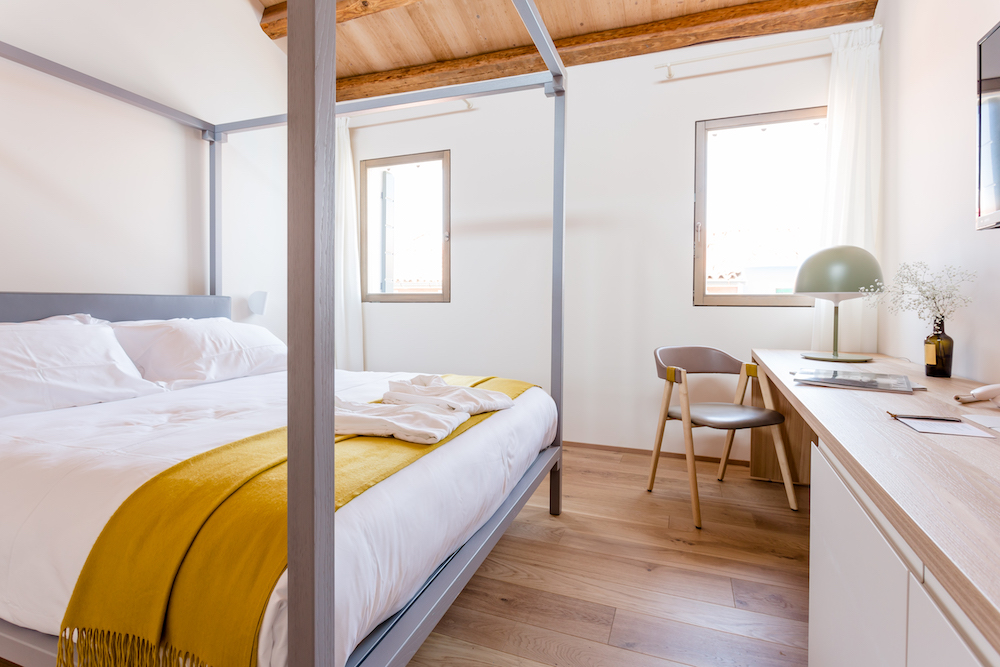 Casa Burano, photo by: mattia mionetto
This fledgling and loose lagoon collective has been formalized in a collaboration between Venissa and Isola Santa Cristina, most notably in a wine named Venusa - a blend of Merlot and Cabernet - that is made from grapes harvested on Isola Santa Cristina and produced by Venissa. The new partnership also includes a line of marmalades.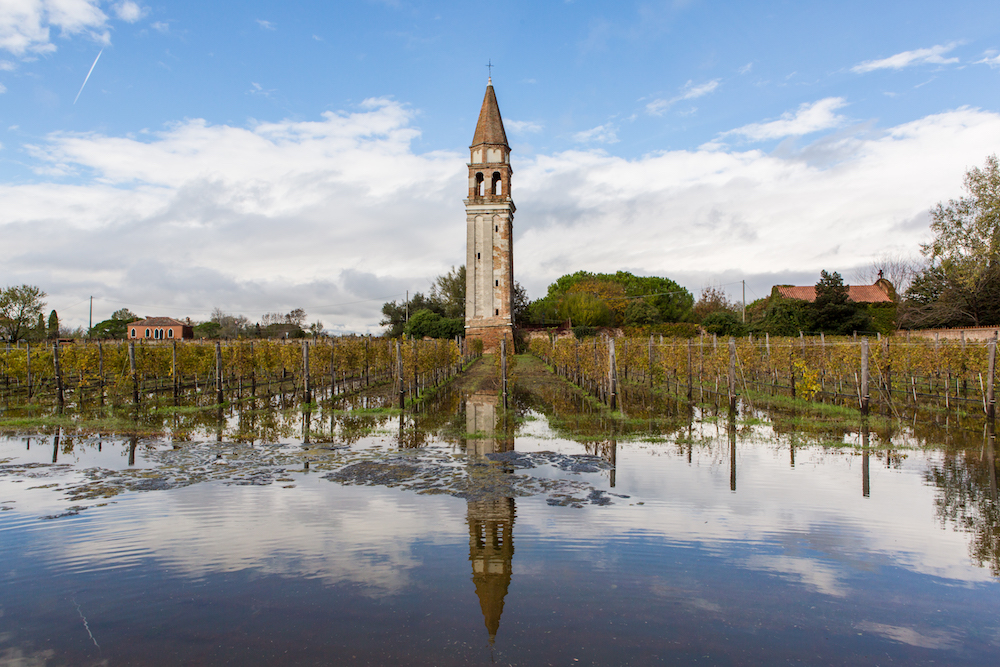 Acqua alta (high waters) in the vineyards at Venissa, photo by: mattia mionetto
All of this activity in the serene waters north of Venice is consistent with the philosophy of René Deutsch that inspired the reintroduction of an ancient island to the modern lagoon:
"For me this is a new breed of luxury," he says. "You're very close to very original, primal things--being close to your food, being close to nature--and the indigenous communities, which can really nurture the soul, so my mission is to create a little paradise for the people who work here and live nearby, and those who want to rent the island for some time - a system that makes a lot of people happy, and at the same time maintains the integrity of the island's nature and the community of the lagoon. I see myself as not the owner of this island but as a caretaker for a generation, and we must be prepared to pass it on."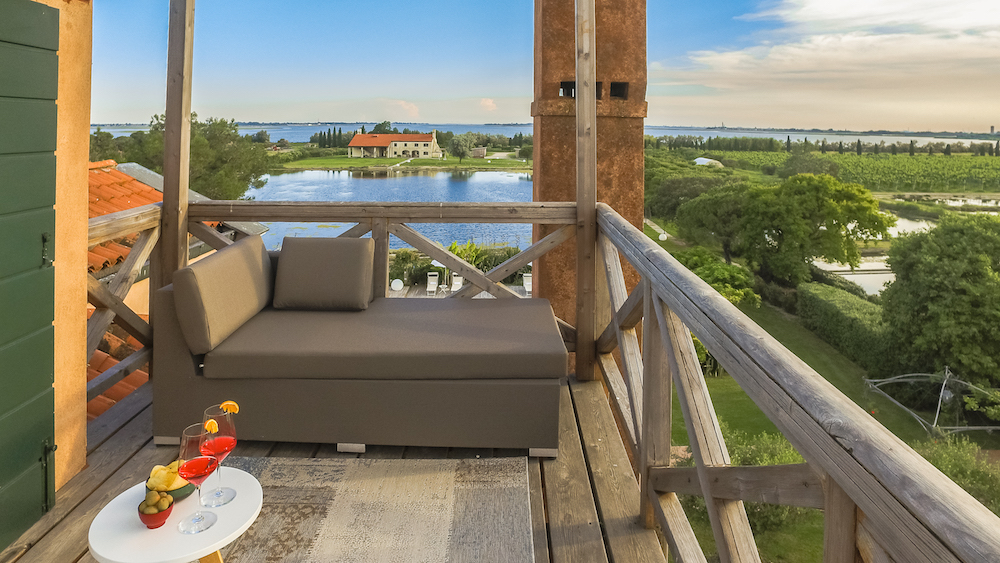 A serene day on Isola Santa Cristina
So while Venice is portrayed in the media as a sinking Disneyland due to rampant tourism, the islands in the nearby waters are offering an alternative, one that emphasizes a low-volume, high-quality experience that is not about snapping selfies and storming gift shops then moving on but immersing in an indigenous culture in a manner that is meaningful to the guest yet unobtrusive to the environment and supportive of its continued existence. It is 21st century luxury tourism with a focus on the inherent value in a closer relationship to the products we buy, the items we consume, the accommodations where we stay, and the people we encounter as we travel in a far more fragile world.      
You can reach Venice by fast train quite easily from Florence or Rome for under 40€ one way, here's where to book in advance.