The island of Procida is probably one of the most photographed in all of Italy. You may not recognize its name but the endearingly iconic shot of Procida's Corricella Marina appears on Italian guidebook covers in over fifty languages internationally. The photogenic marina's pastel bungalows have glistened over the Tyrrhenian for generations, welcoming back tired mariners after they have endured months at sea.  Each house was historically painted a distinctly bright hue so that seamen could spot their homes from far away even on a hazy day. Mirage like as it may seem, Procida enjoys a rich cultural patrimony that is distinctly rooted in Greek maritime traditions.  
Though much controversy surrounds how Procida received its name, the most probable origin lies in the island's proximity to the nearby Cuma. According to Greek legend, various sibyls, female oracles, populated the spiritual hubs of the ancient world.  Chief among these enlightened ladies was the Sibyl of Cuma whom the ancients revered as a formidable guardian of the underworld. Procida sits just across the Bay of Naples from ancient Cuma and as a result, became known to its original Greek inhabitants as Prima Cyma- next to Cuma. Over time, the name evolved to become Procida.  
In the last 3,000 years, the island has been home to a strategic port, a bustling maritime academy, a fascist prison and in more recent years filming location of the beloved Italian film, Il Postino. In 1994, Neapolitan actor and director, Massimo Troisi shot the film on Procida, recounting an imagined friendship between the exiled Noble laureate Pablo Neruda and a humble local postman who seeks the Chilean poet's romantic counsel to woo a beautiful local woman. Troisi unexpectedly experienced a fatal heart attack one day after concluding filming of Il Postino on Procida. Months later the film won an Academy Award for Best Foreign film and today Procida retains an unmistakable Mediterranean charm and local character that her island neighbor of Capri has long ago lost.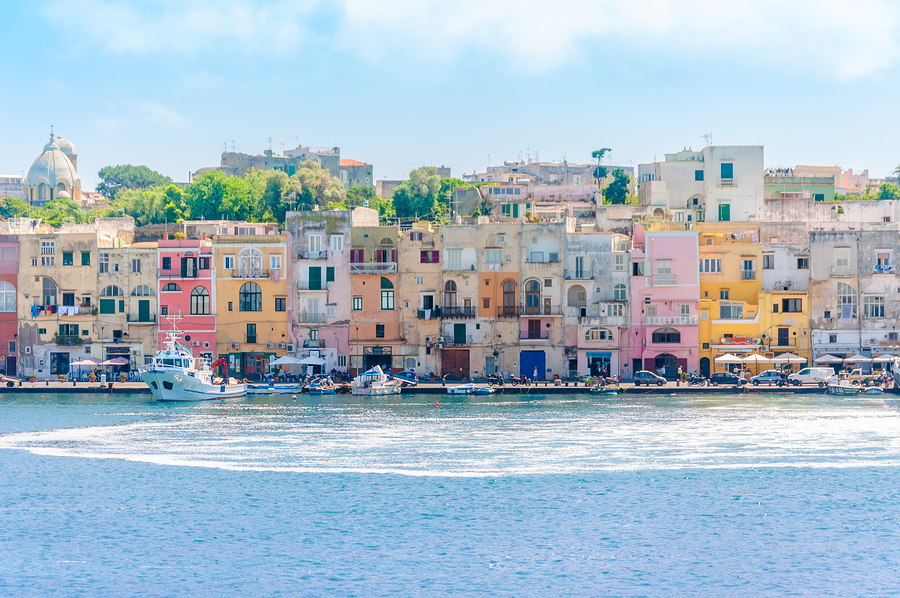 Procidani, the native inhabitants of Procida, are happy to welcome the occasional tourist, but do not go out of their ways to court the international jet set and attract droves of day trippers.  Long ago these islanders made their fortunes and earned their reputations for their lauded maritime acumen.  To this day, Procidani are considered some of the best ships men in the world and a small but mighty diaspora of Procidani can be found in notable international ports including Long Beach, California and Hong Kong. Thankfully, Procida remains an island rooted in tradition and a visit here offers not only candy colored instagramable vistas but also an important history in the naval customs of the ancient Mediterranean. Below are five must-see destinations on the island of Procida, all possible to visit over the course of a weekend. 
1) Corricella Marina
This old fishing borgo is so cutely cinematic it almost seems like a film set.  In fact it has appeared in both Il Postinoand the Talented Mr. Ripley.  But movies aside, this low-key marina is such a welcome antidote to the more frenzied marinas in Capri and Sorrento. Spend a quiet afternoon strolling here and enjoy an authentic lunch at the aptly named La Locanda del Postino. If you are fortunate enough to have access to a kitchen in Procida, visit Corricella's early morning fish market, which is open until 10:00AM.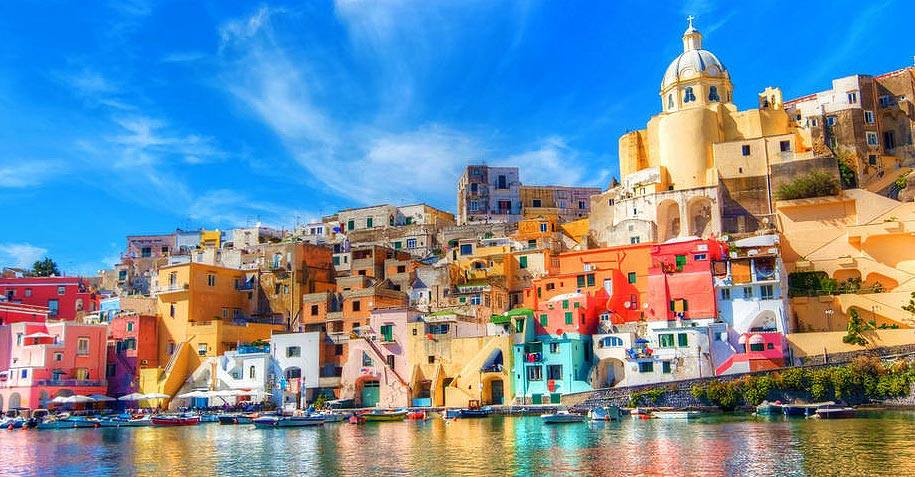 Do you like this article? Then don't miss "Phlegraean Islands: Ischia Highlights."
2) Terra Murata 
The historic center of Procida is perched on the cliffs above the port of Corricella.  The medieval buildings dominating this side of the island offer a glimpse into Procida's past as a feudal protectorate of the reigning D'Avalos family of the Kingdom of Two Sicilies. The family's imposing palace on the island became a prison in 1830 and only closed recently in 1988.  Throughout WWII, Italian authorities jailed members of the anti-fascist resistance here.  Prisoners in Terra Murata were forced to spin cotton and even today, when visiting the old cells here, one spots piles of seemingly abruptly discarded cotton spindles and stuffing.  The old barred windows of the prison offers incongruently charming views of the Bay of Naples, lending the Terra Murata an undeniably plaintive beauty.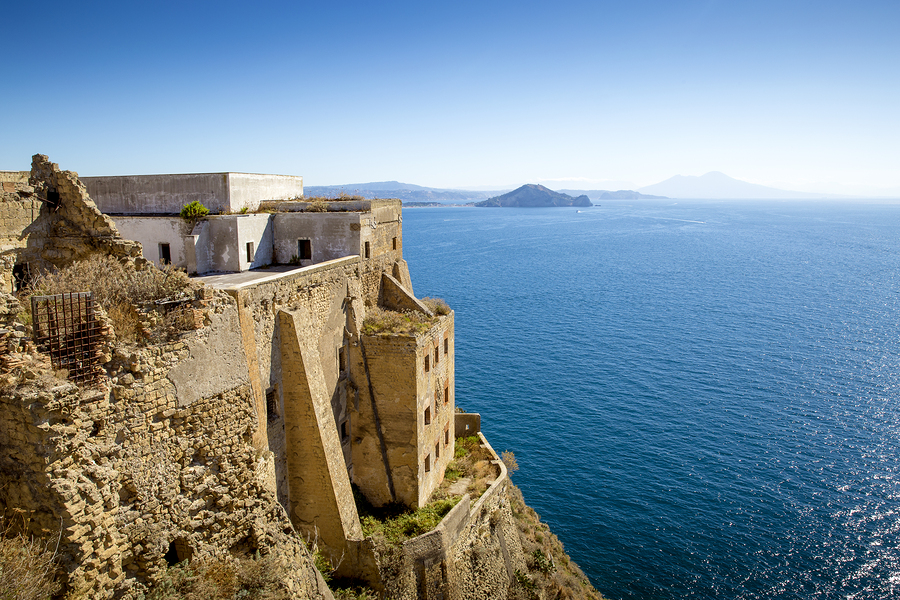 3) Vivara 
On the opposite of the island, heading towards Ischia, a footbridge connects Procida to the islet of Vivara. After being closed to the public for many years, Vivara reopened as nature preserve in 2017. The island is a nesting ground for migratory birds and the Vivara Association offers guided visits, which can be scheduled with the Comune di Procida by clicking here.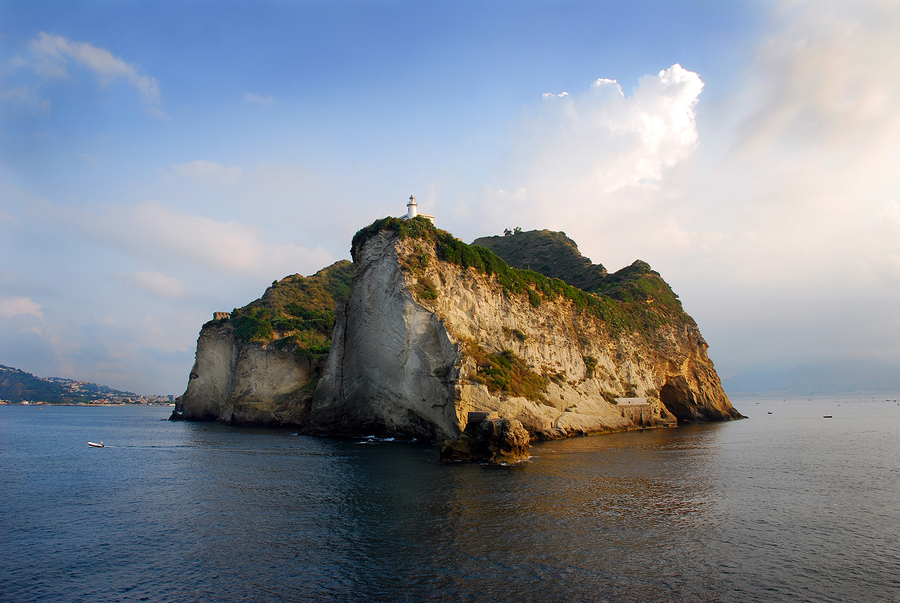 4) Giro del'isola – Boat Trip
A boat trip around the island affords the best views of towering Terra Murata and iconic Corricella.  Particularly enjoyable are occasional stops along the more rustic and inaccessible parts of the island for an invigorating dip in the sea.  Private and group boat tours can be arranged with various captains along Corricella Marina or Procida's main port.  
5) Chiaiolella Beach 
Sandy beaches are rare in this part of Italy, but Chiolella Beach on Procida offers just that. Across from the islet of Vivara, Chiaiolella enjoys long sunny days as it remains unblocked by imposing cliffs and faces the open sea.  One can bathe here well into the month of October, which makes Procida an optimal autumnal destination.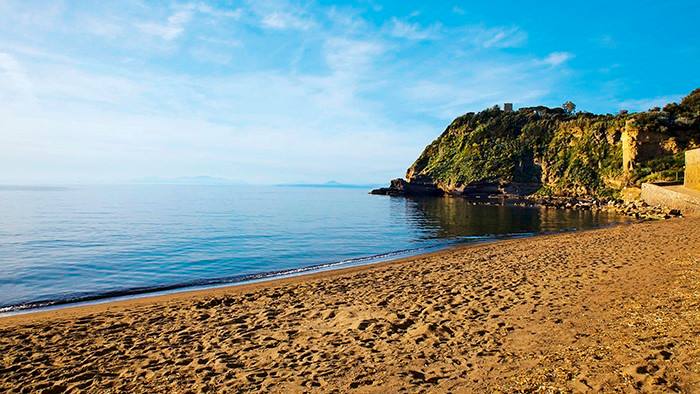 The best time of year to visit Procida is the autumn months as crowds of local beach goers have subsided. Alternately, the Easter period on Procida is a must-see as the island features one of the most ancient and authentic Easter processions in all of Italy complete with Medieval dress and ram's horns. To arrive in Procida there are two forms of ferries: a high-speed hydrofoil which leaves from Napoli Beverello Port and a slower ferry which leaves from Napoli Porto di Massa. Ferry schedules are here.