Sardinians cling fiercely to their culinary traditions, which often have roots in a distant past. Favored by the island's rich biodiversity, the cuisine is varied and mostly locally sourced. From Pecorino cheese to bottarga, from malloreddu pasta to seada, food is part of the Sardinia travel experience just as much as the fabulous beaches.
Geographically isolated from the mainland, Italy, yet at the center of Mediterranean trade routes since ancient times, the island of Sardinia boasts a rich culinary tradition, influenced and enriched through the centuries by populations of traders and invaders: the Phoenicians, Carthaginians, Romans, Arabs, Genoese, Catalans, Pisans, Spanish and Piedmontese, all left their mark, not just in the architecture and local dialects, but also in the great variety of dishes, which may differ even from one town to the next, but fundamentally all share genuineness (like Sardinians themselves).
Take pecorino, for example. Almost three million sheep are bred in  Sardinia – which explains why this cheese is ubiquitous in the region's cuisine. If you ask a local where to get the best pecorino, they will likely respond, "from my brother," or "my father," or "my friend;" everybody knows at least a pastore (shepherd), because the lifestyle in Sardinia is still essentially  agropastoral, and the most typical products of its cuisine – cheeses and meats - come from its hilly and mountainous interior, where they are still produced following tradition.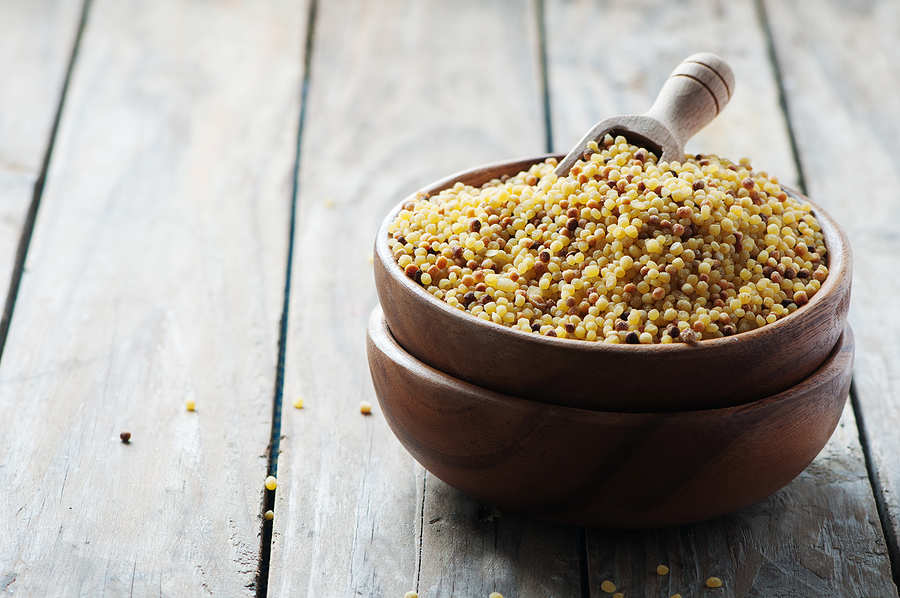 [Fregola, a type of Sardinian pasta.]
Made from the milk of Sardinian sheep (pecora in Italian), the pecorino varieties of Fiore Sardo DOP, a Slow Food presidium, and pecorino sardo DOP, are used to enrich many different dishes or eaten by themselves, in their fresh or aged versions (if you don't know a local pastore, try pecorino made by family-run cheese factory F.lli Pinna). A classic use is grated on top of pasta, such as in the case of malloreddus, the most traditional pasta of Sardinia, prepared on all the most important occasions, from country fairs to weddings; also known as gnocchetti sardi, this shell-shaped pasta made with semolina flour is typically prepared with a meat ragù, and topped with pecorino cheese.
Pecorino cheese is even used in the island's desserts: seada, the most famous, is deep-fried semolina flour filled with delicate fresh sheep's milk and the bitter strawberry tree honey, which provides a pleasant contrast. Try seada and more Sardinian desserts at Sapores Antigos, a pastry shop on the road to Stintino in north-western Sardinia, where you can also buy varieties of handmade traditional pastas. That is where I discovered a fundamental truth about Sardinia cuisine: no matter where you find yourself on the island, you are likely to stumble upon a top-notch trattoria or food producer (some of the best swordfish pasta I had was at a beach shack). That is due mainly to two factors: Sardinia's biodiversity, which has blessed the land with an abundance of habitats, animals and plants that Sardinians know how to put to good use in the kitchen; and a fierce pride in their culinary traditions. Indeed, food in Sardinia isn't merely something that nourish; it's also a way to highlight important collective events, be it a village fair or religious feast, a wedding, or even sheep shearing and wheat harvesting. As everywhere else in Italy, food is something to be shared.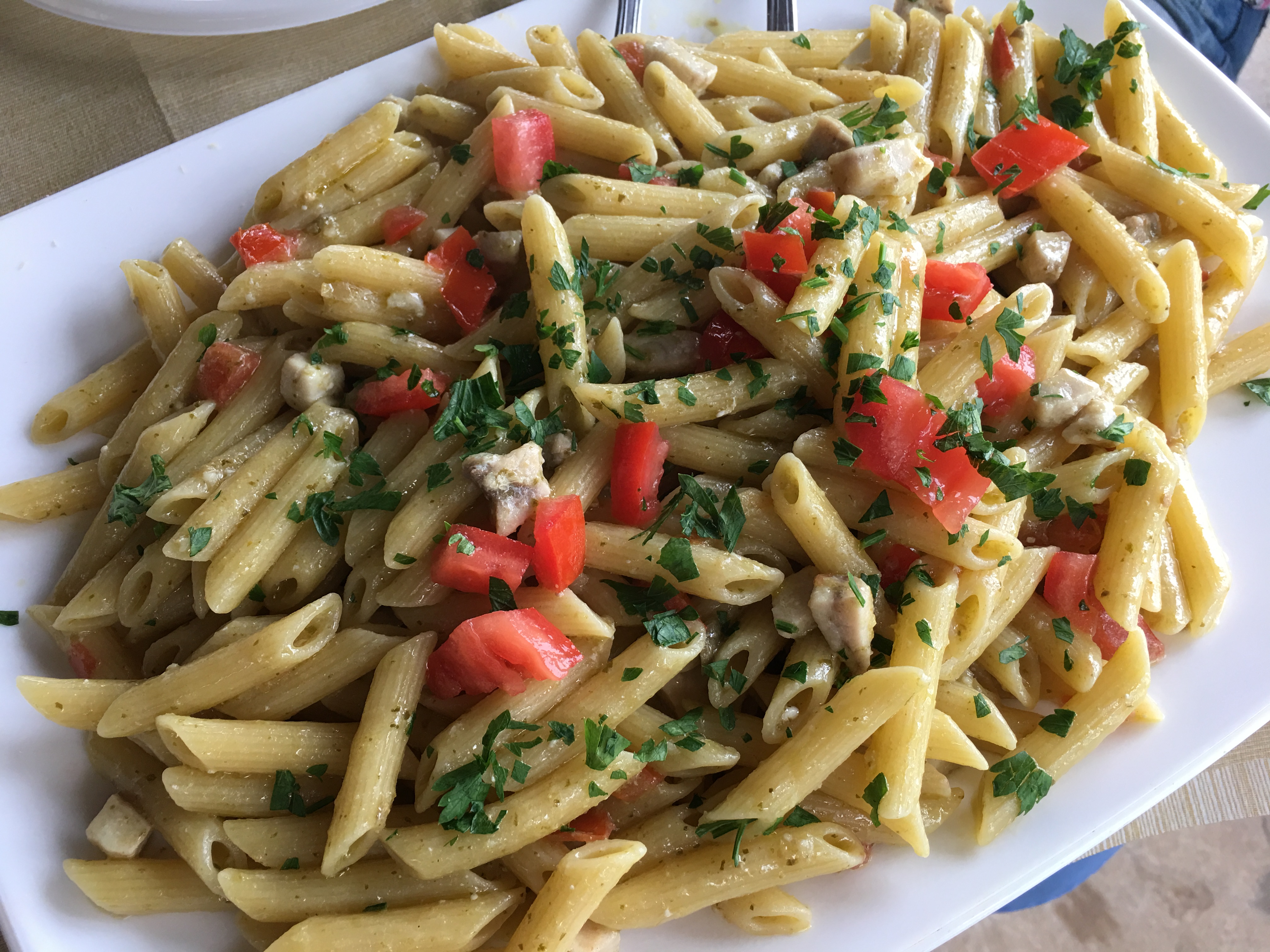 [Delicious pasta with swordfish enjoyed by the author at a beach shack in Sardinia.]
A typical example of a festive food, which has become a symbol of Sardinia cuisine, just as beloved as pecorino cheese, is porcetto (or porceddu), suckling pig spit-roasted for at least four hours, a centuries-old tradition passed down orally from one generation to the next, as it happens for so many dishes of Sardinia, whose cuisine has remained largely the same for centuries. The art of making porcetto consists in the ability to turn the skin into a crispy rind, while keeping the meat tasty and tender. At the end the pig is wrapped in myrtle, a plant that grows in the Mediterranean region, whose berries, in Sardinia, are used to make the liqueur mirto.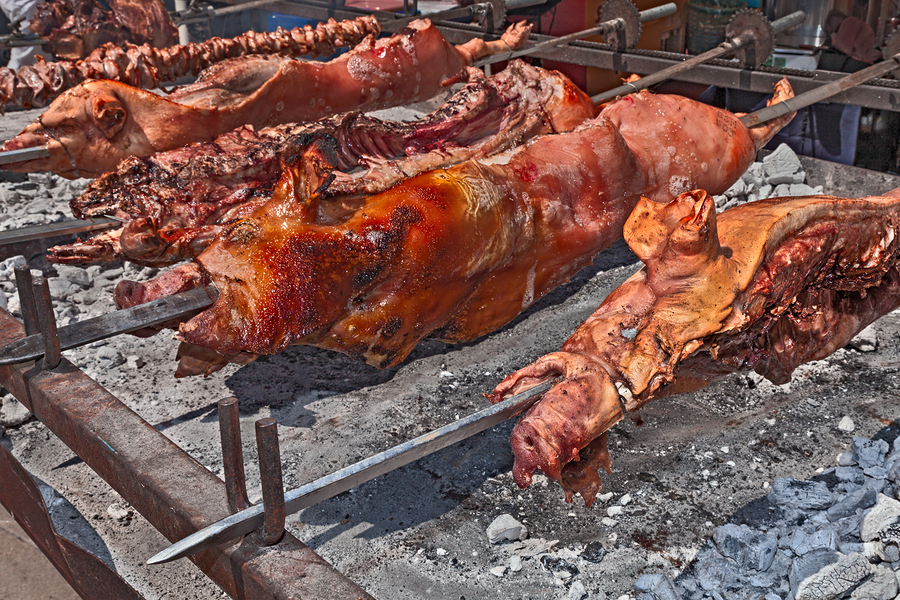 [Suckling pig spit-roasted for at least four hours, a centuries-old Sardinian tradition.]
While the heart and soul of Sardinia's cuisine is peasant, seafood should not be overlooked. The most prized  is bottarga, tuna or grey mullet roe, although it may not appeal to everyone given its intense, fishy flavor; but Sardinians stand by it. Salted, pressed and dried, never cooked, bottarga is often used as an appetizer, sliced thinly on top of  toasted bread,  or grated on pasta to make the typical spaghetti con bottarga. Try some at Il Pesce d'Oro, Il Pavone or Al Tuguri, all in Alghero, and good choices for seafood.
Speaking of  pasta, Sardinia, like every region of Italy, has its own distinctive varieties: besides the above mentioned malloreddus, you will find culurgiones, stuffed pasta filled with potatoes, mint and pecorino cheese, and the North-African inspired fregula, made from coarsely ground semolina rolled into tiny balls, ideal with seafood soups. I discovered fregula on a breezy late summer night at Ristorante Lina in Stintino. Fregola alla stintinese is one of their menu highlights, and for good reason: made with plenty of seafood, caught fresh off the coast, it is served with a dose of Sardinian friendliness and the pride that comes from knowing it is all genuine and sourced from the island's own bounty.