Italy is a beautiful country and so it makes sense that Italian is a beautiful language. Sources including the Italian encyclopedia Treccani and dictionaries including Garzanti list more than 427,000 individual words which, when strung together, form harmonic sentences full of passion and energy.
There is one word, however, that I would ardently argue doesn't belong in the great Italian poet−Dante Alighieri's− vernacular. Indeed, in my opinion, this term needs to be eradicated altogether from my favourite romance language.   
That word is "straniero/a" which, when translated into English, literally means stranger, foreigner or alien – i.e. anyone and everyone who doesn't belong in this patria because they have no birth certificate and, hence, no birth rights. 
Yes, sadly, it applies to me. Even though my blood is 100 percent Italian, being a pure bred from parents who left the northern region of Friuli Venezia Giulia after WWII to come to Canada where I was born. And while I have Italian citizenship, I have no Italian birth certificate and, therefore, am branded a "straniera."
The first time I heard that dreadful word was shortly after having bought our pied-a-terre in Montepulciano, Tuscany. Our newly-found geometra or contractor was on the phone with another client and referred to my husband and me as stranieri, the plural form of the masculine singular noun. It was that word that struck my heart. And from that moment on, I have made it my personal mission to change how Italians look at me, wanting to go from being considered an "alien" to human being with a name and identity.
I have a long ways to go, but in the last year (I don't live here fulltime but come and go months at a time) I have definitely made inroads. Most of the Poliziani – the name of the population here in Montepulciano− who know me, now call me "Silvana−la canadese."
These are tips you might want to consider if you, too, are bothered by this characterization.
Be seen with Italians. This will give you credibility. My spalle (literally "shoulders") and besties– are men in their early eighties. We were neighbours first, now friends and the three of us do things together. Umberto and Virio lived most of their lives in this town so everyone knows them and they know everyone. In fact, Virio is the calzolaio or shoemaker in town and his shop has a constant flow of traffic and that makes for a great hangout. Plus they are harmless, which is important for a middle-aged married woman on her own here senza marito.

Every day at 

6 p.m.

 a group of older women sit on the short brick wall along our street. Joining them whenever I can, I am not only visible to other locals, but learn about this week's best prices at the market, whether or not we felt the overnight tremors from the earthquake in central Italy's Amatrice, and most interestingly who has been naughty or nice.
The local gym and tennis clubs are great locations to make friends because of their inherently social environment. Our gym, TopGym, organizes monthly dinners.  If these sorts of activities aren't for you, there might be a language, theatre or reglious group you could join. Be sure to attend the extracurricular activities. Montepulciano is twinned with Moulin, France and so there are French classes here and an annual exchange between the two cities. Here I was able to spend time with other Italians interested in French language and culture. 
Don't forget the local coffee shop. Choose one and go regularly. The more time you spend there, the more you have the opportunity to meet and be seen with other locals.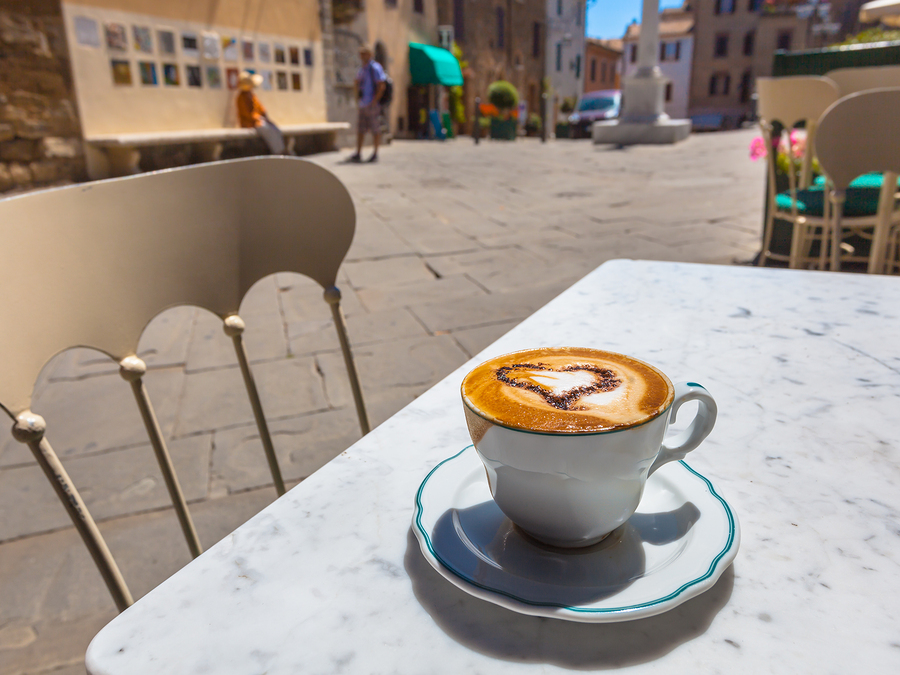 Be informed. This will help you converse like a local. Whether it's last evening's soccer match, Italy's bizarre political system and colorful characters, the latest influx of refugees, get up to speed on current affairs. Become familiar with Italian household names including TV show producer and host Maria De Filippi, game show hosts Paolo Bonolis and Luca Laurenti etc. I start the day listening to Prima Pagina on Rai3, one of Italy's state radios.
Each week a different Italian journalist, from a different newspaper, is the host and starts by reading the day's newspaper headlines before opening the phone lines.
For an injection of pop culture, I turn to Italy's most listened-to radio station RTL 102.5, whose tagline is Very Normal People. At 9 in the morning, you, too, can enjoy the entertaining rapport and banter between co-hosts Fernando Proce, an Italian and Jessica Pressman, an American. In the evening, I watch TV. Last year the town was abuzz with the premier of I Medici: Masters of Florence, staring Richard Madden and Dustin Hoffman. It had been filmed in Montepulciano and Pienza in October 2015 and then aired a year later while I was here.  Similar to soap opera addicts, the characters and setting became the talk of the town, at the hairdressers, in the lineups at the bank, and before and after church services.
Shop in town. This will buy you positive reactions.  Instead of going to the big supermarkets, buy your bistecca from the local butcher or macellaio; your pici (Tuscany-styled pasta) from the local pasta shop or pastaiolo; the Pecorino sheep cheese from the local cheese shop or operatore caseario; and wine from the local cantina where your favourite vinaio works.
Be realistic and patient. This will give you a sense of peace. Italy is a young country and Italians are fiercely loyal to their region, before their motherland. To give you an example, last week I was in the backseat of the car listening quietly to the conversation between Frate Enrico Umberto. The story was about a young Italian fellow who moved from one region of Italy to another and tried to volunteer for the annual contrade, where neighbourhood districts compete in a sporting event for the grand prize and boasting rights. Since the fellow wasn't from the region, he had trouble being accepted; this, even though, he was born and raised here.

Become a volunteer. This make you trustworthy. Italians are instantly impressed when you say, Faccio volontariato.  This is especially true because you are not from here and have no ulterior motive but to help and be useful.  In my case, I found it tricky at first to find volunteer opportunities.
When I first arrived for a three-month-stay, I wasn't aware of the Misericordia, which I have since learned is Italy's volunteer institution, providing services such as picking up people for doctor's appointments, reading to the elderly, among other opportunities. Indeed, it took a while to get volunteer "work."  My first attempt was to offer with English at a local linguistic high school. I foolishly thought they would give me a caldo benvenuto - welcome me with open arms because I am a native English speaker. Hardly the case. Even the kindergarten turned me away because I didn't have Italian teaching credentials.
Where I was successful was at an old folk's home where I now go at lunch to help feed the old women.  It is run by a Religious order. As the head Nun said, no one thinks or wants to volunteer for the aged. It was more difficult though to start helping with English assignments at the orphanage but luckily my persistence and resourcefulness i.e. knowing the local priest, got me inside the door. And I now go there twice a week and often we hang out together with the children at the local gardens. I also teach English to staff and clients of the Caritas, the International Catholica Aid Organization in Sinalunga. But don't forget to link your personal interests e.g. music, theatre and look for opportunities at these associations.
Additional Resources. 
The 
Misericordie 
exist all over Italy, so there are lots of options.
Italy's state television and radio station, the RAI, has a number of channels including Rai 3and 
Prima Pagina
, with the morning news headlines.
Italy's most listened to radio station is 102.5, Very Normal People, with the popular morning show 
Famiglia.
If you decide to adopt one or a number of these suggestions above, be consistent and purposeful in your activity. Familiarity breeds understanding; friendships slowly form and ugly labels, including straniero/a, gently disappear.
Silvana Saccomani is a communications consultant and former journalist, dividing her time between Calgary, Canada and Montepulciano, Italy.