It's springtime in Italy, when the countryside and cities emerge from something of a winter nap, and Italians and visitors alike start to spend more time outdoors, whether that means having an aperitivo in a sunny piazza, taking a leisurely walk through forests and vineyards or along the narrow lanes of a centro storico, or lingering over a long al fresco lunch. And for travelers to Italy, especially, few places seem to epitomize these archetypal Italian experiences quite like Tuscany. We have to admit, no matter how many times we visit, Tuscany never fails to charm. 
Our fifth edition of Bellissimo, our quarterly digital magazine, is dedicated exclusively to Tuscany — the region of Florence, Siena,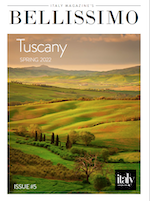 Pisa, art-filled museums and palazzi and a thousand picturesque hill towns, of Chianti Classico, colorful cornucopias of fresh organic produce, and jealously guarded, centuries-old recipes. In more than 100 pages, we honor and explore Italy's best-known region, and help readers discover some of its less-visited corners. 
This issue's features include:
An in-depth look at the region's Etruscan history and best archaeological sites
New Florence hotels that artfully blend heritage and modernity
Why your next al fresco meal in Tuscany should be at a vineyard
The regional dish Tuscany's top food writers can't live without
Plus learn how to make the ultimate Tuscan comfort food, pappa al pomodoro, visit smaller towns for charm without the crowds, wade into the region's best thermal spas, and more!
There are two ways to enjoy Bellissimo: 
If you're a Premium Subscriber to Italy Magazine, you can download Bellissimo for free as part of your membership benefits. Just make sure you're logged in to download your free copy.
If you're not a Premium Subscriber, you can sign up here, and download current and back issues of Bellissimo, as well as enjoy the many other perks of our Premium Membership.