Carol King interviews choreographer, dancer and TV star Bruno Tonioli about Italy, food, and what it's like being a judge on dancing competitions 'Strictly Come Dancing' and 'Dancing With The Stars'. Bruno Tonioli is one of Italy's most famous Italian exports. Despite his years abroad, he remains close to his Italian roots, with a love of food and a great sense of humour. One thing impossible to convey in a transcript of this interview is that he laughs... a lot.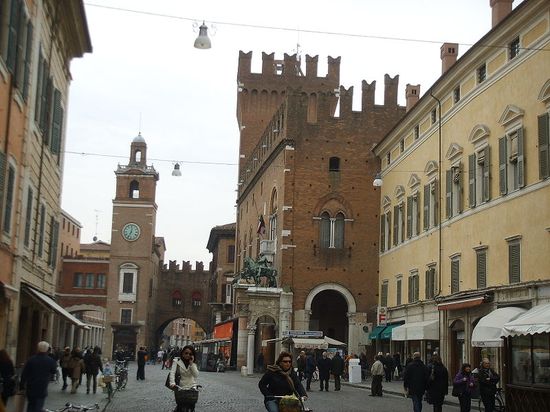 You were born in Ferrara: what was it like growing up in Italy? I was born in 1955 and grew up in Ferrara. It's beautiful place with a wonderful centre, a medieval castle and very lovely but I had to leave because I had a call to do something else. I left in 1974 because I got a job with a French dance company and I went to Paris and then to London. But my memories of Ferrara in the 1960s are wonderful, it's a nice city and I had good friends but my future lay somewhere else. It's a wonderful place and I would recommend it because it's off the tourist track: it's extremely pretty and the historic centre is gorgeous. So, if you're in Italy it's really worth stopping there and having a good look. How did your parents influence you? My parents came from farming families. They had to work extremely hard because they grew up during the war. They had an incredible work ethic. I remember they always had two jobs. My mum was cooking, cleaning, washing. So they gave me this very grounded, you have to work for what you have, solid, peasant [outlook] – peasant but in a good way. A realistic upbringing that for anything in life, you have to put the effort in, but if you put the effort in you get results: very much the true hardworking Italian ethic. I was taught as a child I was never to expect anything and that if you want anything you have to work for it. If you can't afford something then you get an extra job – if you want some new jeans you get some work selling apples. They brought me up without any sense of entitlement. When did you decide to become a dancer? Since I was very young I always had the feeling that I had to perform. When I was in clubs as a teenager, when I was dancing people were always forming a circle around me and all the pretty girls wanted to dance with me. I had a natural ability. When I was in plays at school, I realised there was something there and I felt I belonged on stage. I didn't really have a plan, I had a calling and then I had to find my way.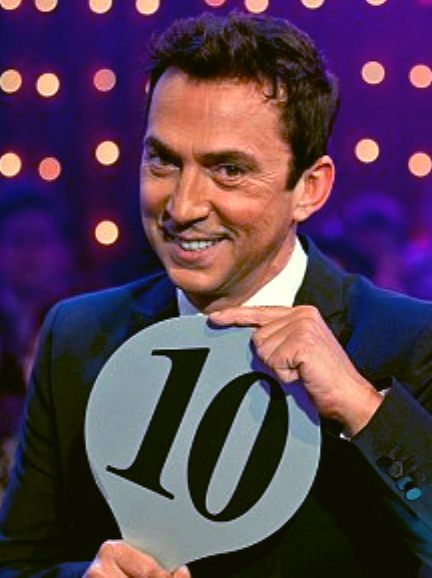 What was your first job? I was in Milan and I got discovered – it's a very funny story. I was in Milan because I'd met some people on holiday, who were dancers in a French company. It was September 1974 and one of the guys playing a major role for [La Grande Eugène] company walked off. It just happened that I was back stage with some friends and the director saw me. I almost looked like [the performer's] double. He asked me: "Can you dance?" And I said: "Of course." I was convinced that the only reason I got the job was because I fitted the costumes. They taught me a number a day and I learned the whole show in a week. It was incredible to be with the company and then I was off to Paris. It's like a Cinderella story. When and why did you decide to live in the UK? A The company was touring Europe. It was 1976 and we opened at the Roundhouse theatre in London. The show was a great success. It's a long story – it's all in my book. I moved on and went to the Lindsay Kemp Company. Lindsay Kemp is a theatrical genius. At the time it was just one of the most amazingly creative companies – and not just dance it was what I call total theatre... I thought his work was fantastic and that's why I stayed in London. Then I became commercial and a choreographer. How did you learn English to such a high level of proficiency? I taught myself out of necessity when I decided I needed to earn money, become commercial, and do television and theatre. The pure dance world pays very little. To do television you need to learn to sing. I couldn't afford to pay for lessons, so I used to read the 'Sunday Times' cover to cover – I still do it to this day by habit – and force myself to deduce what it meant. It took me two years. I had to learn the language for auditions and to sing. I was never afraid to make a fool of myself. When you go to another country, you have to try to communicate in the mother tongue because it makes such a difference... because it shows respect for their culture. It doesn't have to be perfect but I think it's very important to try. I think everybody should learn at least one other language. I read that at your audition for 'Strictly Come Dancing' in the UK, you played up your Italian fiery side. Why? A It felt like the right thing to do, it wasn't a decision. Because there was a template for the judges I didn't want to go down that route. Seeing the flamboyancy of the show, the glamour and the glitz, I felt I should respond in that way. I had the feeling "Use the fun, Italian, cheeky, spirited side of yourself to react to what's in front of you." It just felt the right thing for me to do, not going down the Simon Cowell path – he's a friend of mine and I felt it was something that has been done. For me, the show is all about uplifting fun. It was really an instinctive reaction. In fact I thought I was never going to be chosen, I thought they would want [someone] very straight, very British and I'm grateful forever to have been chosen.
You're also a judge on the American show 'Dancing With The Stars', so how do you cope with all the travelling? It's hard when you do the American show the same time as the British one. The jetlag is pretty tough because when you do two months of three days in Los Angeles and three days in London, it does get to you. But because the shows are live they give you such a charge of adrenaline you move with it. It does take it out of you but then again it's fabulous, the shows are massive hits. You have to just train yourself. For me, over those two months you really can't do anything else, you really have to look after yourself and anything unnecessary has to be dropped. Have you seen the Italian TV show 'Ballando Con Le Stelle'? I've been asked to do it but you can't do everything. It's very difficult to fit it in, I do two American series a year and the British one – it's a lot of shows in a year – and I'm on tour. If you do something you have to do it properly – I wouldn't just do it to turn up. May be one day I'll get an offer from Italy that I'll be able to do. You have to follow your destiny: wherever destiny takes you, you have to go.
You've worked as a choreographer with people like Michael Jackson, Elton John, Freddie Mercury, and you've had to judge hundreds of celebrities for their dancing on the shows. Is there anyone in particular who you think had a natural talent for dancing? When you work with pop and rock stars it's a different thing. For example, Tina Turner, who is one of the best I've ever worked with, has her own way of moving that is so unique and amazing that you don't want to interfere with it. Those are people that like that are legends who create a unique style that you don't mess about with because a diamond is a diamond – you're not going to mess it up. You do things around them that bring that out, that incredible, natural talent... It's not like when you have a dancer who is almost like a blank page on which you can draw your things. I've been fortunate working with those people and you let them be. You recently published your autobiography 'My Life'. How did you feel looking back on your life? It was incredible because I've never been a person who looks back, because I always think you have to move on. But it was a therapeutic, especially looking at my relations with my parents. At times it was quite hard because you have to make decisions that are right for you and you may have to fight against your family and make some hard decisions that at the time you don't know if they are going to be right or wrong but you have to follow your heart. When I left Italy, obviously my parents were not pleased and I really had to fight my corner to carve a life that I thought was right for me. Then eventually things got sorted. Unfortunately, my mother died in the early 1990s, and I was able to look back and make some sort of peace with it, because it takes a long time to look at it with a sense of acceptance. So, in that sense it was very therapeutic. In fact, I had forgotten a lot of things I did. I couldn't remember, I Googled myself and I thought: "Did I do this? Did I do that?" You've launched a range of Italian-inspired cookware?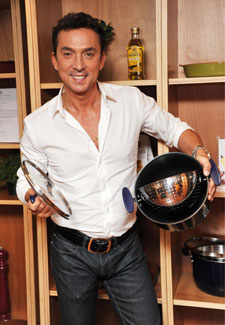 Yes, it took me two years. Because being Italian I cook. When I was young and hanging around the kitchen my grandmother used to cook and Italian home cooking is the best, it's unbeatable. I'm not a chef but I cook to this day. In LA, most days I cook myself. I came up with the idea of a very good range of cookware... a big pan you can cook lots of things in, a tilted pan in which you can steam and cook pasta, my skillet is just the best and you can do meat and vegetables at the same time. It's all to do with practicality and do things quickly. What advice would you give young Italians going to live abroad? Just go for it... People love Italians all over the world. Be true to yourself, be proud of your Italian heritage and spirit. I found people all over the world being so nice to me, I'm being honest, not just saying this for an interview. I've always found people so receptive, everybody loves our country. Be yourself but try to speak their language so you can try to communicate with them... There are Italian communities all over the world, we are citizens of the world so embrace that. Do you visit Italy often? When I can. The last time I was in Italy I was in Sicily, two years ago. I love Sicily: there is something about Sicily, in the light, in the food. Taormina is one of my favourite places. I try to go on holiday every summer, it all depends on what I have to do. I love the sun, the sea, the culture and it's something I try to go back to whenever I can. What do you miss about Italy, if anything? Italy is almost like an open-air museum. Walking around most cities is fantastic: the statues, the beauty of the country is unique, the variety of the culture and obviously I love the food. I like discovering these little family-run restaurants. I like walking around and when I see a big Italian family sitting at a place eating it's just the business – I love that, it's wonderful. I always try to go back at least once a year if I can... I like the theatre of life that you have in Italy. I remember watching a Sicilian family wedding in Taormina and they all looked like something out of a Dolce & Gabbana ad – just watching it – how beautifully dressed the people were it was like watching something out of a Francis Ford Coppola film. It's the bella figura that the Italians have that is still there... It's part of your DNA. Do you ever see a time when you would live in Italy again, perhaps when you retire? I don't know, you take one thing at a time. I don't know what's going to happen. Work wise at the moment I'm between the UK and the United States. In my life things have always turned out in the most incredible way, so what's going to happen in the future I don't know. But a lovely villa in Sicily or the bay of Taormina could be quite irresistible.
---
Bruno Tonioli is on Twitter at @BrunoTonioli. He has written an autobiography 'My Story'. His cookware is inspired by traditional home-made Italian cooking and the range features the core ingredients, cookware and ceramics to bring the real taste of Italian family cooking.
---
Do not miss our interview to Italian 'Strictly Come Dancing' judge Carolyn Smith.