In her early forties, in the wake of a divorce and a traumatic illness, California-born Chandi Wyant decided to walk - alone – on a stretch of the Via Francigena in Italy, the medieval pilgrimage route that in its entire length runs from Canterbury to Rome.
Still debilitated from her illness and troubled by the end of her marriage, Chandi set out from Fidenza in Emilia-Romagna on a 425-kilometer trek that would take her over the Apennines, through the valleys of Tuscany, beside busy highways all the way to Rome, armed only with a nineteen-pound pack, two journals, and three pens.
Her experience of walking the Via Francigena solo and what she learned from it is documented in a transporting memoir, "Return to Glow - A Pilgrimage of Transformation in Italy."
An Italophile since her early twenties, and an expert on Italian history, Chandi weaves into her narrative historic anecdotes about the places she visits that make the book all the more captivating.
Chandi recently relocated from California to Lucca (Tuscany). We got the chance to interview her about her Via Francigena experience. Here's what she shared.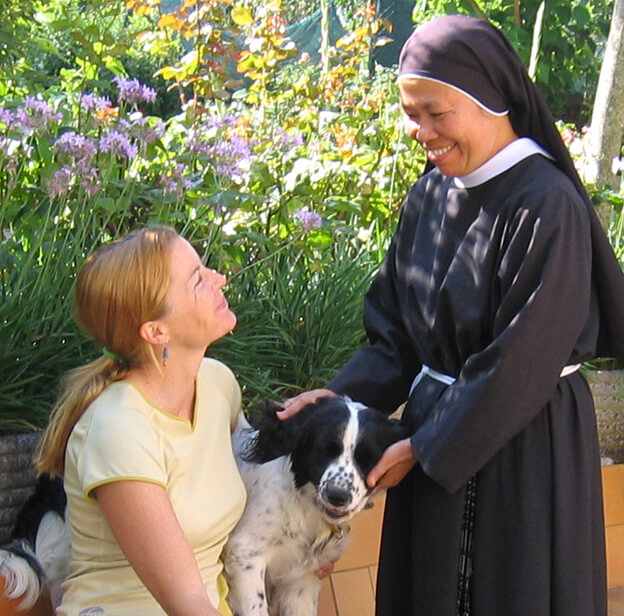 [Chandi at the convent of Franciscan nuns in Sutri, along the Via Francigena.]
You undertook the Via Francigena trek on your own. How did you prepare for it and what advice would you give to someone interested in doing the same?
I didn't actually prepare for it physically because I took it on rather impulsively after a debilitating illness— and my body was still weak. I wanted to do something positive to heal, so I took on the pilgrimage with a stubborn determination, telling myself the one thing I could still do was walk.
The best item I brought with me was my trekking poles.
Here are the preparative things I recommend, and that I did not do!
Be in shape, have sturdy shoes with thick soles, and adjust your packing so that you aren't carrying more than a tenth of your body weight (unless you are a Herculean mountain goat.)
What were the most challenging aspects of the trek?
I had no idea that walking on asphalt with the weight of pack could be so hard on the feet. I developed plantar fasciitis within the first four days. That painful affliction made the rest of the route extremely challenging for me.
Those who are involved with sign-posting the route do their best to keep the route on trails and off asphalt when possible, and this may be more the case now than when I walked it. Since it is unappealing in general to walk many kilometers on an asphalt road with a pack on, and harder on the body than hiking on a soft trail, I'd say those parts of the route are the most challenging.
When you walked the Via Francigena (2009), you say it was still relatively unknown. It seems like the route is becoming ever more popular. What are the reasons you would list to encourage people to walk this route?
I think the route is particularly alluring for those who appreciate connecting with rich traditions of western civilization.  All the work that is going on to preserve and revive this route is a reaffirmation of those traditions and that history.
I mention in my book the times when I felt a connection to the pilgrims of the past, which then connected me more deeply to the roots of western traditions. This is one valuable reason to walk the route. Another reason is to give oneself a time to slow down. A pilgrimage can be an antidote to a fast-paced life.
What was your favorite part of the Via Francigena and why?
My favorite part of the countryside that the route passed through was the Val d'Orcia in southern Tuscany. My favorite experiences were with the nuns in Bolsena and in Sutri. In Sutri, as the only guest at a convent of Fransican nuns, I watched them hold a service in their garden, in front of their chapel, and I experienced a sense of surrender that was blissful.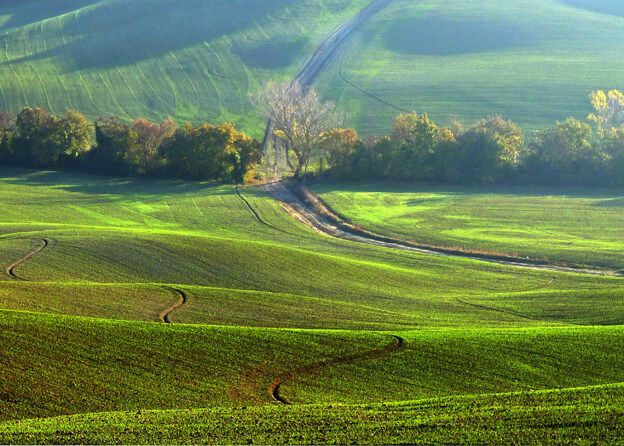 [Pienza landscape.]
I felt that I stepped out of my world and into theirs for a few minutes, and I realized that they have learned to surrender in a way that many of us would like for ourselves, but don't know how to achieve.
A little-known place along the Via Francigena that travelers should know about?
In the northern Tuscan town of Pontremoli is a museum with mysterious cargo: the Stele Statues. The museum is in the Castello di Piagnaro, which was an important defense of the Via Francigena in the Middle Ages.
The stele are highly unusual male and female stone figures from an unknown civilization. It is a worthy visit during a pilgrim's stop in Pontremoli.
Also, in southern Tuscany, the route goes through Bagno Vignoni, which is the only town in Italy where the main piazza is a pool of steamy water. It was the Romans—great connoisseurs of hot springs—who developed this as a spa town. When the Western Roman Empire fell apart, Bagno Vignoni fell with it, but the town perked up again when pilgrims began to come through on Via Francigena, stopping to rest in the healing water.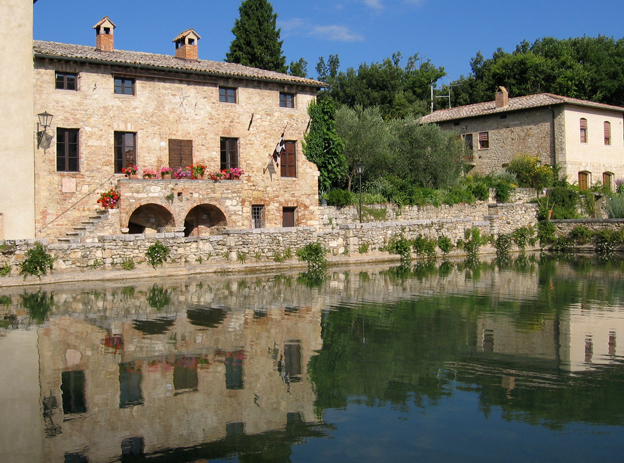 [Bagno Vignoni.] 
You've been traveling to Italy for a long time, so you already knew the country pretty well before embarking on this journey. Were you still able to learn something new about the country, to get surprised about Italy and Italians?
Arriving as a pilgrim in popular well-known towns like Siena and San Gimignano, caused me to see those towns with totally new eyes. Prior to the pilgrimage I knew nothing about their history as related to the Via Francigena.
I learned that they became important towns precisely because of being situated on the pilgrimage route. They grew to be significant due to the foot traffic of pilgrims who passed through. Within Siena's walls at least 36 hospices were developed in the middle ages to provide accommodation and medical care to pilgrims and I learned that some, like Santa Maria della Scala remain today.
Santa Maria della Scala was one of the first in Europe, that cared for pilgrims, assisted the poor and provided for abandoned children. It apparently was founded in the year 898.
And I learned that in San Gimignano, the main road between the Porta of San Mateo and the Porta of San Giovanni is the exact route through town taken by the pilgrims of the Middles Ages—and this became the town's main road. And likewise with Siena, the pilgrim enters through the Porta Camollia at north and exits the Porta Romana at south. Because of lovely details like this, the entrances and exits to these towns gained significance for me.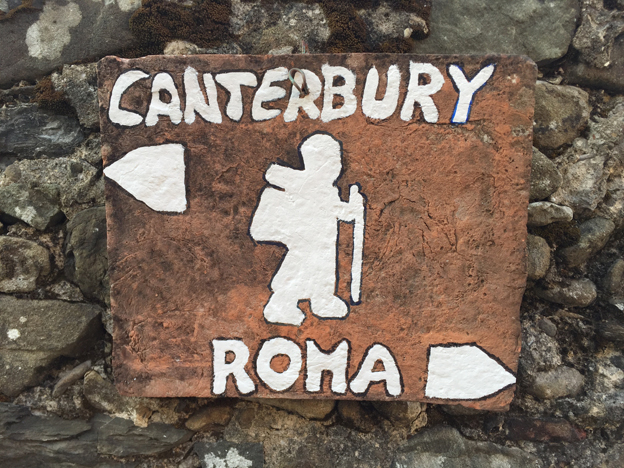 Ultimately, what has the experience of hiking the Via Francigena solo meant to you? 
I wanted the outer journey to facilitate an inner one, and I felt that to get the most out of the inner one, I needed to be alone.
On the route I practiced listening to my heart instead of my head, and making choices from the heart. This practice became vital to connecting with the spiritual gifts that my journey held. I also learned a lot about my resilience.
I knew that a pilgrimage was not going to be a panacea for all life's troubles, but I gave myself the tools for facing life challenges with an inner steadiness and with a clear knowledge of my resilience, which has served me well.
You recently moved from California to Lucca. How is the relocation going? What are you enjoying most about your new life in Italy?
There are two things that I enjoy the most: The Italian language and the Italian people.
In my book I mention that each time I arrive in Italy and hear, and respond to the Italian language, a secret, dormant place in me springs to life like a Bernini fountain.
On my flight over here a few months ago, I changed planes in Zurich and I was hearing German around me, and then on the shuttle bus across the tarmac to the Firenze bound plane, I heard Italian, and my ears immediately perked up and I had a sensation that my world had become brighter.
No matter how long I am in Italy, I often have that sensation of almost childlike delight, in hearing Italian around me, and I marvel that a whole nation of people speaks a language whose sound is equal to the taste of gelato di cioccolato fondente.
Then there is the generosity of the Italians. Every few days, on a regular basis, an interaction occurs that makes me, yet again, awed by the generosity of the Italians. There are my landlords who rescue me in their car when I am caught in an extreme downpour on my bike, in the dark. There is the guy filling his car at the gas station who takes the time to show me how to the use the self service pump, there is the skipper of the boat in Liguria who refuses payment after taking me and my 87-year-old mother on an excursion, because he knows it may be her last trip to Italy and he says, "making people happy is what matters."
I am aware of Italy's problems and I am aware of the sacrifices I made to live here, but still, it is a privilege to live here— it is a privilege for which I'm deeply grateful.
Thank you, Chandi, for sharing your experience with ITALY Magazine readers.
You can purchase Chandi's memoir on her site, Paradise of Exiles, or on Amazon. 
And you can sign up for her newsletter where she provides information on how to move to Italy here.  
*All photos courtesy of Chandi Wyant.