Carol King speaks to Italian film director Ivano Fachin about his documentary of an ice-cream seller's life on the road. Photos by Lorenzo Sammito
As you're reading this, it is more than likely that a small, white converted Fiat 127 van is driving around the Baroque towns of southeast Sicily. On the van is a sign saying "gelati e granite" (sorbets and ice creams). The van and its driver, 83-year-old Don Giugginu, are a familiar sight in the area, as he's served generations of locals. His lemon and strawberry granitas, and almond, chocolate, strawberry, pistachio and lemon ice creams are typical of Sicily.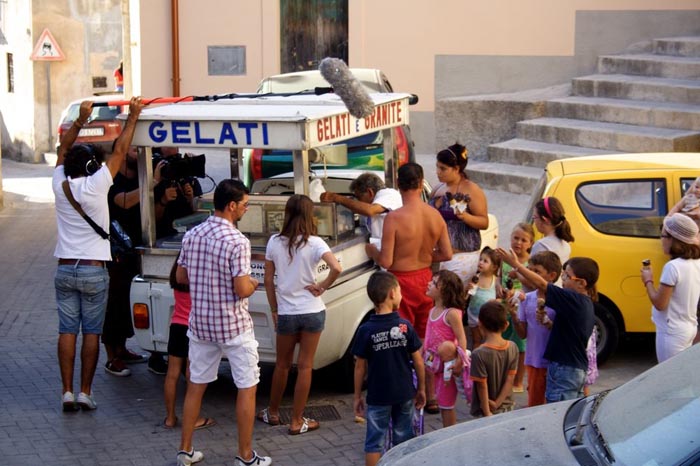 Children wait expectantly, craning necks out of windows in tiny cul-de-sacs and standing on balconies overlooking winding, cobbled streets, as they listen for the blaring music that presages Don Giugginu's van. Then, when the van appears, Don Giugginu whistles and he shouts out in his thick accent: "La vuoi la granita?" (You want granita?) Italian film director Ivano Fachin grew up in the Baroque town of Modica in the province of Ragusa in Sicily. Don Giugginu and his trusty Fiat 127 were part of his childhood. Fachin went on to study Communication Sciences at the University of Perugia and began to make his first shorts: 'The Voice Of Things', 'Carousel Turn' and 'The Perfect Man', which won awards in Italy and abroad. After graduating, he moved to New York, where he shot 'Sunnyside' and 'Vodka Tonic – the latter won the N.I.C.E. Award for Best Short Film and the Campus Gioventù Award at the 2011 Taormina Film Festival. When Fachin then returned to Sicily, he chose to preserve Don Giugginu's story on celluloid in a short documentary, 'Gelati E Granite' (2013), which presents a picture of small-town Sicilian life during the balmy days of summer as well as portraying one of the area's most iconic characters. The film short shows off some of Ragusa's spectacular scenery that will be familiar to viewers of TV's 'Inspector Montalbano' series, alongside a soundtrack composed and performed by popular Ragusan band Baciamolemani.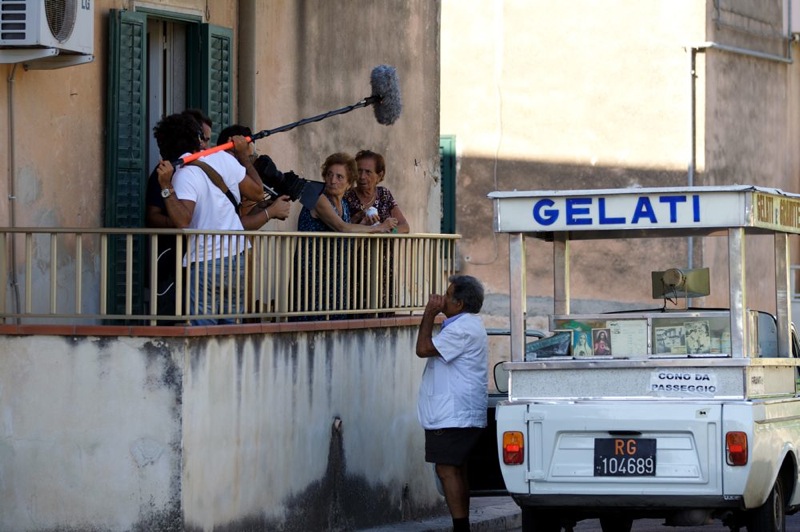 'Gelati e Granite' is also an affectionate portrayal of Don Giugginu, his wife and the work they have put in over the decades. Despite a limp, Don Giugginu gets up at dawn each morning and makes his wares before setting out in his van to tour the local towns. Depending on the day of the week and the time of year, he visits Modica, Ragusa, Scicli, Marina di Modica, Ispica, Vittoria and Sampieri. He returns home late each night. A grafter, Don Giugginu works year round, seven days a week. He started selling ice cream and granita in 1955 – the number of miles Don Giugginu has travelled over the years doing his job is enough that he could have been to the moon and back.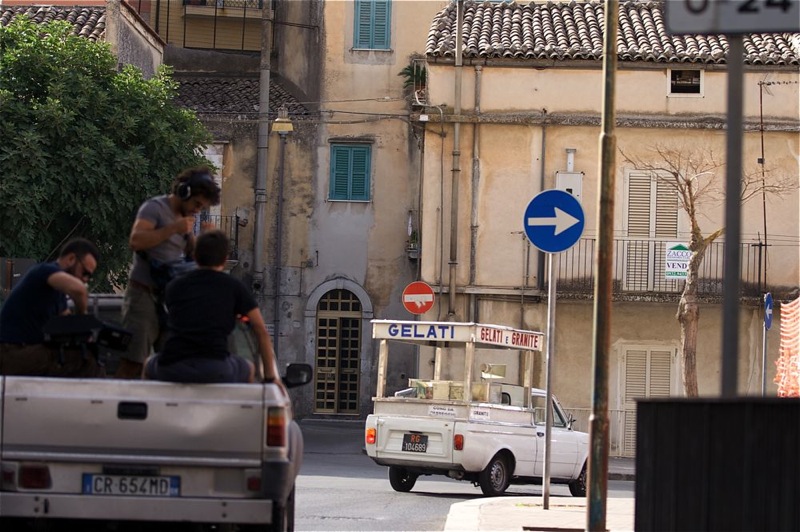 Why did you decide to make 'Gelati E Granite'? I came back from New York and I was with my mum in the car in Modica. Don Giugginu was driving in front of us. I thought he was the perfect image of what I love about here: the beautiful flavour of the ice cream and his behaviour when I was young – he told me to quit smoking. It was the history of me and Modica. Aesthetically, Don Giugginu and his van are beautiful: he's a bit like a sailor. But as I got to know him better I realised he's more than that: he's tough, more like a cowboy in a Western. There's just something about him. I started to talk to friends and – as everyone loves him – they pushed me to do it. What was it like working with Don Giugginu? When we were shooting, the only time he was angry was when we were slow as he had a schedule and clients. When we were shooting in a market, he was nervous in case people got scared off by the camera and didn't buy anything. In the summer, Don Giugginu works from 6am in the morning to 3am at night. All day was too long for us, but he did it. In the winter, he works a bit less but even then, he goes to schools and markets. He's on the move all time: we make a joke in the movie that he switches off the car when going downhill to save petrol. But he's generous: even when kids don't have any money he gives them a half portion [of granita or ice cream], so they never leave his van without anything. He's a bit melancholy: he's old and the van is from 1976 – it's as if it's lived forever – he knows [his career] will end soon. He is a memory of the past and keeps the community together. Don Giugginu is part of the shared consciousness of the town for all the people, rich and poor; he pulls them together. At the screening in Modica [in February 2013], people had so many stories of him from when they were kids, everyone felt like a protagonist so it felt like a portrait for everybody.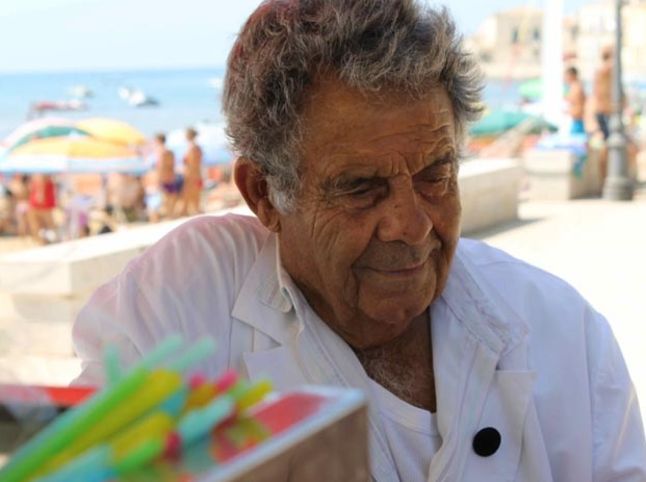 What was Don Giugginu's reaction to the film when he saw it? His first reaction was when he saw the poster [for the film] was "I'm very old." He wasn't full of ego but he did notice his age. Then he saw the movie and he was proud. He told me it was very nice, saying: "How can I repay you for making me so well known and well loved. I'm very happy." How did Baciamolemani get involved in doing the soundtrack for the film? I met the band a year before I started shooting the film. I heard them and liked them, so we had a talk and they were very enthusiastic about the project. They did a great job and the composer Andrea [Dipasquale] is very talented. They're full of energy and enthusiasm – happy people. When is 'Gelati E Granite' being released? We're just starting to send it to film festivals. 'Gelati E Granite' was selected to appear at the Biografilm Festival 
in Bologna, [which ran from 7 to 17 June 2013.] What's your next movie about? I'm working on a project called 'Americazuela'. It's about Sicilians immigrating to Venezuela. 'Americazuela' is symbolic of a land of dreams, an imaginary land of hope that doesn't exist. I want to tell the stories of the people who left, who came back, who stayed or are leaving.
---
Ivano Fachin's website is at http://www.ivanofachin.com/en/. The 'Gelati E Granite' site is at http://www.gelatiegranite.it/, and on Facebook at https://www.facebook.com/gelatiegranite and Twitter @GelatiEGranite. 'Americazuela' is on Facebook at https://www.facebook.com/Americazuela. Baciamolemani are on Facebook at https://www.facebook.com/BLMband and Twitter @Blmband.
---