The story of chocolate in Italy has the glamour of court life, the ring of horse hooves beating fast on cobbled street, the dim lights and wooden panelling of the first cioccolaterie.
Chocolate arrived in the country with the Spaniards, who brought it from the New World into Modica, which they ruled; with the Venetians, who, always open to trade and new influences, started serving and drinking it in the city's cafes; and, perhaps most of all, with the Savoy family—Duke Emanuele Filiberto who brought to Turin both his court and the precious cocoa beans, his son Carlo Emanuele I, who served hot chocolate at his wedding feast, and his grand-daughter-in-law Madama Reale, who granted the first chocolate making licence to a Turinese confectioner, Giò Antonio Ari.
From Turin, Venice and Modica it spread across the rest of the country. But while Italy still has a reputation for making one of the world's best hot chocolate—thick, intensely scented, deeply dark—the later tradition of making artisanal bars and bonbons has somewhat been overshadowed during the years by the many industrial products that came out of the country. Which is a shame because Italy does have some excellent chocolatiers and chocolate makers (and if you are wondering what the difference is: chocolate makers make chocolate from scratch, chocolatiers don't).
It is one of the European countries that spearheaded the campaign for pure chocolate—the one that is made with cocoa butter, with no vegetable oil additions. It also has some indigenous recipes—gianduiotti in Piedmont, cioccolato modicano in Sicily—which are unique in the world. There are many great artisans worth knowing—Tuscany alone has a valleyful of them, including Andrea Slitti, who was named Italy's best chocolatier in 2008—but here are three of the very best you really should try.
Antica Dolceria Bonajuto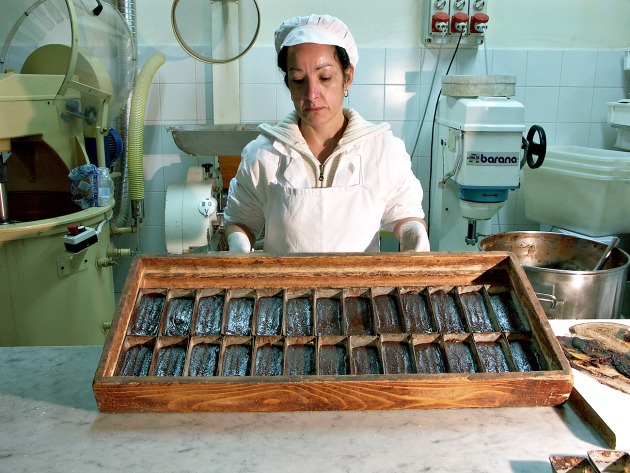 Modica's chocolate is as Baroque as the city's architecture. It is rich, dramatic, unabashedly opulent—and unique. There are many excellent chocolate makers in Modica, but Antica Dolceria Bonajuto is the best one in town. Founded in 1880, it went on to win a gold medal for its confections at an exhibition in Rome in the early 20th century. A hundred years later, the wooden-panelled shop still makes heavenly award winning cinnamon, vanilla and chilli chocolate in true Aztec style. 
As a matter of fact, only in Modica, in south-eastern Sicily, chocolate is still made with an old technique without conching, tempering or adding any extra fat. The cocoa mass is worked at a low temperature with caster sugar and spices. The sugar's crystals do not melt, resulting in a grainy, dull brown, highly textured chocolate. The origins of this unusual recipe are ancient and linked with the conquest of the New World. The Spanish, who once ruled over Sicily, introduced this chocolate-making technique, which they had learned from the Aztecs, to the county of Modica. Today, this production method has vanished from virtually anywhere else in the world, but it remains alive in Modica—even though the cocoa mass is now worked in a modern raffinatrice rather than the Aztecs' metate stone slab. And in Modica, like in ancient Mexico, chocolate is traditionally flavoured with chilli, cinnamon or vanilla. Antica Dolceria Bonajuto now produces also chocolate with many other flavours, from ntumeg, to white pepper, from cardamom to salt. 
Amedei
A brother and sister team—Alessio and Cecilia Tessieri—are behind the Renaissance of Italian chocolate. Confectioners by family trade, the Tessieri siblings opened Amedei in 1990, naming it after their choco-holic grandmother. The company was the first to tear the milky, nutty, industrial image of Italian chocolate and show that Italy could make sensuous, silky bars to rival with the world's best. Since the very beginning, Alessio has been selecting and securing top-quality cocoa in South America, which Cecilia—one of the very few women chocolatiers in the world—has been turninginto luscious choolate in their factory near Pontedera. Amedei were among the first to treat cocoa as wine, making chocolate from single cocoa varieties, such as the rare Criollo Porcelana from Venezuela. A few years ago, they secured cocoa from the remote village of Chuao, also in Venezuela, to make a complex, fruity bar with strong cherry and raspberry notes, which consistently tops rankings at chocolate tastings worldwide. But it is their unusually named 9—a blend of cocoa from nine plantations, with subtle hints of the woods—which won the the Tavoletta d'oro, Italy's greatest chocolate accolade, for bitter chocolate in 2008.
Domori
Pitch dark, round, velvety, Domori's chocolate billows in the mouth and lingers in the throat. Domori, which means the Two Moors in Venietian dialect, sprung from the passion of Gianluca Franzoni, an Italian cocoa-holic with Venezuelan ties. For Franzoni, and the company he founded in 1994, cocoa is everything. He wanted to make chocolate out of the best quality cocoa, which represents only 10% of the world's production, helping to save and revive ancient varieties. So he travelled extensively to South America to study the cultivation and processing of the beans, and even launched his own hacienda in Paria, Venezuela, to spearhead the production of the rare Criollo variety. Once he secured the right beans, Franzoni set out to make a chocolate where the many flavours of single origin cocoa—Sambirano's red berries, Arriba's hints of ripe banana, Teyuna's honey notes—could emerge clearly. Which is why Domori only uses cocoa paste and cocoa butter, without even resorting to lecithin, the emulsifier used by many manufacturers. All the company's chocolate bars are worth a try but the sweet, silky, ever so slightly spicy Puertomar stands above all. Made with Criollo variety from Venezuela, it won the Tavoletta d'oro for single origin chocolate in 2008.
Want to experience a chocolate-lovers tour for yourself? Join this three-hour experience in the capital of sweet heaven, lovely Turin combined with a visit to the first Egyptian museum in the world!