Asked three years ago when I first moved to Italy, I would have told you to avoid visiting Milan at all costs. Famously infamous for her grey skies juxtaposed with the glass and steel facades of skyscrapers, the city of Milan has literally been playing a game of "smoke and mirrors" with the world for far too long.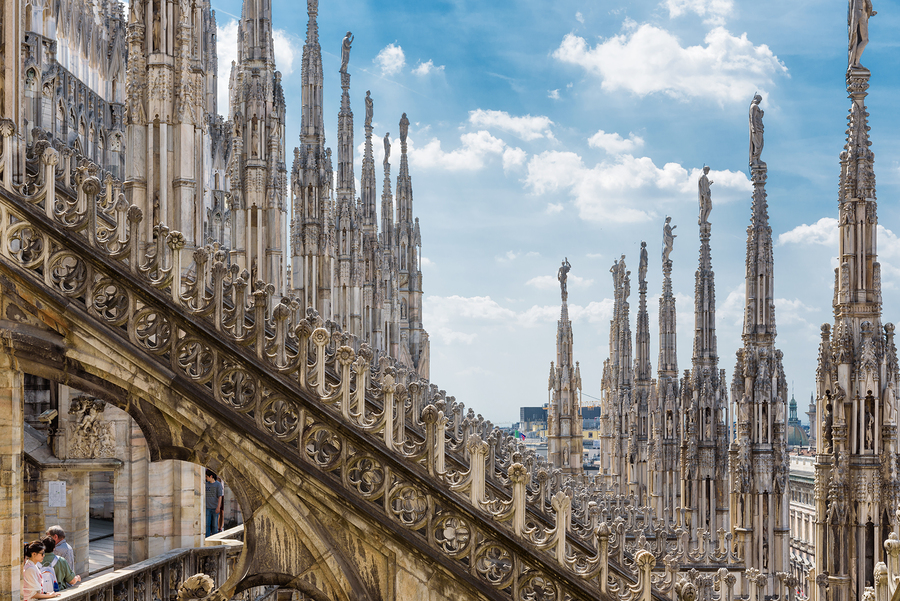 The truth is that this city doesn't open up to just anyone and especially not to tourists who flock to Italy's capital of finance and fashion with hopes and visions that look more akin to The Sartorialist's Instagram feed during fashion week than they do in reality. The real Milan has yet to reveal herself fully to me and the resentment is felt on both sides. Yet each time I've paid Milan a visit, I've stumbled on reasons to return which is why on a steamy Saturday morning in August, I found myself joining a tour with Ciao Florence, appropriately called the "Gran Tour di Milano" on the Italian site. 
My husband, born-and-bred in a town just 30 minutes away from Milan, had never seen Da Vinci's Last Supper, and enthusiastically joined me as unofficial photographer since this was to be one of the tour's highlights. I was most excited to visit the Duomo seeing as after numerous visits and selfies with its exterior, this tour would also take us inside where I had yet to step foot due to a combination of impatience for line-ups and a rather shameful tendency to prioritize aperitivo over art and hunger over history.
We almost missed the departure of the tour by waiting at a corner directly across from the tour office, the Canadian in me perplexed by the tardiness of our fellow tour-goers while the Italian in my husband continually assured me that we had simply arrived too early. Luckily, I investigated and we hopped on an air-conditioned tour bus about one minute before it took off. If you're hesitant about being on a bus and worried about losing the "off-the-beaten" track authenticity of discovering  city by foot, let me just say that this day in August hit 40 degrees C and that bus ended up being an unexpected godsend.
Our guide, Marta, was exceptionally prepared and linguistically-enviable as she rattled off centuries of history in both English and German. I've already stated how underrated Milan is and guides often fall under the same guise when instead, they can be invaluable resources of knowledge. Driving past Castello Sforzesco, we were told entertaining recollections of the Visconti family and their rule over Milan and taught how to recognize the family's very unique coat of arms- a giant serpent devouring a child, which led me to wonder whether author J.K. Rowling might have drawn some inspiration from the city before penning The Chamber of Secrets.
The first official stop is the Duomo (Cathedral); the lace-like church stands proudly over her square, Piazza del Duomo, and almost inevitably makes every onlooker assume the same expression which I've lovingly termed the "squint-in-awe".  Milan's claim-to-fame has been known to elicit of a range of adjectives ranging from vile to exquisite and to my untrained eye, I would lean more towards the latter. It's like looking at haute couture when you know nothing about fashion, it can be so intricate and elaborate that you can't quite articulate a description but you know that the effort alone is something to be revered. Writer Henry James may have put it best when he said, "…if it had no other distinction it would still have that of impressive, immeasurable achievement … a supreme embodiment of vigorous effort."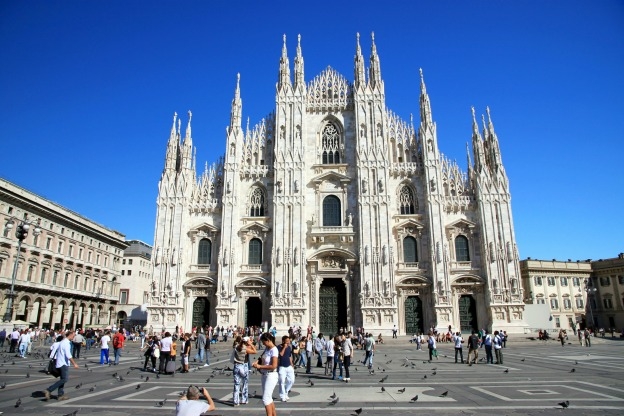 Being part of a tour gives you the priceless advantage of what is essentially "skip-the-line" access, that is, tour groups get a dedicated line which is often shorter or faster, so we were quickly hustled into the cool humidity of the Duomo's interior in no time. Inside, you are greeted by 52 imposing pillars, one for each week of the year, and streams of rainbow-colored lights illuminating the stone walls as they pass through the stained-glass. We were taken on a full-circle round of the church, stopping to admire the replica of the Madonnina hidden at the very back.
The real one sits atop the Duomo, only visible on clear days and imposing a calm watch over the city. In fact, it is a tradition that no building in Milan is permitted to be taller than the Madonnina. Our guide also pointed out the differences between two panels of stained-glass, one being painted and the other with its colors attributed to minerals. It's a subtle factoid that you wouldn't be privy to without being on a tour. For the Italian language lover, we also learned that the expression "lento come il Duomo di Milano" which translates to "slow as the Duomo", came to be as it took 600 years to build. Not a small undertaking by any means.
The next part of the tour was by foot, as you leave the Duomo at your back and head towards the renowned Galleria Vittorio Emanuele. Known as Milan's drawing room, I would rename it Milan's runway. You're flanked by luxury stores, the glinting gold script of Versace competing with that of Prada, women and men competing for a second-look from passerby and all those seated on the sidelines, sipping 6 euro coffee at one of the opulent restaurants.
It's the perfect place to people watch, although go ahead and stare, because the Italians certainly do. Here you are graced with the chance to turn on your heel, superstitiously and aptly situated on the balls of a bull of Turin mosaic on the floor. You can't miss it, even without a guide, just look for someone spinning with hoards of onlookers or people looking attentively at the ground. However, don't forget to look up, the atrium's best feature are the soaring arches overhead, a puzzle of steel and glass and a testament to the modern, industrial future for Milan envisioned by architect Giuseppe Mengoni in 1877.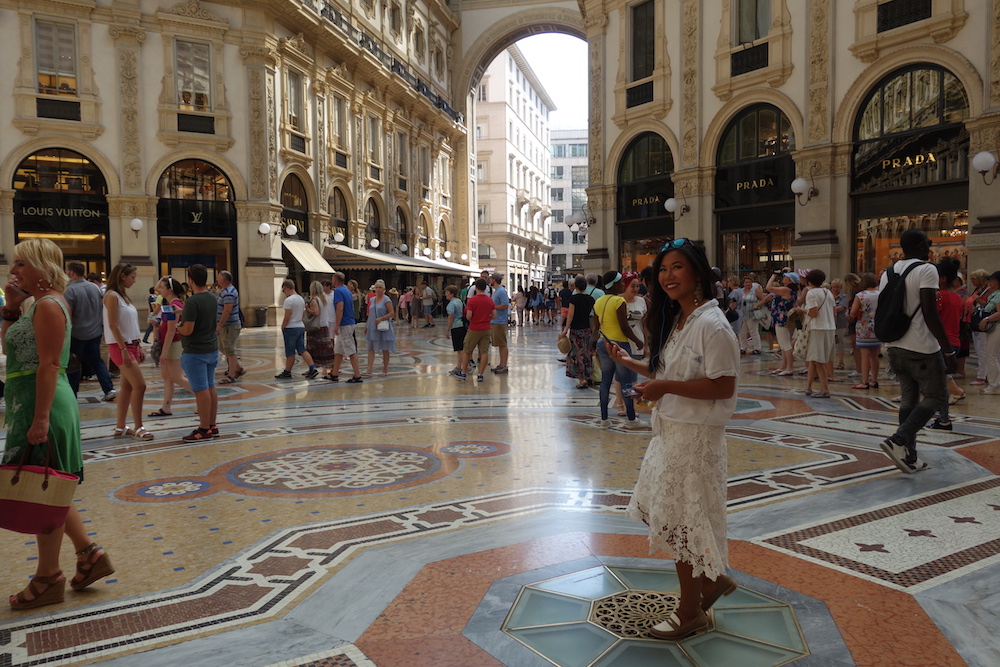 When we had just about had enough price sticker shock, Marta led us out of the crowd and towards Teatro alla Scala. It was a welcome stop thanks to the airy, open nature of the opera house's "lobby" which has several chandeliers and mirrors and make for a perfect photo opportunity. We had the chance to pop inside a private box (think Julia Roberts in Pretty Woman) and admire the grandeur of what might be considered the most famous opera house in the world. It's exactly what you would imagine it to be – golden accents and scarlet velvet, the stagnant air somehow singing with hundreds of years of talent and spectacle. For the music aficionado, a short trip to the museum attached to the opera house is warranted where you can admire portraits and iron-busts of operatic greats and the old pianos of composers.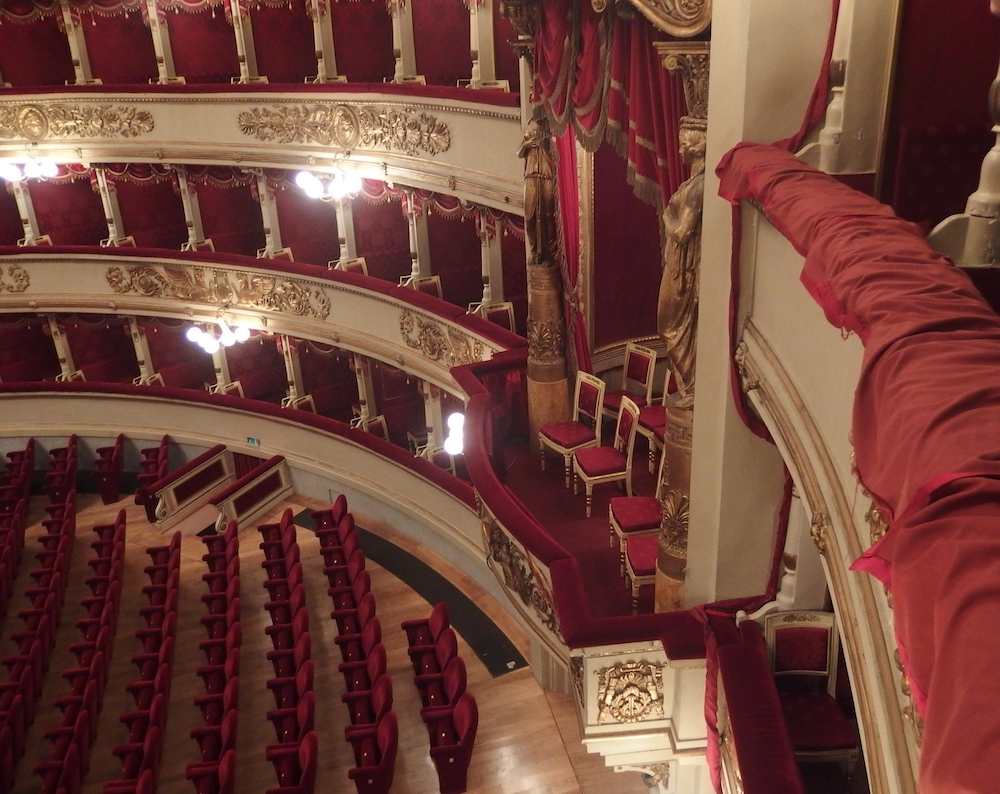 [By Palickap (Own work) via Wikimedia Commons]
The last stop was to see The Last Supper, situated in a building next to the Church of Santa Maria della Grazie. If you're still unconvinced about doing an organized tour, this is where I convince you. Tickets to view The Last Supper must be reserved and booked in advance. If you were to check now, there would likely be no tickets available for the next two months. There are even milanesi (locals of Milan) that haven't seen The Last Supper due to this small inconvenience. 
Instead a tour operator can get you in faster than you can say "cenacolo" (the real, Italian name for the work). It's a precise affair: groups of 25 are let in via a special air chamber that "cleans" off dust and pollution in order to protect the delicate nature of the painting and from the moment you enter, you are given 15 minutes on the clock to take in its beauty. This is another instance where having a guide speak in my ear about what I was looking at was ideal. Fifteen minutes pass quickly and I'm certain you would waste a lot of that time reading the descriptions rather than looking at the painting itself.
This is a piece of art and history that absolutely must be seen in a lifetime. Its colors are faded despite the most recent restoration which took place in 1999 but it has something unspoken about it that has nothing to do with the intensity of the colors, much like the Mona Lisa. Da Vinci Code and literary enthusiasts will jump at the chance to get up-close-and-personal with the controversial effeminate apostle John and decide whether he is really a she, Mary Magdalene. However, our guide agreed with the critics of this hypothesis and shared multiple pieces of evidence as to why a woman would never have been depicted by Da Vinci, therefore stating that the Mary Magdalene theory was essentially impossible.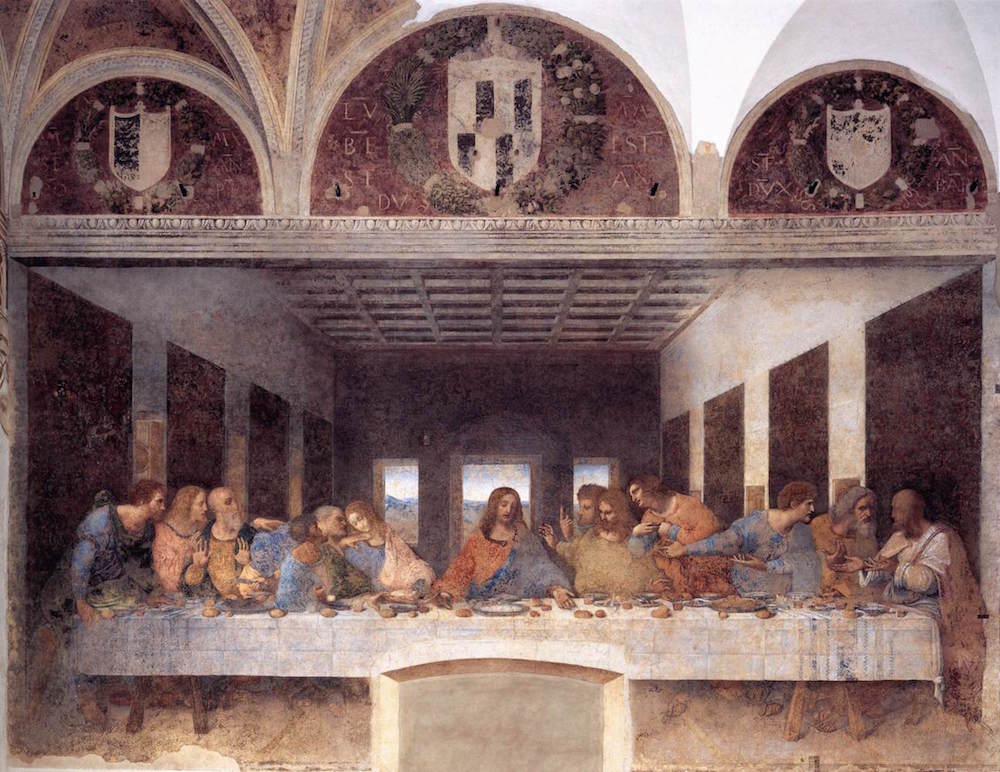 [Leonardo da Vinci [Public domain], via Wikimedia Commons]
As the tour wrapped up, I found myself shamelessly planning my next trip. During the tour, we had passed Chinatown, the hallmark tell-tale sign that you're in a global metropolis and unfortunately my provincial city of Bergamo is drastically lacking in dim sum options. In addition to the art and culture, finances and fashion, I have an inkling that Milan just might offer more than meets the eye (like dim sum) but I'm not sure I want everyone to find out. The fate of Italian cities that gain too much fame is never gilded and perhaps Milan was smart all along to keep her secrets behind smoke and mirrors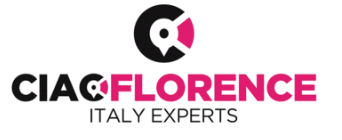 Curious for a deeper understanding the city of Milan? Join Ciao Florence's grand tour of Milano for a ½ day visit discovering the rich art heritage and cultural side to this dynamic city.