Recently I stood on a windswept hilltop overlooking Urbino, took a picture, and texted my husband.
From five thousand miles away, he texted back: "Is that a painting?"
"It is a painting," I typed. "Well, it became one."
Actually, the dramatic landscape around Urbino has appeared in many paintings. There is something about Urbino itself—with its undulating hills, dramatic monuments, and its vast sky—that seems to encapsulate the characteristic aesthetic of the Italian Renaissance. 
Now, I would never discredit the genius of Urbino's native son, Raffaello Sanzio, better known as Raphael (April 6, 1483-April 6, 1520). But let's face it: Growing up surrounded by these picture-perfect views, it's no wonder that young Raphael found himself inspired to capture them—and to populate them with his serene Madonnas and angels.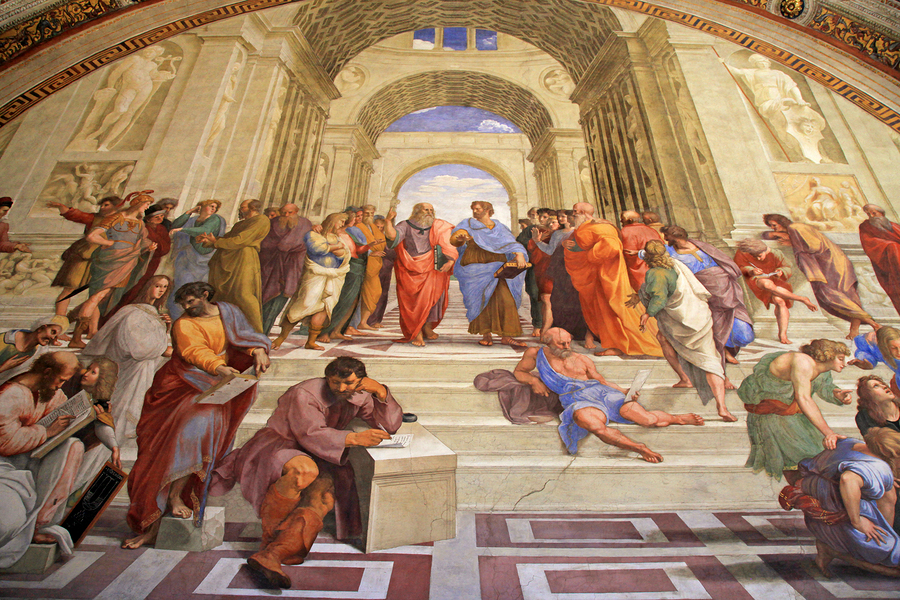 As part of the celebration of the artist's life in 2020—the 500th anniversary of his death—the time has never been better to reflect on Raphael's hometown of Urbino and some of its unsung artistic gems.
AN AUSPICIOUS START
By the time Raphael died unexpectedly at 37 years old, he was already one of the most celebrated artists on the Italian peninsula. The news of Raphael's death on Good Friday, 1520, drew mourners from far and wide to his shrine inside the Pantheon in Rome.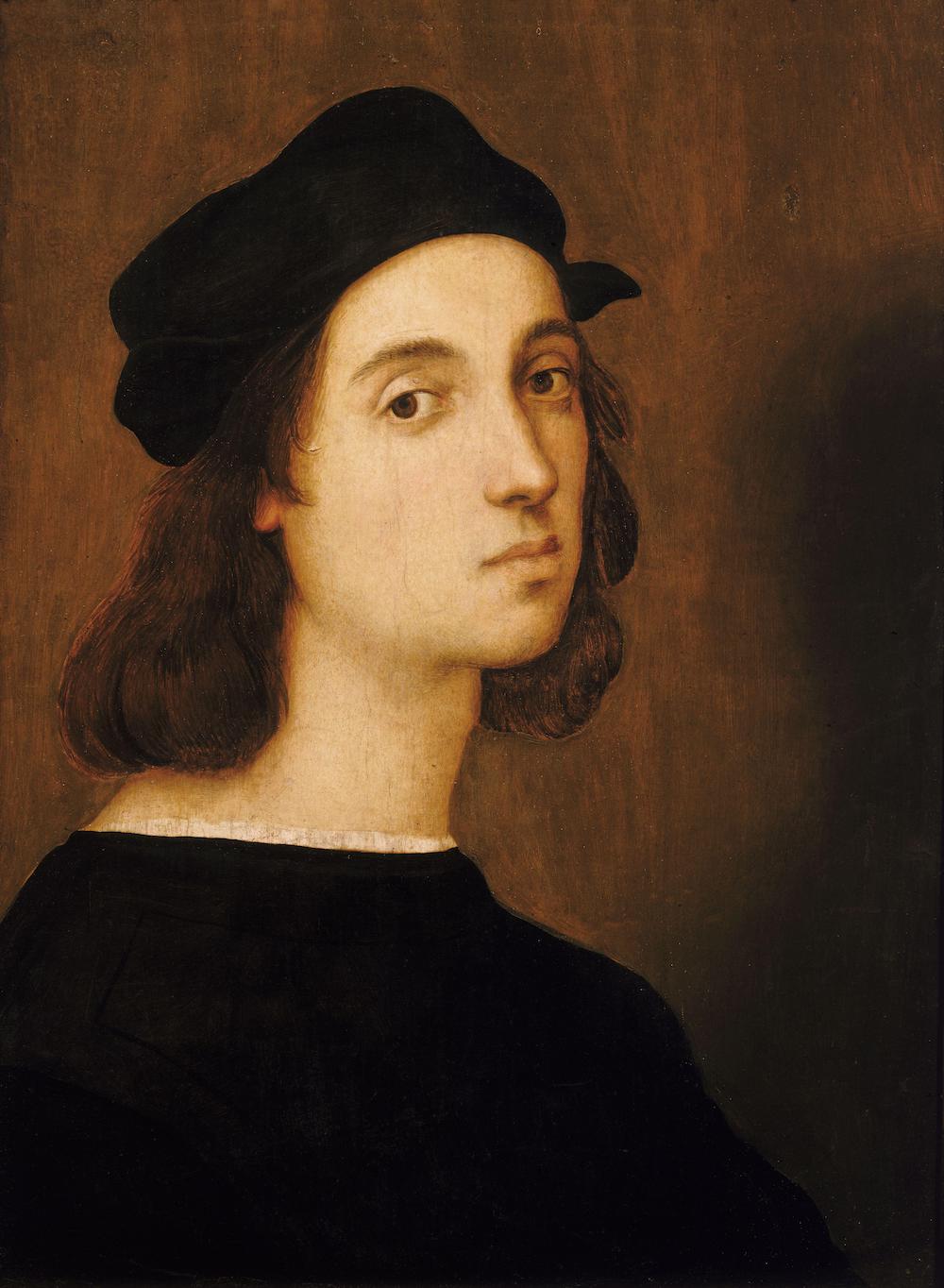 Today, if you want to see many of Raphael's most iconic works, you will find them in Rome. Pope Julius II named Raphael the Vatican's chief architect, and Raphael painted his most famous frescoes inside the papal palace. Museum collections around the world—especially in Rome and Florence—hold many of Raphael's devotional images and portraits. 
But it's in Urbino that we have a chance to understand where and how it all began for Raphael. In 1483, the artist Giovanni Santi and his wife, Mágia di Battista di Nicola Ciarla, welcomed a baby boy. Their home, which lay in the shadow of the ducal palace of Urbino, included a painting workshop where Santi stayed busy with commissions for the dukes of Urbino, members of the ducal court, and others. 
When Raphael was eight years old, his mother and infant sister died in childbirth. His father's subsequent death left Raphael alone at eleven years old. 
Raphael was placed in the care of his uncles and was probably apprenticed to the painter Pietro Perugino around that time. He worked on large collaborative projects, such as altarpieces, in Perugia and Città di Castello. He also seems to have continued working in his father's home workshop. Within a few years, Raphael had begun to earn commissions among the ducal court of Urbino, following in his father's stead.
Raphael's early portraits and his religious paintings during this era show a heavy reliance on the teachings of his father, of Perugino, and of other regional masters. At the same time, looking at these works, it's clear that Raphael's talent would soon take him beyond his idyllic, isolated hometown of Urbino.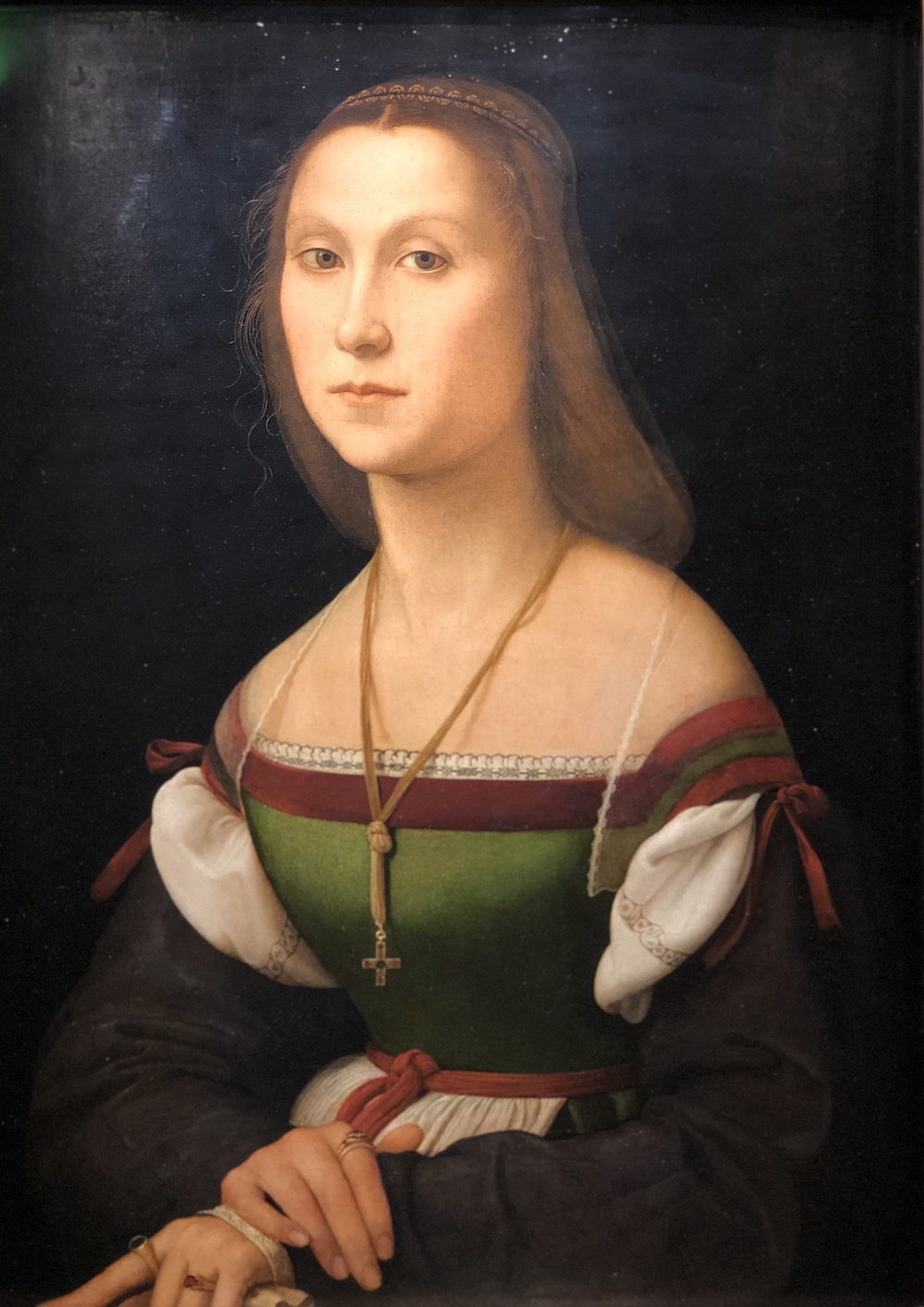 Traveling on muleback to Florence in 1504, 21-year-old Raphael carried a letter of introduction, a sketchbook, and no small amount of ambition. A small fish in a pond of Michelangelos and da Vincis, the young artist rose to the challenge to prove his skill and he scored several notable Florentine commissions. Ultimately, these connections would take him to Rome. There, in the papal city, he would find not only artistic success and adoration from patrons, friends, and fellow artists. He would also find love.
But we get ahead of ourselves. Thanks to letters and other documentary evidence, we know that Raphael continued to return to Urbino throughout his life to take care of home and family concerns. He kept his house there and retained contacts with family, friends, and patrons. Today, walking through this scenic town, it's easy to imagine that Urbino always held Raphael's heart.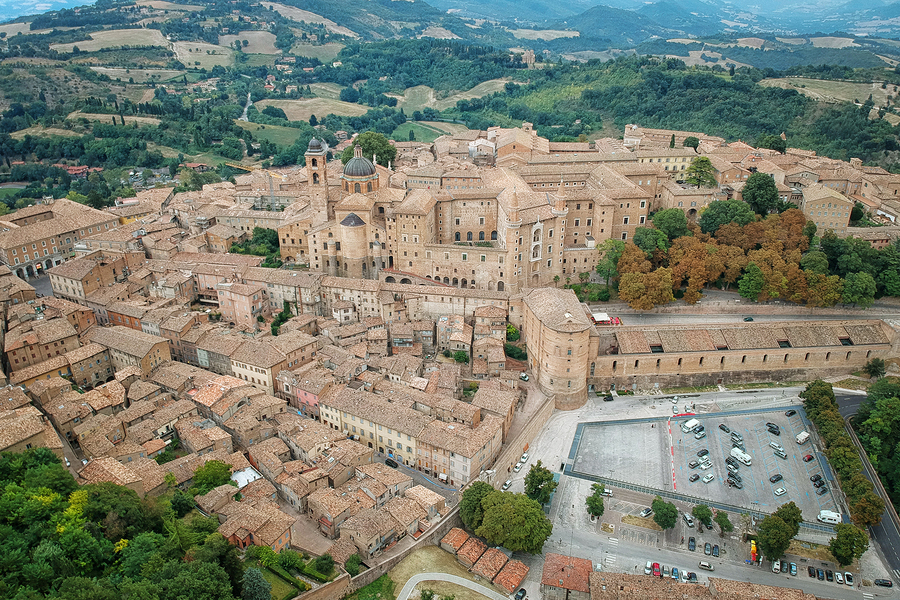 EXPLORING URBINO IN THE FOOTSTEPS OF RAPHAEL
Getting There
Urbino lies in a mountainous and relatively remote part of Le Marche. Getting there takes a little advance planning. The easiest way is to rent a car or hire a driver. Alternately, you can take the train to Pesaro, then transfer to a bus for the 30-minute winding ride up into the hills to Urbino. To make time to explore the beautiful streets, restaurants, and monuments of Urbino, plan to stay at least a couple of nights, longer if your plans allow.
Raphael's House and Workshop
Casa Santi, Via Raffaello 57, 0722/320105
To wander the rooms and hallways of Raphael's birthplace is to feel what it must have been like to live in Renaissance Urbino. In the courtyard, a stone table and mortar for grinding pigments—undoubtedly where Raphael's father taught his son their trade—is a moving, palpable tribute to the artist and his work. A fresco Madonna and Child in the bedroom has been a lively subject of debate among scholars. Is it a work of Raphael? His father? Or perhaps both?
Ducal Palace and Museum
Galleria Nazionale delle Marche, Piazza Rinascimento 13, 0722/2760
This beautiful palace is the home of the regional art museum and you can pass many hours here. The galleries contain breathtaking examples of Italian Renaissance painting, including several works by Raphael's father Giovanni Santi, as well as countless other treasures. Don't miss the incredible marquetry "studiolo" of Duke Federico da Montefeltro, a kind of inner sanctum for the duke that puts every other man cave on the planet to shame. The collection also contains a beautiful early portrait by Raphael in its permanent collection. The identity of the sitter is contested, but she is often called La Muta, the silent one. Most likely, the lady was a member of the ducal court.
Raphael Monument
Piazzale Roma
At the top of the via Raffaello stands a scenic park with a statue of the artist made by Luigi Belli at the end of the nineteenth century. On a hot day, bring your sandwiches, cool drinks, or a bottle of wine to this shaded park for a lovely picnic.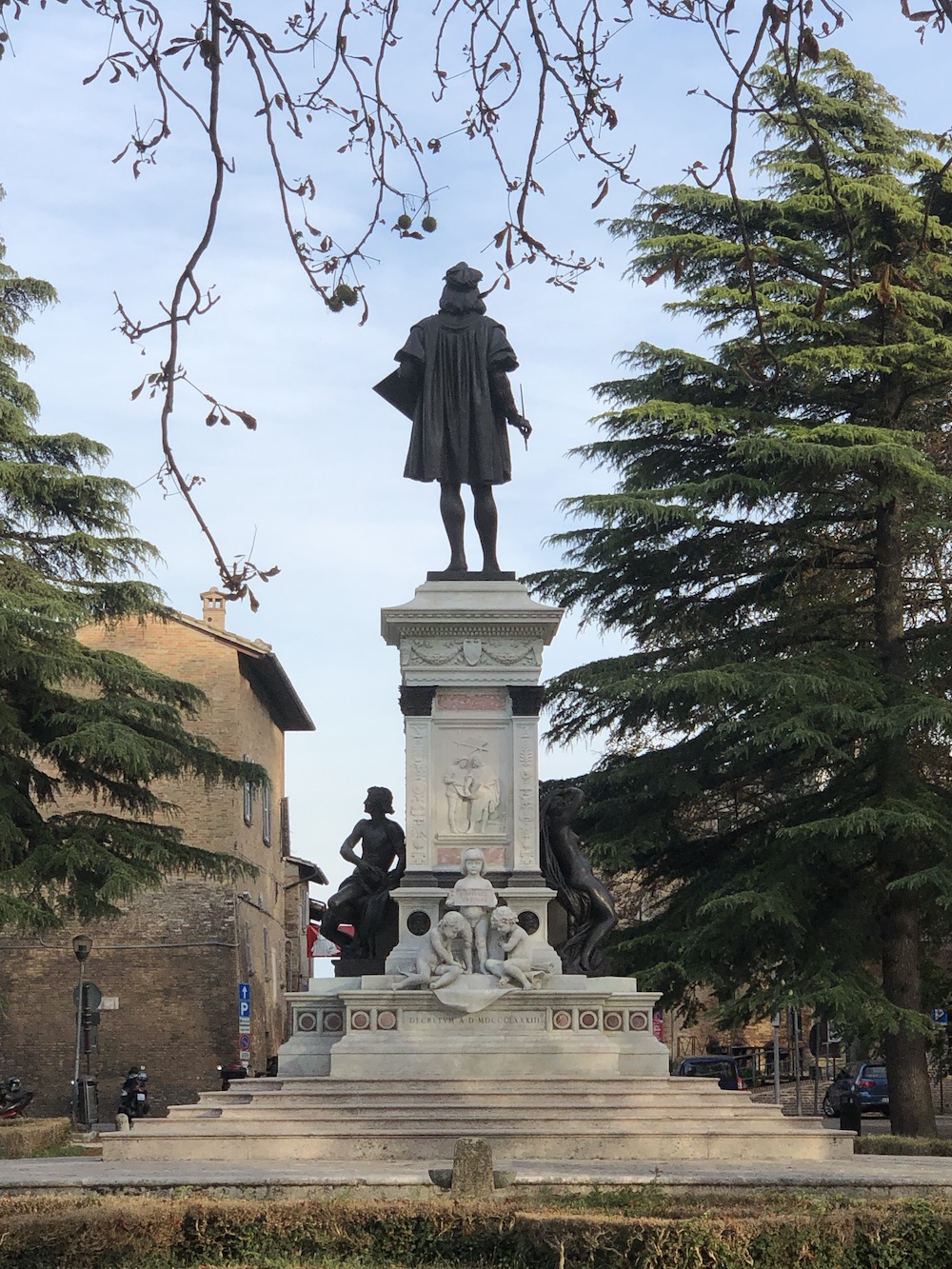 Parco della Resistenza and Fortezza Albernoz
Viale Bruno Buozzi, 345/5844117
The park around this historic fortress is the very best view of Urbino and its hulking ducal palace. Take in the vast panorama of blue sky with pink, wispy clouds, and you'll feel as if you've stepped into the background of one of Raphael's Madonnas.
Laura Morelli is an art historian and historical novelist with a passion for Italy. You can find much more about what to bring home from Italy in her guidebook series, including Made in Florence and Made in Italy. These books, along with Laura's Venice-inspired historical novels, including The Gondola Maker, are available in the Italy Magazine shop.