The artist Raffaello Sanzio—better known as Raphael—is one of the undisputed masters of the High Renaissance style in Italy. But when you realize that the artist died on his 37th birthday, the range and quantity of Raphael's artistic achievements seem nothing short of astonishing.
2020 marks the 500th anniversary of the artist's death, and, similar to museum exhibitions and celebrations surrounding Leonardo da Vinci's anniversary in 2019, Raphael will be the star of the show this year.
In addition to his artistic talent, Raphael was known for his good looks, his popularity with the ladies, and his courtly manners—probably honed at the ducal palace of Urbino, where Raphael's father was employed as a court painter.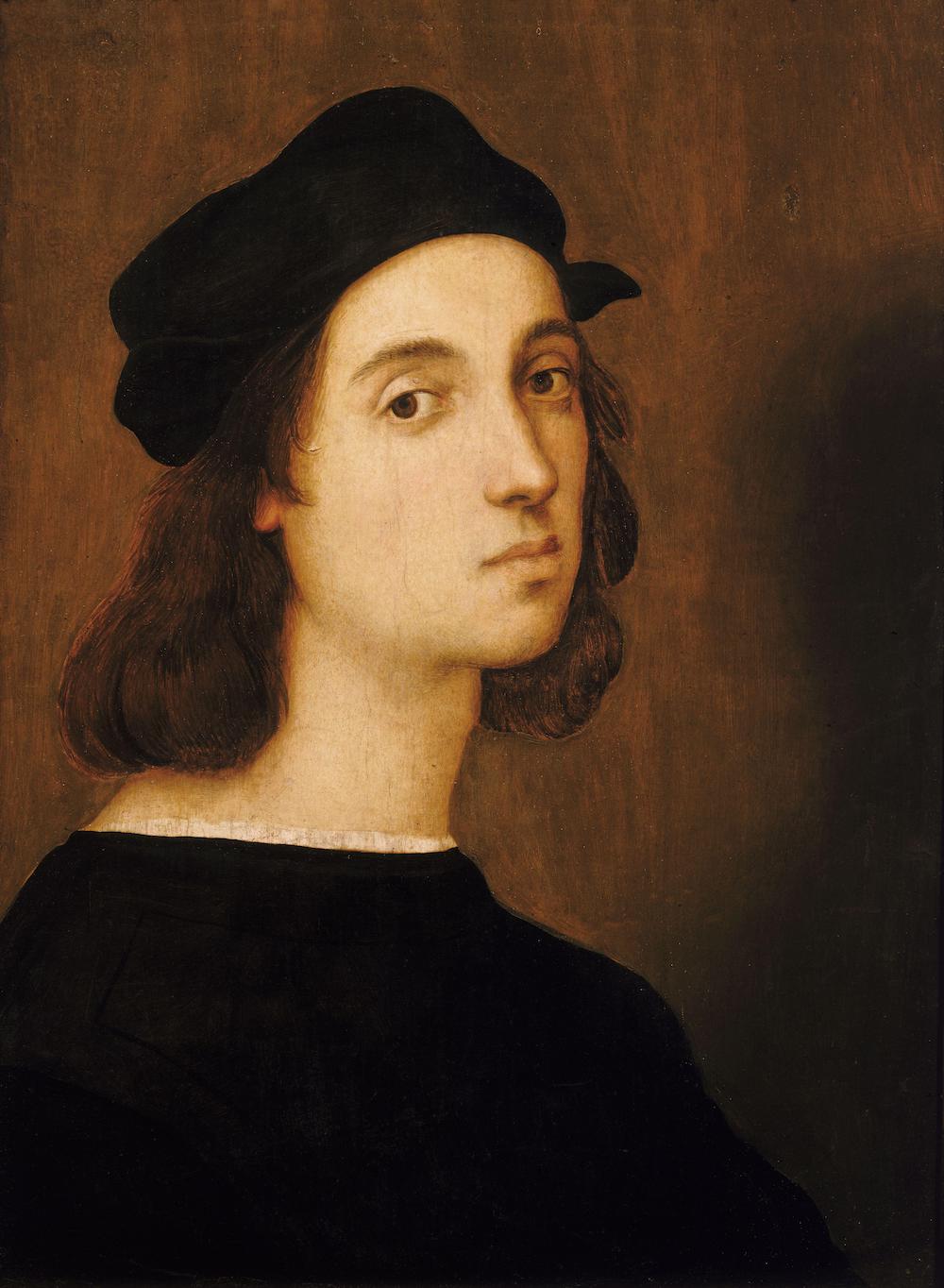 Few artists have been as widely admired as Raphael. His work is celebrated as the pinnacle of Italian Renaissance art along with his contemporaries, Leonardo da Vinci and Michelangelo Buonarroti. Raphael was already famous during his short lifetime for his portraits, his idyllic Madonnas, and his fresco cycles in the papal palace. His work influenced generations of artists after him. And in 2020, we'll get a chance to appreciate Raphael's work in a new light.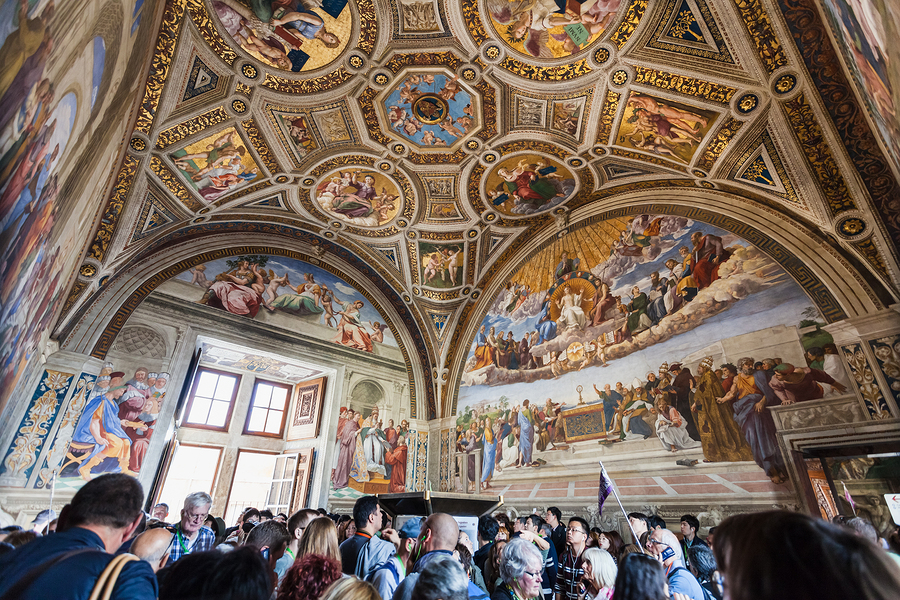 RAPHAEL'S RISE
Raffaello Sanzio (April 6, 1483-April 6, 1520) was born in Urbino, where his father, Giovanni Santi, was an accomplished local artist working in the service of the Duke Federico de Montefeltro. Raphael's mother died in childbirth when he was eight, and his father's subsequent death left Raphael an orphan at eleven. Raphael's uncles looked out for his welfare as the boy took over his father's workshop and studied under the artist Perugino. In a few short years, Raphael earned a place in the ducal palace himself.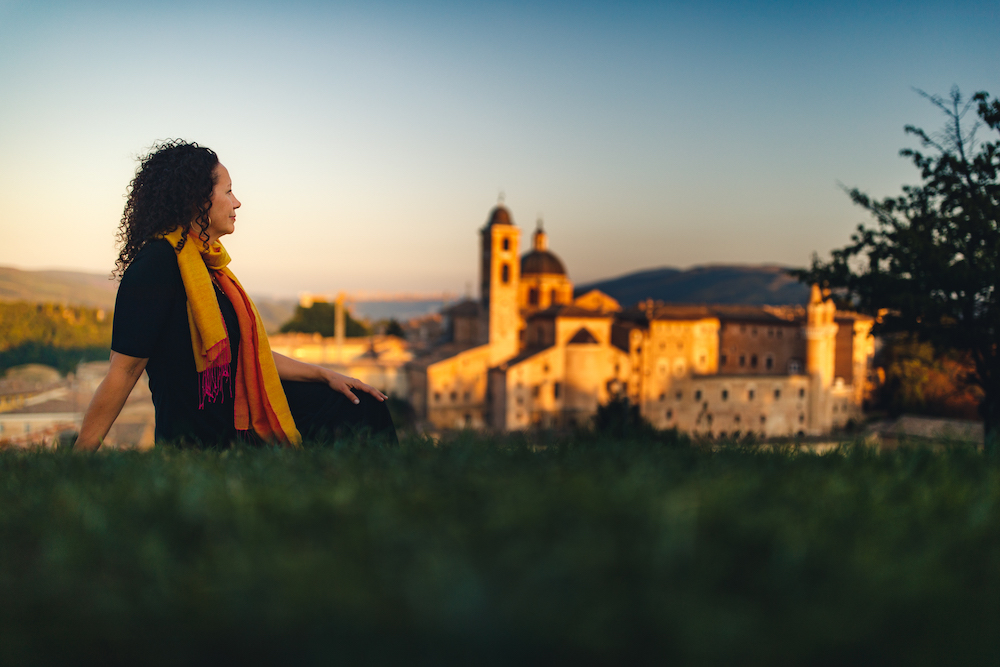 But Raphael's ambition lay beyond the small, isolated mountain duchy of Urbino. He worked on collaborative projects in Perugia and Città di Castello, but he longed to seek his fame and fortune in the ultimate destination for any Renaissance artist worth his salt: Florence.
Raphael arrived in Florence in 1504 with a letter of introduction and some experience under his belt. However, Florence must have appeared as a staggeringly competitive environment for any artist. The 29-year-old Michelangelo Buonarroti had just unveiled his earth-shattering David to the Florentine public. At the same time, Leonardo da Vinci, in his early fifties, was just completing the Mona Lisa. The streets were filled with the likes of Sandro Botticelli and many other famous painters. Thanks to his connections, his likeability, and talent, Raphael managed to work his way into the good graces of several of the city's important families. He painted several commissioned portraits and also began a series of idealized Madonnas.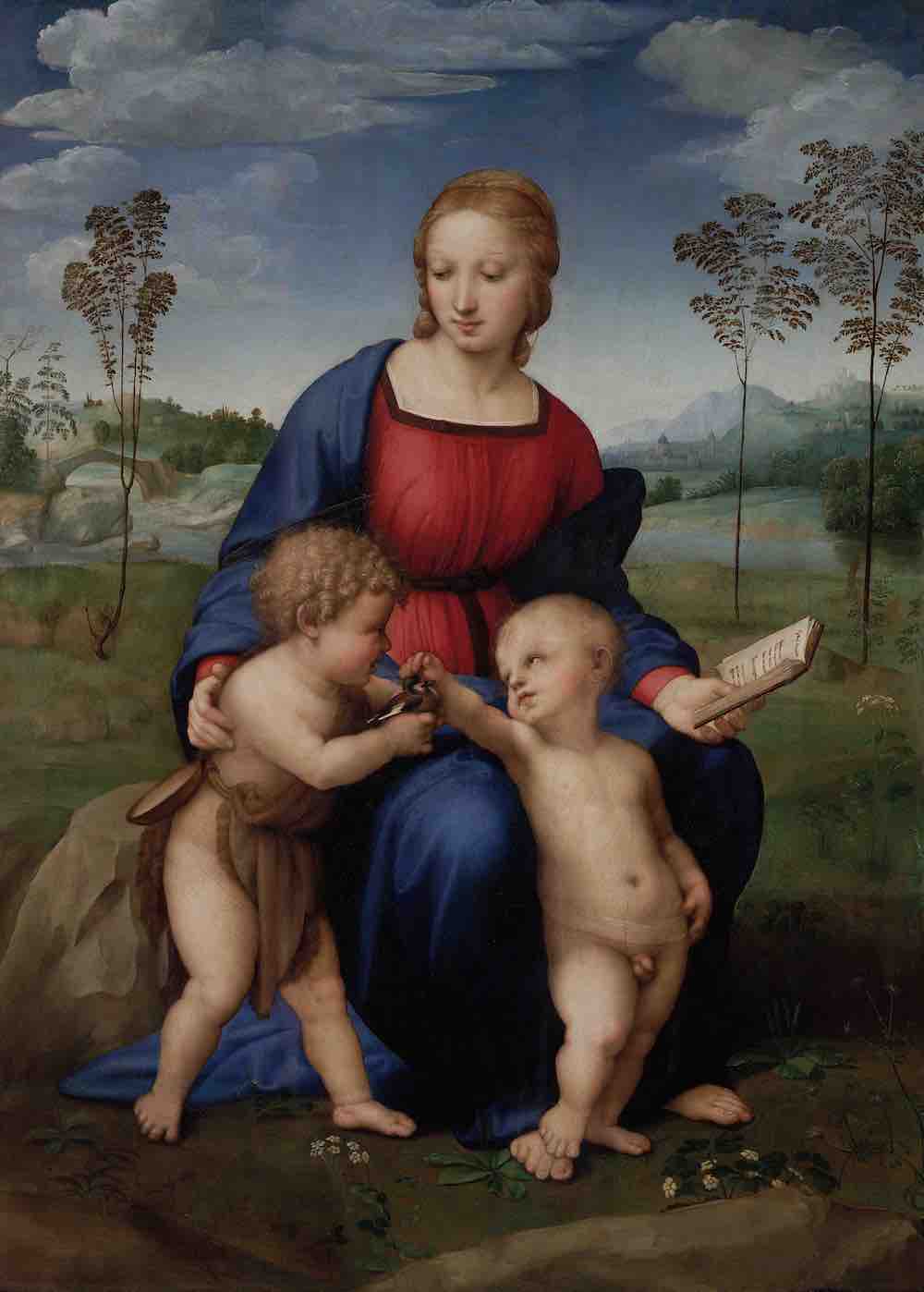 Drawn to Rome in 1509, Raphael soon found himself working for Pope Julius II. He painted a series of frescoed walls in the papal palace, including the so-called Triumph of Religion and the School of Athens in the Stanza della Segnatura, between 1509 and 1511. The pope made Raphael the Vatican's chief architect after the death of Donato Bramante in 1514.
Like this article? Don't miss "Biking Through the Tuscan Countryside, in the Footsteps of Leonardo da Vinci."
Raphael spent the last decade of his life in Rome and it was there that he contracted an unknown illness that took his life. News of Raphael's death spread quickly across the courts of Italy and he was widely mourned. Raphael was given an elaborate funeral and today, his tomb remains inside Rome's Pantheon.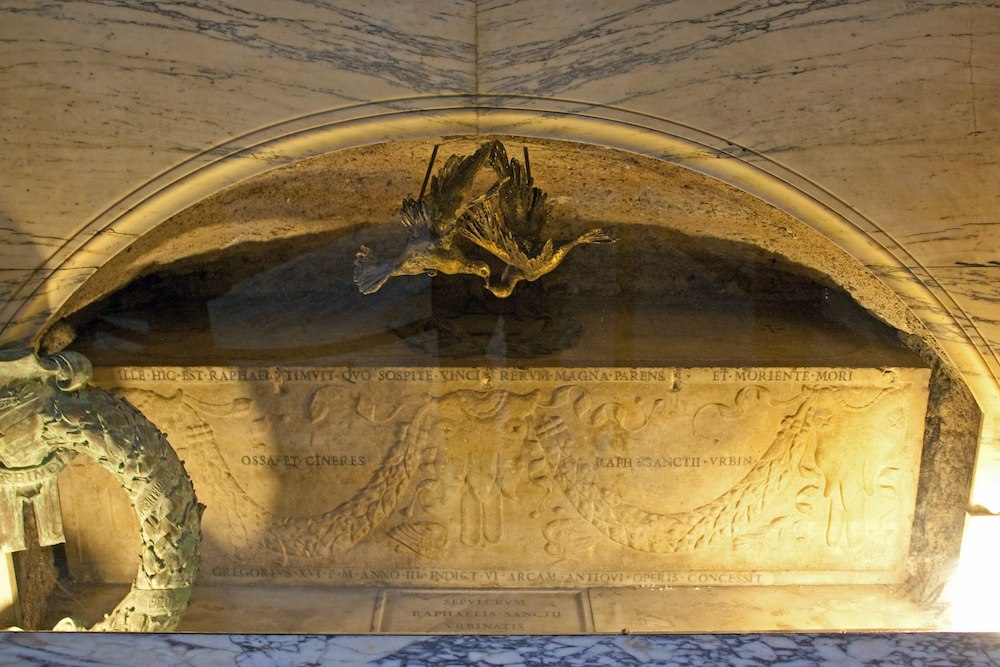 WHERE TO JOIN RAPHAEL 2020 CELEBRATIONS IN ITALY
MILAN
Raphael's Cartoon for the School of Athens
Ongoing
Pinacoteca Ambrosiana
Piazza Pio XI, 2
20123 Milano
02/806921
Milan's Ambrosiana preserves a cartoon, essentially a gigantic drawing, that served as a preparatory step for Raphael's famous School of Athens (1509), completed for the papal palace in Rome. Renaissance artists used these full-size paper templates to prepare large-scale works; the one in the Ambrosiana opens a window onto Raphael's process. The cartoon has just undergone a four-year restoration.
Raffaello 2020
Through February 2, 2020
Palazzo della Permanente
Via Filippo Turati, 34
20121 Milano
02/6551445
While no original work by Raphael is exhibited here, this innovative multimedia experience immerses the visitor into the life and work of Raphael. Visitors follow Raphael's story across five exhibition halls at La Permanente filled with animations, sound, and color. Details of Raphael's most iconic work are reproduced in floor-to-ceiling size, a feast for the senses. 
ROME
Raphael
March 5-June 2, 2020
Scuderie del Quirinale
Via XXIV Maggio, 16
00187 Rome
02/92897722
This exhibition purports to be the most significant event of the 2020 celebrations and is the biggest show ever devoted to the artist. In a collaboration with the Uffizi of Florence, more than 200 works never before gathered in the same location will be on exhibit through June 2. The Scuderie del Quirinale, run by the Italian Ministry of Culture, is an exhibition gallery rather than a museum, and is assembling loaned artwork for this blockbuster show. The exhibit will include an early self-portrait that Raphael painted in his early twenties, as well as the paired portraits of Agnolo and Maddalena Doni (1504-07) and the Madonna of the Goldfinch (1506). Book your tickets on the web site well in advance of your visit.
Raphael's Tomb
Pantheon
Piazza della Rotonda
00186 Rome
While in Rome, you can pay your respects to Raphael at his tomb in the Pantheon. There you will see the words of Cardinal Bembo, a friend of Raphael, inscribed on the tomb: "Here lies Raphael, by whom Nature feared to be outdone while he lived, and when he died, feared that she herself would die."
URBINO
Raphael and Friends in Urbino
Through January 19, 2020
Galleria Nazionale delle Marche
Palazzo Ducale
Piazza Rinascimento, 13
61029 Urbino
0722/2760
Raphael's birthplace is pulling out all the stops with a fantastic exhibition of the works of Raphael along with those of his contemporaries. The focus is on how the artistic culture of Urbino and the Marches region formed Raphael's unique artistic contribution. In addition to work by Raphael, the exhibition showcases work by Raphael's teacher Perugino, as well as that of Luca Signorelli, Timoteo Viti, and others. Even if you arrive too late to view this exhibit, the ducal palace is worth a visit to understand the early years of Raphael's career, and to lay eyes on his beautiful early portrait, La Muta, which is in the gallery's permanent collection.
Raphael's house
Casa Santi
Via Raffaello, 57
61029 Urbino
0722/320105
In addition to the Palazzo Ducale, you can walk in the footsteps of the Renaissance artist by visiting his childhood home and art studio. Some scholars believe that a fresco of a Madonna and Child on one of the bedroom walls may be an early work of Raphael.
EXHIBITIONS OUTSIDE OF ITALY
Outside of Italy, a host of additional exhibitions is also underway: 
The National Gallery in London has organized an important exhibition for 2020 (October 3, 2020-January 24, 2021). They have put their own impressive collection of Raphael's work alongside loans from the Uffizi, the Vatican Museum, the Prado, and other collections.
In Washington, DC, the National Gallery of Art's exhibition, Raphael and His Circle, runs February 16-June 14, 2020, and features 25 prints and drawings by Raphael and his contemporaries. The museum also holds five important paintings by Raphael.
Boston's Isabella Stewart Gardner Museum will have a special exhibition devoted to Raphael's wonderful portrait of the papal librarian Tommaso Inghirami (October 31, 2910-January 30, 2020). 
Through the spring, the Raphael in Berlin exhibition will showcase Raphael's work in various city collections including the Gemäldegalerie and the Kupferstichkabinett.
Laura Morelli is an art historian and historical novelist with a passion for Italy. You can find much more about what to bring home from Italy in her guidebook series, including Made in Florence and Made in Italy. These books, along with Laura's Venice-inspired historical novels, including The Gondola Maker, are available in the Italy Magazine shop.