There's only one railway station in Venice, so why, as trains roll into the station, don't the signs just say VENEZIA? Instead they say VENEZIA SANTA LUCIA, and if you're travelling by train to Venice, that's the announcement you'll hear about your destination. 
In fact there are two other Venezia stations on the mainland before you cross the causeway to the real Venice – Venezia Mestre and Venezia Porto Marghera, but tourists don't go to either of those places.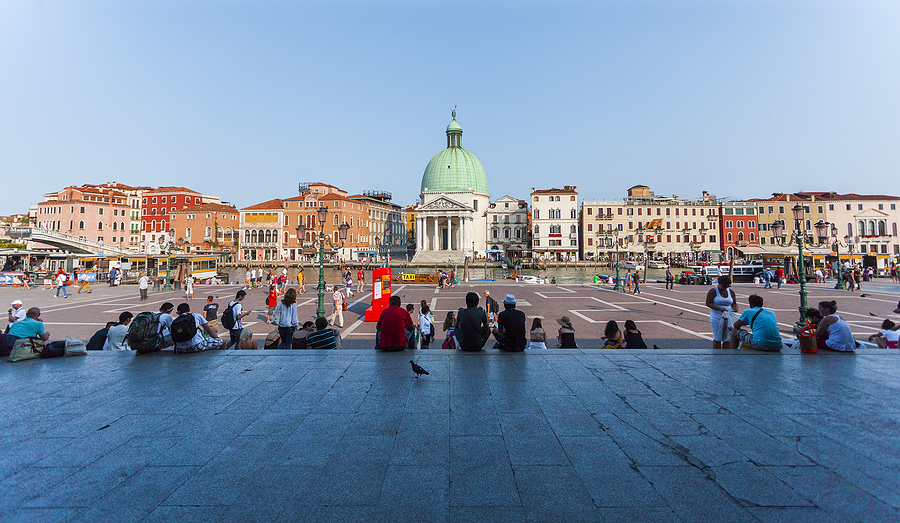 The History and Architecture of Venice's Santa Lucia Station
The history of Venice's railway station is an interesting one. The old Palladian Santa Lucia Church on the Grand Canal was demolished in 1863 to make room for the station, so the saint's name is remembered here, even though her body was removed to the nearby San Geremia Church. It can still be seen there, inside the glass-fronted altar, dressed, but with exposed mummified hands and feet and a silver mask.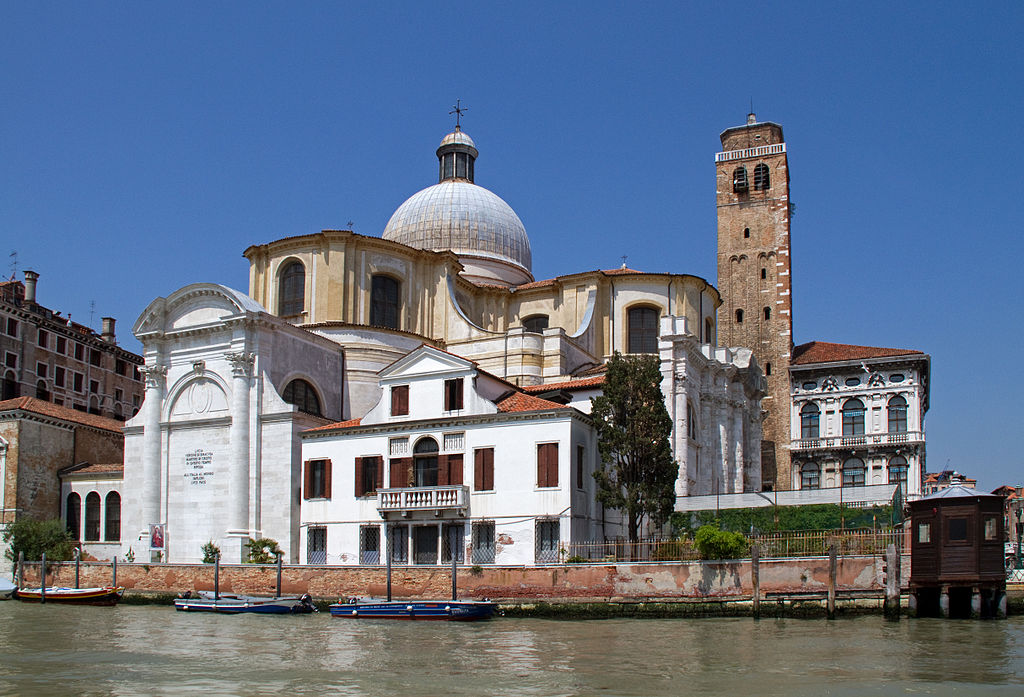 St Lucy was martyred in Sicily in 304, and like St Mark, Venice's patron saint, her body was stolen by Venetian crusaders and brought back to Venice as a trophy. Now she lies with a few relics and architectural fragments as well as a painting of Santa Lucia by Palma Giovanni. On the Grand Canal side of this church you can see a memorial to St Lucy carved into the stonework.
St Lucy herself was from a wealthy family in Syracuse. She refused offers of marriage and gave her goods to the poor. Her accusers sent her to a brothel but she was made miraculously immovable. Then they tried to burn her, also unsuccessfully, and she was finally put to death by the sword.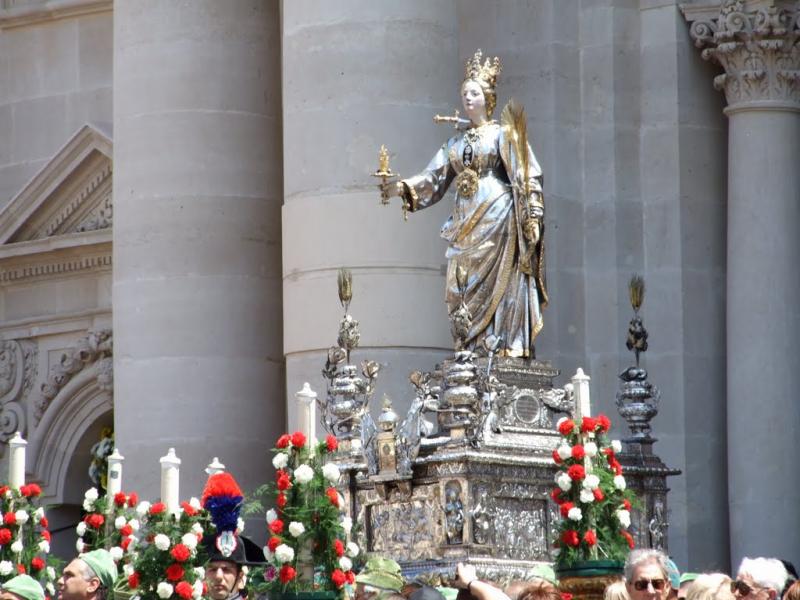 Her iconography is a pair of eyes – her own eyes were reputedly torn out but miraculously restored. This last detail of her story became important in the middle ages and was associated with the Festival of Light on the shortest day of the year when the song 'Santa Lucia' is still sung, especially in Sicily and Sweden.
Top Sights Near Venice's Santa Lucia Station: Historic Churches and Contemporary Bridges
If you find yourself with time on your hands whilst waiting for a train, there's much of interest in the area around the station which most people don't bother to look at. First, there's the station itself. 
The present building was built in the modernist Fascistic style, and designed by Virgilio Vallot who won a design competition in 1934. However, the building work in collaboration with Angiolo Manzoni proceeded at a slow pace and wasn't completed (by Paul Perilli) until after the Second World War in 1952. 
It is a handsome low building which doesn't detract at all from the very different architecture which surrounds it. It has been expanded and attracts 82,000 passengers a day in 450 trains. Emerging from Santa Lucia station is one of the greatest tourist arrival experiences ever: the impressive constantly busy vista of the Grand Canal.
The church next door as you turn left from the station, the Church of the Scalzi, was designed by Longhena, who was also the architect of the more famous Salute Church at the end of the Grand Canal. 
The façade has recently been restored and now looks quite magnificent with its shining white figures on the roof against the blue sky. Tourists tend to sit on its steps with ice creams, but very few venture inside. They should. 
It has an impressively dark baroque interior, profusely decorated, and a ceiling which once had a fresco by Tiepolo, but it was destroyed by an Austrian bomb in 1915. In an elaborate side chapel is the tomb of the last Doge of Venice, Lodovico Manin.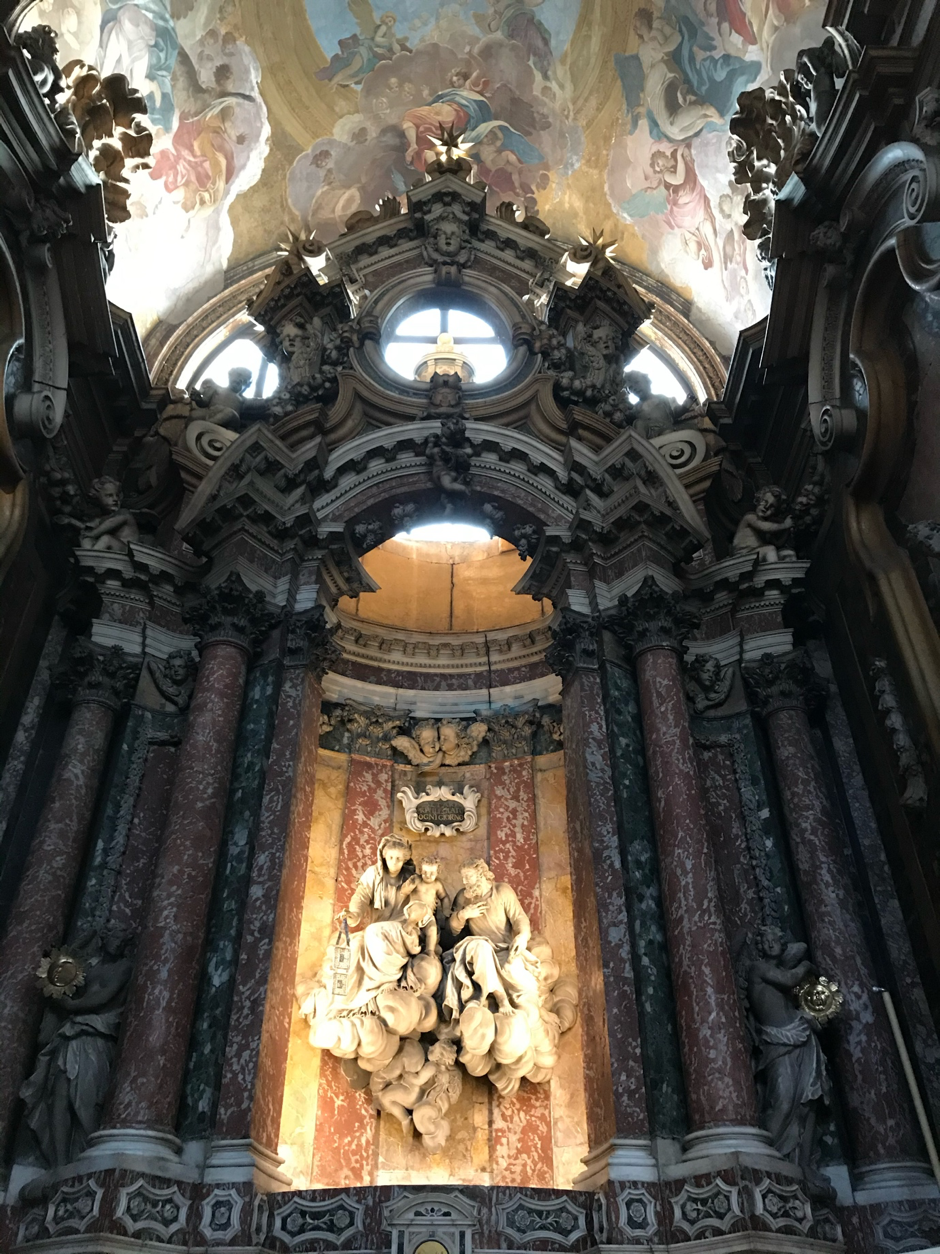 The Scalzi Bridge (by Giuseppe Sardi) is one of only three bridges over the Grand Canal. The Scalzi were barefooted Carmelite friars who came to Venice in the 1670s and commissioned their own church.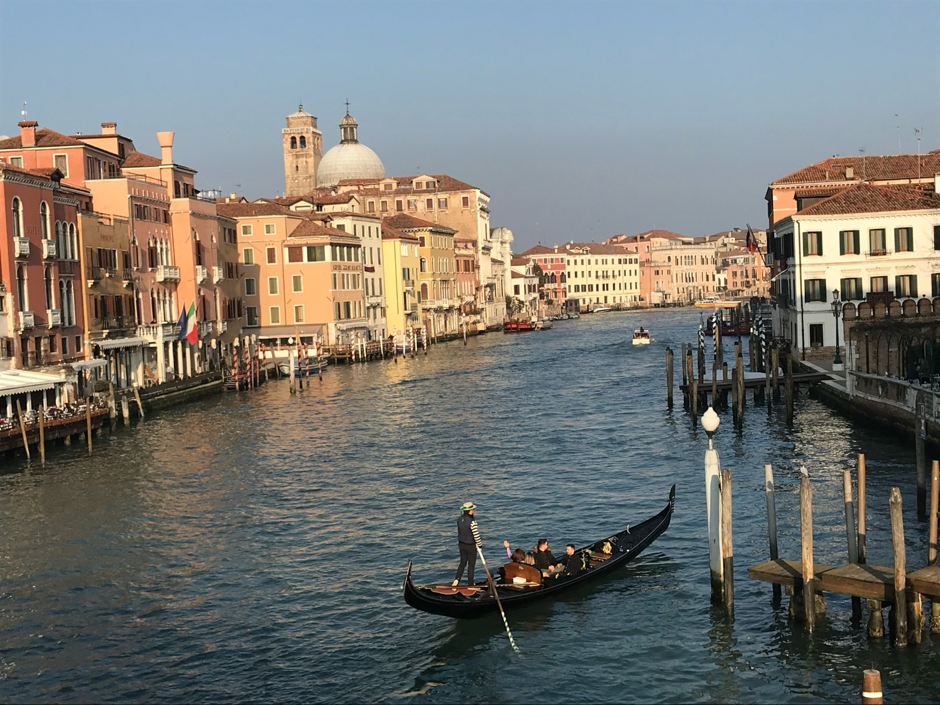 It's a relief after the gloom of the church interior to return to the sunlight and turn left to walk a short way along the Rio Terra. On your right are a few souvenir shops (beware "Murano glass" which is made in China!) and you'll then see Dal Mas, one of the best pasticcerie in Venice. 
The customers are mainly locals, always a good sign, and the coffee and cakes are excellent, but as is often the case in Italy, you have to stand up to eat your pastries.(A good tip is to go here for breakfast if you're just on a day trip to Venice by train.)
Another gleaming white church is immediately opposite the station on the other side of the Grand canal. This is San Simeone Piccolo, built in 1718-38 on a plan derived from the Pantheon in Rome. It's only open for festivals, but you can admire its façade which is part of the superb visual spectacle as you emerge from the station.
If you walk in the other direction to the right along Fondamenta di Santa Lucia, you'll pass a few modern clothing shops and reach a new bridge, the glass Ponte della Costituzione which leads to the bus terminus at Piazzale Roma. 
This bridge, supposed to be a "carpet of light" has had problems almost from the day it opened in 2008. Its Spanish architect, Calatrava, was fined €78,000 because of errors in its design as well as the final cost, over €4m over budget. 
Glass isn't a sensible material for steps in a city which is constantly wet underfoot. People keep slipping and injuring themselves, and some steps have already had to be replaced because of damage caused by wheeled suitcases.
In most cities the areas around stations are at best uninteresting and at worst seedy. But don't overlook this part of Venice when you next return. Even at its most crowded, the station forecourt leading immediately to the Grand Canal, is unlike any other station anywhere in the world: a noisy mass of tourists merging with traders, ticket sellers in 18th century costume, and queues for vaporetti against a backdrop of white buildings reflected in blue water, and boats of every kind, from delivery barges to gondolas, from water ambulances to boats which collect refuse.
Venice, as always, offers new marvels in unexpected places.
More Italy Train Travel Info
Be sure to take a look at our Italy train travel articles:
The Ultimate Guide to Italy Train Travel
Rome Termini Train Station: What To Do With an Hour To Spare Before Your Train