[Lead photo credit: Cristina Marson, 2017, La pescatrice di sogni]
What I love the most about the photography book Dream of Venice in Black and White is that it lets me see regular life in Venice; it's almost like looking at Venice 'behind the scenes.' Not the Venice of and for tourists. Used as we are at glimpsing predictable shots of iconic Venetian spots and monuments, the ones that fill our social media timelines, we may tend to forget that Venice is still a city where people reside and go about their daily lives...albeit surely in ever scarcer numbers, as novelist Tiziano Scarpa points out in the book's illuminating introduction. 
Scarpa, a Venice native and resident, recounts the day when he moved to "this apartment on the third floor overlooking a canal." As he walked out and saw a couple leaving the apartment next door, he cheerily introduced himself to whom he thought were his new neighbors, only to discover that they were tourists staying at a B&B for a few days.
This episode is the starting point for a reflection on tourism in Venice, or rather on how tourism has overcome Venice. We learn from Scarpa that tourism in Venice was very much encouraged after the city began to lose its wealth and power in the 17th century, as the Mediterranean was replaced by the Atlantic as the new center of world trade routes. It was one of the first cities in Europe to launch the café society trend, Scarpa writes; the first to open an opera house where you paid for an entrance ticket; it established gambling houses and casinos, and Carnival lasted longer than in other cities because it was meant to attract foreigners and make them spend as much as possible. So the industry that at first saved Venice from poverty is now the threat to its survival. Roughly 30 million people visit Venice every year – a study done 30 years ago, Scarpa reminds us, said that the maximum number the city could sustain is 12 million. Overtourism isn't happening just in Venice, but Venice, as Scarpa points out, "does not have outlying neighborhoods or suburbs to decompress them [visitors, ed.note] and provide an outlet. Its borders finish brusquely on a brink beyond which there is only the water of the lagoon. Imagine taking the historic center of an ancient city, then cutting it out with scissors and placing it in the middle of water: well, that's Venice."   
Every photo in the book tells a story, and that's how Dream of Venice editor JoAnn Locktov picked the images to go in the book. They also had to "traverse time," she told me. The third book in the Dream of Venice series on contemporary Venice edited by Locktov, it was inspired by an urgent desire to "document Venice as a living city before the Venice that I love fails to exist. I wanted the book to remind people what we are at risk of losing," Locktov explains. When I asked why she chose to have Venice portrayed in black and white, she explained: "Black and white photography contains this elegant quality of timelessness. Stripped of the distraction of color, we focus on the essence of Venice."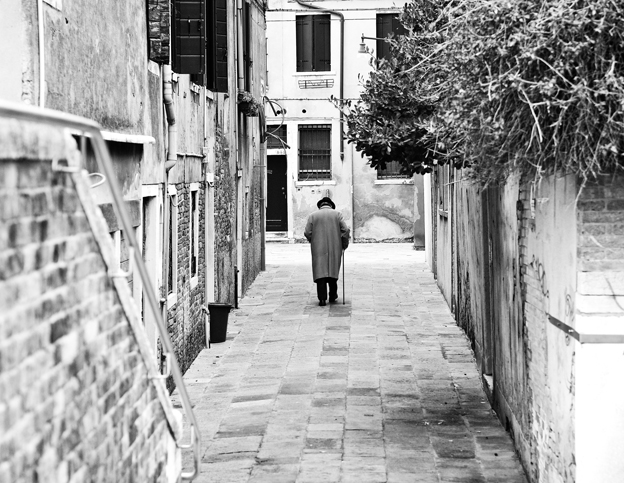 [© Gary Stewart, 2012]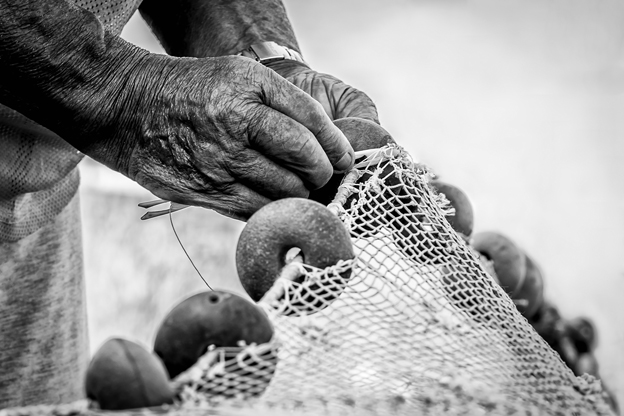 [© Maurizio Rossi, 2016, Lavoro di linguetta 'Bepi Suste']
Photographs speak to each person in different ways, and the ones I picked for the article are some of those that struck me most. I think I was drawn to the ones that give me an intimate view of the city, that 'real life' very few tourists grasp – or even bother to try to grasp (because you have to pause and observe): the woman looking at her grocery list as she orders seafood at the fish market; the two men (longtime friends?) chatting on Campo Santo Stefano; the little girl on a boat holding a fishing net; someone working on a forcola (the gondola's oarlock); wrinkled hands fixing a fishing net. Some have an underlying tone of pleasant solitude, something that may surprise those who only see Venice amid the throngs of tourists: the old man walking with his cane on a deserted street; the person sitting on a bench reading a book, oblivious to the few people hanging out by the well (I interpret them as teenagers just out of school), the man on what I think is his daily stroll by the lagoon.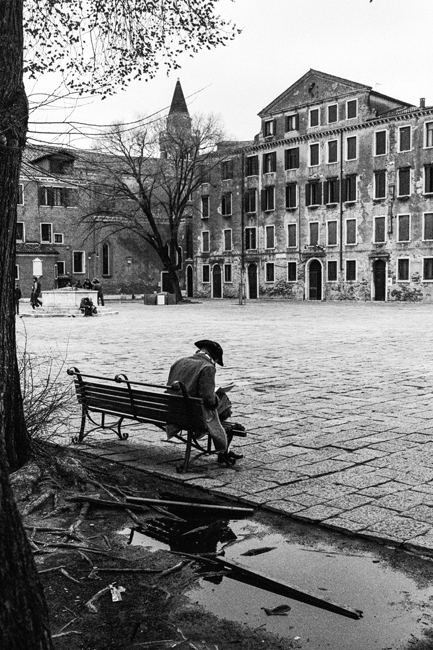 [© Pietro De Albertis, 2013, L'attesa]
I connected with a couple of photographers featured in the book as I wanted to ask about their creative process and what is special about photographing Venice in black and white.
Fabio Bressanello is a Burano-born professional photographer who owns a renowned photo gallery in Venice's Dorsoduro, by the Ponte dei Pugni, the Bressanello Art Studio Venezia. When I asked him why he likes to photograph Venice in black and white, he said that it elicits more emotion; black and white photos have a poetic, nostalgic side, and thus they reflect his personality more. Bressanello, who leads photos walks in little-known Venetian location, says he is generally spontaneous in his creative process, going out to photograph when he feels like it or when the conditions are right – such as in the case of last winter's snowfall: he went out to photograph the snow, and as he was standing near Santa Maria della Salute, a lone man wearing a tabarro, a thick coat worn in Venice in the 18th century, walked by. Bressanello wasn't there expecting him, but, when he walked into the frame, it created a perfect scene.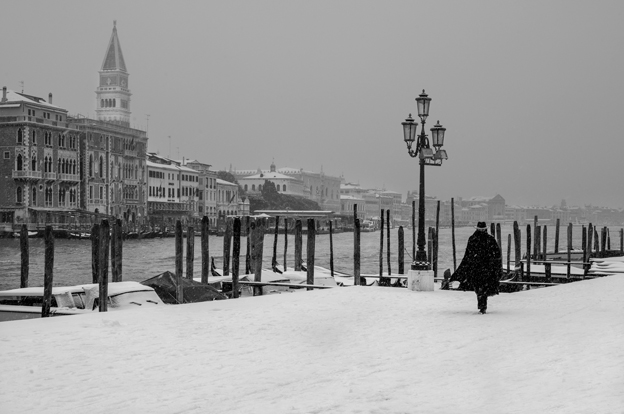 [© Fabio Bressanello, 2018] 
Photographer Mark Lindsay has been traveling to Venice since the early 1990s, and, as he wrote me in an email, at first was only taking "predictable photos." After repeated trips, he started "going on long, morning walks at sunrise, mostly in the offseason. It was then that I found my own Venice." Rather than remaining stuck at the same location, he wandered the streets, interacting with the people of Venice so as to mingle and blend, rather than just being an external observer. "On the best of days, I'd get lost in Venice, so absorbed in the light and magic of the Venetian morning."
The two photos in the book "were products of those walks. […] In The Fishmonger, I was in line to purchase something at Rialto Market and the scene simply unfolded in front of me. I tried to time the exposure so as to portray the motion of him picking up his small fish. It just happened. In Two Men and a Shadow, the photo was taken in Campo Santo Stefano. I knew that campo very well and I've watched the light dance around it throughout the day. So, I came into the campo at a time when I knew the light would be interesting. There I saw the shadow and the two men. It was as if some art director had placed them in exactly the right spot for a dramatic photo. I photographed them quickly, afraid that they might move. Lost in conversation, they remained a long time. Perhaps they too knew it was the perfect spot."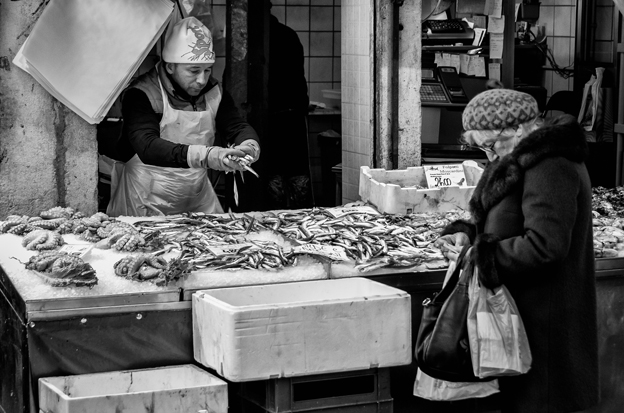 [© Mark Lindsay, 2012, The Fishmonger]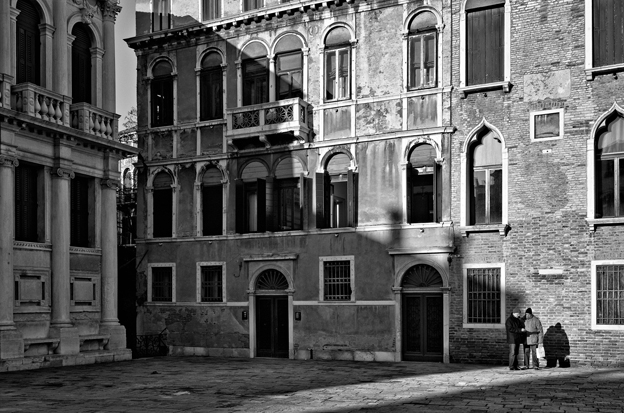 [© Mark Lindsay, 2012, Two Men and a Shadow, Campo Santo Stefano]
Dream of Venice in Black and White "inhabits the city delicately, making it bloom with a light caress," writes Scarpa in his introduction. If you've ever been to Venice, it's hard not to fall in love with the city a bit more after leafing through the book – and feel for it too. Because the roughly 50,000 residents left don't have enough political power. And "As long as Venetians keep fleeing the city, things are getting worse," says Locktov. "Because once you lose the residents, Venice will no longer be a living city." Nevertheless, I asked Locktov if she feels positive about Venice's future: "I must remain hopeful and also be willing to acknowledge the worst. Leonard Cohen taught us that there are cracks everywhere; it is how the light gets in. Luckily, Venice is filled with cracks. I trust the light will find its way."
You can purchase Dream of Venice in Black and White in our online shop. A portion of the proceeds from each book will be donated to the Ikona Photo Gallery, founded by Živa
Kraus and located in Venice's Ghetto Nuovo.
The Dream of Venice series is published by Bella Figura Publications, an imprint dedicated to the investigation of Venice as a living city. 
Also from Bella Figura Publications:
Dream of Venice (2014) Photography by Charles Christopher and Foreword by Frances Mayes
Dream of Venice Architecture (2016) Photography by Riccardo De Cal and Introduction by Richard J. Goy