Winter sports enthusiasts will find plenty of fun activities to do in the beautiful mountains of Lombardy.
Start your journey in the Orobie Prealps, in the province of Bergamo, just an hour and a half north of Milan. The village of Castione della Presolana, located right at the foot of the Presolana massif, whose summit reaches 2,521 meters, is a good base for exploring some of the ski resorts of the Upper Seriana Valley, including Monte Pora, Passo della Presolana and Colere. The charming Passo della Presolana is a favorite of beginner skiers and children – in fact it is known as the "ski training ground" of the Bergamo area. Monte Pora and Colere on the other hand are favored by more experienced skiers and snowboarders; Colere in particular features highly technical slopes, in fact it has hosted many professional competitions. Monte Pora is also ideal for cross-country skiing and snowshoeing, while Colere is renowned for alpine skiing. The northern side of the Presolana is popular among climbers.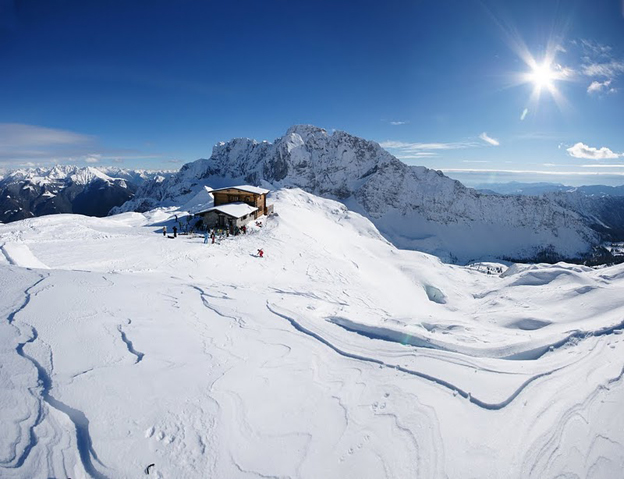 The Orobie are just a taste of what's to come - delve deeper into the Alps and you will reach Lombardy's most popular mountain destination: Valtellina. Bordering with Lake Como in the south and with Switzerland and Trentino in the north, Valtellina extends for 200 kilometers in a varied landscape beginning at an altitude of 200 mt, reaching an height of 4000 mt at the Pizzo Bernina. As you ascend, the sun-bathed valley floor, cultivated with apples, is replaced by woods and terraced vineyards where Nebbiolo grapes produce excellent red wines like the Sforzato.
The terraced vineyards here are quite a spectacular sight and I would highly recommend taking a break from winter sports to learn more about the interesting history of winemaking, which dates back to Roman times.
It is hard work to make wine in a similar environment, but the rewards, I am told (and I believe it when I taste the wine) make it worthwile.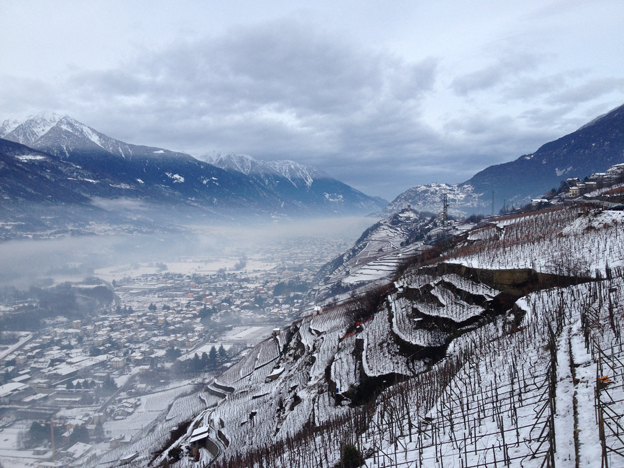 The red wines produced here are obtained from the Nebbiolo grape, known locally as the Chiavennasca. The area boasts two DOCGs, Valtellina Superiore and Sforzato di Valtellina.
I had the pleasure to visit the area's largest wine producer, Nino Negri, founded in 1897. Located in a valley exposed to sunlight all day and sheltered from the cold northern winds by the magnificent mountain chain of the Retiche Alps, the Nino Negri vineyards produce four types of wine: Grumello, Sassella, Inferno and Valgella, sub-denominations of the Valtellina Superiore.
After your wine-tasting stop, keep traveling north to reach Valtellina's most famous winter resorts, including Livigno, Bormio, Santa Caterina Valfurva and Madesimo.
Well-known in the 19th century for its mineral waters, Madesimo has become one of the major ski resorts in the area. It offers 60 km of pistes for skiing and snowboarding, 15 km of trails for cross-country skiing, 70 km of trails for the popular – and really fun - snowmobiling. Madesimo is also famous for the "Canalone": considered one of the most beautiful and challenging ski slopes in the Alps, it is suitable only for advanced skiers. The slopes are usually covered with snow from late November until Spring, and you can even ski at night! Madesimo also offers several restaurant and clubs for some nighttime fun.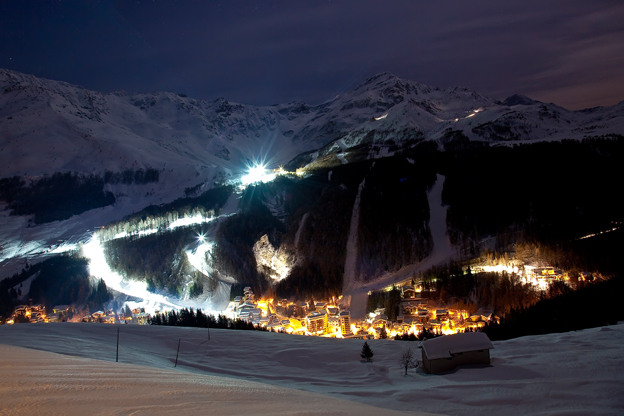 In December and January, free group transfers from Milan area airports (Linate, Malpensa and Orio al Serio) to Madesimo are offered. From February to April the rate is € 40,00 one way/person.
Where to stay:
Grand Hotel Presolana, via Santuario 35, Castione della Presolana (BG), www.grandhotelpresolana.it
Wine hotel Retici Balzi, via Panoramica 2, Poggiridenti (SO), www.reticibalzi.it
Boscone Suite Hotel, via Pier Motta 14, Madesimo (SO), www.bosconesuitehotel.it
Where to eat:
A vacation in Valtellina is not just about snow and sports activities, in fact the food is quite excellent!
Don't miss these restaurants:
Cerere Ristorante, via Guicciardi 7, Ponte in Valtellina (SO), www.ristorantecerere.it
Il Cantinone, via Antonio de Giacomi 39, Madesimo (SO),  www.sporthotelalpina.it/ristorante
For more information: Orobie Prealps; Valtellina Turismo; Visit Madesimo.