Updated on June 16, 2022
Scattered along 700 km of coastline, the beaches of Puglia are among southern Italy's finest, attracting visitors from all over Italy and the world. Set between cliffs or immersed in Mediterranean scrub,  made of fine white sand or golden pebbles, and all lapped by turquoise waters, the beaches of Puglia offer something for everyone, be it a well-equipped shore with chairs, umbrellas and bars, or a wilder one only reachable on foot. 
The Gargano peninsula,  in the northeasternmost corner of the region, tends to have tiny, rocky coves, located at the foot of jagged cliffs, topped by medieval towns, massive castles and intricate woods thick with pine, holm oak, maple, and ash trees. 
South in Salento, where Italy has its heel, the coast opens into long, golden or white beaches interspersed with limestone cliffs and often watched over by early medieval towers. The Salento peninsula separates the Adriatic from the Ionian sea and each shore rivals the other for sheer natural beauty. No wonder Salento is one of the most popular holiday destinations in Italy. 
But what are Puglia's very best waterside destinations? We have picked three of the most scenic ones.
Porto Selvaggio, Salento
Porto Selvaggio is located in Nardò, a fairy-tale town of soaring spires and Baroque grandeur, located between Gallipoli and Porto Cesareo (the latter being another top beach destination in Puglia). 
Don't go to Porto Selvaggio if you are after nightlife or fancy services. As the name implies (it means 'wild harbor' in Italian), Porto Selvaggio is wild place of sea, rocks, and the rustling sound of pine needles in the salty breeze. The cove—part of a regional nature reserve since 1980—is sheltered by high cliffs topped by ancient watchtowers, and can only be reached on foot. But the long, winding walk among pine trees and Mediterranean shrubs is well worth it, because in the end you are rewarded with a slice of crystalline sea lapping whimsical outcrops and flooding underwater caves. Rock, trees and water reign supreme in a kaleidoscope of greens, golds and blues.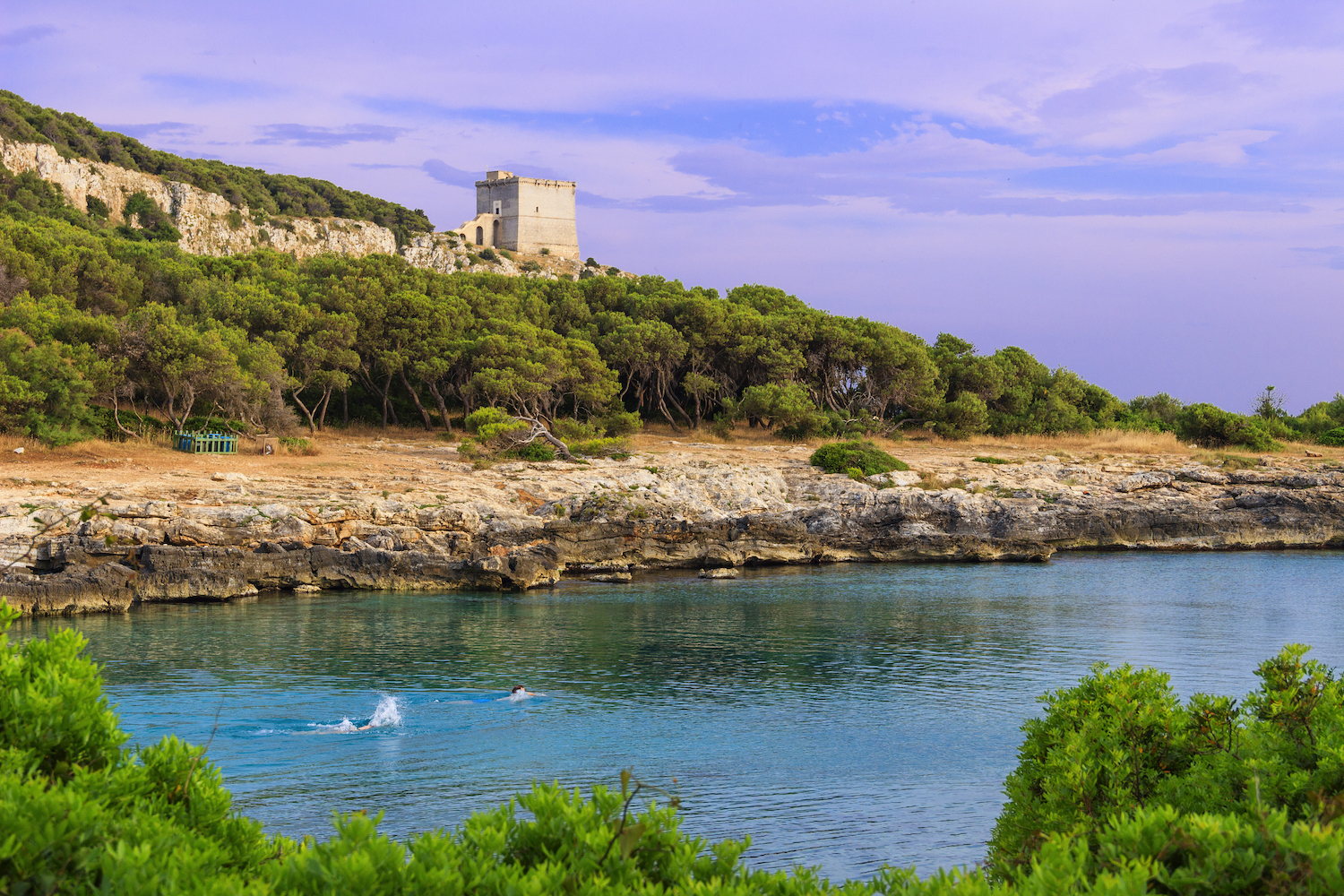 Beware, though, that, despite the walk required to reach it, Porto Selvaggio can get crowded in high summer. Also note that the water here is deep.
If you like walking, there are several trails within the park to explore. From the watchtower known as Torre di Santa Maria dall'Alto, you can enjoy a breathtaking view of the entire natural park. You can also take the path that leads to the cave Grotta Gaia, or swim to the Grotta Verde (Green Grotto), reachable in a few strokes from its small beach.
San Pietro in Bevagna, Salento
Further north from Porto Selvaggio, also on the Ionian coast of Salento, is a long shore of fine, pale golden sand, edged on one side by a handful of rocks sheltering moray and conger eels. An infinite sky reflects in clear waters of an impossible shade of turquoise. And behind them, miles and miles of dunes topped by fragrant juniper. This is San Pietro in Bevagna, one of Puglia's most acclaimed beaches.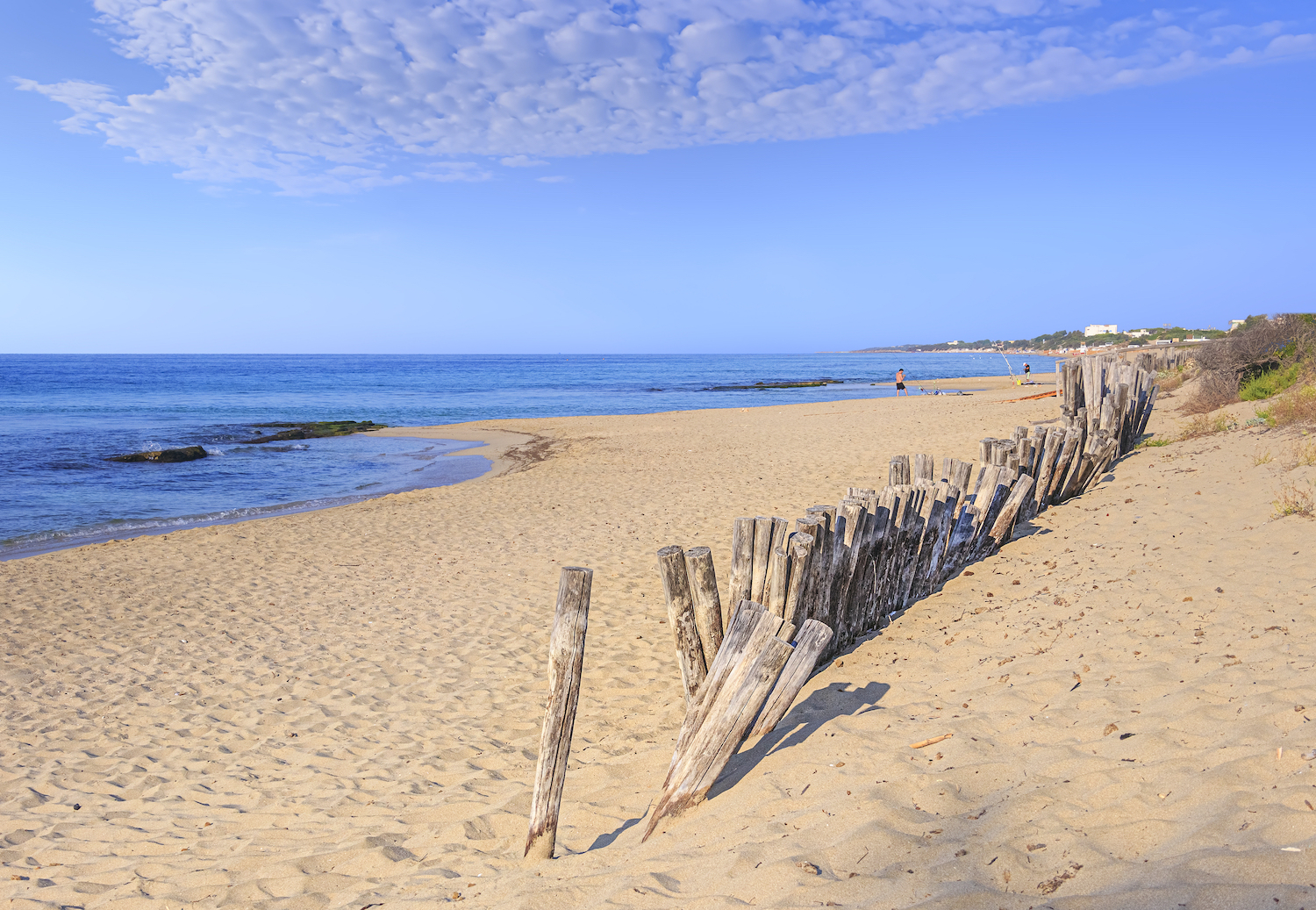 Story has it that Saint Peter first set foot here on his way to Rome but this doesn't sound likely—if he had put ashore here, he wouldn't have wanted to move on.
Nonetheless, a sanctuary just 50 meters from the sea worships the apostle, who is said to have baptized Italy's first Christians in the cool waters of the nearby river Chidro. Visitors with a profane bent, however, may ditch the waters in favor of the local wine, a velvety red called Primitivo di Manduria.
And anyone with a penchant for diving will relish the chance to admire a treasure submerged in the sea: 23 marble sarcophagi from the Imperial age (3rd century AD), known as "Sarcophagi of the King," located five to six meters deep (you can glance at them even with just a mask). 
The town of San Pietro in Bevagna offers much entertainment ins summer, with markets, bars and restaurants, and live music at night. Boat trips depart daily to admire the Salento coast from the sea, reaching the famous Porto Cesareo.
Cala dello Spido, Tremiti Islands, Gargano
Just off the Gargano coast, the five islands of the Tremiti archipelago stand like pearls in the Adriatic sea, with their craggy coves, slim peninsulas and bizarre outcrops emerging from transparent waters.
In ancient times, they were called "Diomedeae," the islands of Diomedes. Legend has it that the Greek hero, having sailed away from the fallen Troy, reached Puglia, and married Euippe, the local king's daughter. He lived a long, peaceful life, founding many cities, until death found him an old man on the Tremiti islands. After he passed away, Aphrodite turned his companions into albatrosses, since known as Diomedeidae.
Of all this, it is certainly true that albatrosses reach the islands from Africa every spring, and here build their nests. They are nearly as numerous as the Tremiti's human inhabitants, who reach the grand total of 440.
The sparse population, together with the islands' remoteness, made the area a prime destination for internment—Augustus relegated his granddaughter here in Roman times, and Benito Mussolini did the same with many of his political opponents in the Fascist era. 
But it also makes it a summer paradise of crystal clear waters, majestic cliffs and hidden coves.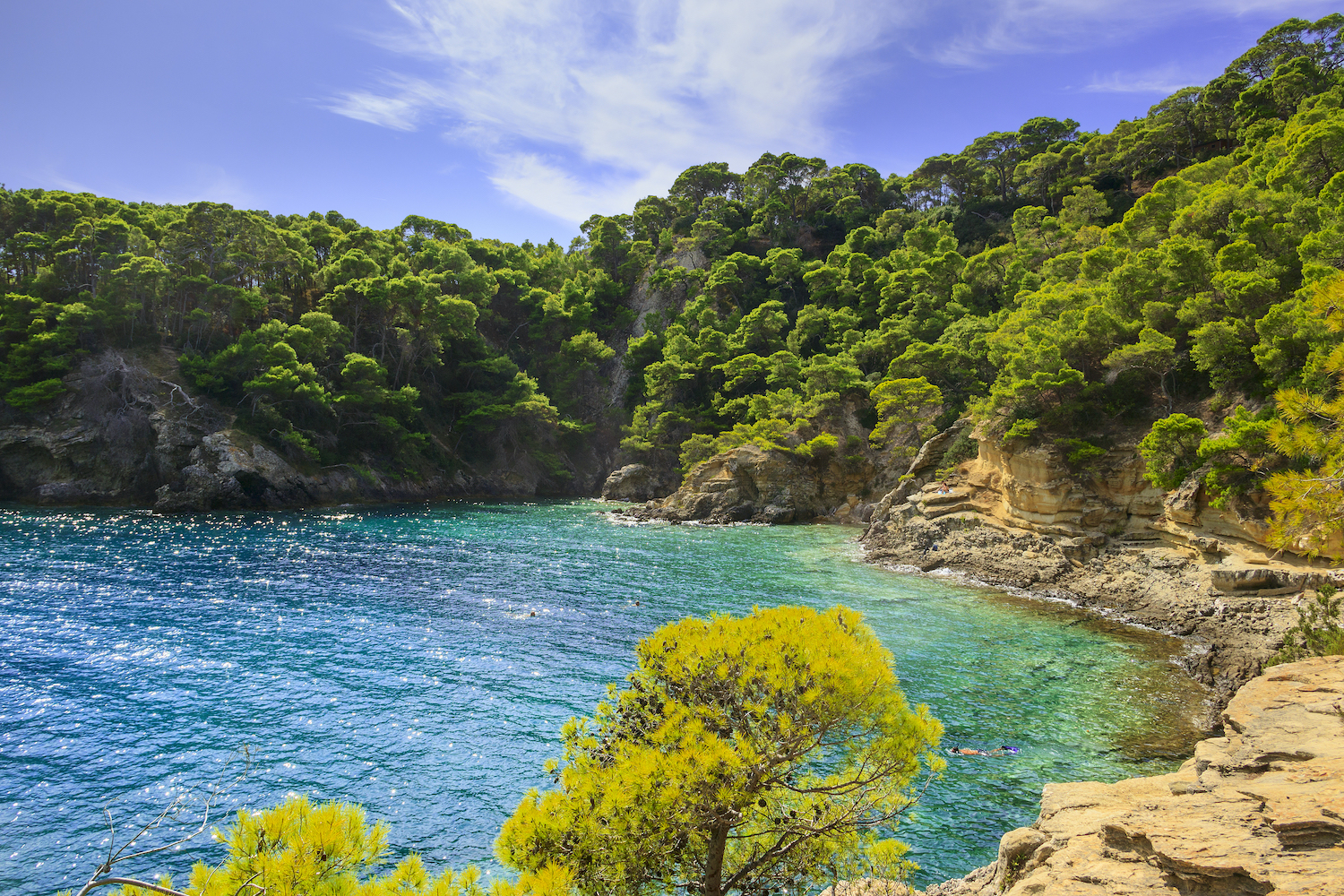 The island of San Domino is the largest and most touristy of the Tremiti; it has numerous beaches, including the only sandy one in the entire archipelago. Cala delle Arene is a crescent-shaped strip of white sand overlooking the clear and shallow waters of a sheltered cove, hence perfect for children. Nearby is what is considered one of the most beautiful beaches in the Tremiti, Cala dello Spido, an idyllic natural inlet surrounded by deep green Aleppo pines. The beach can be reached via a path that offers an enchanting view of the blue depths of the Adriatic. It is also a very convenient seaside resort, as it is close to the town and the port of San Domino.
Original article by Carla Passino.