Italians are extraordinarily good at entertaining themselves. In summer they organise things to avoid the worst of the blisteringly hot weather. Walk around any town between the hours of 12 and 4 and it will be deserted, abandoned-looking, completely dead. The shutters will all be closed, doors locked, and even the breeze will be lethargic in the stifling heat.
But once the sun sets, siestas end and the action begins. It starts with the passeggiata when families walk up and down for a gossip, showing off their best clothes after a refreshing shower. Then there might be a long lingering family meal outside, or maybe a quicker meal to get to an outdoor cinema 'sotto le stelle' (under the stars) in time for a 9.30 start.
The latest trend, which began in a modest way in Turin in 2012 and has since become a mass phenomenon (fenomeno di massa), is 'Cena in Bianco' (dinner in white). It's a lovely invention, a way for a whole community to get together in the cool evening air, a gigantic dinner party. Turin holds the record for the biggest white dinner in Europe with over 1,000 participants. There are now annual White Dinners in many big cities - Rome, Milan, Brescia, Pisa... but perhaps the best are the smaller local events up and down Italy which you come upon by chance and are welcomed as a guest. (See below)
Nobody seems to know why you have to wear white, but you do. Even beloved denim jeans are rejected in favour of white, and the only concession is a bit of bling which Italian women cannot do without, and of course sparkly earrings and necklaces are shown to advantage in candle light.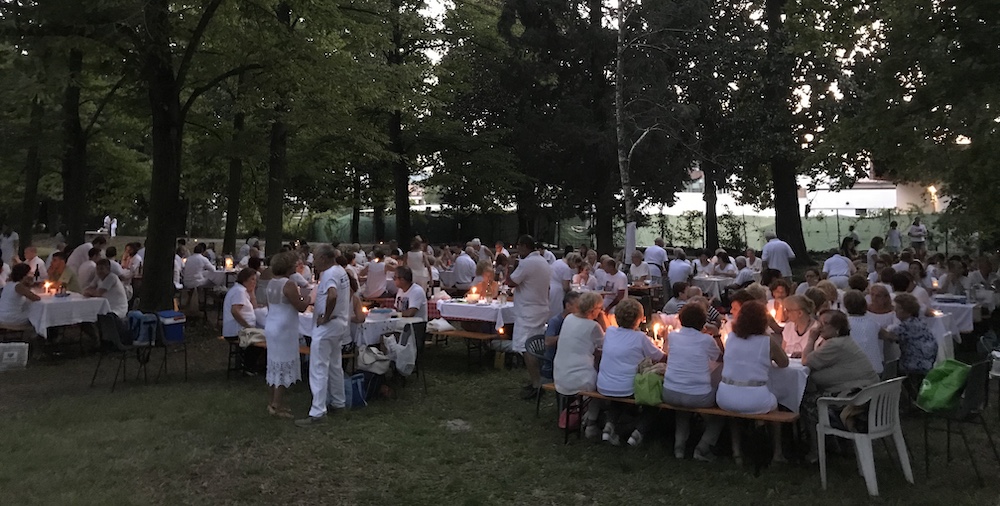 Pre-booking is essential even though it's free. The municipality, in this case the former spa town of Battaglia Terme, provides tables and benches in a local park, and they need to know how many will be needed. (On the most recent occasion there were over 150 participants.)
Another very useful preparation happens a few days before, when the whole area is sprayed to get rid of mosquitos.
People turn up (late, of course) with baskets and cool bags, equipped not for a casual picnic but for a grand dinner party. They bring best white linen tablecloths and napkins, a vase of flowers, candelabra, cushions. The tables are reserved so that big groups can sit together (like the local rowing club, for example) whilst couples join others at tables for eight. Flutes are produced for chilled Prosecco to start the meal, and other glasses for wine and water, plates (definitely not plastic!)  knives and forks are laid out for an outdoor banquet.
Trays of roast vegetables, bowls of pasta, salads, piles of salami and cheese, melon and prosciutto, chicken legs with rosemary, sardines in saor... A lot of tasting and swapping goes on. One diner assures me that her pasta with tomatoes, aubergines and shellfish is the best.
"I'm an excellent cook," she says. "My food is made with love."
It is indeed delicious: I tell her I feel loved.
Once hunger is partially satisfied, people begin to wander to other tables to compare notes about the food on offer, or just to greet old friends.
With discreet classical music in the background, it is all most civilised. 
Then the music stops for an announcement. If we all walk down the path bordered with candles to the large space in front of the old thermal establishment at the end of the park, we will have a guided tour of the stars and planets.
People have brought mats and torches and we stagger along the dimly lit path. It's very very dark. Maybe we're all wearing white so that we don't bump into each other.
I can vaguely see people sitting on the steps in front of the vast Fascist-style mud treatment building, now closed. The keen ones are lying on mats looking heavenwards. Our guide is talking about the bright moon overhead, but it's quite difficult to understand the detail.
The air feels balmy; not cool, but a welcome lower temperature than the furnace of the day. I love the atmosphere of friendship and togetherness, and imagine that all over Italy in the summer months similar events are taking place. If you see a sign for Cena in Bianco anywhere on your travels this summer, be sure to reserve a table and be drawn into the best of la Dolce Vita.
White Dinners take place all over Italy. Here are a few coming up in September, but there are many more small celebrations locally. Be sure to pack your whites if you're thinking of joining in!