Lucca has a glow that comes with being just right. Not too big or small, not too crowded with tourists but just the right amount of fabulous art that it is well worth a taste. It has something to suit everyone: art lovers, music fans, foodies, shopaholics and is a brilliant location for kids.
Conveniently located less than half an hour from Pisa, Lucca is in the middle of a fertile plain on the River Serchio and is, therefore, flat and easy to move around. Most famous are the intact walls that not only completely encircle the old town, but provide a much-used green space. Inside, the medieval streets open out into lovely piazzas with Romanesque churches, where it is possible to idle away a day or two, a week or even a lifetime.
In its 2000 years of history, Lucca never seems to have peaked like Venice or Florence, nor has it ever halted like San Gimignano and so many other towns on the Francigena pilgrim trail that are preserved in historical aspic.
Lucca has many visible influences from nearly every part of Italy's past and it continues to move into the future with a vibrant cultural scene.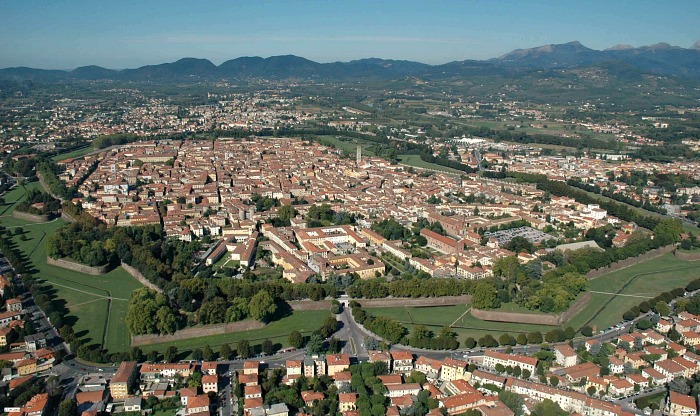 The main evidence of Lucca becoming a Roman colony in 180BC is the grid of streets, particularly where the main east/west roads of Via Paolina and Via Roma and the north/south Via Cenami and Via Fillungo cross at Piazza San Michele, called 'in Foro' which was the old Forum, also the amphitheatre at Piazza dell'Anfiteatro where houses have used the outside walls of the Roman monument and thereby retained its oval shape. The famous encounter between Caesar, Crassus and Pompey when they renewed their triumvirate, took place in Lucca in 56BC.
Medieval history
Through the early centuries of Christianity, when the Irish monk Frediano came here and in the First Crusade (1096–1099), Lucca played an important role, as evidenced in the Romanesque church façades. Increasingly successful commerce in the 13th century led to the building of tower houses. It is thought that at one time Lucca boasted over 250 towers. Lucca remained largely self-governing until 1805.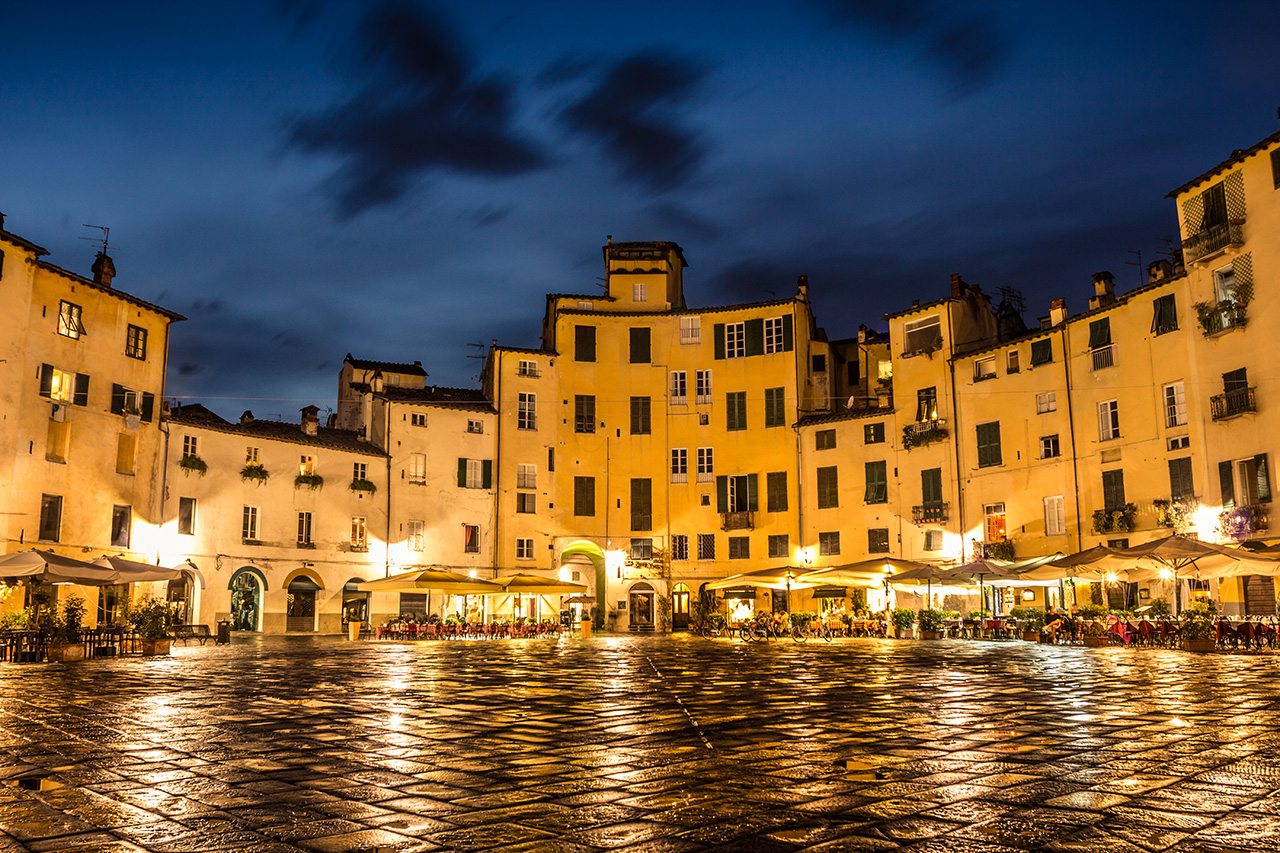 Napoleon made it a dukedom and gave the town to his sister Elisa Baciocchi, who turned the huge defensive walls into the parklandwe see today. The only time these walls were used to aid Lucca was as a defence against a flood in 1812. When Elisa heard about the flood and tried to return, she had to be levered over the walls by crane.
It is at the walls that you will get the best sense of Lucca. You can hire a bicycle and you won't have to look far as even the tourism offices hire them out and the whole family can get involved. The walls, wide enough to race cars around, were built in the mid-16th Century. Until the end of the 18th century they were defended by 126 cannon which were finally removed by the withdrawing Austrians. Today the barracks are used for cultural and social activities and the tree-lined avenues have a different species on each of the four sides.
In true Italian style, there is even a bar on the Bastion of San Colombano, where after an early morning cycle you can enjoy breakfast. For children and comic fans, don't miss Lucca's newest museum, the Museo Nazionale del Fumetto, set in a former barracks in Piazza San Romano. This will delight kids of all ages with displays of famous Italian and international comics and their characters. For littlies there is an Art Attack studio and two play spaces.
A variety of attractions
In Piazza San Michele is the beautiful Chiesa di San Michele in Foro (open 9am-12 and 3pm-5pm in winter, until 6pm in summer).The façade is a marvellous assortment of limestone columns in the Romanesque and Gothic styles, with a statue of a winged Saint Michael at the top. The Wednesday morning market provides plenty of bustle and there are cafés and flower sellers to provide a laid-back charm the rest of the week.
Via S. Paolino has a marvellous providore at No. 23 – Il Mercatino – with every salami and cheese one could dream of. At No 41 is Lazzari Pelleteria with superb hand-made leather bags, belts and wallets, and a delicious pasticceria near the corner.
To the south-east is the Cattedrale di San Martino in Piazza San Martino with the Sacrestia del Duomo.
In the main part of the church is the ancient and venerated Volto Santo, a Byzantine crucifix which is the centre of a candlelit procession on 13th September. Highly recommended is a visit to the Sacristy, holding one of the treasures of Lucca, the funerary momument of Ilaria del Carretto by Sienese sculptor Jacopo della Quercia, who so captured the beauty of this young bride that she is like a Sleeping Beauty.
Another great vantage point to witness the compactness of the houses and the expanses of the green parklands can be found by climbing the 230 steps of the Torre Guinigi in Via S. Andrea (25, open from 9 am till 7pm and in summer till 11pm).

This was part of the suburban residence of the Guinigi, a leading family of silk merchants and bankers and has seven extraordinary holm oak trees growing on the roof. You'll see photos of it everywhere and in some ways it is a symbol of Lucca. If you pass through the restored medieval Porta SS. Gervasio and Portasio, you come to Via del Fosso with a ditch of water running its length. Constructed in 1376 to defend the eastern walls of the city, it is a rare example of a still-functioning moat. Near here is the Antica Drogheria, now a pizzeria and great for lunch.
Here and there you'll see fonts of flowing spring water. Every day the Lucchesi fill waterbottles of this continual source of crystal drinking water.
Shop, then stop for a coffee
Heading north along Via Fillungo, you'll pass one of the great shopping passeggiata streets of Tuscany. Fashionistas will have a wonderful time gazing at all the brilliant fashions here and in Via Buia. There are still some of the original store fronts from over a 100 years ago. At No. 97 is Carli, a classic jewellery store with its original doors that fold out. At No. 58 is Caffè di Simo. Let the barista make you a fine coffee; he says it requires three things in perfect harmony: the machine, the beans and the hand. The bar has been serving since the 1880s when intellectuals and composers frequented this bar including, of course, Lucca's most famous son, Puccini, (Madame Butterfly, La Boheme) whose work features in a mammoth festival.The décor still maintains much of the style, the fittings and the ambience it had in Puccini's day.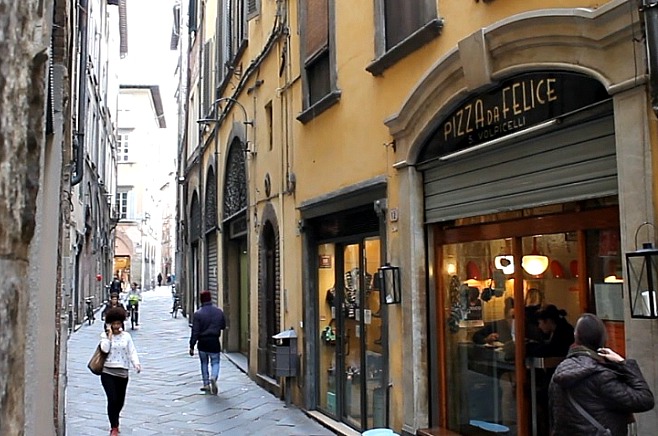 North of here is the Basilica di San Frediano in Piazza San Frediano. This ancient church has a rare late 13th-century mosaic on its façade, that looks strangely modern. Inside is a superb baptismal font from the 12th century and the mortal remains of St. Zita. In the Trenta Chapel in a 2nd-century Roman sarcophagus lies St. Richard, an English 'king' who died here on pilgrimage in 722.
Near Porta S Maria at No. 241 is Giurlani Forno Alimentari (bakery and providore),one of the oldest, in Lucca. Founded in 1780, this is the place to buy traditional lucchesi aniseed-flavoured buccellato and torte coi becchi,vegetable-filled flans.
Via Fillungo curves around the Amphitheatre, whose tall yellow houses built from the stone salvaged from the site curve around what was once the exterior walls of the Roman structure. It was built at the beginning of the 2nd century AD, outside the city walls and in its day could hold 10,000 spectators. Several bars offer a romantic stop for an evening cocktail where you can soak up the golden glow from a glorious town.
What to do
Christmas Market in Piazza San Michele where there is also a general market on Wednesday mornings.

Antiques Market centred around Piazza San Giusto and Piazza Antelminelli is a very large popular treasure trove, every third Sunday and preceding Saturday of the month.

Lucca Summer Festival, held every July in Piazza Napoleon.

Puccini throughout the year in the Basilica of San Giovanni, The Caledonian Academy of Tuscany presents recitals, opera selections and special concerts.
For more information visit: www.puccinielasualucca.com.

International Comics Fair last weekend in October with artists, collectors and exhibitors from all over the world.
This article was originally published on the print edition of Italy Magazine.