[Learning to make pasta fresca emiliana - fresh pasta from the region of Emilia - with Le Cesarine. Photo courtesy of Le Cesarine.]
I'm a Bologna native and yet, practically until last week, I couldn't make fresh pasta from scratch (blame my Mom – when she sees a kitchen, she turns the other way). That's always been a source of amusement mixed with puzzlement for my friends from out of town. They say, 'How can you be from Bologna and not know how to make fresh pasta?" (In case you didn't know, fresh pasta around here is revered; it's a big part of the region's culinary tradition and eaten often, i.e. not just on Sunday, or special occasions).
I guess I've always thought it's too time consuming and difficult, but I've happily changed my mind after my cooking class last week with Le Cesarine.
[Tortelloni, handmade by our writer Silvia, with the help of expert local cook Luisa from Le Cesarine. Photo Silvia Donati.]
This Bologna-based start-up began as a cultural association 14 years ago to protect and promote Italian regional cuisine. "True traditional food is written in the family cookbooks," the association states on its website. So, rather than offering a traditional cooking school format, Le Cesarine offers home-based cooking classes with expert local cooks who enjoy sharing their knowledge and expertise of traditional recipes. These are often passed down within the family from one generation to the next, and therefore may include slight variations that belong just to that family, or even recipes no longer found in restaurants.
The idea behind Le Cesarine comes from a university professor, Egeria Di Nallo, who created Homefood (now Le Cesarine) in 2003 in Bologna with the goal to connect food lovers from Italy and abroad to discover together the local cuisine, promoting an experience that wasn't to be just sensorial, but also, and mostly, social; one that, Di Nallo says, can contribute to a better society. "Buoni cibi per buoni pensieri", (good food for good thoughts), she likes to say. Conviviality is indeed stressed, and, at the end of a cooking class with Le Cesarine, students and host eat together what they've just cooked, accompanied by a glass of wine.
From Bologna, Le Cesarine has expanded to the rest of Italy and now has a network of around 200 home cooks (female and male) who open their homes to guests from all over the world to teach typical local recipes (the word Cesarina recalls the idea of the women in the family lovingly preparing food).
In my case, I was welcomed by jovial Luisa, in the house of her lovely 87-year-old mother, who joined us later for lunch.
I entered the 'class' thinking I'd make a 'pessima figura'; I was rather skeptical of my fresh pasta-making skills given that previous attempts hadn't gone too well. Cesarina Luisa was very encouraging and assured me I'd do just fine.
During the class, I'd learn to make tortelloni, which is my favorite fresh pasta dish from Bologna. Tortelloni are shaped like tortellini but larger and are filled with ricotta cheese and spinach (or parsley, that's what my grandma used; see, family variation).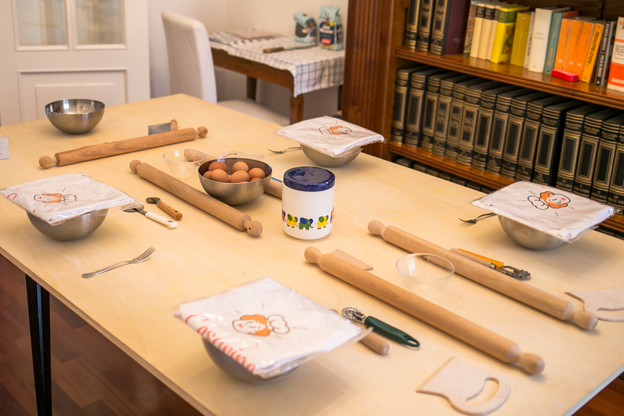 [Ready to begin the cooking class with Le Cesarine! Photo courtesy Le Cesarine.]
When I arrived, Luisa had already set the plywood board (ideally, a wooden or plywood board is what you should use) with the ingredients needed; she explained that the most important thing for a good result when making tortelloni is the ricotta, which must be high-quality (not the bland supermarket kind); she, for example, drives about 40 minutes from her house to get it from a local cheese producer she trusts.
You don't need that many ingredients to make tortelloni. For the dough, it's one egg (a pasta gialla, yellow paste) and 100 gr of flour (soft wheat, type 00) per person. For the filling, ricotta, fresh spinach, Parmigiano Reggiano and a pinch of salt.
To me, the most difficult part in the making, the one that needs practice to get it just right, is tirare la sfoglia, rolling out the dough. There are different factors to keep in mind, even the light and humidity in the room will make a difference. Luisa explained all the nuances; looking at the ease with which she worked the dough, and the pleasure she got from it, she made me eager to learn myself. With her supervision, I was able to roll it out quite decently.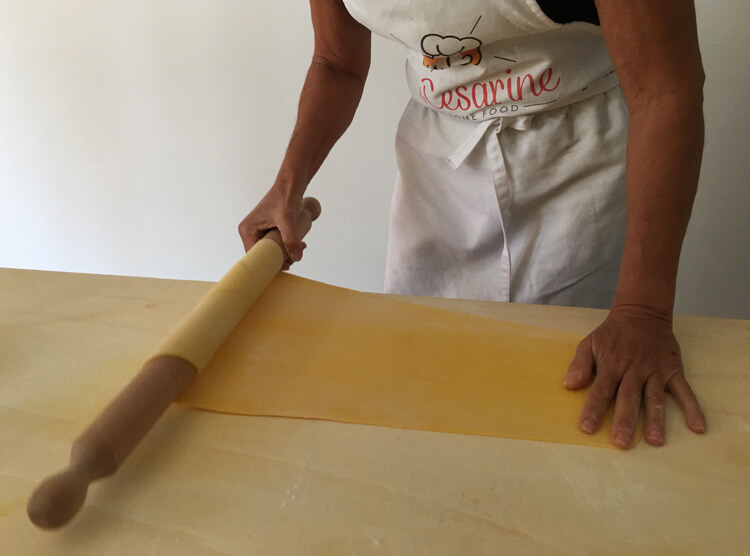 [Cesarina Luisa rolling out the dough. Photo Silvia Donati.]
Once the dough was ready, it was time to fill and close the tortelloni. Now that's another tricky part, the closing; if you don't do it well, the tortelloni will break open during cooking. Luisa made it look so easy! She patiently showed the process a few times, and, after my first few embarrassing-looking ones, I got the hang of it: place the filling in the center of every square you've previously cut from the dough; fold it over into a triangle, wrap the base tips around your finger and squeeze them together. Of course, I didn't have the same manual skill Luisa displayed, but, considering it was my first time, I was pretty satisfied with the result.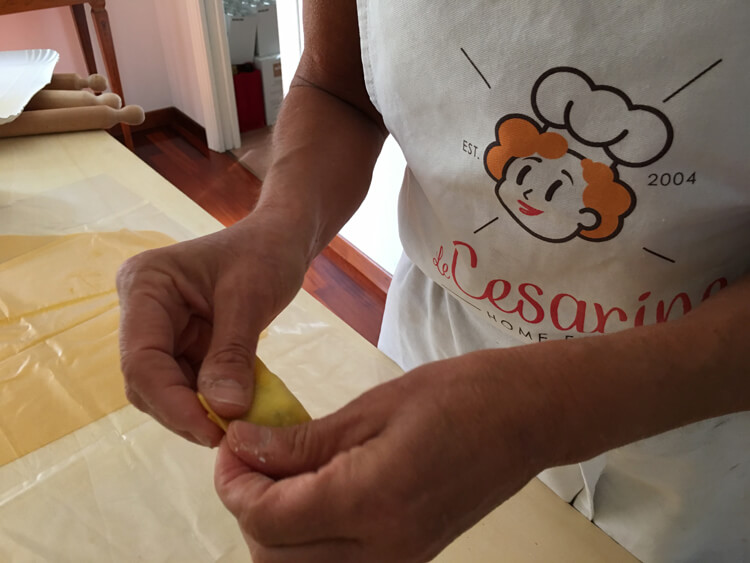 [Home-based cook Luisa shows how to close tortelloni. Photo Silvia Donati.]
The philosophy behind Le Cesarine is that in order to taste the real local recipes, you have to enter the homes of those who make them. After all, food that is made with care and love beats even the most renowned restaurants, no matter how many stars they may have. And the tortelloni we made, to me, tasted so good they had nothing to envy a Bolognese trattoria.
For more information about Le Cesarine and to book a cooking class with them, visit their website. If cooking isn't much of your thing, you can also book a dinner prepared by a Cesarina.