When the world thinks of Italy's iconic fashion industry, the city that first comes to mind is Milan. Known for its well-turned-out residents, high-end boutique shopping, and spring and fall fashion weeks that draw everyone from industry power brokers to the international glitterati to catwalks across the city each year, Italy's northern capital has become synonymous with sophisticated glamour and impeccable style over the past century.
What most people don't know, however, is that many of the haute couture and prêt-à-porter collections gracing the runways in chic Milan have deep roots in the understated region of Emilia-Romagna to the south, known more for its pragmatic industriousness and rich cuisine than for its sartorial prowess. And yet designers and fashion houses with ties to Emilia-Romagna have been dressing the world's celebrities and fashionistas since the Sorelle Fontane - three sisters from a small town near Parma - set out to open their own seamstress shop in 1939, and over the next few decades dressed fashion icons Elizabeth Taylor, Audrey Hepburn, Grace Kelly, and Jacqueline Kennedy Onassis, and designed the first official uniform for Alitalia cabin crew in 1951.
Here are some of the designers and labels you may recognize who originally hail from the Po River Valley, many of which are still headquartered in Emilia-Romagna.
Haute Couture
One of the most important and famous designers in 20th century fashion is by far Giorgio Armani, who was born and raised in the lovely city of Piacenza, which sits on the banks of the Po River. Though Armani began his fashion career in Milan, where his headquarters are still located, the clean, tailored lines of his signature style, his pioneering use of new methods of mass-marketing, and the tireless work ethic behind his design empire are all deeply rooted in the culture of Emilia-Romagna, famed for its industrial design and skilled manufacturing.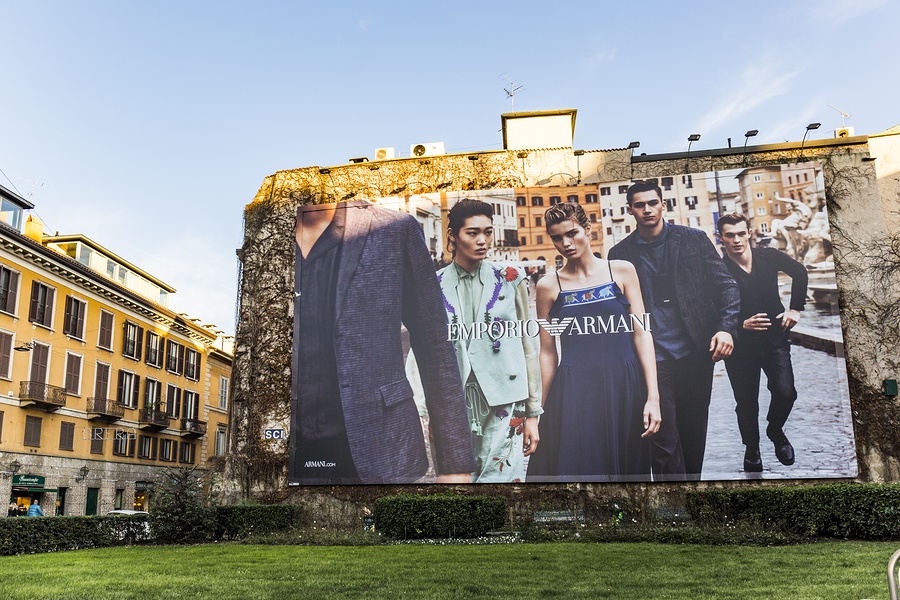 [Armani fashion ad display in Italy]
Armani's great innovation in the fashion industry was his innovative relationship with industry beginning in the late 1970s, which made it possible for the first time for a luxury label to mass produce quality ready-to-wear lines under the careful supervision of the designer, offering high-end fashion at a more accessible price. Over the next half century, Armani would expand his label's commercial horizons and sign licensing agreements with a number of other brands and manufacturers, and today his company owns more than a dozen labels including Armani Jeans and Armani Fiori, and produces everything from custom evening gowns for Oscar nominees to chic throw pillows.
Though considered Italy's most successful designer, with a personal fortune in the billions and an unmatched business acumen, Armani remains deeply attached to his hometown of Piacenza and the culture of industry and design of Emilia-Romagna.
Ready-to-wear
Armani may have pioneered the branding strategy of making luxury labels accessible to the mass market, but the historically strong manufacturing sector in Emilia-Romagna has meant the birth of scores of up-market brands in this land which has blended impeccable design with modern industry since WWII. 
One of the first to combine clothing design with industrial production to create quality ready-to-wear lines that moved away from fashion's couture past and into its mass market future was Achille Maramotti, who founded MaxMara in Reggio Emilia in 1951. Today, MaxMara owns 35 labels, though its designer-quality womenswear remains the company's flagship line, and famous names like Karl Lagerfeld, Dolce & Gabbana, and Narciso Rodriguez have all worked for the brand.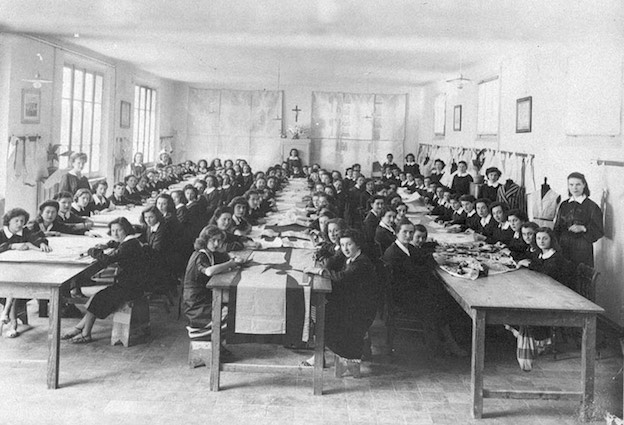 [Vintage photo from MaxMara fashion Group]
In the nearby town of Carpi, Anna Molinari and her husband founded the Blufin fashion house in 1977, which produces her namesake luxury and prêt-à-porter collections, along with the high-end Blumarine and Blugirl casualwear labels for younger fashionistas. Twinset, the luxury knitwear company founded by Simona Barbieri and Tiziano Sgarbi, is also based in Carpi, as is the wildly popular Liu Jo, which began as a small textile company in the mid-1990s and is now one of trendiest ready-to-wear and accessory labels in Italy.
Further to the east on the coast of the Adriatic, the seaside town of Cattolica was where Alberta Ferretti opened her first dressmaking boutique when she was just 18 years old. Though her flagship showroom is in Milan, her studio is still in Cattolica, and her evening gowns feature intricate twisting, tucking, and draping perfected during her years as a seamstress. Ferretti also owns the up-scale Philosophy line and Aeffe SpA, a clothing manufacturing and distributing company. Cattolica is also home to Gilmar, founded by Giuliana and Luciano Marchini in 1959 and most famous for its stylish Iceberg sportswear line.
Accessories
Emilia Romagna is home to a number of luxury and up-market fashion houses and labels, but this region's manufacturing prowess isn't limited only to clothing.
The most famous luxury lingerie brand in the world, La Perla, was founded in 1954 in Bologna by Ada Masotti, and is still headquartered in this city most known for its historic university and exquisite tortellini.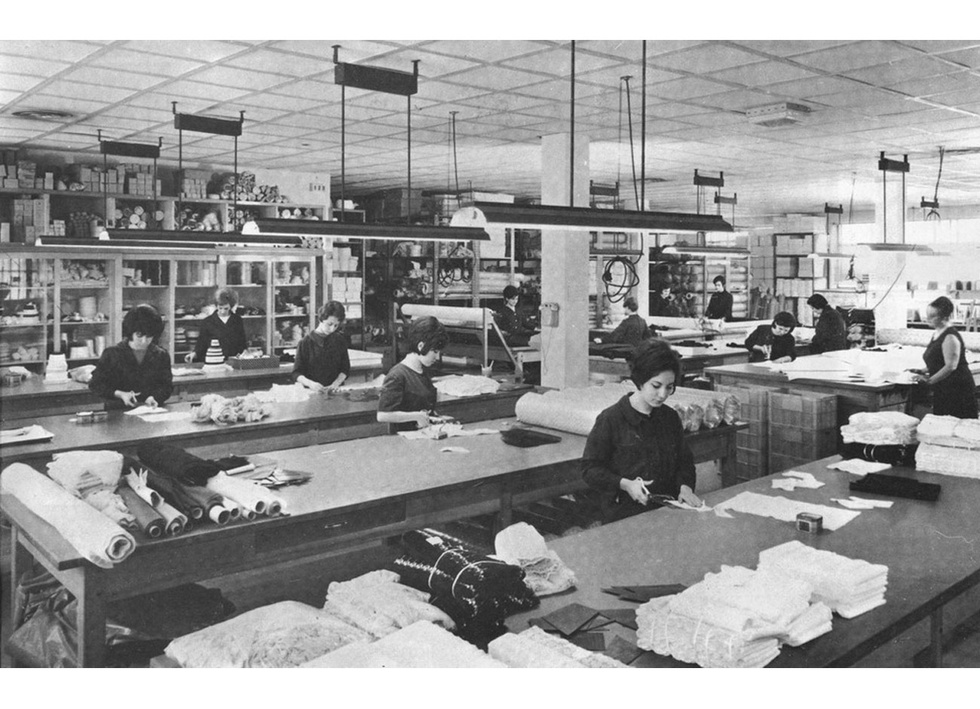 [La Perla's first factory in Bologna, Photo by: La Perla]
Quality footwear is also also an important industry in Emilia Romagna, and designer shoe brands including Bruno Magli, who learned the art of shoemaking from his grandfather and began designing women's shoes in a small Bologna workshop in 1936, pepper the region. The sleepy town of San Mauro Pascoli is a hub for up-scale shoe manufacturers like Baldini, Sergio Rossi, Pollini, and Casadei, all historic labels with their roots in family-run artisan companies that are now known worldwide. This provincial town is also home to celebrity shoe designer Giuseppe Zanotti, who began his career as a DJ in the early 1980s, but began designing shoes a decade later and now counts stars like Lady Gaga, Beyonce, Rihanna, and Taylor Swift among his loyal customers.
No outfit can be complete without the perfect bag, and Emilia Romagna is home to the luxury leather company Furla, founded by the Furlanetto family in 1927 and headquartered in Bologna. With over 300 stores worldwide, Furla bags, shoes, and accessories are one of the most recognized Italian labels on the globe.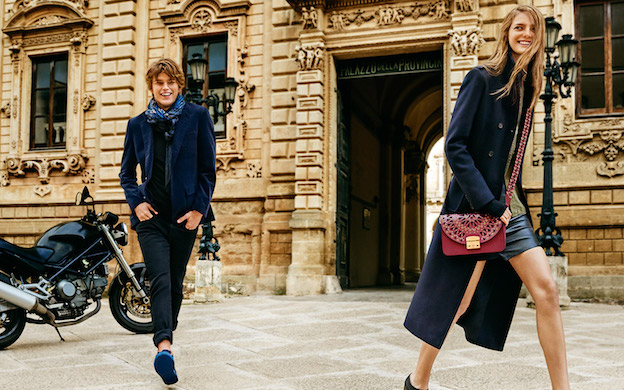 [Style on the streets of Italy: Photo by: Furla.com]
Though Emilia Romagna may be most famous for its local specialties - prosciutto, parmigiano, and balsamic vinegar all hail from here - and its unmatchable automotive design, this region has a long tradition and thriving industry in fashion. So, the next time you watch a runway show, page through a fashion magazine, or invest in stylish Italian clothing, shoes, or accessories, forget Milan and think Emilia Romagna!
SaveSave