By: Emma Leiper of Little Bella Online
The high cost of vacationing in Venice has been making waves in the media recently after a tourist submitted a formal complaint to the EU Commission about the city's two-tiered system of payment. The grievance criticises Venice's long-established practice of charging one price for locals, and another, considerably higher price for visitors. Where a local will pay one euro for a coffee, for example, a visitor to the same cafe, standing in the same spot, drinking the same coffee, will be charged four euros.  The same goes for restaurants, museums, public lavatories, and the city's water bus service.
Whilst some locals defend the differentiation in prices as compensation for having to live in what they believe has become 'Disneyland', others argue that it is extortion and an infringement of European agreements in equality. The matter essentially boils down to whether the Venetian commune is ripping off its tourists, or is simply attempting to implement some form of sustainable tourism in a city overrun by 22 million visitors a year.
The mass effects of tourism are constantly on Venice's agenda, not least because of the disruption to the city's ecosystem. Signs that scream out 'No Crociere' – No Cruises –can be seen everywhere, and yet, following a brief ban, the cruise liners with their thousands of euro-wielding tourists were let back in again.  Is the euro really mightier than the sword?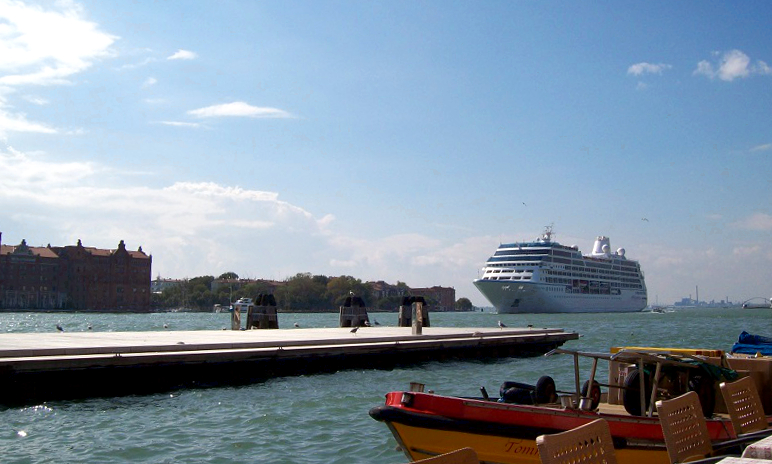 In Venice's case, very much so.  La Serenissima is unique in that it exists in a vacuum from other tourist destinations. It doesn't really have any type of industry other than tourism. Strip away the tourists and where would Venice be?  More than half the town would be empty; vacation apartments gathering dust; every second shop sitting abandoned with only whispers of the tat that used to be on sale inside. 
If Venice were to relent to the EU complainant and started charging tourists the same prices as locals, the city would be swamped with even more visitors.  Likewise, if locals had to start paying the same prices as tourists, the last remaining Venetians would be out priced of their own city and would shut up shop and leave for the mainland.  It's the ultimate catch-22 (million visitors).
In a city that is struggling to survive economically, is it really ethical to visit Venice on the cheap? The thousands of day trippers that visit Venice and don't contribute to the city has long been a bone of contention to the locals. Many visitors show up to Venice with a packed lunch, to wander the streets, take pictures and window-shop, before heading back to their cruise liners or hotel in-land, without having added anything to the city's economy. Those who do stay overnight often come armed with online advice on free things to do in Venice, again limiting their investment in the city.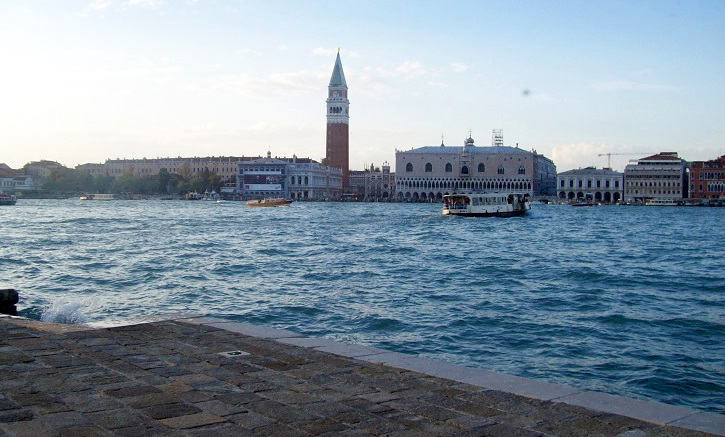 View from St. Mark's Square. Ph. Emma Leiper 
In an attempt to address the number of tourists who descend upon Venice without opening their wallets, the Venetian commune is now considering charging a visitor's tax, to be applied at the city gates. This would sit alongside the hotel tax that was established in 2011 in a similar effort to get something back from the millions of tourists that visit Venice every year.
The ever-growing tide of unsustainable tourism will only increase if the complainant's grievance to the EU Commission is upheld and Venice is forced to lower its tourist prices.  Whilst many who have travelled to Venice and came back with considerably less in their bank account can empathise with the complainant, it may be that the cost to visit the city is the price that us tourists have to pay to enable this beautiful yet crumbling city to survive.
That being said, all is not lost for the economically-challenged tourist. It is possible to travel to Venice and enjoy everything it has to offer in a way that still benefits the Venetian people.  It may be an old cliché but going off the beaten track in Venice is really the way to go, not just for the opportunity to uncover the hidden sights, but for the opportunity to sample real, locally-run, family-owned bars, restaurants, and hotel accommodation.  Not only are prices cheaper the further away you are from the main tourist hot-spots, but you'll be contributing to the local economy.
Likewise if you're staying in a vacation apartment or going for a picnic, buy produce from local food stands rather than a supermarket chain. If you want to go off on a Venetian adventure, book through a local agency rather than a foreign tour operator.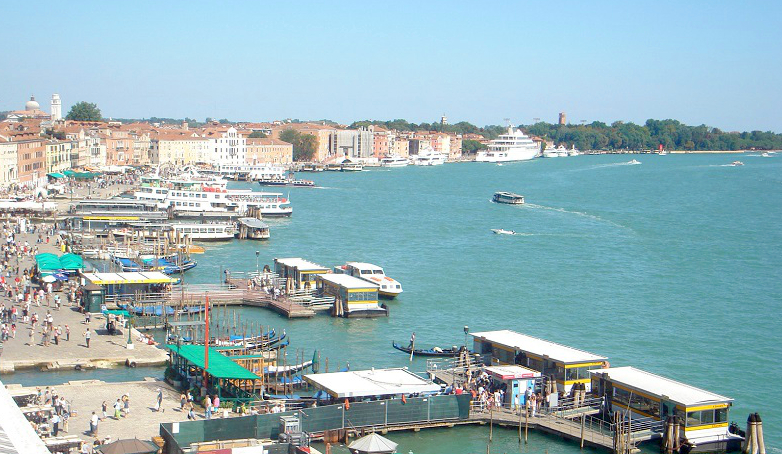 View from the Doge's Palace, Ph. Emma Leiper 
There are ways to enjoy the city and give something towards its maintenance and sustenance, but ultimately Venice is an expensive place to visit. It is one of the most famous cities in the world after all, and like its Parisian and Roman counterparts, it's never going to be a cheap holiday, no matter how many holiday-saving techniques you put in place.
At the end of the day, there may be no going back from the edge of tourist oblivion that threatens Venice.  Perhaps the least that us tourists can do is cough up an extra few euros for a cup of coffee for the privilege of being in one of the world's most extraordinary cities.