Lead picture by Luca Vittorio Toffolon
Dario Fo, Nobel prize winner, author, playwright, actor, painter and anarchic politician is, at the age of 88, an Italian miracle of a man. He is revered by Italians, and well-known throughout the world, as a name at least, even if people don't know much about him.
I suppose I first heard his name as a student when I became aware of other cultures and other languages. The curious title of one of his best known plays, Can't Pay, Won't Pay, (Non Si Paga, Non Si Paga) intrigued me. Then when I was in Pesaro for the Rossini Festival one summer about 10 years ago, the name cropped up again. He was the director of a lesser-known Rossini opera being performed at the Festival, called La Gazzetta. The production was terrific, the action taking place in a newspaper printing works, and the singers required to sing from ladders, conveyor belts and other machinery. It amazed me to realise at the end of this fizzing performance that the small portly figure centre stage, taking bow after bow, was Dario Fo himself.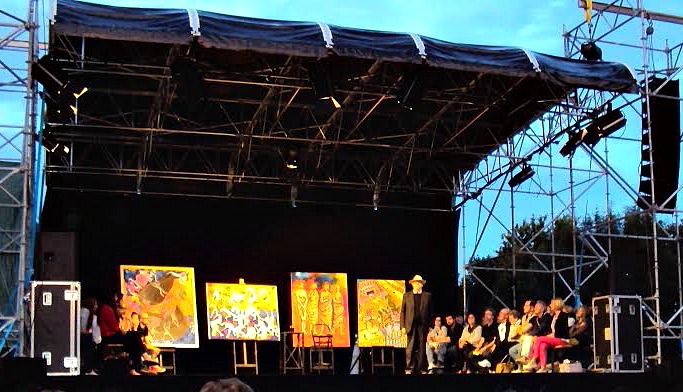 Fast forward to June 2014 and a ticket to Dario Fo's touring one-man show….and I'd assumed he'd be dead by now.
It was a balmy evening in the Veneto. People were heading towards the park in Monselice from all directions, and we fell in with the flow. Rows of red plastic chairs faced a large scaffolding stage on which four brightly coloured large paintings (his) were displayed. The music being played was a revelation. I've always loved Georges Brassens, not realising that Italy had an equivalent chansonnier in Fabrizio de André. I made a mental note to buy a CD.
Collecting drinks and panini from the bar, we sat down to wait. It was gratifying to find that I already knew a few people in the audience, and was quickly introduced to more, most of whom wanted to practise their English on me.
At 9 o'clock as dusk fell, the lights came on and a figure reminding me rather of the late John Betjeman tripped onto the stage.
"Ecco ci qua!" he said, to rapturous applause.
He was wearing a baggy suit and panama hat, later supplemented by a black shawl when it grew cooler.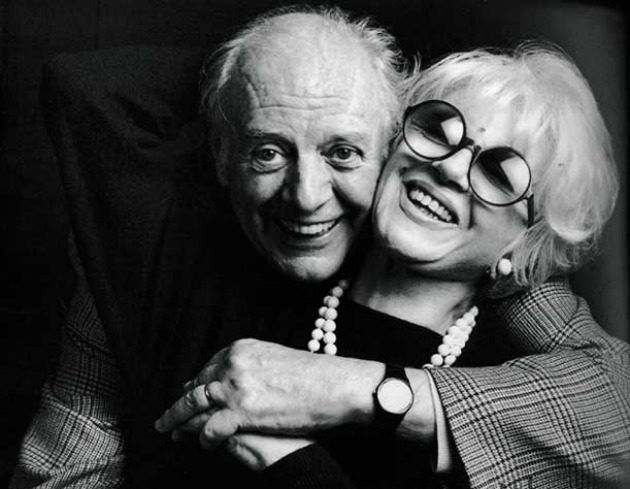 The man is a born performer, with boundless energy. He was seldom still, but pacing around telling stories, reciting rhythmically and at times becoming a one-man-band just with his voice. He was assisted from time to time by three young actors who read extracts from his late wife's book, In Fuga Dal Senato. He and Franca Rame had been together since she was 19 and he 20. In his case he fell in love with her beauty, but never dared to approach her, believing himself to be ugly and uninteresting. But she loved him anyway, and the pair of them embarked on a series of tours which were to continue all their lives, talking about what they felt to be important, condemning devious politicians, and satirising excesses of bureaucracy. In fact, she was still part of this performance, through her book which is about becoming a senator, being disillusioned by the politics of power, and eventually resigning. I have to admit that I didn't understand all that was said. The actors spoke clearly, but Fo seemed to pepper his language with roars and cries which conveyed feeling rather than meaning.
When the lights finally dimmed, Dario Fo received a standing ovation. He then let it be known that he would sign any and every book brought to him, and the crowd surged forward. It was already midnight and he was going to be there for at least another hour, but what's an hour when you're 88?