Rimini has it all — chic beaches, fabulous food, culture, ancient ruins, gorgeous architecture, fun-filled festivals and charming hilltop towns. One of the most famous seaside resorts in Europe, Rimini is also the birthplace of famed Italian director Federico Fellini. Film buffs will enjoy exploring the director's birthplace with special stops celebrating his life and work.
Rimini: a fountain of inspiration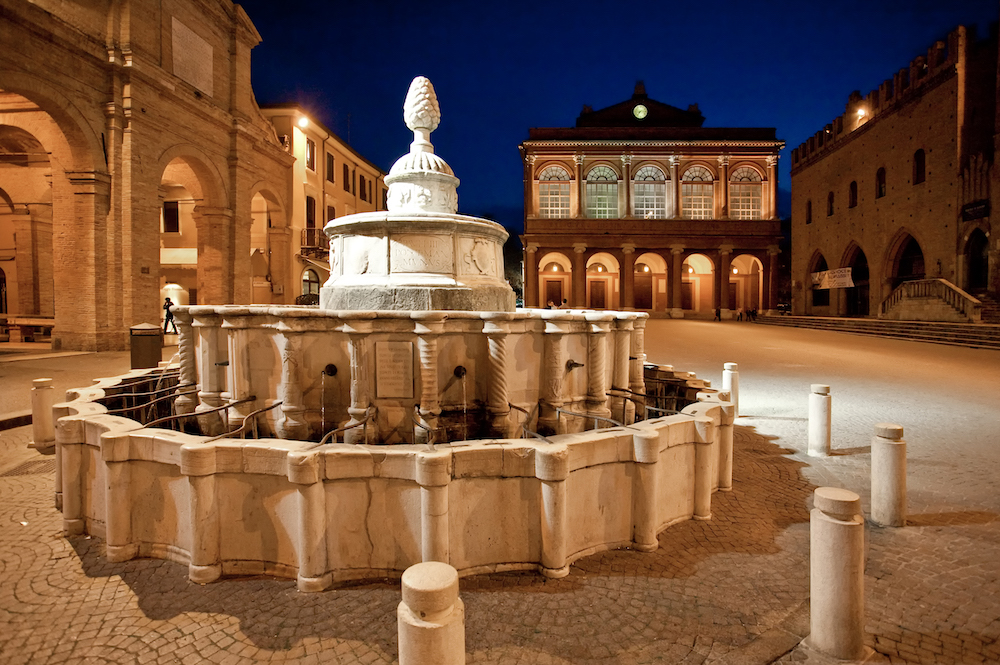 Fellini often cited Rimini as the source of his inspiration and creativity and portrayed impressions, characters and sights of his hometown through his movies. Amarcord, Fellini's internationally renowned and Oscar-winning 1973 film, is a semi-mythical homage to his childhood in Rimini. A good start for a Fellini walk is the beautiful Piazza Cavour, which the director recreated in Rome's Cinecittá studios to serve as the backdrop for Amarcord. One of the most memorable scenes features a snowball fight with a peacock perched on the piazza's lovely 15th-century Fontana della Pigna (Pinecone Fountain.) An inscription on the fountain mentions Leonardo da Vinci's delight in seeing the fountain during his stay in Rimini.
Just behind Piazza Cavour is the impressive Castel Sismondo (also known as Malatesta Castle), which can be spotted in the background of Amarcord. Built by Sigismondo Malatesta in the early 15th century as a defense for the city and show of Malatesta's power, Fellini often visited the castle, noting in his memoirs, "When no one else was around and the marble seats were fresh; bombs, bishops and medieval knights patrolled, protective and sinister, in the shadow."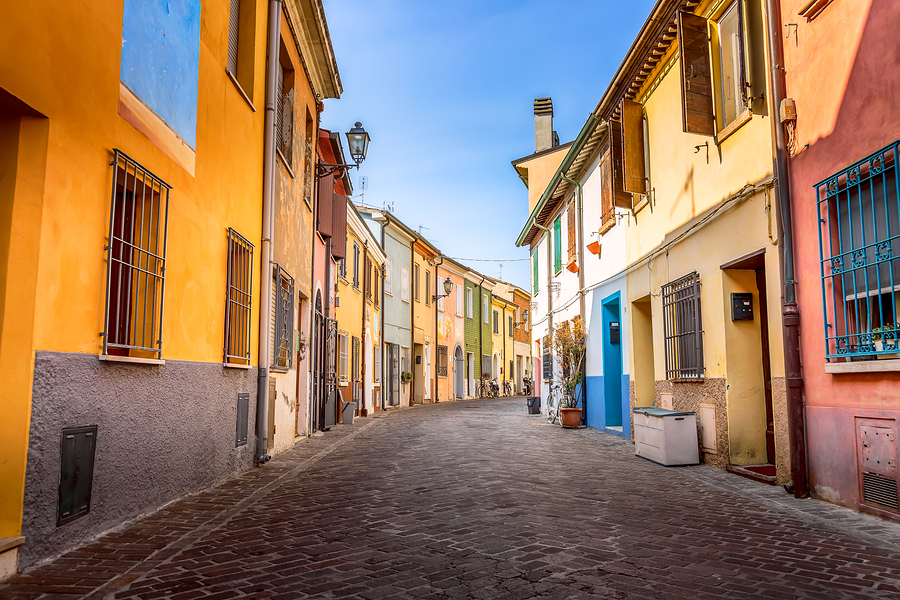 Stroll through the narrow alleyways of Borgo San Giuliano, a charming neighborhood Fellini loved to wander while imagining story ideas.  Many of the colorful houses have frescoes painted by local artists depicting Fellini's life and works. There are many with scenes from his films, including those featuring Marcello Mastroianni and Anita Ekberg in La Dolce Vita.
This part of town has a vibrant nightlife, with hip bars and wonderful restaurants, like the totally delightful Osteria del Borgo, still going strong after 30 years. Not only is the décor whimsical, with hand-painted napkins hanging from the rafters, but the food is authentic and delicious, featuring many specialties from this very Romagna section of Emilia-Romagna. Start with their antipasto rustic dell'Osteria, a mix of the area's famed filled flatbreads, pecorino with fresh fava beans, and various salumi.
Magic and pasta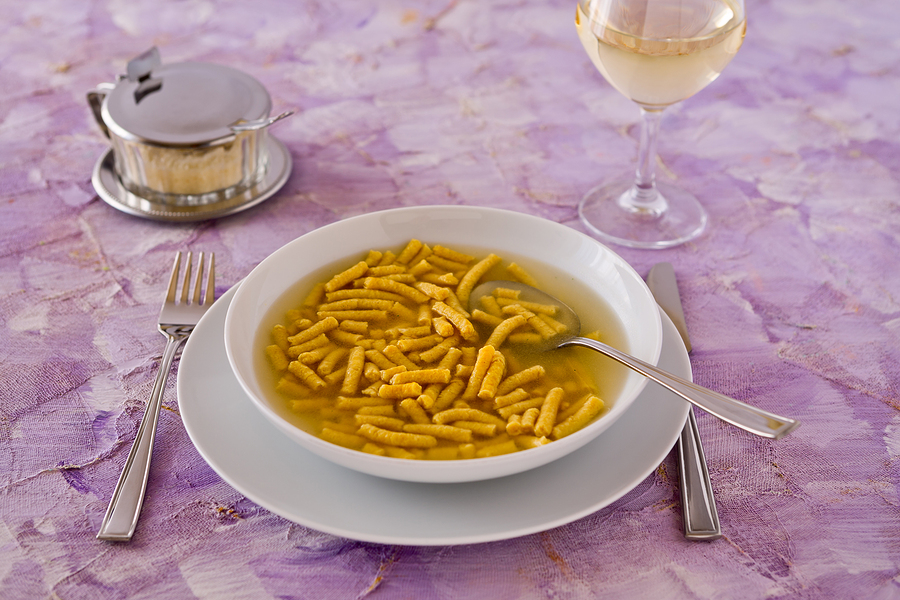 Fellini famously said, "Life is a combination of magic and pasta." No Fellini-themed itinerary is complete without talking about the town's wonderful specialties like passatelli, a pasta shape little known outside of this region, made with a mix of Parmigiano Reggiano, lemon zest, breadcrumbs and egg that is pressed through a special holed metal device — ferro per I passatelli — to form long thick strands that are then cooked in broth.
Another must-try is the flatbread piada, which is thinner than piadina found in the rest of Romagna. It can be filled with anything — from prosciutto to veggies — but the most classic filling is arugula and squacquerone, a spreadable cheese so unique to the region that it has been awarded geographically protected DOP status.
Big screen-worthy buildings and festivals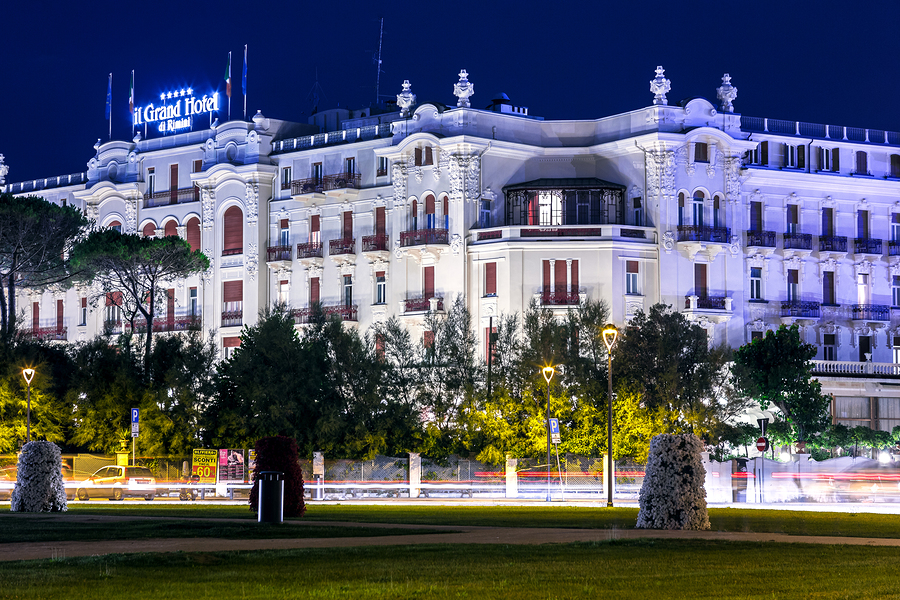 Of special note when speaking about anything to do with Fellini is Rimini's famed 5-star Grand Hotel di Rimini so beloved by the director that he drew a watercolor of it, as he recalled it back when he was a 9 year old. For Fellini it was a symbol of the forbidden and he famously joked that all things are possible at the lush Grand Hotel, "crime, kidnappings, nights of crazy love, blackmail… Summer evenings at the Grand Hotel become Istanbul, Baghdad and Hollywood…"
As a successful director, he stayed at the Grand Hotel often, always reserving suite 316. As he writes in his book My Rimini, "The Grand Hotel was a symbol of luxury and exotic splendor."  The hotel has breathtaking gardens, which you can stroll through even if you aren't a guest. But for guests there's also a luxurious spa, pool and lovely private beach. To see more of Fellini's drawings and water colors visit the Fellini room at the Museo della Cittá, City Museum. Most of them are quite racy and give wonderful insight into the Maestro's wit and whimsy.
Rimini has dozens of fabulous festivals throughout the year, but one of my favorites was actually conceived of several years ago, by famed 3-Michelin star chef Massimo Bottura, one of Time Magazine's 100 Most Influential People of 2019. Fellini had long-time fascination with the circus as evidenced by his 1970 docufiction I Clowns (The Clowns). Bottura imagined a Fellini-inspired circus-like celebration of artisan foods and crafts with cooking demos, street food vendors, concerts and acrobats and even came up with its name:  Al Mèni, which means "hands" in the local dialect. His vision became a reality thanks to Rimini's Mayor Andrea Gnassi and others, and now this festival held in mid-June each year is one of the most popular in the region.  
Cinema Fulgor, a beautifully restored theater in the historic center of Rimini, was where in 1926 Fellini saw his first film Masciste all'inferno while sitting on his father's lap. The movie holds a very special place in Italian cinema history, as it inspired Fellini to get into film-making. As he wrote, "I'm sure that I remember it well because the image has remained so deeply impressed that I have tried to re-evoke it in all my films." 
Throughout 2020 Rimini will be celebrating the 100th anniversary of Fellini's birth with special exhibitions and events, including the opening of a three-part International Fellini Museum, Museo Internazionale Fellini.
If you go
Check the official tourism board's website for more information on what to see, do and eat in Rimini, featuring itineraries for exploring Rimini's ancient Roman past, Renaissance and spectacular nearby hilltowns.