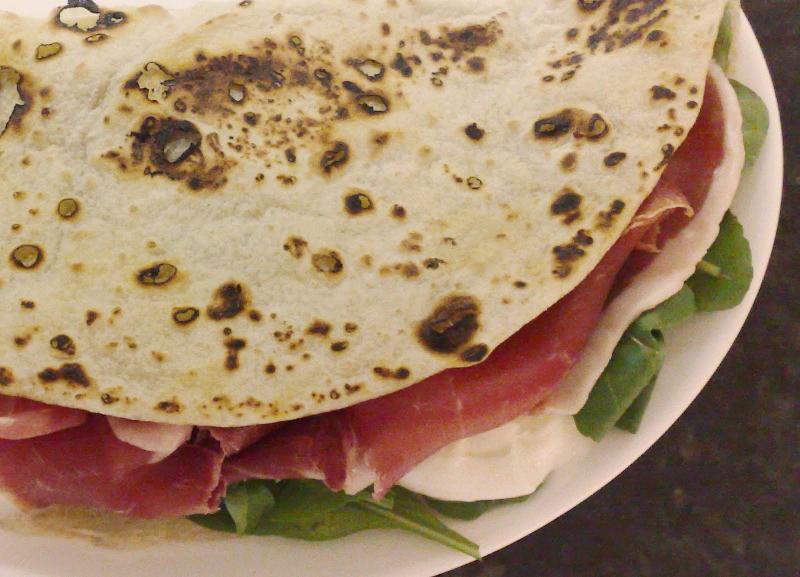 All over Emilia-Romagna you can find the region's famous snack Piadina served with local cheese or cured meat. But this special kind of flatbread, which can be traced all the way back to Roman times, has its origin in Romagna, the area along the Adriatic coast. Piadine can be described as circles of flat bread which are served warm with a filling of cheese, ham or other ingredients. Here is the recipe:
Ingredients
lard (if you really do not want to use lard try with olive oil)
100 gr
bicarbonate of sodium
a pinch
Instructions
Place flour and salt on your working surface and make a fountain, mix in the lard and baking soda using as much lukewarm water as you need to get a compact dough. Cut into balls and flatten them out with a rolling pin into 0.5cm thick circles with roughly a 15cm diametre. Cooking method: Piadine are usually cooked on very hot metal surfaces or on terracotta. Try using a nonstick pan, warm it up and cook it on each side, pricking the surface with a fork to avoid air-bubbles. Nowadays piadine can be served as bread substitute, snacks, or as a full meal depending on how you serve them. The best options for the filling are the many typical specialties of Emilia-Romagna; try it with Parma ham, with salame felino, coppa, culatello and other cured cuts or the typical spreadable cheese called "Squaqquerone". Anyway, remember that piadine need to be eaten on the spot, when they are still warm. Piadine make for perfect street food as you can eat them with your hands and the landscape of Romagna is dotted with Piadinerie (street kiosks) where you can choose the filling you prefer and they will cook them on the spot for you. So, if you have the chance to visit the area, do not miss to try this fantastic specialty.