'And suddenly there is Cagliari: a naked town rising steep, steep, golden looking, piled naked to the sky from the plain and the head of the formless hollow bay. It is strange and rather wonderful, not a bit like Italy.' Such was D.H. Lawrence's first impression of Cagliari, Sardinia's capital, upon arrival by sea from Sicily.
The city's centro storico hasn't changed much since his visit in the early 1920s.
Traces of History
Sardinia has Neolithic origins, but was later occupied by the Phoenicians, Carthaginians and Romans and traces of history are all around the capital and its surrounding area, especially at Nora with its well-known ruins.
Most of Cagliari's interesting buildings and sites are confined to the very centre and in particular to the Castello area. Soon after the fall of Roman power and subsequent invasions by Barbarians, the Byzantines had a period of control and left behind the important 5th-century San Saturnino church which, located in the lower town and surrounded by palm trees, looks out of place in a modern Italian city.
This is the only indication of this period of Cagliari's history which was followed by a long period of Pisan and Genoese control. Also in the lower part of town is the San Benedetto market off Piazza San Rocco and food lovers will also want to explore Via Baylle just inland from the port with its fine food shops, especially Gastronomia Pisu at number 39.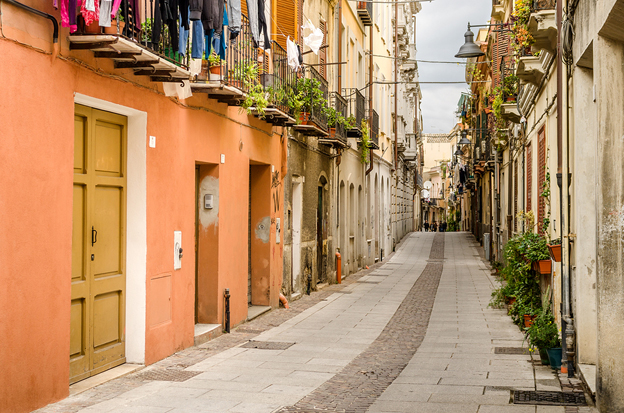 Behind the Façade
The more interesting old part of town lies behind the main Via Roma and can be reached by climbing the giant stairs of the bulky Bastione San Remy to reach the vertiginous area Lawrence referred to, with its panoramic views of the city and the surrounding coast.
From this viewpoint you can wander off and explore the Castello area beginning with what appears to be a Pisan-Lucchese Romanesque Cathedral which visitors are surprised to find is actually a 20th-century forgery bestowed upon the original structure, but flanked by two original Pisan marble lions.
It is worth looking inside, however, to see the two 12th-century Pisan pulpits on either side of the main entrance, the tombs that recall the Spanish and later Austrian and French hegemony, and the subterranean crypt.
In the same square sits the imposing Governor's Palace, once the palace of the Piedmontese kings of Sardinia. More evocation of the island's history is to be found at the nearby Cittadella dei Musei in Piazza Arsenale and reached by passing through a copy of the Roman Porta del Popolo.
Inside there is a group of museums and galleries, the most important being the Museo Archeologico Nazionale where visitors are offered an insight into the nuragic people who once lived on the island, leaving behind the strange stone structures, nuraghi, for which the island is famous.
Nearby are two towers: Torre San Pancrazio and, at the bottom of Via dell'Università, Torre dell'Elefante, both built in the 14th century and forming part of the old defensive walls of the city. Going back further in time is the Anfiteatro Romano, hewn from solid rock nearly two millennia ago to accommodate 10,000 spectators and an impressive reminder of Cagliari's role as administrative centre of the Roman Province of Sardinia.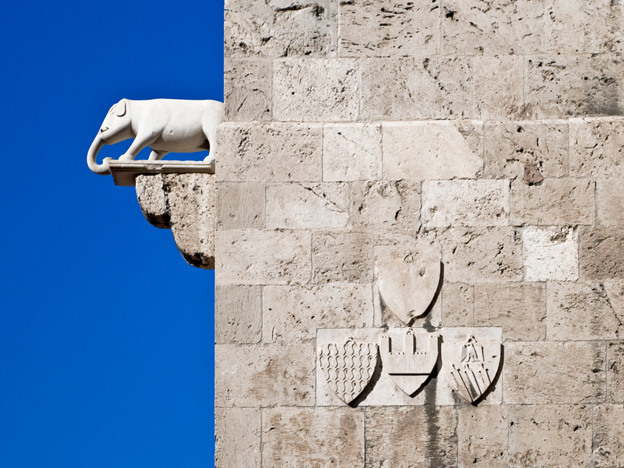 Gifts of the Sea
Local specialities are various types of fish roasted over coals such as orata and mormora (types of bream), or the tasty spigola (sea bass), triglia (red mullet), as well as aragosta (lobster) and a wide range of fish caught in the local waters.
Local wines worth ordering are light fresh white, Nuragus di Cagliari 'Dolianova', Terre Bianche or Vermentino Aragosta or reds like Cannonau or the more unusual Carignano. Be sure to try one of the Sardinian Pecorino cheeses such as Pecorino Sardo or, as a dessert, Sebadas, a ravioli-like pastry filled with fresh Pecorino cheese and topped with local bitter honey.
One of the finest restaurants in Cagliari is Ristorante dal Corsaro on Viale Regina, but good meals can be had on a more modest budget at a place like Trattoria da Serafino on Via Lepanto.
Beaches and Sports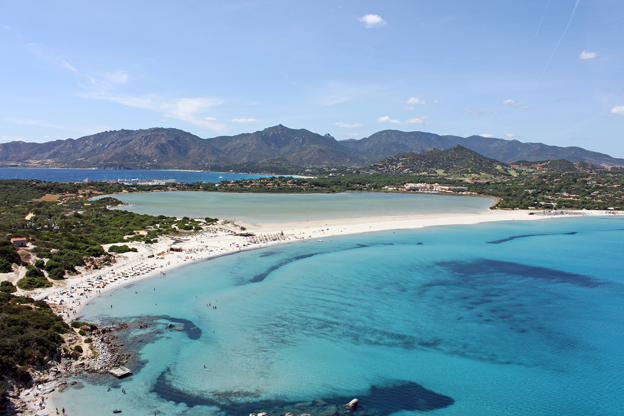 Villasimius used to be inhabited by fishermen and shepherds and, in D.H. Lawrence's day, would have been remote and relatively inaccessible. Since the war it has developed an important tourist trade to take advantage of its favoured position where the rugged mountains of the south drop down to meet the coast, part of which has been designated a protected area.
Villasimius beach has a long stretch of white sand and clear warm water making it a joy for snorkelling. Fine beaches can also be found at Spiaggia del Riso, Cala Caterina and Cala Pira as well as at the tiny islands of Serpentara and Cavoli, which can be reached by hired boats or excursions.
At Capo Carbonara there is a newly-modelled marina to accommodate the yachts in the clear shallow waters and the secluded inlets that make it a paradise for more leisurely sailors. There is plenty to do here, whether mountain trekking, horse riding or, for more adventurous visitors, a wealth of activities such as scuba diving, paragliding, windsurfing and microlight flying.
The coast all around the south east tip is also full of alluring bays and inlets making it possible to find quieter places to relax if the busy Italian approach to the seaside is not quite your style.
Festivals in Sardinia
Sardinia has a very full schedule of festivals and if you are lucky enough to be able to plan your visit to coincide with one of these celebrations, especially the Festa di Sant'Efisio, the patron saint of Cagliari (on the first Sunday in May), you will be rewarded by the sight of people in beautiful traditional costumes and decorated carts drawn by fashionably dressed oxen moving in procession to nearby Pula.
This article was originally published in the print edition of ITALY Magazine.