Opened in Bologna in 2017, FICO Eataly World is an Italian food, gastronomy and agriculture theme park founded and operated by Eataly, the hugely successful Italian food market company.
Dubbed "Disneyland for foodies," FICO's intention was to showcase the best of Italian food and culinary practices from all 20 regions of Italy in one location, as well as to teach visitors about the food cycle and farm-to-table process through educational activities and entertainment. It advertises itself as the largest food theme park in the world.
Despite the huge cost and initial fanfare — including an appearance by then-Prime Minister Paolo Gentiloni at the inauguration — FICO has struggled to gain a foothold in Bologna. The Guardian described it as "Wholefoods on steroids," suggesting it presented a "dystopian vision of the future, rather than a homage to Italy's rich food heritage and culture." Other reviews were more circumspect. "FICO is a vast, stratified and even contradictory world," wrote Paola Manfredi in Vanity Fair Italia, before asking "how much does an experience lose if we find it packaged for our use and consumption, far removed from its context?"
A shifting, surreal experience
Early on, FICO was open every day from 10.30am to midnight, with a dedicated shuttle bus working the route from the city center several times daily. Since the onset of the pandemic, operating hours have scaled back considerably, and stayed that way even as restrictions lifted. You can now only visit from Thursday to Sunday, 11am to 6pm — stretching to 11pm on Saturdays — and the shuttle bus runs just two to three times a day on weekends. No longer cost-free, a ticket will set you back €10 to €15.
And what you're paying for, at least in 2023, is a surreal experience. For a start, FICO is in the middle of nowhere, the penultimate stop on the bus line, in a solemn business park surrounded by looping highways and outlet stores. 
The entrance is flanked by a small medley of stables introducing you to some typical Italian farm animals such as cows, goats and — for some reason — a pair of alpacas, which I'm 99% sure are not indigenous to Italy. The sight of penned-in animals pottering about a small patch of grass surrounded by parking lots and industrial landscapes is rather bleak, one of a number of unintentionally Brechtian moments which draw attention to the artifice of it all.
Inside, FICO is huge, at times often cavernous. Large swathes are seemingly abandoned and shrouded in an eerie darkness. There are restaurants, of course, arranged in shopping mall formation and mostly empty, save for a crowd of businessmen and women on lunch break (at least on the day I visited). A large part of the complex, it turns out, is leased as a conference center —  a canny (some might say desperate) move that guarantees a steady stream of restaurant customers, if little else.
Then there are the activity rooms (curiously referred to as giostre, or carousels), which combine educational displays with interactive games. These, at least, are imaginative and well designed, and the various young kids who were roving about were clearly having a lot of fun with them. There are also plenty of food-themed arcade games, a beach volleyball court, a miniature golf course shaped like Italy, several food factories where you can participate in making pasta, cheese and mortadella and — of course — a large Eataly store.
A "one-stop shop," perhaps, but for what?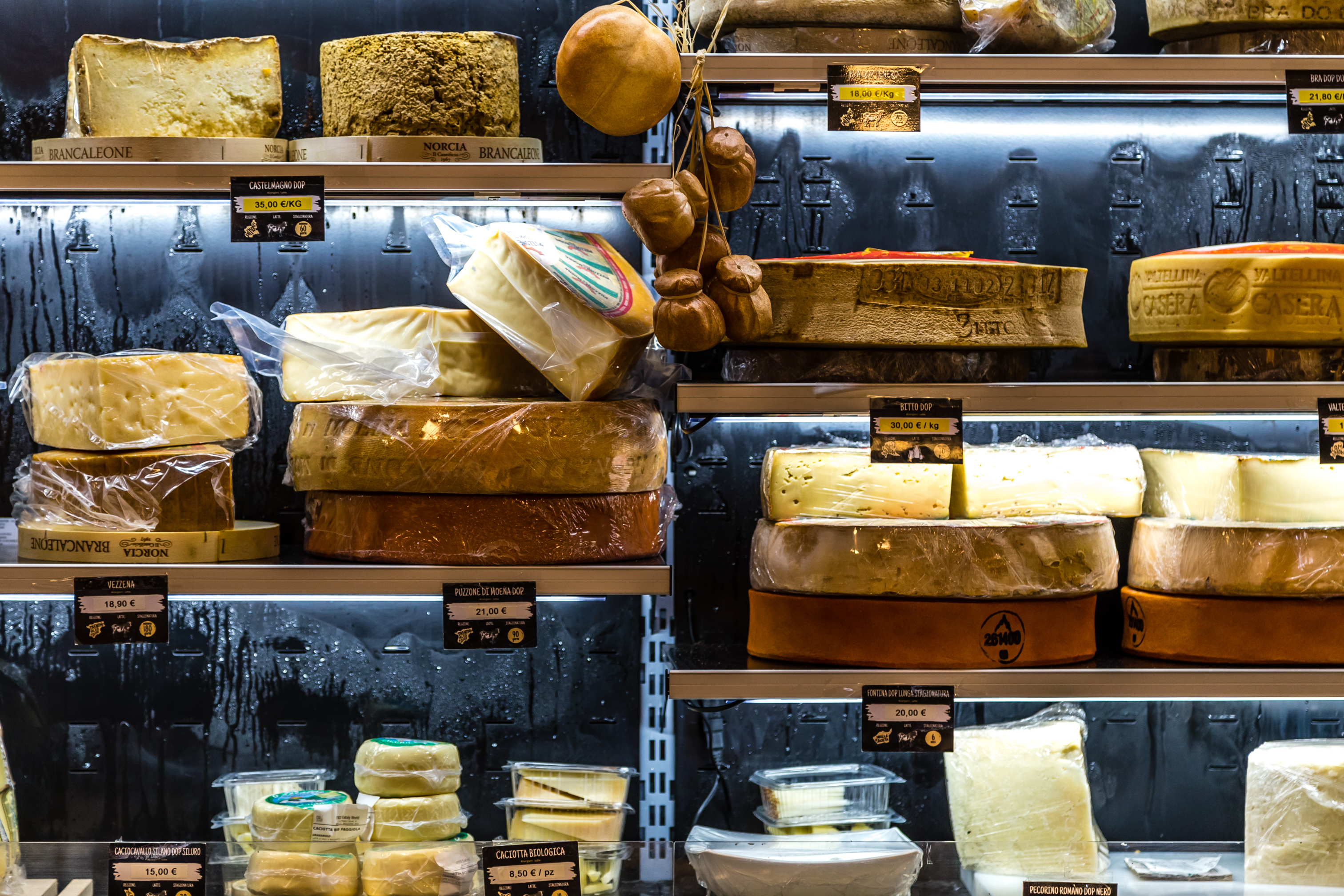 There's undoubtedly a sense of spectacle here, but it's combined with a kind of dumb esotericism. What's the point of any of this?
Because if it's authentic food experiences you're after, then the centro storico of Bologna is home to one of Italy's most beautiful and historic food markets, a bustling place which always has a sense of magic and wonder about it. FICO's food markets, by contrast, are in a sterile hangar in an unappealing suburb next to the big Decathlon store.
A one-stop shop American-style hypermart? We in Bologna have enough of those in the suburbs. We even already have an Eataly in the center.
Culinary courses? Pasta making classes are easy enough to organize downtown, though FICO does offer some unique opportunities. Agritourism infrastructure in Italy is generally poor, so demonstrations showing how Parmigiano Reggiano cheese or Sulmona sugared almonds are made might be appealing. But these still feel like minor performances in an otherwise empty play. FICO might be better off organizing outings to the countryside, supporting factories and farms that want to open up to visitors but aren't sure where or how to plug into the publicity machine. Instead, what they leave us with is an artificial reproduction in a glorified shopping mall; a facsimile of the real experience.
Many gimmicks stretch credulity, such as the bizarre "aperitivo yard." Do American tourists really dream of coming all the way to Italy just to take the bus to a depressing industrial park to pay €10 to enter a warehouse and then have an aperitivo on an astroturfed lawn surrounded by arcade games and concrete? What is going on?
The issue is really that at no point does FICO justify its existence, let alone its colossal size. Despite the impression of production value and occasional flashes of innovation, this is a sterile exercise that comes across as Italian food culture written by ChatGPT. Eataly's brand is clearly successful all over the world. But, five years on, FICO feels like a misfire.
Families: FICO's saving grace
FICO has some hope as an easy day out for the family and a destination for school trips led by well-intentioned teachers. The giostre are fun, but consist of only a handful of rooms, which could have easily been squeezed into the center or in the other kid-friendly parks and attractions around Bologna. The wonderful new Bologna History Museum for example, shows that large, interactive exhibitions can be successful in the center.
Among Italian friends I quizzed in Bologna, none were able to muster even the slightest interest in FICO. The few who had been did so just for the novelty and still left feeling underwhelmed. Many were even acutely hostile to FICO's existence, considering it a crass commercialization of the Italian food experience, set in a desolate warehouse and marketed mainly to a specific, naive subset of American and Asian tourists.
FICO claim 400,000 people visited in 2022 and say they are close to meeting expectations. It's clear they are pivoting toward a model which targets schools, young families and foreign tourists. If you're in that group, then certainly, have a glance at their website to see if anything interests you. But for young people and independent travelers, I really felt there was nothing here.

"I had spent three days at FICO at that point, and I still didn't quite understand what exactly it was trying to be," Evan Rail wrote in The New York Times in 2017. "Was it a shopping mall with culinary classes? An educational center with suspect materials? A homage to Italian food culture that occasionally swerved toward Leni Riefenstahl territory?" 
Five years on, I'm still not sure anyone has an answer. At various times during my visit to FICO I felt amused, amazed, confused and disheartened. In the end, the impression I was left with was that of a shopping mall in a theme park. And, all told, that might be the point.