John Bensalhia investigates the popularity of ceramics in Sicily, tracing the background, process and notable examples of this fine art.
One of the most popular artistic elements of Sicily is ceramics. This unique art form has resulted in many great works of art being showcased in Sicilian areas, whether it is through museums, sights or even through artisans and traders in their shops and workshops. Here then is an overview of the origins of ceramics in Sicily, its processes and common areas to produce these magnificent works of art.
EARLY DAYS
The trend for ceramic art can be traced back to the era of the Sicanians. In particular, it is said that the Sicanians were influenced by the Mycenaean culture, the Mycenaeans being a race of Indo-Europeans who melded into the Greek population around the era of 2800 BC. Mycenaean pottery is said to have influenced Sicanian pottery in its style and appearance.
One particular Sicilian area to develop ceramics was that of Caltagirone. It's a region that is universally famed for its ceramics, and it is said that the first instances of production began around the era of the second century BC. Ceramic output grew in stature, and was especially popular in the eras of Norman and Hohenstaufen rule.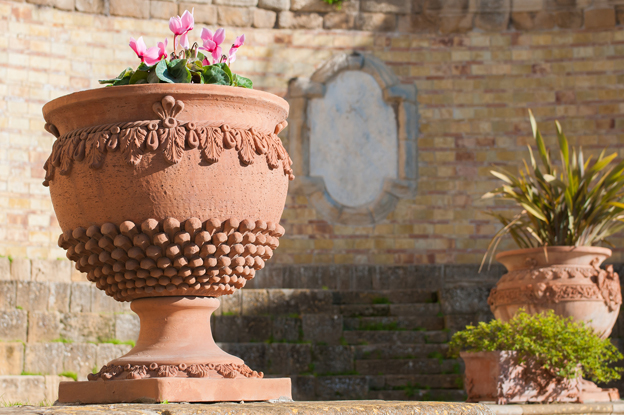 PROCESSING THE PRODUCT
A key reason for the popularity of Sicilian ceramics is the quality of the Sicilian clay. The clay is freshly mined from Sicilian valleys and mountains, and contains a mixture of unique silicates that give the material its special properties.
After mining, the potters and ceramic makers will mould and shape the clay to their precise requirements. Once the clay has been sun baked, it will then undergo a further bout of baking and firing in the kiln to give it that hardened, terra cotta quality. Finally, the clay is crystallised and becomes stronger and firmer, resulting in its finished ceramic product.
MAIOLICA MAGNIFICENCE
A common ceramic sold in Sicily today is Maiolica. Maiolica is a type of ceramic earthenware and the first example of this type of ceramic was originally said to have first appeared in Arabic lands at around the time of the ninth century. Tin oxide glazing enamels are used to paint the clay before it is fired to a strong and reflective result – a notable aspect of Maiolica ceramics is that the clay is fired at a relatively low temperature.
The common glazes used for majolica are viscous tin oxide colours which are used over a white imprimatura. It's hugely popular in Sicily and combines the best of both porcelain and terra cotta worlds.
MONREALE MASTERS
One of the Sicilian regions best known for its ceramics is Monreale. Monreale boasts a number of craft shops and artisans displaying their work. One of the key elements of Monreale ceramics is that the area's artists liked working in the field of mosaics – the results of which can be seen not only in local galleries, but in Duomo di Monreale.
A visit to Duomo di Monreale is an amazing experience. It includes a piece of mosaic Biblical figures which are set against a backdrop of gold mosaic tiles, and in addition includes around 130 separate mosaic scenes depicting events from the Bible. It's a spectacular collection, demonstrating the superb results of hard work and talent in producing these finished mosaic pieces.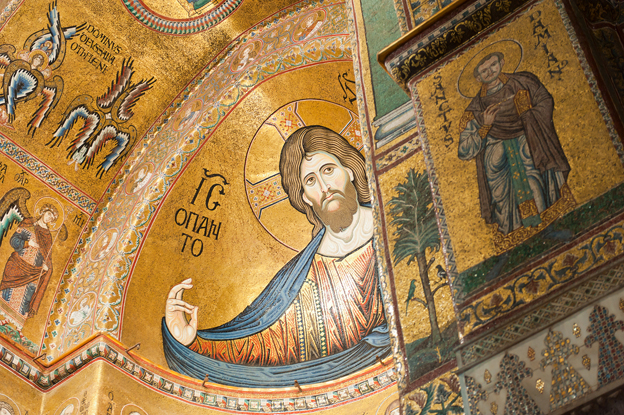 SHOWCASING BRILLIANCE
Another notable Sicilian region to showcase brilliant ceramic work is that of Santo Stefano di Camastra. It's a town that's well known and highly regarded for its traditional ceramic production, resulting in ceramic mosaics, tiles and shingles. Visitors to the area can be tempted by some of the highest quality ceramic pieces in the world. The clay used to create the ceramics in this area is well known for its superior quality – factor in the top quality enamels, attention to detail and the beautifully finished decoration, and you have a true work of art.
Around the time of the 18th century, ceramic craftsmen would use the clay from the mines along the town's seaside road to then cook, bake and cool. Once this process was over, the clay would be specially decorated and then baked again to result in colourful and distinctive maiolicate tiles.
One of the finest showcases in the area of ceramic art can be located at Palazzo Sergio, which includes Museo della Ceramica. In this amazing museum, there are tiled floors, ceramic pieces and Lorenzini's Andare, a group of warriors gradually sinking into the ground, which can be seen on the right hand side of the entrance.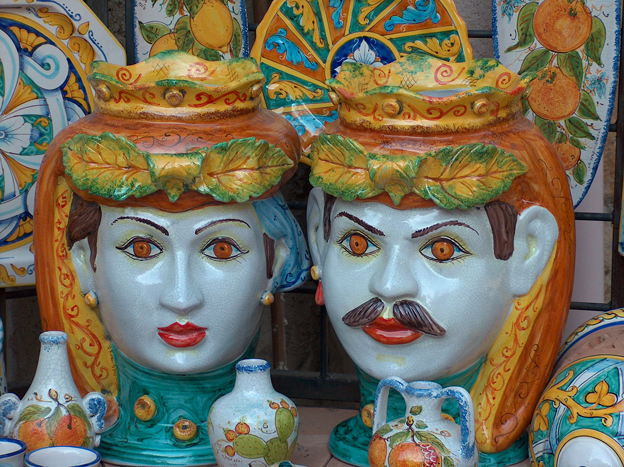 FAMOUS PLACES
Arguably the most famous Sicilian region for ceramics is that of Caltagirone. It's an area well known for its production of pottery and ceramics including Terra Cotta and Maiolica products.
It's not called the ceramics capital of Sicily without foundation. Many of the buildings in Caltagirone boast ceramic tiles, there are more than 80 workshops dedicated to ceramics, and there are some notable sights to see that showcase the best in ceramic craftsmanship. One of the must-see places for fans of ceramics is the regional ceramics museum which originally opened in 1965. This museum includes over 2500 items and displays all types of ceramics from the early beginnings through to the modern day. In addition, ceramics have been used in Caltagirone locations such as the bridge on the way to the Church of San Francesco di Paola and of course, in December, ceramics are used for nativity scenes, such as the characters and accessories.
One of the most famous examples is the staircase of Santa Maria del Monte. This 142-step staircase is unique in that each step is intricately adorned with hand-decorated ceramics of different styles and techniques. It was designed by Giuseppe Giacalone in 1608 and takes you into the Upper Town from Piazza del Municipio. On 25th July, Saint James' Day, it's a sight to behold. Thousands of candles are placed on the staircase to illuminate the way and create an artistic spectacle all of its own – definitely an event not to be missed.