Emilia-Romagna is widely regarded as a region with some of the best foods and cuisine in Italy: that's because such delicacies known worldwide as Parmigiano Reggiano, balsamic vinegar, Parma ham, culatello and mortadella are all produced here. But these are not the only products that make this Italian region a foodie delight: there are many more excellent treats that originate here and that you should try, and today we help you discover them.
Cheeses
The most recognized are, of course, Parmigiano-Reggiano and Grana Padano; but there are at least two other types of cheese you should be aware of.
One is Squacquerone di Romagna, typical, as the name implies, of the south-eastern portion of the region, Romagna. Squacquerone is a soft cheese made with whole milk, left to age for a very short time, 1 to 4 days. It has a sweet, lightly salted taste and a delicate aroma. Its name derives from its tendency to melt, 'squagliarsi' in Italian. Squacquerone is the cheese used to fill piadina, the thin flatbread that is also typical of Romagna; a classic is piadina squacquerone e rucola, a combination we love!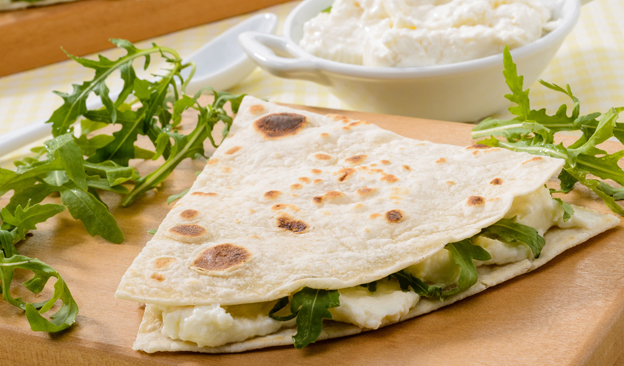 Another cheese you may have never heard of is Formaggio di Fossa, produced in Sogliano al Rubicone and the surrounding area between the Rubicone and Marecchia valleys, in Romagna. Its method of production is quite unique in that it is left to age in a pit, hence the name ('fossa' is translated as pit). The cheese typically ages for 30 days before being placed in the "fossa", wrapped in cloth bags. The pit is closed off entirely to limit the oxygen, while the cheese ages for an additional three months. Formaggio di Fossa can be eaten by itself, used in quiches, grated on pasta, or accompanied with honey. It may be little-known to the masses, but it is actually a highly coveted ingredient even by professional chefs.
Cold cuts
Mortadella, culatello and prosciutto di Parma always steal the scene when it comes to Emilia-Romagna salumi (cold cuts), and for good reason, but there's no good reason to stop at that!
Ever heard of Salame Felino? Its name derives from the small town of Felino, located in the province of Parma, in the Baganza Valley, where this cold cut is produced, and where there is even an entire museum dedicated to it, inside the Castle of Felino.
This salame, which has been produced here for centuries, has a perfect balance between the fat and the lean parts, and is left to age for at least 25 days, resulting in a soft texture, sweet taste and delicate aroma; it is a great appetizer and matches perfectly with bread or the local torta fritta (fried dough).
In the province of Piacenza, where not many tourists venture, there are three cold cuts with DOP recognition: pancetta piacentina, coppa piacentina and salame piacentino (the piacentino/a word stands for 'from Piacenza'). Three different products using the same ingredient (which at this point you may have gathered that it's a staple of Emilia-Romagna's cuisine): pork meat. What makes each of them different is the part of the animal that is used, and the way they are prepared and aged.
Next time you order a tagliere (a cutting board of cold cuts and cheeses), try asking for these as well!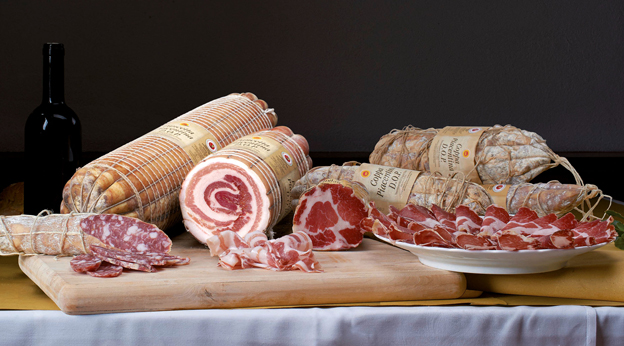 When talking about Emilia-Romagna's cured meats, how not to mention the salama da sugo, a pork sausage that is synonymous with the province of Ferrara, where it is produced. A staple of the local cuisine for centuries, widely consumed during the banquets held in the Renaissance courts, salama da sugo is made with  coppa di collo (pork neck), pancetta (pork belly), lardo di gola (neck fat), fegato (liver), and lingua (tongue) – definitely not for everyone! The meat is seasoned with salt, pepper, red wine, cloves and cinnamon, then stuffed into a pork casing, and left to age for six to nine months. The result, as you can imagine, is quite intense. If you like strong flavors, give it a go!  
Bread
The salama da sugo mentioned above is often eaten with the typical Ferrara bread, coppia ferrarese. Shaped like an X, with a central node and two thin parts stretching out into coils, coppia ferrarese is ubiquitous in all Ferrara bakeries. Its typical crunchiness derives from the quality of water and raw materials, the degree of humidity, the leavening and the correct baking method.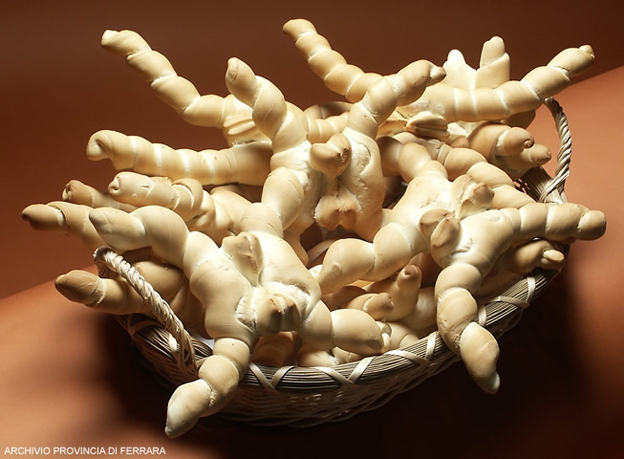 Fruit and vegetables
Now on to lighter delights. Many fruits and vegetables boast DOP recognition; among them, my favorites include the cherries from Vignola and the asparagus from Altedo.
Ciliegia or Durone di Vignola is produced in the area surrounding the small town of Vignola (province of Modena); if you drive around the area between the end of May and June, you will see many roadside stands selling it. It is delicious, plump, sweet, one of those foods you can't stop eating when you start, but at least it's healthy!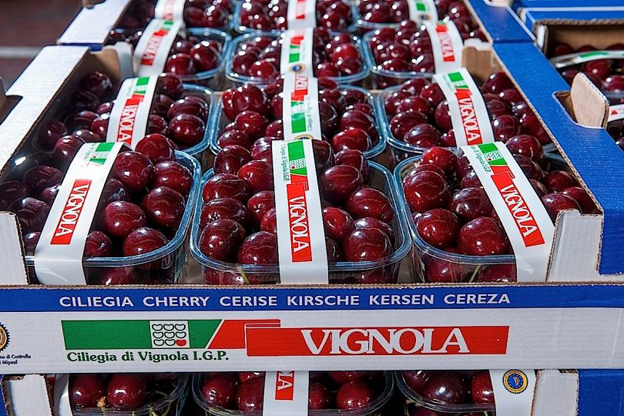 The Asparagus of Altedo Igp, grown between the province of Bologna and Ferrara, with the heart of production around the small town of Altedo, is known for the delicacy of taste and the absence of fibers, which makes it especially tender.
Delicious fruits with IGP recognition include the pesca and nettarina di Romagna, peach and nectarine from Romagna, which you can find from mid-June to mid-September.
Olive Oil
Who would have known that a highly praised extra virgin olive oil is produced in Emilia-Romagna? It's the Olio di Oliva di Brisighella, a delightful village about an hour south-east of Bologna.
Olive farming in the Lamone valley, where Brisighella is located, has been practiced for a very long time, possibly since the second century A.D. There are approximately 70,000 olive plants over an area of 300 hectares, producing an excellent olive oil made with the indigenous Nostrana di Brisighella. The olives are hand-picked between November and December and, every year at the end of November, Brisighella's olive oil is celebrated at the Sagra dell'Ulivo e dell'Olio.