Big George' confuses historians
Giorgione Barbarelli da Castelfranco was the name he was known by, although his real surname was Gasparini, and he signed some work as 'Zorzi.' Giorgione did not sign all of his paintings, which has led historians down a path of analysing and studying the paintings in detail to ascertain which were his work and which had been worked on, or completed, by other artists of his time. Titian was one of these other artist, he was younger than Giorgione and they were known to work together. 'The Sleeping Venus' was attributed to Giorgione, yet Titian is said to have completed it after Giorgione's death, and it is accepted that Titian used the same figure in repose to create his 'Venus of Urbino'.
It was noted that Giorgione was a handsome man and amorous too, also that he loved music and poetry and his poetic expression is reflected in his work.
Origins and influences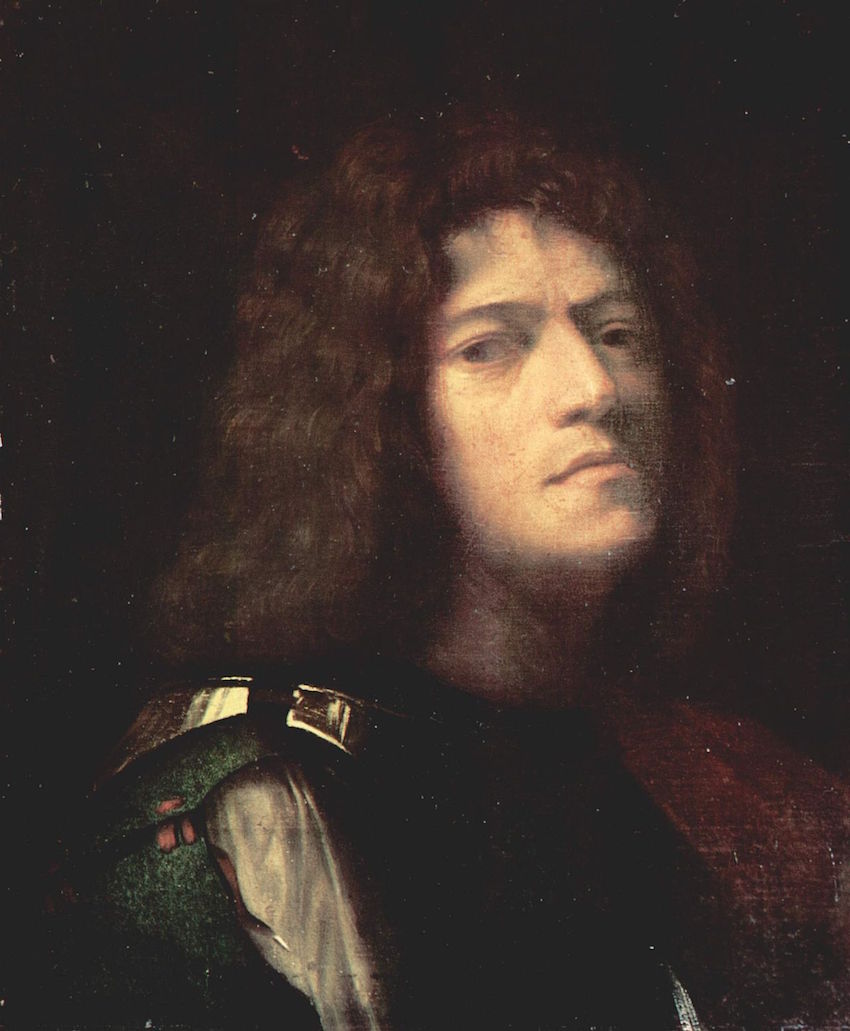 Giorgione was born in the town of Castelfranco Veneto, about forty kilometres from Venice in the late 1400's, though the actual date is uncertain. In fact not much is certain about Giorgione's life and even his works.  It was the Venetian High Renaissance period and his technique of creating a poetic warmth and glow, and his capture of perspective and natural surroundings made his work different in mood and feeling when compared to his contemporaries.  He also used the chiaroscuro technique which is seen in Leonardo Da Vinci's work. He did meet Leonardo and was influenced by the master. It is widely accepted that he was apprenticed, as a young man, to Giovanni Bellini, the most acclaimed artist at the time. He and Titian, it is thought, were both living and working with Bellini, and they were commissioned, along with other artists, to paint the Frescoes on the exterior façade of the Fondaco dei Tedeschi, the German Merchant's headquarters. There are only fragments which remain of these frescoes, most likely due to weathering and the salty air and humidity.
His early work ,the panels 'Trial of Moses' and 'Judgement of Solomon', are both in the Uffizi gallery Florence  (circa 1500) which means they were probably created just after he settled in Venice. In 1504 he was commissioned to paint a panel in oils by condottiere Tuzio Costanzo, in memory of his son Matteo who died of a fever. The Altarpiece, known as the 'Castelfranco Madonna' is a painting of the Madonna and child with St Francis on one side and Saint Nicasius on the other in conversione style. The painting is now housed in the Castelfranco Veneto cathedral, but it was exposed to great mistreatment before it was returned there. It was badly restored and then also stolen in 1972! Eventually it was recovered and restored again by the Accademia Laboratories in Venice and returned to the cathedral in 2003. The landscape was prominent, which became a feature of his work , whereas up till that time landscapes were not seen as being of as much importance as the 'story ' or 'subjects' . Giorgione's work changed that perception. He strongly announced his landscapes and his 'subjects 'did not necessarily tell of a 'religious act' or have historical significance. This transformed the style of the day, as up till then the landscape was the background and not the main event at all.
The works
'Il Tramonto'… (The Sunset, circa 1508) caused much controversy as this painting was discovered in a villa a few miles from Venice in the 1930's and it has undergone 3 renovations. It has been scrutinised and found that not all of the canvas is genuine. It has been altered. Though in essence it still reveals that mood and poetic interpretation overrules the subject matter of the two men in the foreground, who do not appear to hold much of a story. St George slaying the dragon seems to have been added in to the picture at a later stage.
Other work actually signed is 'Portrait of a woman' (Laura), signed on the back Zorzi of Castel da Fr 1506 'The portrait of a man' known as the Terris portrait, also signed Zorzi de Castelfranco, this resides in the San Diego Museum of Art, USA.
Marcantonio Michiel was a Venetian nobleman and art collector. Twelve paintings and one drawing were listed by him of which only 5 survive. 'The Tempest', the Three Philosophers',' Sleeping Venus', 'Boy with Arrow' and' Shepherd with a flute'.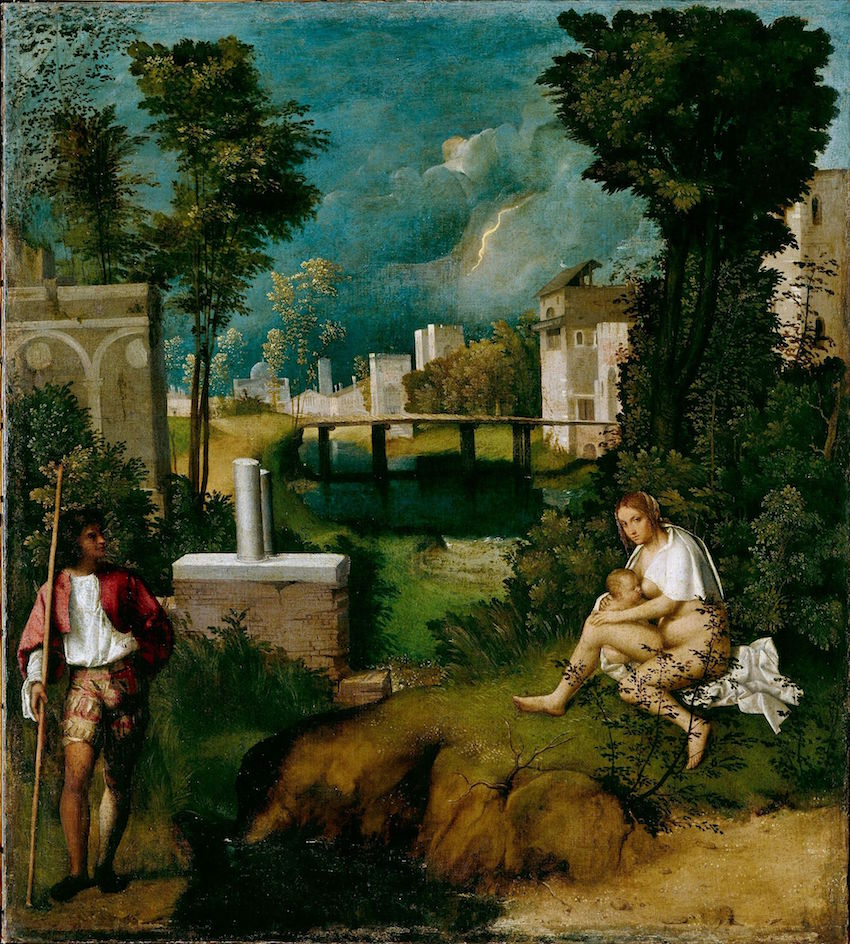 La Tempesta c. 1508
In the Tempest circa 1508, commissioned by Gabriele Vendramin, and its portrayal of a dramatic storm, he again made the landscape a main feature, his figures having no religious or historical purpose. This was a new concept to the art word at the time. The woman suckling her child could be interpreted in many ways and one could question the reasons of the man standing, though it has been revealed through x ray that a nude woman was painted originally in the same spot as the man, once again confusing what might have been the original thought of the artist. Whatever the significance though, the actual storm creates the atmosphere. Titian, Palma, Vecchio and Lorenzo Lotti all emulated this Venetian master, as is evident when studying their work.
Although it has been difficult to be absolutely certain which pieces were entirely Giorgione's work, it is evident that his legacy was further developed by Titian and later other 17th century artists.
He died very young, once again the dates are unverified though a letter from Isabella d'Este to her agent Tadeo Albano asking for a painting of Giorgione's indicated that she knew of his death and the letter was dated1510.
Legacy
Whatever the unanswered questions are regarding this artist it is a fact that his work was a turning point for the art world.  Biographer Giorgio Vasari refers to Giorgione's style as pittura senza disegno or painting without drawing, a new approach to painting, in his 'Lives of the artists' he gives his opinion of Giorgione as one of the greatest Venetian artists, probably because his way of changing the emphasis from recording an event to suggesting a mood, using exquisite light techniques and poetic interpretation in a natural environment, shaped a path for a new way of painting.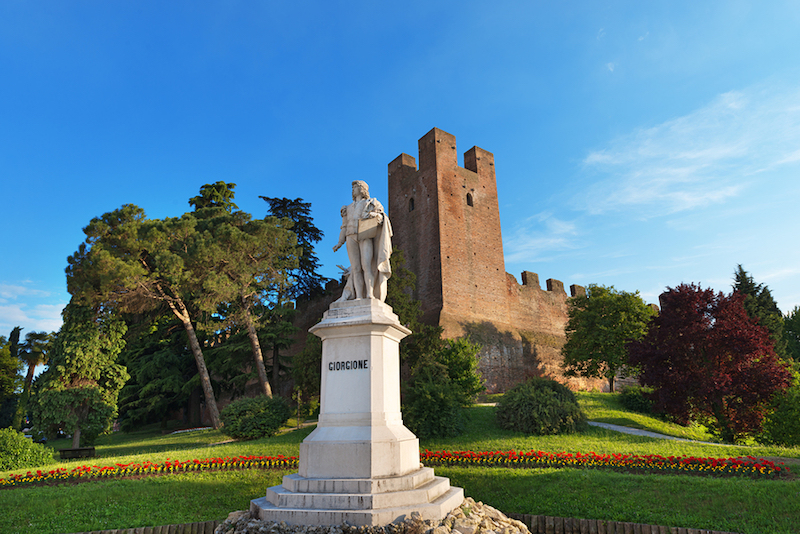 Statue (1878) dedicated to the painter Giorgione (1477/1510) in Castelfranco Veneto - Treviso
To commemorate his 550th anniversary (1510-2010.), the Italian State mint produced a 10 Euro coin with Giorgione's portrait on one side.
An exhibition at the Royal Academy (running until 5th June 2016) titled 'In the age of Giorgione' gives tribute to the artists who contributed towards this period of Venetian Art, and there is no doubt that Giorgione left a unique legacy, a shift in perspective from expressing an actual event to expressing mood. In spite of the mysteries and confusions surrounding his work, his influence on future artistic expression must give him a place as one of Italy's Treasures.