Le Marche is the quiet cousin to its neighboring regions of Tuscany and Umbria. Wedged snugly between the Apennine Mountains and the Adriatic Sea, Le Marche remains geographically and culturally isolated, passed over my many international visitors. But for travelers seeking a more immersive and authentic experience of central Italy, look no further than this beautiful region and see it in one of the best ways possible—through the eyes of its local artisans.
Maiolica Ceramics of Urbania / Castel Durante
Clay from the ruddy hills of central Italy is the source of some of the world's most coveted ceramics: Italian maiolica. Maiolica is a style of pottery that developed during the late Middle Ages, and is characterized by brightly colored pigments against a creamy white glazed background.
The maiolica centers of Tuscany and Umbria are well known, including Deruta, Gubbio, Gualdo Tadino, and Montelupo Fiorentino. By contrast, Le Marche's ceramic capital of Urbania remains off the beaten path. In the sixteenth century, the town, known as Castel Durante at that time, became a favorite seasonal retreat of the dukes of Urbino. Many locals still refer to this town as Castel Durante, even though its name was changed to Urbania some four hundred years ago in honor of Pope Urban VIII, who wanted to transform Castel Durante into an idealized Renaissance city.
Historically, wealthy city-states like Florence and Siena, as well as important duchies like that of Urbino, kept most of the central Italian ceramics towns in business. This wealthy audience commissioned Castel Durante's ceramic artisans to create commemorative vessels or entire table services to commemorate engagements, marriages, political alliances, business deals, friendship, and more.
In Castel Durante, ceramics masters became known for historiated pieces—those that illustrate epic stories from mythology and religion. All the forms and themes that characterize central Italian ceramics of the Renaissance—pharmacy jars, "pretty lady" plates, cherubs, idealized nudes, flourishes of acanthus and swirls—began to appear in the villas of the local aristocracy.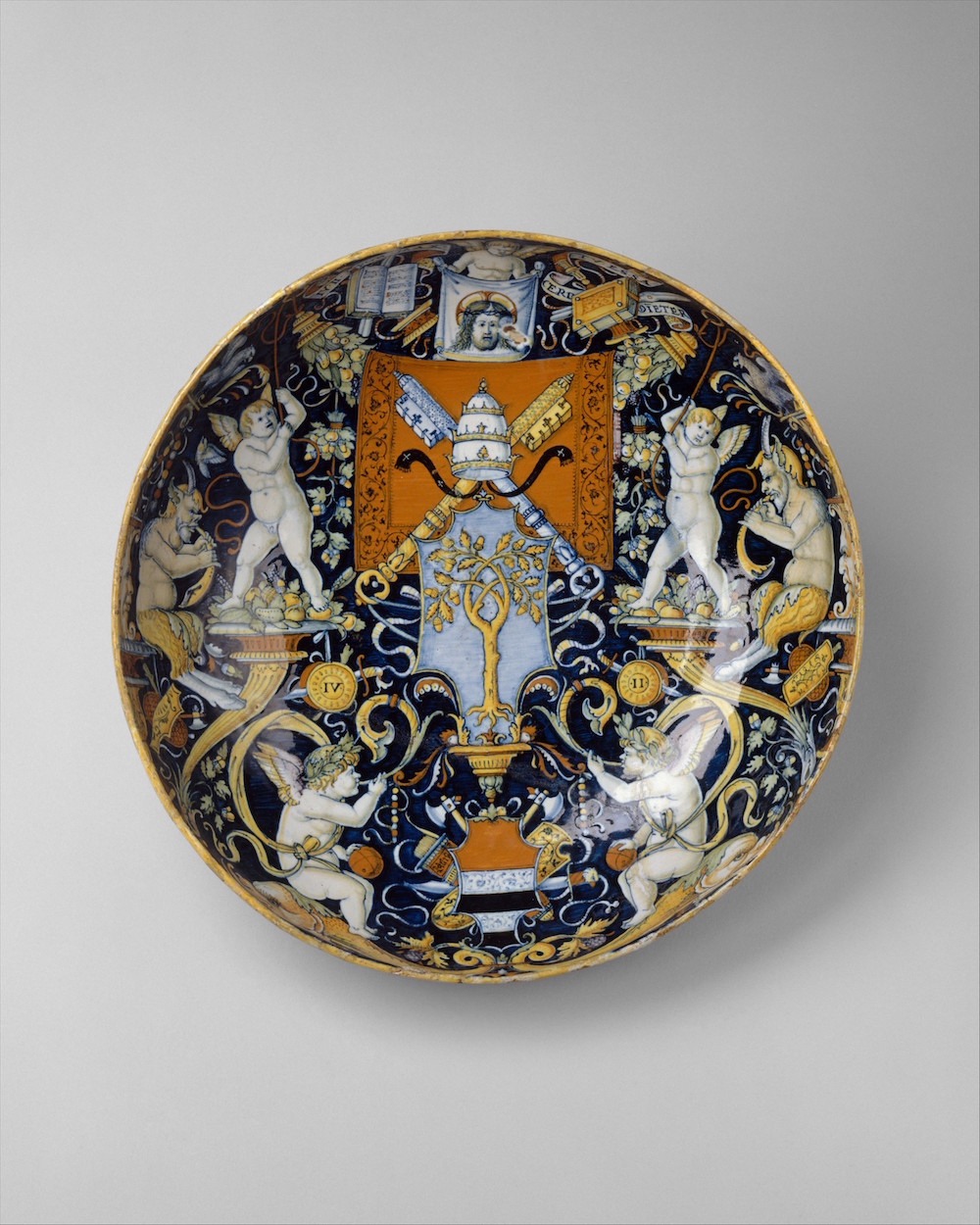 [Workshop of Giovanni Maria Vasaro ca 1508 Castel Durante CC via Metropolitan Museum.jpg]
Today, ceramic artisans in Urbania are seeking to revive this distinctive ceramic tradition, but the past is not the only inspiration for their art. Some modern masters breathe new life into the tradition by incorporating historical forms and colors into wares with a clearly contemporary spirit.
Bottega Ceramiche d'Arte Ettore Benedetti, Corso Vittorio Emanuele II, 42, Urbania, 0722/318121
Ettore Benedetti began at this craft in 1963, earning several regional and national ceramics awards for his excellent reproductions of Renaissance wares. Several sixteenth-century fragments in the studio provide a point of departure for the grotesques, human figures, and floral motifs that populate his works. Ettore's wife Claurisia is also involved in the making of countless pieces.
In a central town square, Gilberto Galavotti and Giuliano Smacchia craft plates, jars, and other wares decorated with forms typical of Urbania. Landscapes flow onto plates with a painterly, watercolor­like effect in these faithful reproductions of historiated ceramics of the Renaissance.
Le Maioliche di Monal, Via Piccini, 8, Urbania, 0722/319673
Monica Alvoni infuses her otherwise contemporary works with a historical spirit. Sometimes, the reference to the past is clear: the use of specific decorative patterns from historical models, for example. Other times, they seem products only of our own age. Among her more interesting creations are pieces combining ceramics with wrought iron and basketry.
Accordions of Castelfidardo
In the mountain village of Castelfidardo, musicians fill the air with the harmonious sounds of accordions, a craft that has put this little town on the map. According to legend, in 1863, an Austrian pilgrim on his way to a sanctuary in Loreto took shelter with Paolo Soprani, a peasant working the fields outside of Castelfidardo. In exchange for his hospitality, the pilgrim gave Soprani a peculiar instrument whose sound was produced by expanding and contracting a fanlike bellows. Soprani care­fully studied and perfected it.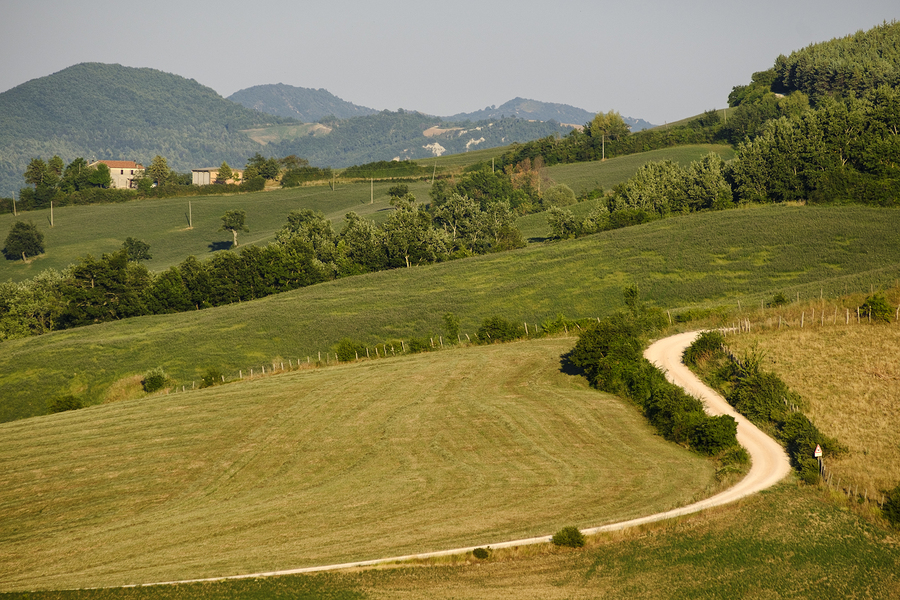 Today, this mountain village produces about 15,000 instruments a year. Many of them are still crafted exclusively by hand, making Castelfidardo the accordion capital of the world.
An accordion is nothing more than an aluminum skeleton covered with wood and celluloid. There are three basic types of accordions produced in central Italy today. The diatonic accordion is the simplest of the button accordions, usually with one to three rows of buttons. The chromatic model was developed in the 1850s to create a greater range of tonalities, and includes three to six rows of buttons. Finally, in the piano accordion, a keyboard replaces the buttons for easy playing, but the interior workings of the instrument remain more or less the same as other models. Today, the bellows is usually fashioned of heavyweight paper covered in fabric, and the keys are made of celluloid, or mother of pearl in the artisanal, luxury models.
Most of the producers of accordions active today in Castelfidardo are more or less industrialized, with large factories employing specialized laborers to produce specific components of the instruments. These high-quality pieces are exported all over the world. In addition to the mass-produced models, however, a handful of artisans still make the instruments entirely by hand according to the old-fashioned techniques.
An entirely handmade accordion can take anywhere from a dozen up to a hundred hours or more hours to build. Nearly all artisanal accordions bear the name of their makers, usually as a metal trademark on the exterior shell of the instrument.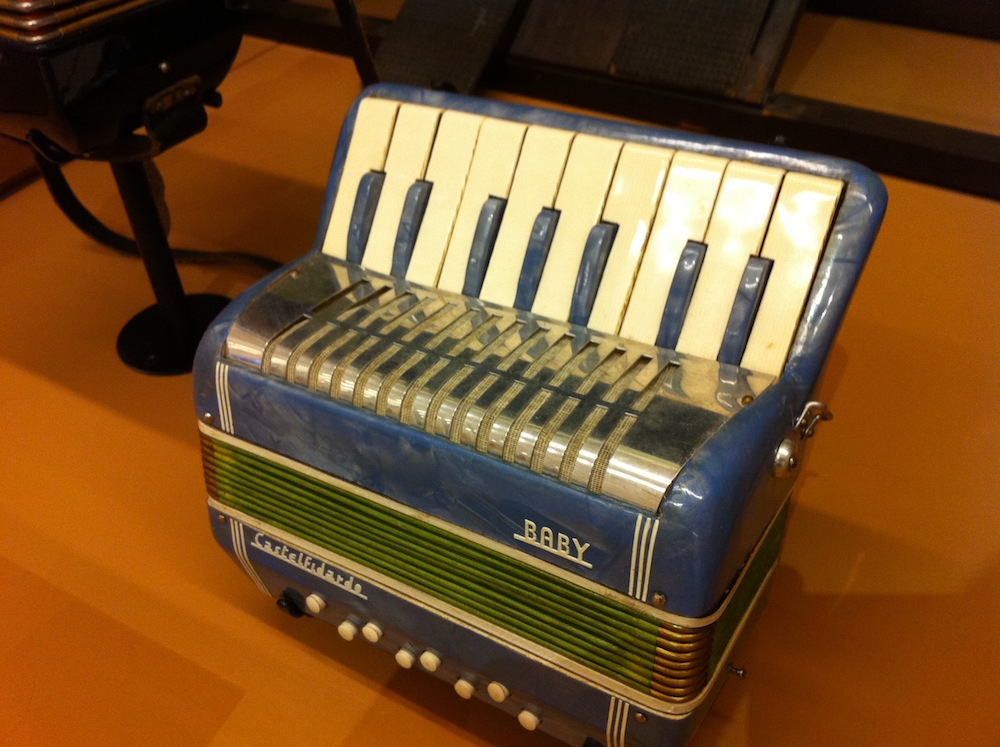 [Castelfidardo accordion (c) Dave Fey CC via Flickr.jpg]
In order to truly appreciate the sonorous quality of Castelfidardo's accordions, plan your trip in the fall, when this large accordion festival overtakes the town. Check the web site for current dates and a list of events.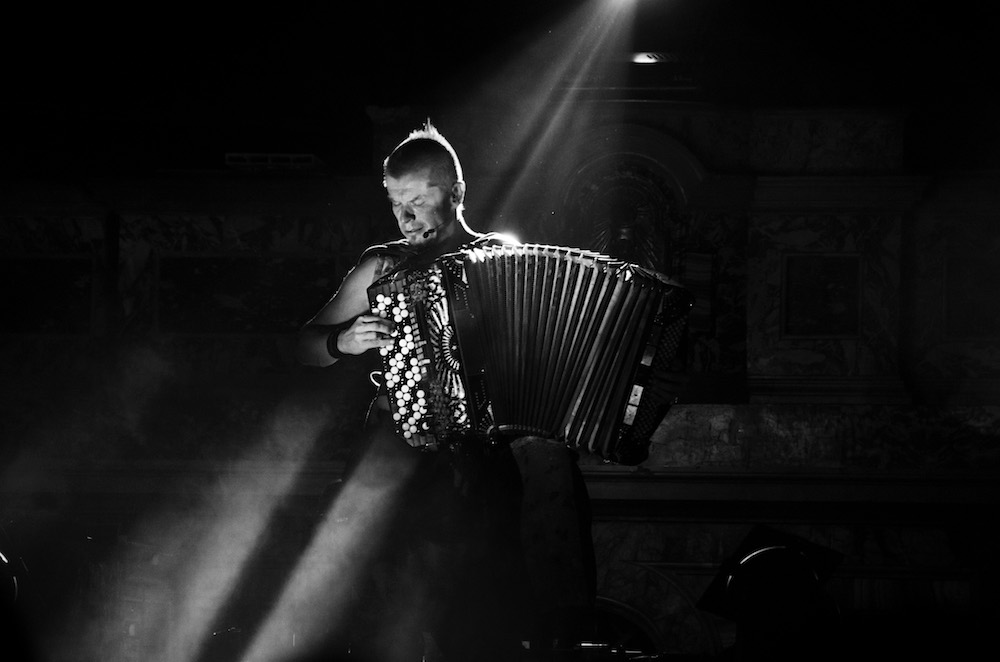 [Kimmo Pohjonen in Castelfidardo (c) Andrea Balducci CC via Flickr.jpg]
Accordion Museum, Museo Internazionale della Fisarmonica, Via Ciriaco Mordini, 1, Castelfidardo, 071/7808288, www.museodellafisarmonica.it.
This is one of the world's most impressive collections, with more than 500 accordions from all over the globe displayed in Castelfidardo's town hall.
Giancarlo Vignoni grew up in an accordion-making family, and in 1980, founded his own company to specialize in unique, artisanal accordions. From piano and diatonic accordions to unique, custom models, Fisart & Vignoni are intimately involved in every stage of production from wood selection to putting the final decorative touches on each model.
For fifty years, the Alessandrini brothers have been crafting some of Castelfidardo's most impressive handmade accordions. They make a range of traditional chromatic, diatonic, and converter models, all by hand. In addition, they've combined the best of traditional and the modern, by creating a special MIDI piano accordions that can be plugged into an amplifier.
Paper of Fabriano
In the 1260s, artisans in Fabriano began crafting paper. Though paper was invented in China, by the thirteenth century it had made its way through the Middle and Near East to the shores of Italy. Some of the earliest paper-making enterprises were located in Sicily, around Naples, and in Fabriano, which remains Le Marche's paper-making capital.
By the Renaissance, the paper of Fabriano was considered some of the best in the world, hand-selected by Italian Renaissance artists for their drawings and correspondence. Although Fabriano's paper-making industry declined after that, it was revived at the end of the 1700s and brought to new heights as the Industrial Revolution ushered in the ability to produce paper on a large scale.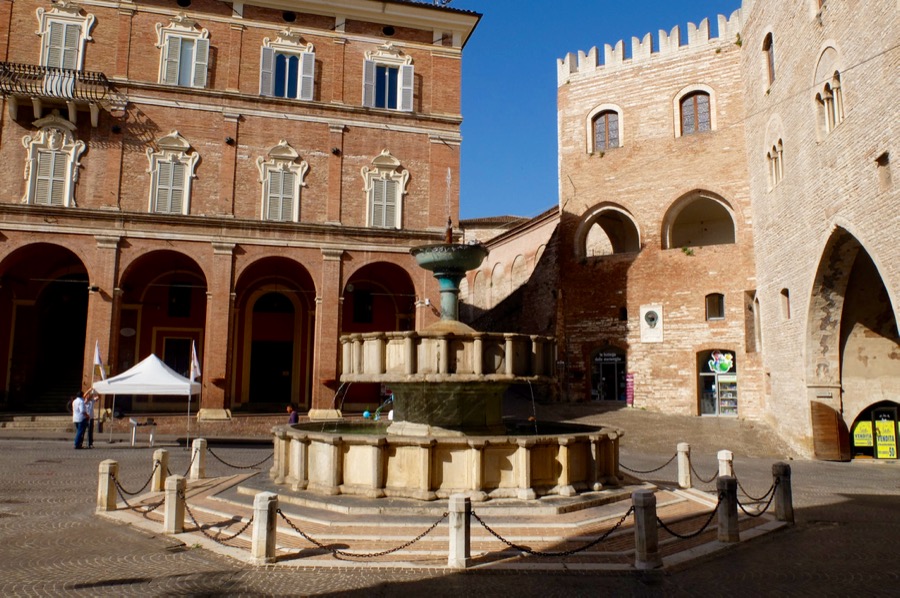 The early paper artisans of Fabriano pioneered techniques that are standard in paper-making today, including the development of the wooden hammer mill; the use of animal sizing to consolidate and prolong the life of a sheaf of paper; and watermarking, or inserting distinctive designs that appear when a sheet of paper is held to the light.
Today, the large Fabriano paper mill, owned by the Fedrigoni Group, operates several plants and paper boutiques across Italy. If you want to learn more about the history of paper-making, the Fabriano Paper and Watermark Museum is a wonderful hands-on experience, worth a trip from anywhere in central Italy.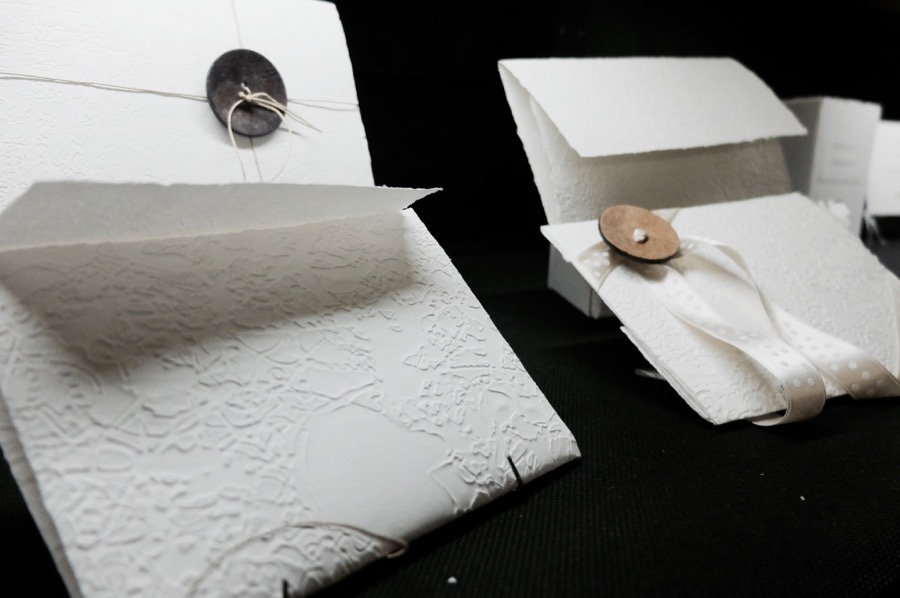 Museum of Paper and Watermarks, Museo della Carta e della Filigrana, Largo Fratelli Spacca 2, Fabriano, 0732/22334
Housed in a former convent, this museum of paper and watermarks will teach you everything you ever wanted to know about the history of paper-making.
Sandro Tiberi opened a paper-making studio in 1999, taking his inspiration from paper artisans of centuries past. But in addition to continuing the hand-making traditions of his forebears, Tiberi also utilizes modern chip technology to make unique and innovative watermarks. Read more and see pictures of Tiberi's work here. 
Laura Morelli is an art historian and historical novelist with a passion for Italy. You can find her guidebook series, including Made in Venice and Made in Italy, as well as her Venice-inspired historical novel, The Gondola Maker, in the Italy Magazine shop.