It's breakfast somewhere in Southern Tuscany and my husband is rolling his eyes because I'm devouring a plate of pancakes with bacon and maple syrup. Italians can be insufferable when it comes to food and my own born-and-bred Toscano makes for the most annoying mealtime companion, complaining about everything from drinking soda with dinner to mixing sweet and savoury. 
I've developed an unhealthy addiction to, of all things, tabasco, since I moved to Italy, so he gave up lecturing me a while back, biting his tongue as I slather hot sauce on everything, but there are still plenty of expats and intrepid travellers who do want to eat like a local.  
So I reached out to my Tuscan friends and neighbours to get a few tips and some answers to all those burning questions you might have about cibo Italiano. 
Breakfast
Pancakes aren't on the menu, so if you were salivating over my introduction, I apologise for being a crêpe tease. When it comes to the Italian breakfast, the questions centre around coffee. I joined my parents-in-law, Fiorenzo Detti and Gabriella Serafinelli, the two most prolific breakfasters and coffee drinkers I know for colazione. 
Before we get in too deep, I want to clarify that there is no standard when it comes to Italian eating customs. Obviously. These are just a handful of case studies from overly eager foodies who don't mind me prying into their intimate dining habits. Italians eat differently from north to south, city to city, home to home. 
Gabriella and Fiorenzo hit up their local bar at least five times a week. Bar is definitely misleading because no one is drinking alcohol, at least not at 7am, when my mother-in-law choose to break her fast. A bar is the Italian word for café and even in their golden years, my parents-in-law like to beat the (non-existent) crowds to the best cornetto, the Italian version of a croissant. 
Gabriella tells me you can judge the quality of a bar by its cornetto. A lot of places don't make them in house, preferring to buy frozen in bulk. 
"A good plain or custard-filled Italian cornetto should be crisp with a lot of puff pastry and a heady aroma of butter. A bad croissant is very soft, like a brioche," Gabriella says. She's a former baker, so she should know. 
Your average Italian worker is not sitting down to enjoy their breakfast. The ones in this bar all devour their cornetto in three bites and then chase it down with an espresso, standing all the while.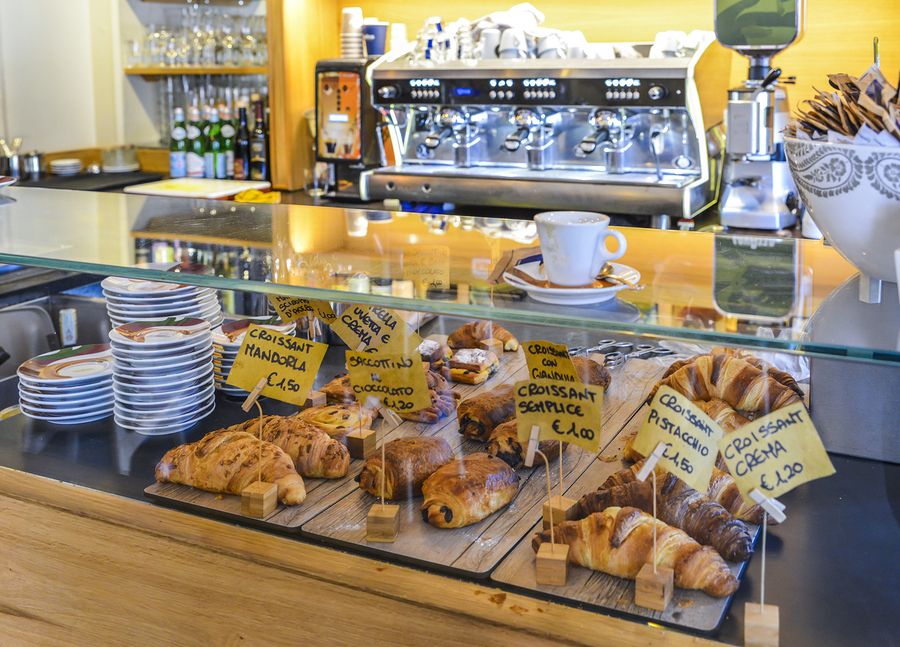 "Cappuccinos are for the weekends," Gabriella says. "When you have more time to relax over your breakfast. Unless, you're retired like us. Then you can have a cappuccino every day."
Or you can make stink eyes at the barista who put a slice of lemon in the pot of tea you ordered without asking. Italy has a way to go before they can accept the idea of tea with milk. 
So the age old question, what comes first? The cornetto or the espresso? 
"You always finish your meal first, including dessert, before you drink your espresso," Fiorenzo says. "If you're having a cappuccino, you can dip your pastry into it and munch on the coffee soaked bit, but you still drink most of it at the end."
Lunch 
Breakfast sorted, I head into town with fellow millennial, Alessandra Conti, for lunch. It's the main meal of the day and it's eaten at 1pm. If you are going to any restaurant, and here, I can generalize with abandon, that is open for lunch after 3pm, it's cooking with tourists in mind. Italians don't eat lunch at 3pm, unless they're in a shopping centre or theme park. They're too busy having a powernap before they reopen shop at 4pm.
Alessandra subscribes to the multi-course lunch of old and tells me about the true traditional Tuscan workers' lunch, the tavola calda. 
"At a tavola calda, you choose from an array of pre-prepared dishes, like at a cafeteria.
"Usually there will be roast meats, a selection of vegetables and maybe a baked pasta dish. Everything is really cheap, but really delicious because the food is prepared for the locals, workers, usually, who don't have a lot of money or time. You grab half a litre of red wine and the whole meal comes under €10."
We don't have a tavola calda, so we settle for the next best thing, an osteria, and put in the classic Italian lunch order, a pasta (primo), followed by meat (secondo) and a side (contorno). 
Gino Del Piano, the owner, tells us that unless you're a tourist, you're expected to order all three, otherwise you'll appear cheap. 
"We don't eat light in Tuscany. If you're at a restaurant, you order a primo and a secondo. Couples can share a secondo, but I still might think you're being tirchio (tight)."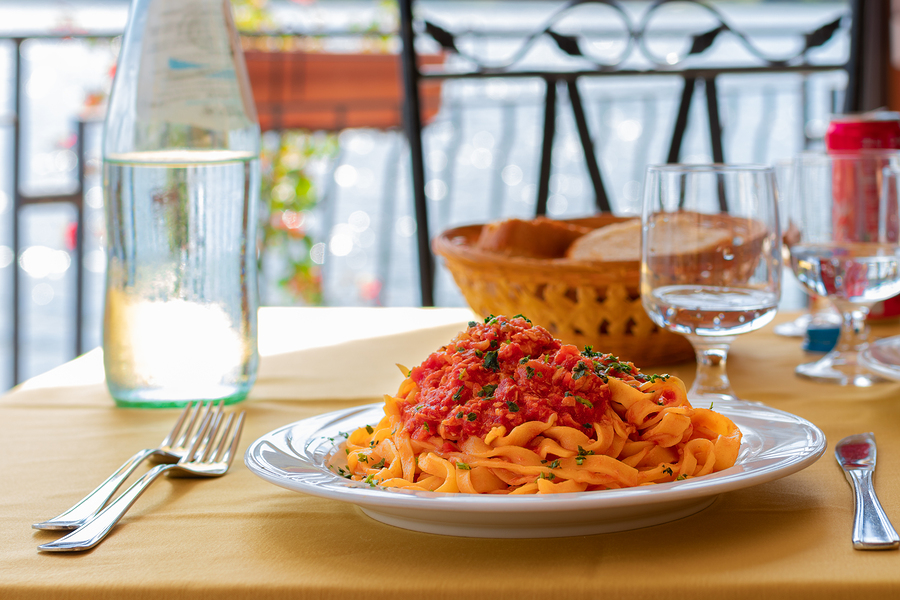 "My grandparents ate all three until the day they died. In fact, my grandmother would wake up before sunrise to start lunch," Alessandra adds. 
"My grandfather always ate the exact same thing, tagliatelle con ragu di lepre (hare sauce) and coniglio (rabbit) alla cacciatore. I'm not sure where my grandmother got all those rabbits."
She looks at me with a grimace.  
"Actually, I do. She farmed them."
Mourning the dearly departed bunnies, we finish in traditional fashion, with fruit. Italians always end lunch with seasonal fruit, laboriously peeling the skin off with a knife before diving in. We chase away the midday drowsiness, which isn't helped by the copious amounts of red wine, with another espresso. 
Dinner
My final dining companions are my middle-aged neighbours, Alessia Pera and Federico Guastini, and we're mulling over our options at apertivo. 
An aperitivo is pre-drinks. You meet around 8pm, order a cocktail that is appropriately bitter (usually an Aperol Spritz) and then snack on whatever is nearby, chips and peanuts at the cheapest places, an array of rice and pasta salads, tramezzini (sandwiches) and mini pizzas at the fancier ones. The bitterness is supposed to get the gastric juices flowing.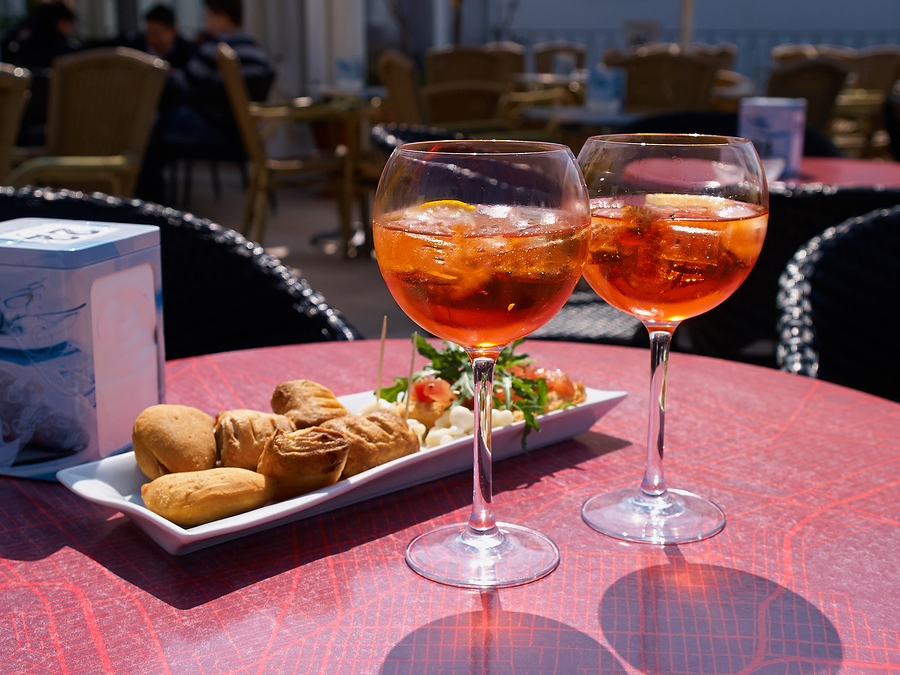 Again, you're expected to order three courses when you dine out for dinner, although the stakes are higher, since most Italians will also grab an antipasto and a dessert. Feeling a little strapped for cash, we opt for the other dinner staple, pizza. 
Pizza is only ever eaten at dinner, so if you're enjoying anything other than a takeaway slice from a pizzeria al taglio during the day, refer to my comment about lunch times. 
Typically you sit down to dinner at 8:30, 9 in summer. Every guest orders their own pizza. 
"Our pizzas are a lot thinner than your American pizza," says Federico. "There is no small, medium, large. Just one dinner-plate-sized pizza that's so thin, you can easily eat one on your own."
It's the hardest Italian eating custom for me to adjust to and I never manage to polish off the entire thing. Alessia and Federico stick to the classic toppings, margherita and capricciosa. I'm a sucker for anything more adventurous, so my pizza has prosciutto, diced peaches and lime zest. It's called the Snow White and it's terrible. 
You're not going to eat pasta for dinner, especially if you had it for lunch. Italians love their carbs, but not that much. 
"Younger Italians like to eat less," says Alessia. "They might be busy or on a diet, so they have a pasta primo for lunch and a meat secondo and side for dinner."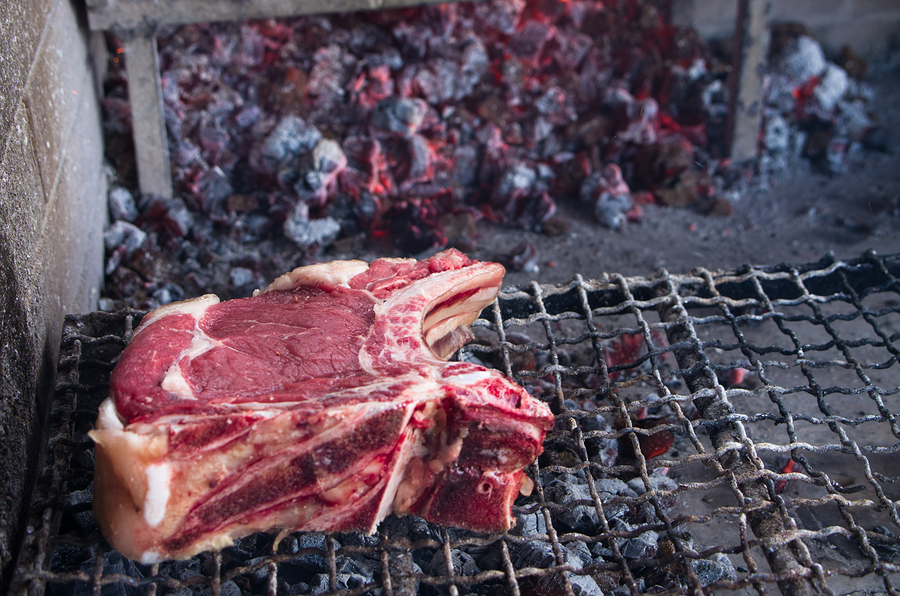 Pizza banished, we order dessert. I've been dreaming of zuppa inglese (trifle) and tiramisu all day. They are the two most common desserts in country Tuscany unless you're keen on cantucci with liquor. You would never order a gelato in a restaurant. You'd probably never even see it on a menu. There are gelaterias for that. 
Finish with an espresso. It's your third, but it's the Italian way. Alessia and Federico are, it seems, immune to the caffeine. 
And in a final act of unexpected misogyny, the waiter asks Federico if he'd like a nightcap. Actually, I'm feigning shock for your benefit. A woman in a restaurant in small town Tuscany is never going to be asked if she wants a shot of alcohol, usually an amaro (a bitter herb-infused liquor), but I order one in the name of feminism and hope it's on the house. It often is.