Nuts are popular in many Italian desserts like Torta della Nonna featuring pine nuts and Spongata, a honey-rich specialty of Emilia-Romagna filled with almonds, walnuts and pine nuts. Italy is the second-leading producer of hazelnuts in the world and they star in dozens of famous Italian candies including gianduiotti, Rocher and Baci.
There are hundreds of cookies containing nuts. Some are easier to make than others, so I've included three of my favorite recipes, perfect for the holidays:
Sbrisolona, which means "crumbly," isrustic and grainy with a homey taste. I've included it here because it's really more of a giant cookie than a cake. In fact, in Italy, this dessert is not cut like a cake, but rather broken with the hands or with a wooden spoon at the table with everyone taking bits and pieces. A typical dessert of Lombardy that's so tightly tied to that region and Italian culinary heritage that authorities there have applied for official denominatzione di origine controllata  DOC status.  
Brutti ma Buoni, which means "ugly but good" are crunchy on the outside, soft and chewy on the inside,these cookies from Piedmont are so delicious that almost every region of Italy has its own version.
Pepatelli, honey-sweet, with a pleasing peppery bite and hint of orange these thin crunchy, biscotti date back to the Renaissance.  Unlike most cookies, they're made without butter or eggs.  The absurdly simple list of ingredients—basically just honey, almonds, and flour—produces a very sophisticated cookie, especially wonderful when made with a strongly-flavored darker honey like chestnut or buckwheat.
Pepatelli are a classic rustic dessert from the Teramo section of Abruzzo. Surprisingly, since it's fairly far south, it's also known as among the coldest regions of Italy.  Pepatelli are typically served in the winter, especially for the holidays, enjoyed with a glass of  vin cotto, the local Abruzzo dessert wine. 
Here's a short glossary of other Italian nut cookies: 
Amaretti
Amaretti, "little bitters," are small, round almond cookies.  A speciality of northern Italy, amaretti are made of sugar, almonds, and egg white. Their invention is attributed to Francesco Moriondo, pastry chef at the court of Savoy in the mid-17th century. 
Amaretti can be either hard, classici, or soft, morbidi, and can vary in size too. Hard amaretti are used in many traditional Italian recipes, from savory dishes to desserts. In desserts they are often a base for custard, semifreddo, and cake decorations. In savory dishes, they are famously the filling for pumpkin ravioli and tortellini.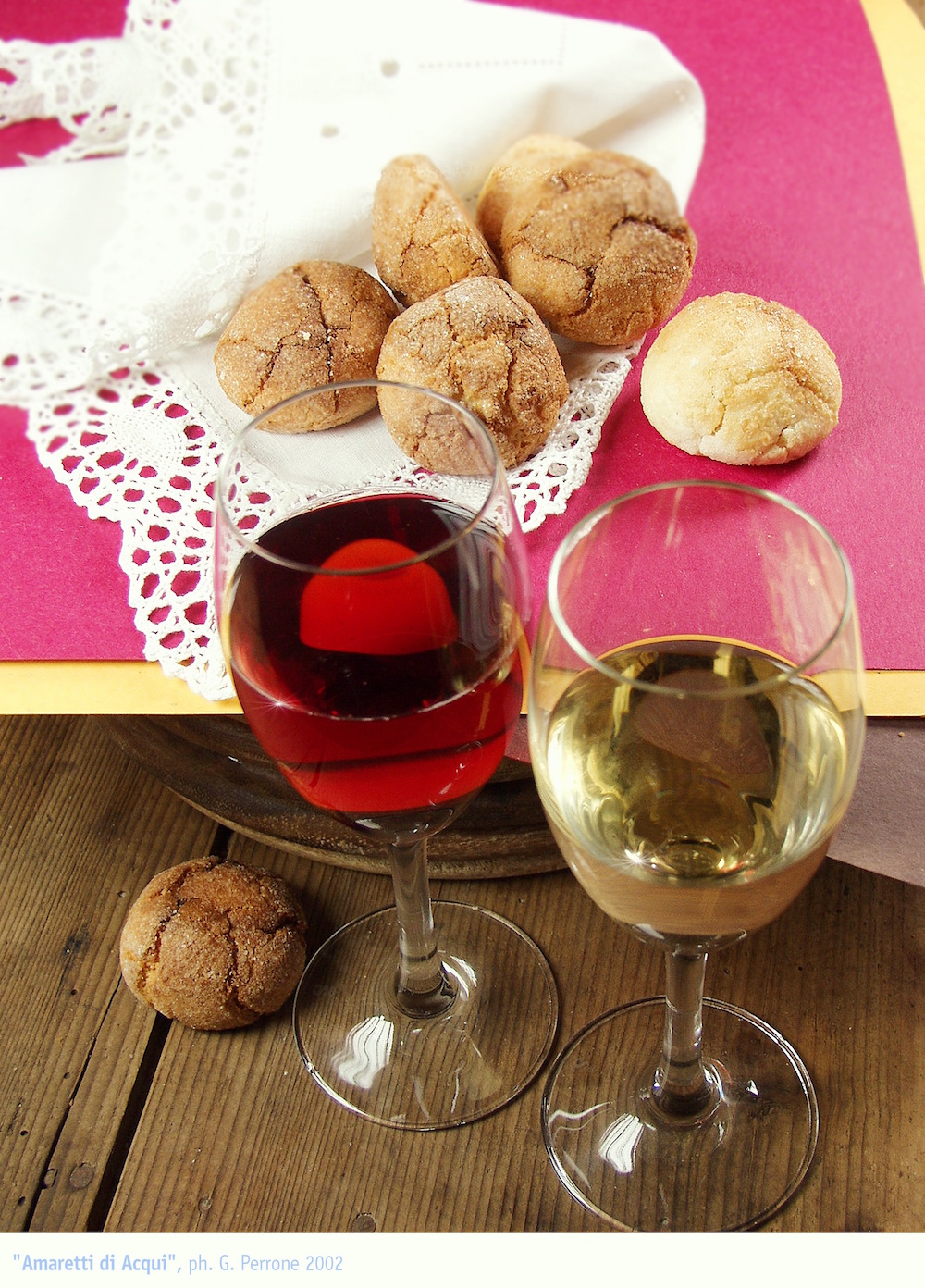 Baci di dama, "lady's kisses," are a specialty of Piedmont in northern Italy. Two little round hazelnut-almond shortbread cookies are sandwiched together with a dark chocolate filling. Baci di dama, A dab of rich dark chocolate sandwiched between two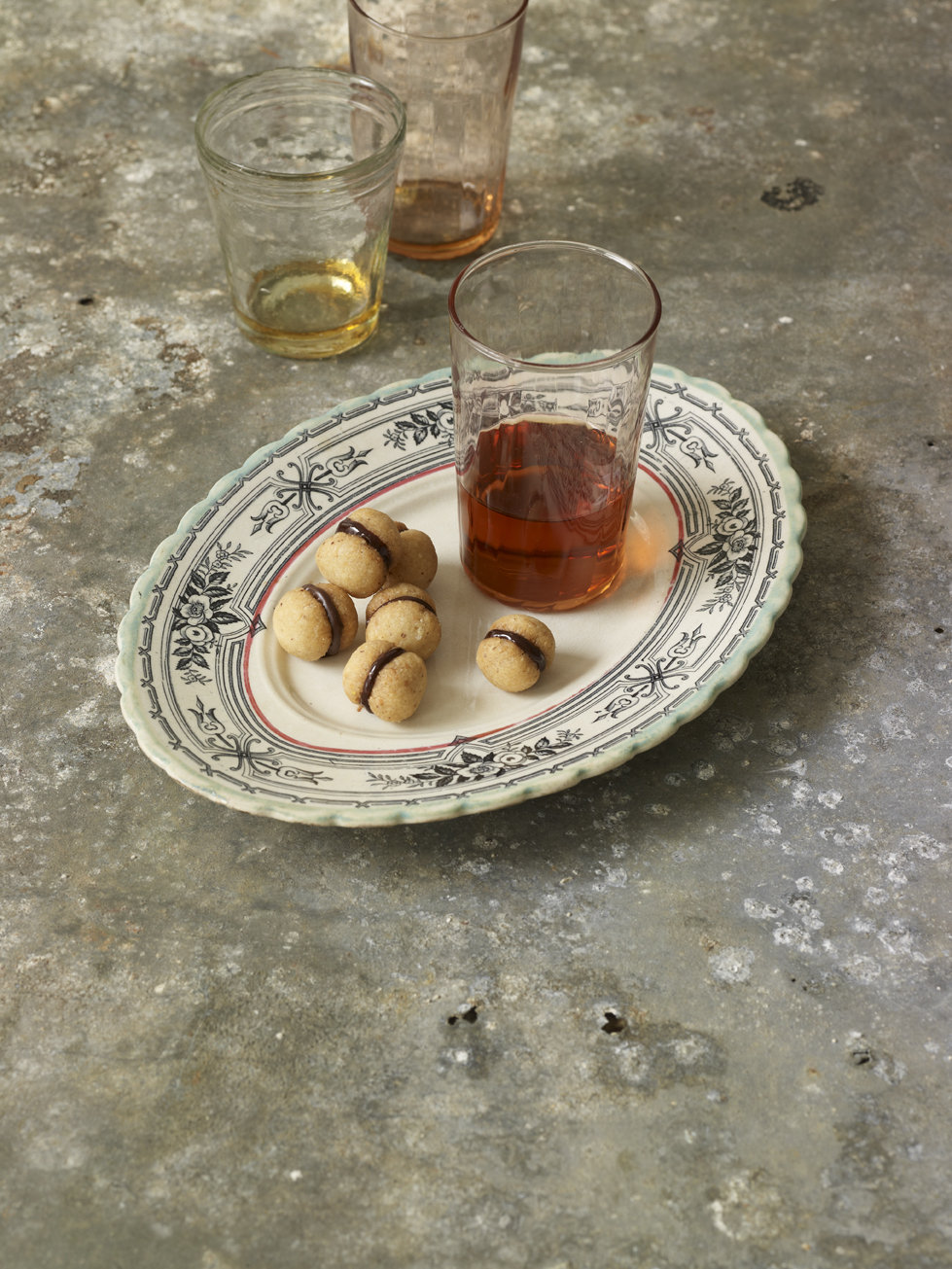 Cantucci, also called "biscotti di Prato", are crunchy almond cookies created in the Tuscan town of Prato centuries ago. Cantuccini are smaller sized cantucci.
Cavallucci, "little horses" are soft cookies made with honey, nuts and anise and are eaten all year round in Siena, but in the rest of Italy, mostly at Christmastime. 
They are a typical Tuscan sweet created in Siena in the Middle Ages. The name probably comes from the fact that they were offered to stopping travelers at the stables of area inns.
Croccante
Croccante, "crunchy," are crisp nutty sweets that are a cross between a cookie and a candy. They can be made with all sorts of nuts. Pistacchio croccante are a specialty of Sicily, which is renowned for its Bronte pistachios. 
Fave dei morti 
"Dead man's beans" are bean-shaped cookies made with almonds, pine nuts and egg whites. They are traditionally eaten on All Soul's Day and originate in the Umbria and Lombardy regions of Italy.
Originating in Siena in the Middle Ages, ricciarelli, "curly," are soft oval-shaped cookies. They are made with ground almonds, sugar, honey and egg whites and topped with confectioners' sugar or chocolate. Ricciarelli are associated with the feast of the Annunciation, March 25th, but are eaten all year long. 
The recipe for ricciarelli is one of Italy's oldest. The cookie is documented as having been served on numerous important historical occasions, including the wedding banquet of Catherine Sforza when she married Jerome Riario in 1447, and during Venice's famed falconry contest in 1573.
RECIPES
Sbrisolona: Almond Crumble with Spicy Chocolate Sauce
Serves 10
From Dolci: Italy's Sweetsby Francine Segan (Stewart, Tabori & Chang)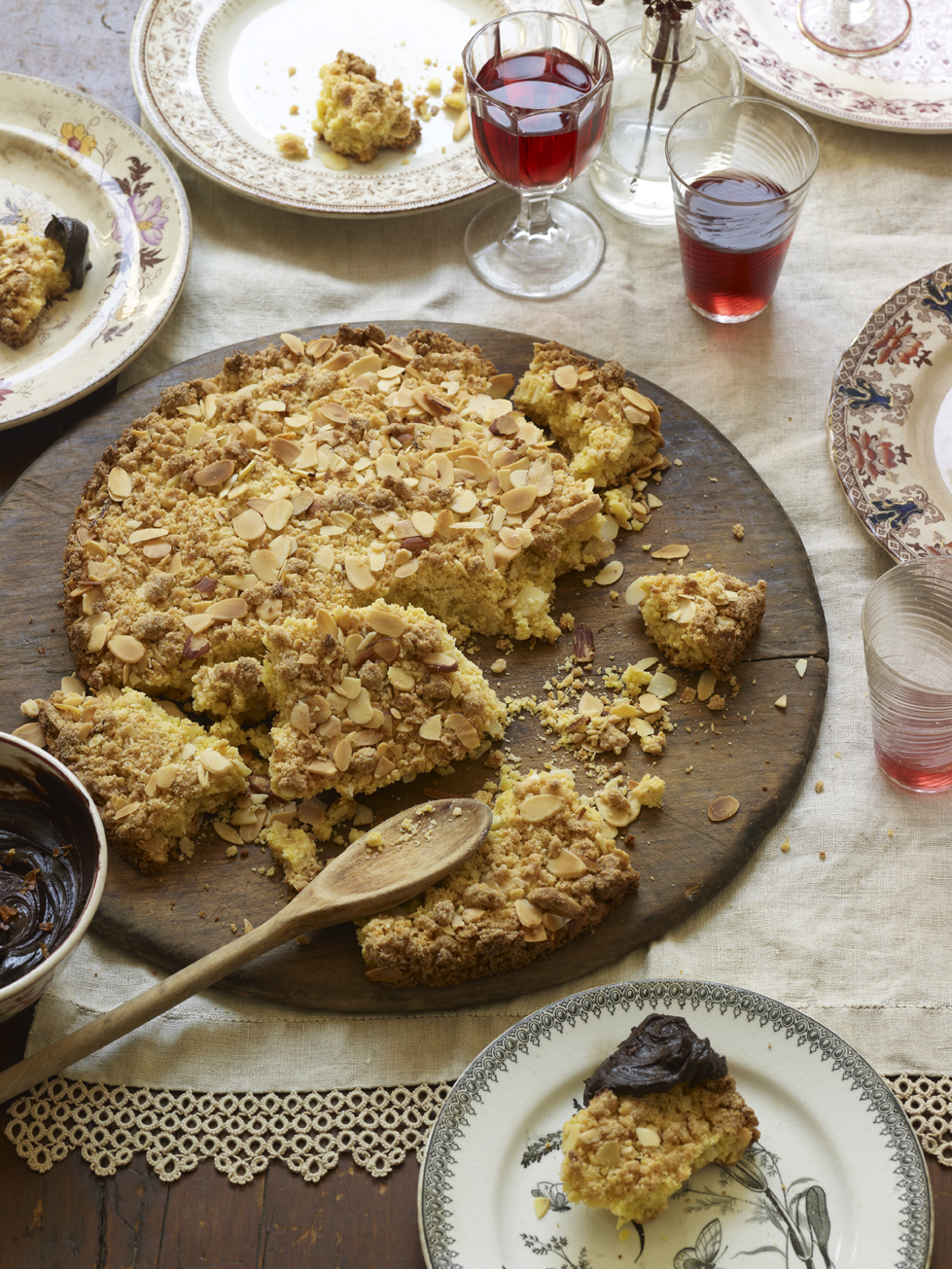 The chocolate sauce nicely compliments this specialty of Lombardy, but it's fabulous plain too.
8 ounces, 2 sticks, unsalted butter, diced 
1 cup finely ground cornmeal
2 cups all-purpose flour
1 cup granulated sugar
7 ounces almond, either slivers or a mix of finely and coarsely chopped whole almonds, plus more for garnish
2 large egg yolks
1tablespoon vanilla extract
Zest of 1 lemon
For the chocolate sauce:
3 1/2 ounces dark chocolate, chopped
1/2 cup heavy cream
Pinch hot pepper flakes
2 tablespoons almond liqueur such as Amaretto, optional
Preheat the oven to 350 degrees. Butter a 10 to 11-inch spring-form pan and dust with cornmeal.
For the cake: In a large bowl combine the butter (cook's note: If you'd like an even crisper cake, use half butter and half lard), cornmeal, flour, sugar, almonds, yolks, vanilla, and zest crumbling the ingredients with your fingers until just coarsely combined. It should look lumpy and dry.  Take loose handfuls and sprinkle into the prepared pan. It will be irregular and should be very crumby and free form. It must not be compacted. It will come together as it bakes. Top with a scattering of almond slivers or whole almonds, if you like.
Bake for 50 to 60 minutes until golden at the edges and cooked throughout. Allow it to cool in the pan.
Just before serving prepare the chocolate sauce. In a bowl combine the chocolate and heavy cream and melt, either in the microwave or over a double boiler. Add red pepper flakes to taste, and a Amaretto, if you like.
Serve the cake at room temperature with the warm chocolate sauce on the side. 
Brutti ma Buoni: Ugly but Delicious 
Makes 1 dozen cookies
From Dolci: Italy's Sweets by Francine Segan (Stewart, Tabori & Chang)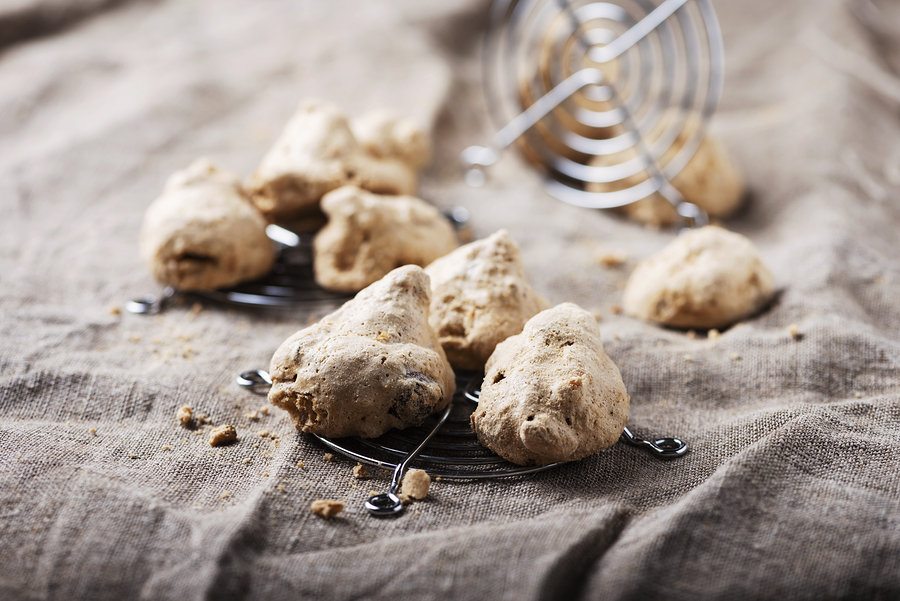 If you like, instead of hazelnuts, try different nuts, like almonds or walnuts. In some parts of Italy the batter may include a little grated orange peel, a bit of vanilla, or pinch of cinnamon.
1 1/2 cups chopped hazelnuts
3/4 cup granulated sugar
3 large egg whites
Preheat the oven to 280 degrees F. Grind the hazelnuts and sugar in a small food processor to a sand-like consistency. Don't over grind or you'll create hazelnut butter. 
In a small bowl using a whisk or electric hand mixer beat the eggs whites until firm peaks form.
Put the hazelnut-sugar mixture into a medium saucepan and fold in the whites. Heat over a very low flame, mixing with a wooden spoon, for about 8 minutes until thick. Remove from the heat and allow to rest for 10 minutes.
Place tablespoon full dollops onto a parchment lined baking pan, you'll get about 12. Bake for about 30 minutes until dry to the touch. 
Pepatelli: Black Pepper Honey Biscotti 
Makes 8 dozen
From Dolci: Italy's Sweetsby Francine Segan (Stewart, Tabori & Chang)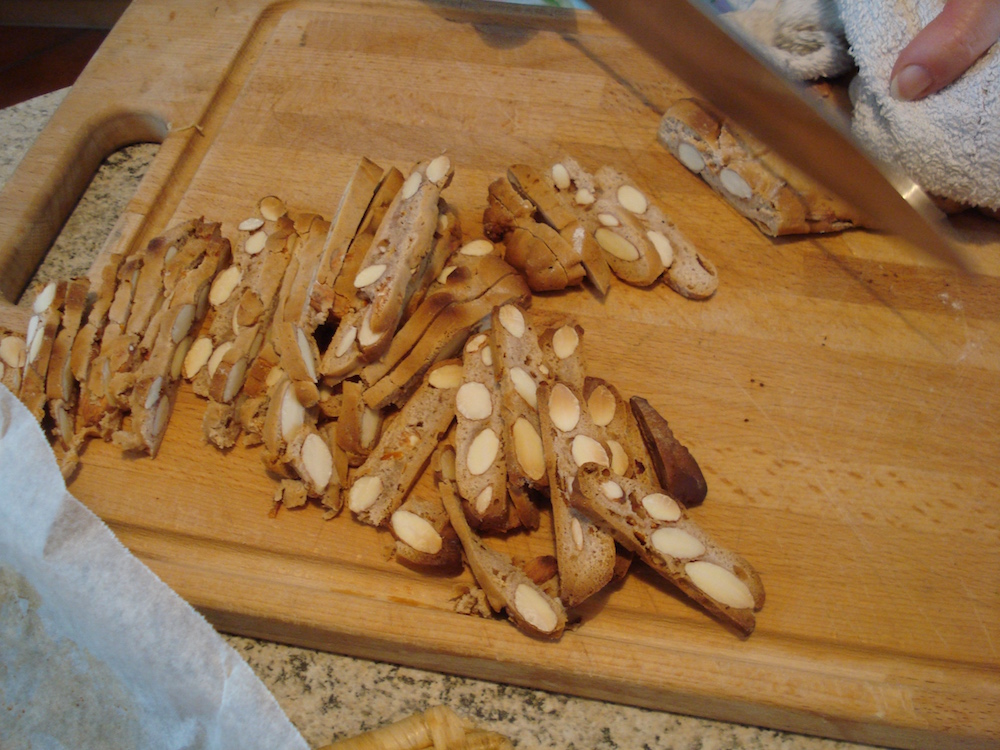 The yield might sound like a lot, but remember, these cookies are very, very thin.
8 ounces honey
8 ounces whole almonds, skins on 
8 ounces, about 1 cup, 00 flour or cake flour, plus more as needed
Zest of 1 orange 
1 teaspoon freshly ground black pepper, plus more to taste
Preheat the oven to 350°.  Line a baking sheet with parchment paper.
In the microwave or in a small saucepan over low flame heat the honey until very warm and liquidy. Pour into a bowl along with the almonds, flour, zest and black pepper to taste. Mix, using your hands or a wooden spoon, until dough forms. It will be very dense and crumbly. Don't worry; it'll come together while it bakes.
Put a little flour in a small bowl or on your work surface and coat your hands with it.  Put 1/4 of the dough onto the prepared baking sheet and press into a fairly flat (about 3/4-inch high) rectangle, roughly 1 1/2 inches wide and 6 inches long. Repeat, creating a total of 4 rectangles.
Bake in a preheated oven for 10 minutes. Remove the baking pan from the oven, turn the rectangles over, and bake for 15 minutes, until golden and set. 
Remove the pan from the oven and while still hot, cut each rectangle into very thin slices, about 1/4 inch thick. Once the biscotti are cool, they can be stored in a sealed container for several months.