Baci di dama (Hazelnut and chocolate biscuits)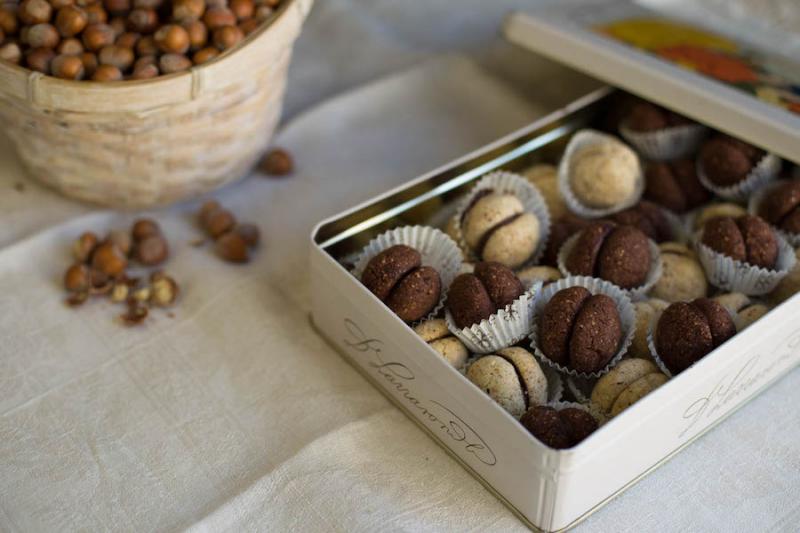 Cooking Time
20-25 minutes (plus several hours of resting time in refrigerator)
Named for their shape which is said to resemble the lips of a lady intent on kissing, baci di dama or 'ladies' kisses' have become a fixture in Piedmontese pasticcerie since their invention in the town of Tortona over a century and a half ago.
The premise for making these elegant, bite-sized morsels would appear to be simple. Simply unite two tiny, dome-shaped biscuits together with melted chocolate. And, with equal amounts of ground hazelnuts, flour, butter and sugar to be used, the ingredients are certainly easy enough to remember. There's no egg to stabilise the biscuits while they are baking though, so a bit of technique is essential to achieving the right shape and consistency.
The three main tricks to getting these biscuits right: cold butter; several hours ofresting time in the refrigerator (or freezer, if pressed for time); and a relatively low temperature oven. By taking these precautions, your biscuits will refrain from sinking too much and have that delicate, melt in your mouth consistency.
The patented recipe in Tortona uses ground almonds but elsewhere in Piedmont, bakers and home cooks often use locally grown hazelnuts. You could therefore replace the ground hazelnuts indicated in the ingredient list below with ground almonds or use a mixture of both. It's also become common to add cocoa to the biscuit mixture. For this particularly rich, chocolatety variant, simply replace 20 g of the flour indicated below with unsweetened cocoa. Also, I prefer to make my dough by hand but there is no reason why you can't use a food processor for this step either.
(This recipe makes about 20 – 25 baci di dama)
Ingredients
hazelnuts
100 g shelled and roasted hazelnuts, with skins removed
butter
100g, cubed and chilled
Instructions
Blitz hazelnuts in a food processor until obtaining a fine mixture resembling sand. Transfer ground hazelnuts to a mixing bowl and combine with flour, sugar and cubed butter. Using your fingers, rub the butter into the dry ingredients until you have mixture resembling breadcrumbs. Knead the ingredients until they all come together into a dough, cover tightly with plastic wrap and leave to rest overnight in refrigerator.
Remove dough from fridge and form balls weighing 8-9 grams each. Place on a lined baking tray at least 4 cm apart (the balls will turn into domes and spread a little when baking). Put back into the fridge for a couple of hours (or, if pressed for time, for 30 minutes in the freezer).
Bake for 20-25 minutes at 150 degrees or until the balls have turned into domes and are dry to touch. Leave to cool completely before handling.
When the dome-shaped biscuits are completely cool and no longer fragile to touch, melt the dark chocolate in a microwave or bain marie. Let it cool for a few minutes or until it is no longer runny when spooning the chocolate onto the domes. Place a teaspoon of melted chocolate onto half of the domes. Just before the chocolate sets,
place the remaining domes on top.  Store in airtight container. Best consumed within 5 days of baking.