'There is a fountain of youth: it is your mind, your talents, the creativity you bring to your life and the lives of the people you love. When you learn to tap this source, you will truly have defeated age.' (Sophia Loren)
Still beautiful, in this, her 80th year, Sophia has learned to tap the source.  Not only was she the most famous and favourite Italian actress in the 1950s, '60s and '70s, but even today, her sense of style and elegance is faultless. Her career and achievements have been extraordinary when one considers that she has appeared in over 80 films, has received an impressive list of awards, and been a mother to two sons.
Humble beginnings and early stardom
Sophia Loren was born Sofia Villani Scicolone on 20th September 1934. It appears that she was quite a wispy, skinny girl before her teenage years which is hard to believe! Her parents were Romilda and Riccardo and, due to a previous marriage when the law did not allow divorce in Italy, the couple did not marry. She had a sister, Anna Maria, and they spent their early childhood with their maternal grandmother in Pozzuoli, near Naples. During World War II, Pozzuoli, with its harbour and munitions factory, was raided often. For safety, they moved to Naples only returning after the war. It was then that her grandmother opened a 'pub' in their lounge. Her mother played piano, Maria sang and Sofia waited on the tables. The American GIs were frequent visitors and it is supposed that this was Sofia's first experience of public performance.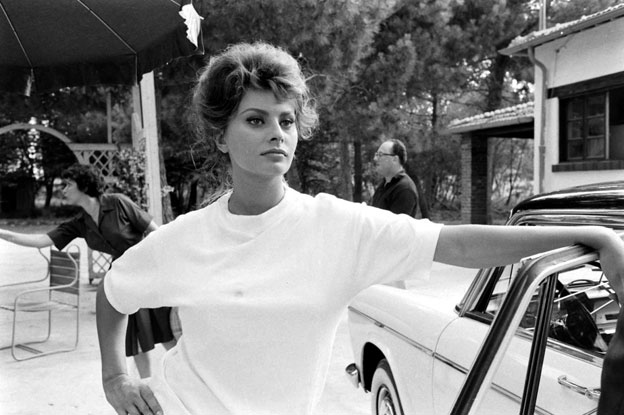 Sofia Lazzaro (as she was known then because it was said her beauty would awake Lazarus from the dead) entered the Miss Italia beauty pageant in 1950, where she captured the attention of Carlo Ponti, who was a judge at the pageant. He was 37 and she was 14. He was a film producer and cast her in various minor roles, one of which was Quo Vadis (1951), which launched her career. It was at this time that her name was changed and in her performance in La Favorita (1952), she went by the name of Sophia Loren.
Success and the men in her on-screen life
Sophia's breakthrough role was in The Gold of Naples (1954), directed by Vittorio De Sica. Too Bad She's Bad, also released in 1954, became the first of many films in which Loren co-starred with Marcello Mastroianni. Over the next three years, she acted in many films such as Scandal in Sorrento (1955) and Lucky to Be a Woman (1956). In 1957, Loren's star had begun to rise in Hollywood, with the films Boy on a Dolphin (her US film debut), Legend of the Lost with John Wayne, and The Pride and the Passion in which she starred opposite Cary Grant and Frank Sinatra. In 1958, Sophia acquired a five-film contract with Paramount Pictures and this was the beginning of her career as an international movie star.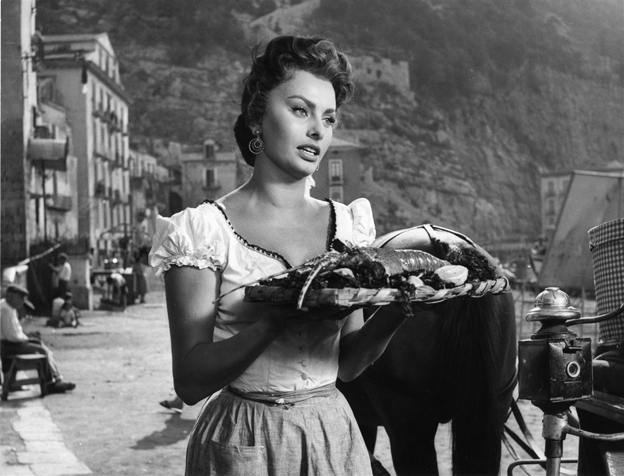 In 1960, Sophia was offered one million dollars to appear in The fall of the Roman Empire, which would have made her a millionaire before she was 30!
Two Women (1960), directed by Vittoria de Sica and co-starring Jean-Paul Belmondo, won her the Cannes Film Festival Best Performance Award and an Academy Award for Best Actress, the first major Academy Award for a non-English-language performance and to an Italian actress. This film went on to win 22 international Awards. She received a second Academy Award nomination for her performance in Marriage Italian-Style, with Marcello Mastroianni, with whom Sophia was great friends.
Among Loren's best-known films of this period are El Cid (1961) with Charlton Heston, The Millionairess (1960) with Peter Sellers, It Started in Naples (1960) with Clark Gable, Lady L (1965) with Paul Newman, Arabesque (1966) with Gregory Peck, and Charlie Chaplin's final film, A Countess from Hong Kong (1967) with Marlon Brando.
In the 1970s, she was paired with Richard Burton in The Voyage (1974), which won her the David di Donatello Award for Best Actress; in 1976, she starred in The Cassandra Crossing with Richard Harris, Martin Sheen and Ava Gardner. During this decade, most of her roles were in Italian features though, such as the  1977 film A Special Day, with Marcello Mastroianni.
Sophia Loren's one love, Carlo Ponti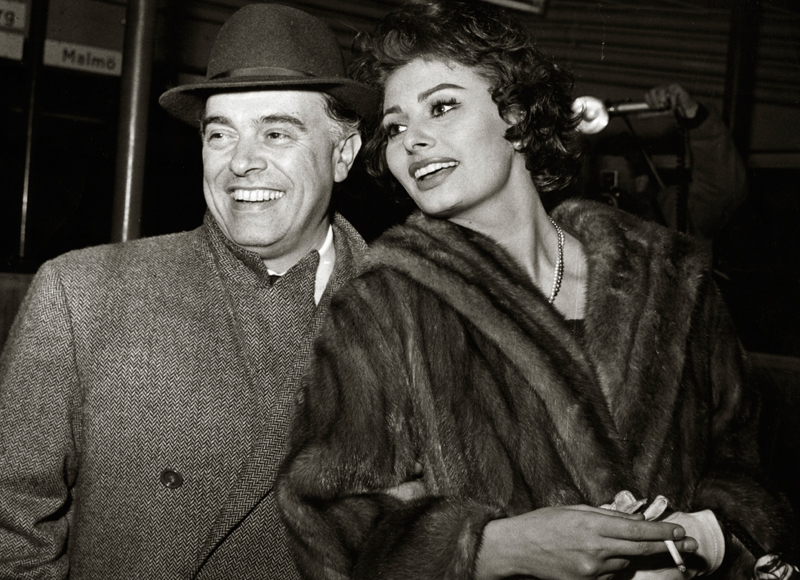 Sophia was cast alongside almost every desirable male actor at the time. On screen, she was beautiful, a sex symbol and the most idolised Italian actress of the day. In fact, Cary Grant sent her flowers continually while filming with her on Houseboat, and tried to convince her to leave her husband, but in her off-screen life, she only ever married one man, Carlo Ponti, and this marriage lasted until his death in 2007. They first married in 1957, but the marriage was annulled in 1962 to avoid bigamy charges under Italian law, as he had been married before and Italy did not recognize divorce at the time. In 1965, Carlo, Sophia and Giuliana, his first wife, went to France, where it was legal to divorce. Once he had obtained the divorce from Giuliana, he married Sophia and they became French citizens. They had two children, Carlo Ponti Jr in 1968, and Edoardo Ponti in 1973.  Sophia was a devoted mother and took on less film work at this time.  
From perfume and a book to jail time for tax evasion
In 1980, her biography, Sophia Loren: Living and Loving, Her own story, was released, becoming an international success. She launched her own perfume and eye makeup range, the first celebrity to do so.
In 1982, she voluntarily spent 18 days in jail on tax evasion charges. She was cleared of all charges in 2013.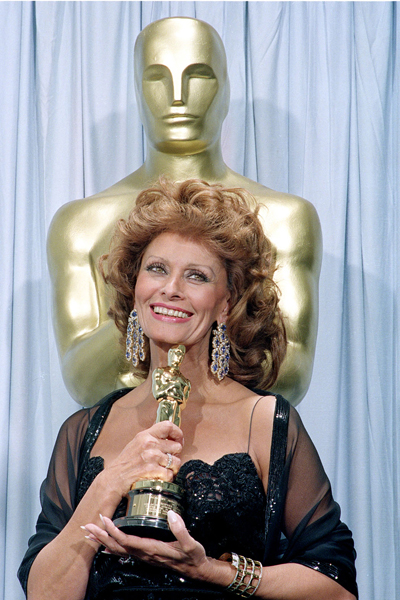 Awards and contribution
Loren holds the record for having earned six David di Donatello Awards for Best Actress, the most ever received. As well as an Academy Award, Loren earned a Grammy Award, five special Golden Globes, a BAFTA Award, a Laurel Award, an Honorary Academy Award in 1991 and, in 1995, she received the Cecil B. DeMille Award for lifetime achievements. In 1994, she was honored with the 2,000th star on the Hollywood Walk of Fame.
Sophia is a big fan of the soccer team Napoli. She recorded more than 20 songs, among others with Peter Sellers. She modelled, scantily clad, for the Pirelli calendar in 2007, still having a fantastic figure at 72.
Some of her most recent films include the musical drama Nine (2009); La mia casa è piena di specchi (2010), a TV miniseries about her early life where she plays the role of her own mother; and La Voce Umana (The Human Voice), a short film adaptation of Jean Cocteau's one-woman play, directed by Sophia's son Edoardo, and screened at this year's Cannes Film Festival.
Sophia currently lives in Geneva, but has a home in Naples and Rome.
She has given Italy years of entertainment and much to be proud of, deserving to be noted as one of Italy's fine treasures.
Watch a slide show of Sophia's vintage shots here.