It's amazing, given the millions who flock into Venice each year, that hardly any of them venture beyond the lagoon. Yet on the fringes of the volcanic Euganean Hills, which provided Venice with the stone for its pavements a millennium ago, there's an enormous undiscovered castle.
Catajo Castle, one of the largest in Italy, has 350 rooms, staircases for horses, (no need to dismount to reach the piano nobile!), a courtyard which was flooded to stage miniature naval battles, formal gardens, and important frescoes. Majestic and ochre coloured, it nestles against a backdrop of conical vineyard-covered hills next to the ancient canal (1289) connecting it to Venice. Three sisters in their 90s had lived there and nothing had changed for 100 years – a real sleeping beauty story. It was auctioned recently but there were no takers, presumably because however cheap it was, (€3 million reserve price) the repair bill would be at least 20 times more.
And then along came the prince in the form of Sergio Cervellin, a multi-millionaire and inventor of space-age domestic appliances, arguably the Italian equivalent of Sir James Dyson. He was driving past in his silver Rolls Royce and was struck by the castle, coming back later as a paying visitor for another look. Reader, he bought it.
I meet him to talk about his plans to restore it. Locally, he's become a hero, the talk of the region, and the man who will generate new impetus into the economy now that the traditional spa towns of the area are struggling to keep going. People see the castle as a future magnet for all those tourists who might fancy an interesting day out, under an hour from Venice.
Over a narrow bridge, the 12 foot wrought iron gates at the entrance are locked, guarded on the top of each gatepost by sculpted baroque figures of gods, one with a rusting metal fig leaf, and the other having lost his modesty. A hopeful tourist wants to be allowed in.
"Sorry," I say. "Privato."  ("But not for long," I think.)
I continue to the grand entrance where 3 men are at work stripping female nudes of centuries of moss and grime. At the top of the staircase for horses (awkward unless you're wearing horseshoes) the owner himself is waiting for me.
Sergio Cervellin is a local man who grew up near Treviso. Asking about his school days and what had interested him, I assume the answer will be history, or architecture.
"Inventing things," is his reply.
But of course! His company is known as "Perpulire" (to clean) and they make all kinds of cleaning equipment in an enormous Japanese-style factory. It looks like a huge indoor playground full of brightly coloured machines which appear to have been built from giant Lego. You wouldn't have thought that humble cleaning would have such a hi-tech image, but they have developed systems for cleaning huge industrial spaces with "Tiger Speed" machines which work on batteries lasting for 4 hours. Mr Cervellin candidly admits that Italy doesn't have these grand spaces to clean, but his moltiuso machines are in operation for instance in Dubai and Singapore airports.
What are his priorities? He took over in April, and there are already great changes. The formal gardens have been cleared, fountains rediscovered, the gothic chapel restored, and statues are being cleaned. On the main floor, the shutters had been closed for so long that the frescoes by Zelotti (a pupil of Veronese) are stunningly well-preserved. They tell the story of the Obizzi family who built the castle from 1570-1573, rejecting the fashionable idea of a villa in favour of a more medieval-looking building in keeping with their history as soldiers of fortune.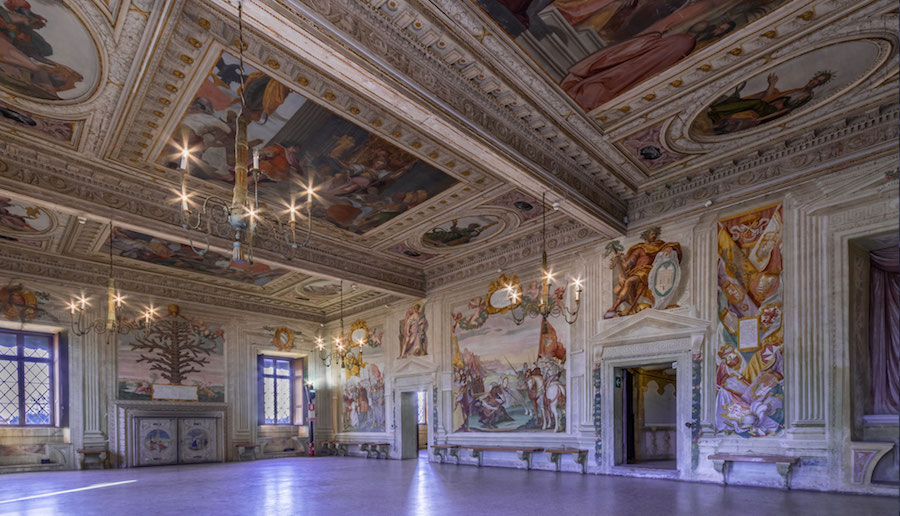 [[This is the ballroom of the piano nobile with its beautifully preserved frescoes by Zelotti telling the story of the exploits of the Obizzi family, mercenaries who built the castle. You can see their family tree above the fireplace.]
Of course the big question is why. Why on earth would someone risk millions to restore a dilapidated castle and for no financial return?
The twinkle in his eye tells me that he'd like to see all this happen, but as he puts it, "step by step". I point out that he said he didn't speak English, and here he is employing this very useful phrase, but he just shrugs.
"I am Italian. My only other language is speaking with my hands."
There's a certain amount of frustration with tourist authorities. Signor Cervellin is happy to comply with requirements for extra toilet facilities for visitors by installing two blocks of toilets inside large raised boxes so that they don't damage floors, walls or ceilings, but he's very impatient about regulations for advertising and how he might get the place on the tourist map. And this seems to be what it's all about. The word bellezza (beauty) crops up in his conversation a lot, because what he clearly wants to achieve is his vision of a beautiful medieval castle, so that as many people as possible can see and appreciate it. He stresses how important it is to have sensibility and a great team working together.
[Sergio Cervellin, owner of the castle, standing in the castle terrace]
Mr Cervellin doesn't intend to live there. Already, he said, people are rewarding his efforts by putting positive comments on TripAdvisor. He reckons that the full restoration will take 10 years, and must eventually attract masses of tourists given its importance and its proximity to Venice.
It is a wonderful act of philanthropy: in England he'd surely get a knighthood.
So if you're planning a Venetian holiday, why not be amongst the first foreign tourists to take a day trip to Battaglia Terme and walk along by the ancient canal to Catajo Castle? I think you'll be blown away by La Grande Bellezza.
Further Information
Catajo Castle 
Battaglia Terme, Provincia di Padova
Open Tuesdays, Fridays and Sundays 3-7pm; admission €8
Closed December to March
Trains from Venice direct to Battaglia Terme (€5.40) take approx 55 minutes: (www.trenitalia.com)