From the shop windows of Naples, hundreds of faces lure us with their expressions: proud, sad, joyful, lewd, angelic, humorous. Few artistic traditions have this ability to pull at our heartstrings, to surprise and delight us, to make us laugh out loud. More than any other Neapolitan tradition, nativities (called o'presebbio in Neapolitan dialect) encapsulate the spirit of the city—dramatic, Baroque, dark, animated, funny, and awe-inspiring all at the same time. 
Neapolitan presepi (nativity figures) and pastori (pastoral figures) have delighted viewers for hundreds of years, and they still draw visitors to the San Gregorio Armeno quarter of the city, where the tradition of making these modeled figures by hand remains vibrant.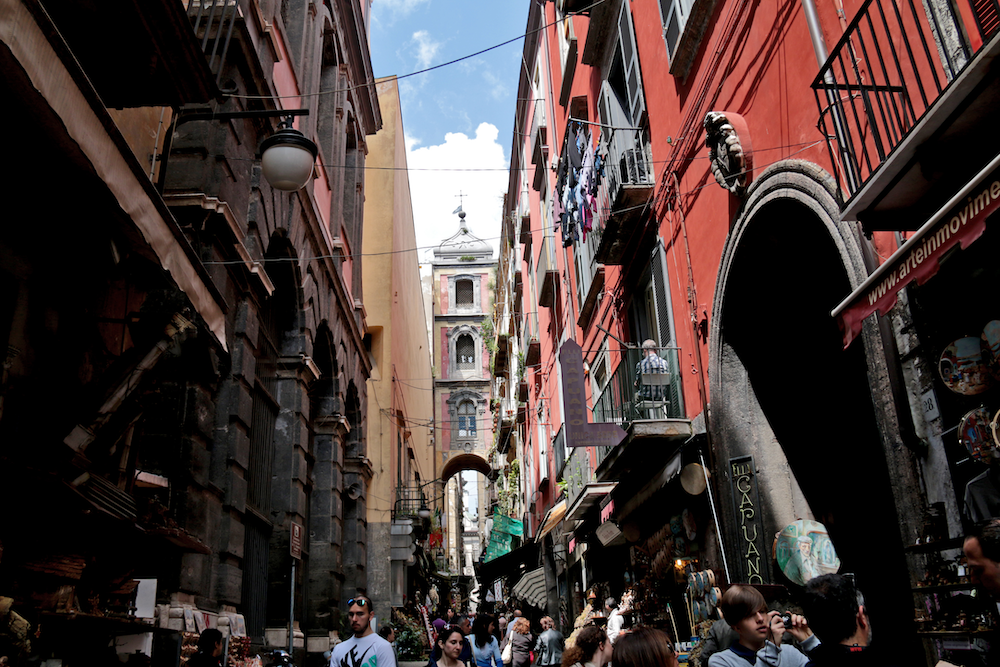 [San Gregorio Armeno (c) yomo 13 CC via Flickr.png]
Why nativities?
According to legend, the tradition of nativity scenes began with Saint Francis of Assisi, who may have been the first to reenact the birth of Christ with live animals and actors in 1223. The first mention of a presepe in Naples comes about a hundred years after this, when a nativity scene is documented inside a city church. There is also mention of a presepe set up in a private home chapel in Amalfi in 1324. 
By the mid-fourteenth century, Neapolitan sculptors were designing elaborate ensembles with life-sized figures inside the city's churches. The birth of Christ with his parents emerged as a popular subject. In the tradition of medieval sculpture, these works were originally formed of wood or terracotta, then covered with brightly colored pigments and gold leaf. In the 1470s, the sculptor Pietro Alamanno was tasked with creating a nativity group of no less than forty-two painted and gilded sculptures for a private Neapolitan chapel. Over the following decades, Neapolitan sculptors erected elaborate sculptural groupings inside the churches of San Domenico Maggiore, Santa Maria La Nova, San Gregorio Armeno, and many regional churches beyond the city.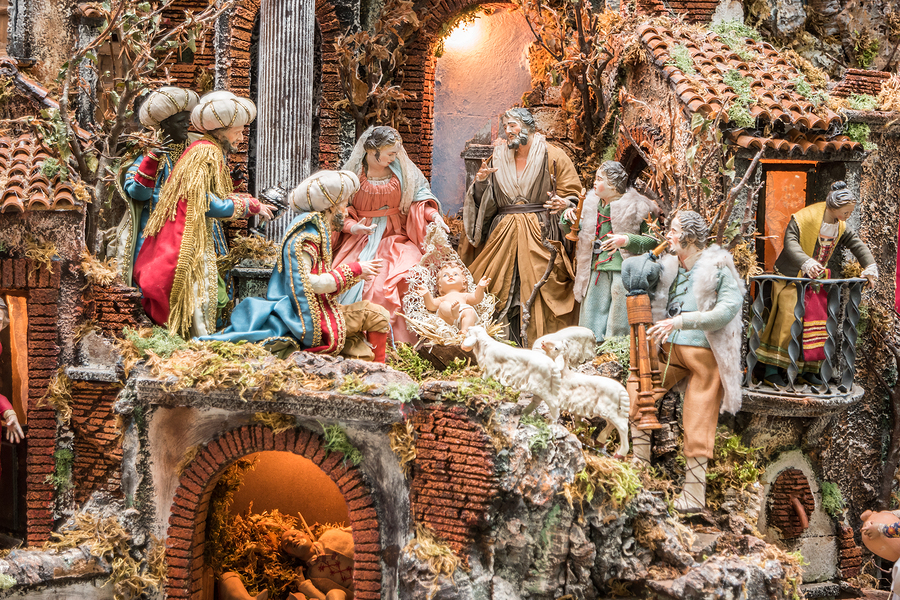 By the 1500s, Neapolitan sculptors were also creating figures on a small scale for individual customers. These makers became masters of mixed media, creating nativity scenes and dramatic groupings of saints and angels crafted of wood, terracotta, stone, and a most distinctive medium—papier-mâché.
Masterpieces of…. papier-mâché?
Papier-mâché—cartapesta in Italian—is one of southern Italy's most astounding artistic media. Neapolitan sculptors began crafting statues in papier-mâché on a wide scale as a cheaper alternative to stone, terracotta, and wood. In addition to its economic benefits, papier-mâché also provided infinite creative possibilities, as it was easy to add to and modify the design mid-project. By the 1700s, elaborate papier-mâché creations filled churches, civic buildings, and homes throughout southern Italy. 
The heyday of Neapolitan presepi and pastori was the eighteenth century, when Neapolitan pastorai enjoyed the patronage of King Charles III. Interestingly, this period corresponded with the flourishing of Neapolitan theater. The Neapolitan love of theatricality married perfectly with the development of papier-mâché nativity scenography. Elaborate landscape and architectural settings allowed the Neapolitan theatrical imagination to run wild.
Techniques for making presepi and pastori figures have remained more or less unchanged over the years. Pastorai may produce bodies of clay or linden wood assembled with metal pins, heads of terracotta, eyes of blown glass, wigs of real hair, clothing made of luxurious fabrics, and other accessories made of wax and papier-mâché. The making of landscape settings such as grottoes, caves, and cityscapes are a specialized art in itself. Some of these settings are incredibly intricate, incorporating lighting and mechanical parts that move or make sound. 
Presepi vs. pastori: What's the difference?
Presepi: A group of nativity figures depicting the birth of Jesus. The term derives from praesepium, the Latin word for "crib."
Pastori: These non-religious figures are based on popular stereotypes (peasants, politicians, farmers, bakers, beggars, and many others). True to Neapolitan culture, the sacred and secular worlds collide. Water-sellers, bar maids, politicians, peasants, and shepherds take up places alongside saints and the Madonna and Child.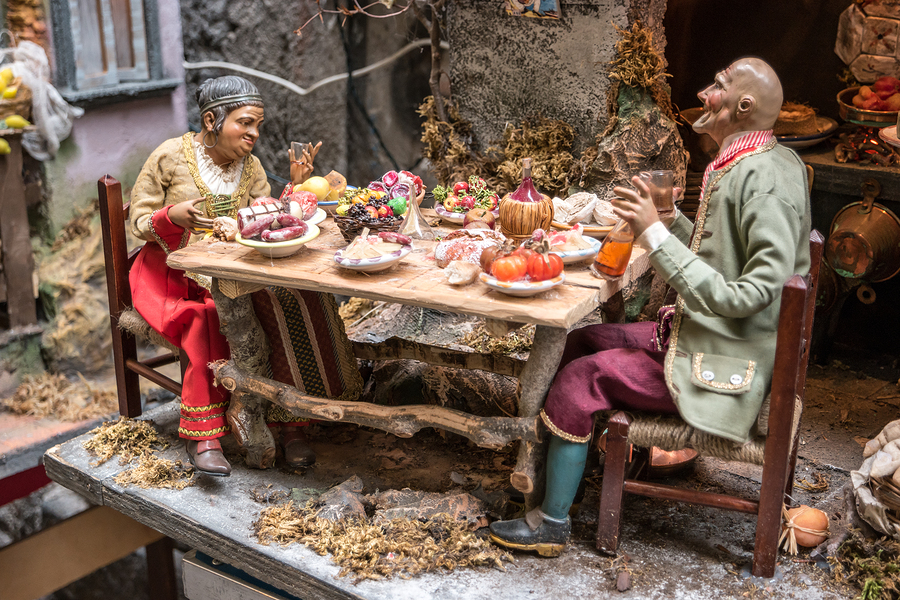 How to buy Neapolitan nativities
Today, some 200,000 terracotta figures are made for the nativity trade in Naples annually, a third of which are produced in the San Gregorio Armeno neighborhood, while others are produced elsewhere in the city or on the outskirts. Each year, pastorai making terracotta figures for the tourist trade unveil funny versions of figures from popular culture, politics, the papacy, and celebrities.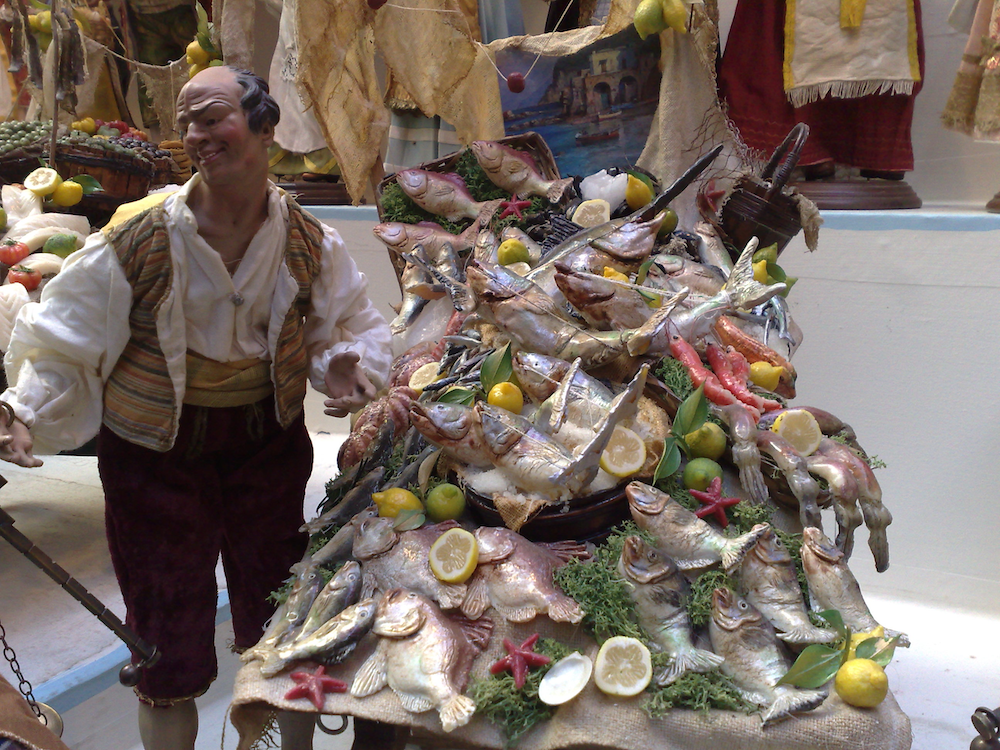 [Pastore CC via Flickr (C) Luigi Zarrillo.png]
Today there are some forty active workshops of presepi and pastori around the via San Gregorio Armeno neighborhood in the historic center of Naples. Some of the workshops are long-standing family affairs, producing high-quality works based on historical models. Others churn out cheap souvenirs. Some are resellers. Some are furnishers of parts and accessories. In short, there is a huge variety of quality and price. 
Along the via San Gregorio Armeno itself, high- and low-quality presepi coexist. In one shop, you will see finely wrought figures with hand-blown glass eyes and custom-made costumes of fine fabrics. Next door, heaps of cheaply made, mass-produced figures of plastic or terracotta clutter the countertops.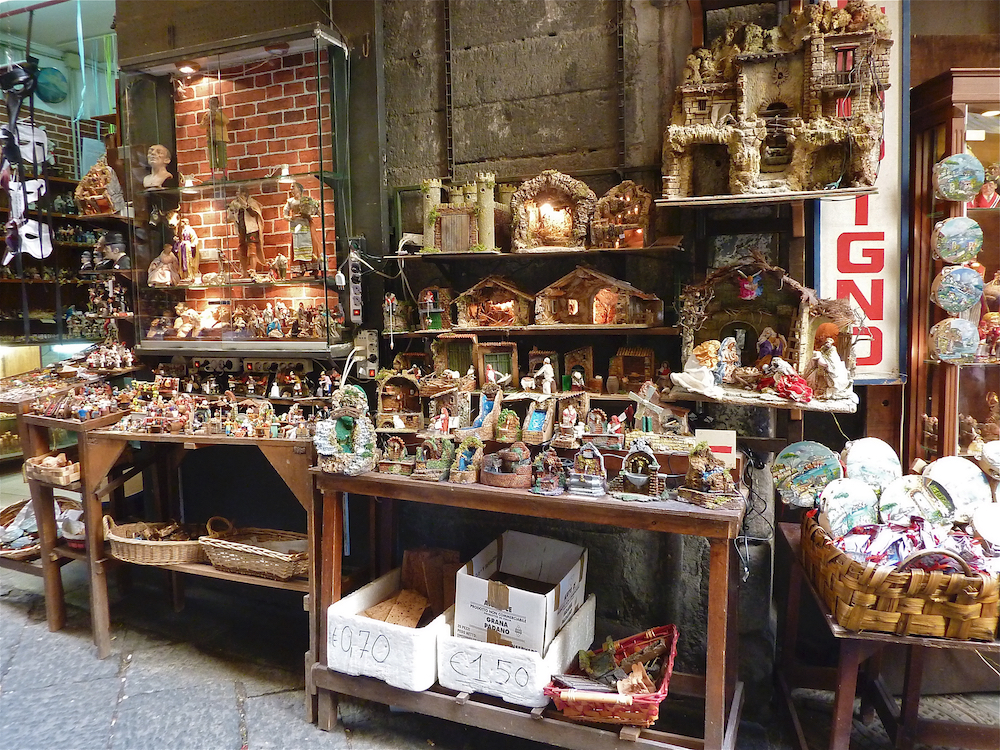 [Presepi via San Gregorio Armeno CC via Flickr (c) M… Jong-Lantink.jpg]
So, how do you make sense of the chaos? Look carefully at the construction of the work and the materials used. For Neapolitan presepi, you get what you pay for, so price is also a relatively reliable way to discern how much time and artisanal workmanship has gone into making a specific piece. Buy directly from the maker whenever possible if you want to buy an authentic work for the best possible value. 
Here are some places to experience the best of authentic Neapolitan nativities:
Historic Collections
Nativity Collection 
Palazzo Reale 
Piazza del Plebiscito, 1 
081/5808255
Inside the palatine chapel of this former royal palace is a small but impressive collection of Neapolitan nativity figures from the 1700s. The assemblage consists of more than two hundred figures, many crafted by some of the city's most renowned sculptors of that era. 
Nativity Collection 
San Lorenzo Maggiore 
Piazza S. Gaetano, 316 
081/2110860
This historic church stands at the end of the via San Gregorio Armeno, the street famous for its makers of nativities. On the top floor of the church's museum collection, check out the small but impressive collection of Neapolitan presepi made for this church in the eighteenth century, all made from polychromed wood and terracotta. 
Nativity Collection 
Complesso Monumentale di Santa Chiara 
Via Santa Chiara, 49/c
081/7971224
A room off the cloister of this medieval convent contains an impressive display of historic Neapolitan presepi. 
Nativity Collection 
Museo Nazionale di San Martino 
Largo di San Martino, 5 
081/2294503
With breathtaking views over the Bay of Naples, this former monastery, now a museum, houses the world's most impressive collection of Neapolitan presepi, some of which are dramatically lit within the former kitchens of the monastery. 
Master Artisans
Whether you go home with one of these treasures or just enjoy the visual extravaganza while you're in Naples, you're in for a treat. 
Via dei Tribunali, 303 
081/19243905 
Concetta Fusco 
Via San Gregorio Armeno, 7 
081/5516221 
Via San Gregorio Armeno, 8 
081/5523148 
Fulvio & Gabriella Forte 
Via San Gregorio Armeno, 26-28
081/210302 
Via dei Tribunali, 50 
081/4291735 
How much to pay
In part, prices depend on the renown of the maker. You will pay the highest prices for well-regarded artisans in Naples. Today, a few pastorai continue to create works faithful to presepi of the 1700s, with heads of terracotta, poseable bodies, and clothing of silk and satin. These figures, of course, command higher prices than the cheaper trinkets churned out in terracotta molds. 
It's not hard to break the bank once you get hooked on collecting presepi and pastori. Quality, handcrafted figures can go for several hundred Euro, depending on the craftsmanship, the scale of the piece, and repute of the maker. Nativity sets, elaborate backgrounds or grottoes are almost always priced individually so that you can design your own display. Small accessories for these scenes, once made by specialized artisans, are affordably priced but can add up quickly for a complete set. You can choose among details down to jewelry, tools, implements, food, ham hocks, wagons, pitchers, bowls, bottles, wheelbarrows, musical instruments wooden and inlaid with mother of pearl, arms like knives, scimitars, armor for horses, all made faithfully but in miniature size.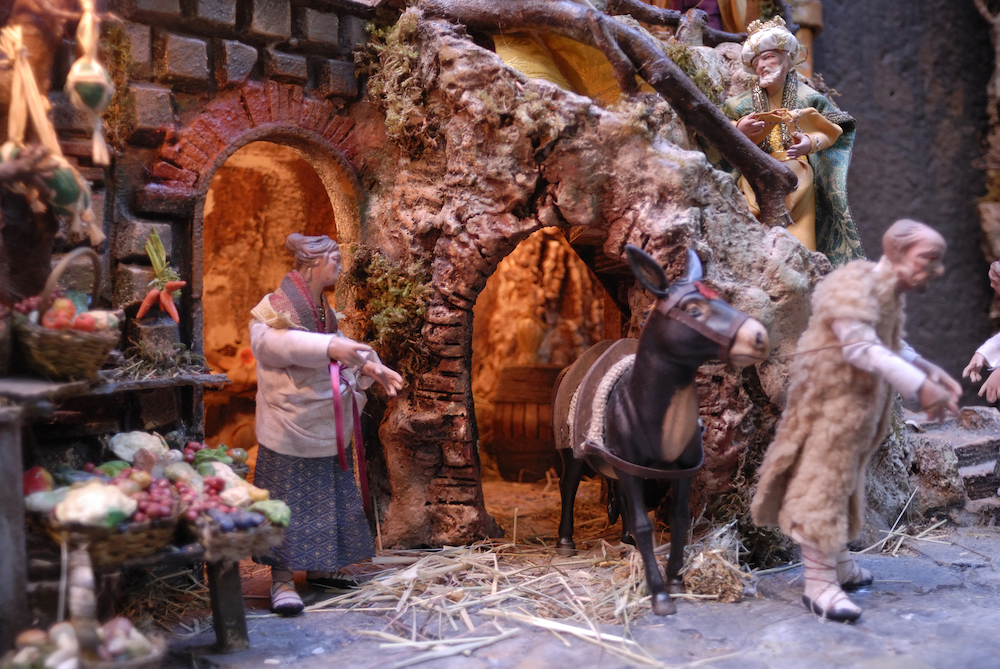 Many Neapolitans collect individual pieces each year, building a collection over a long period of time. When December rolls around, you'll see them hunting for a new figure to add to their collection. Much like collecting for a dollhouse or a train set, once you get started, it's hard to stop, and collectors of these Neapolitan novelties are particularly zealous.
Beyond Naples
Naples is not the only place to discover authentic Italian nativities. Traditional nativities are also made along the Amalfi Coast and in other smaller towns throughout southern Italy. I purchased a lovely, exquisite angel from a little-known artisan in Lecce, another town known for presepi on the heel of Italy's boot in Puglia, for a fraction of the price I might have paid in Naples. A few well-known pastorai also have shops on Sicily. And, master woodcarvers in the Alpine regions of Italy have their own nativity traditions.
Still, Neapolitan nativities are extra-special. Today, Neapolitan nativities are protected by UNESCO under their program for Masterpieces of the Oral and Intangible Heritage of Humanity. That means that when you locate a high-quality work from a Neapolitan pastorai, you can rest assured that you're taking home one of the most unique handcrafted traditions in all of Italy, if not the world.
Laura Morelli is an art historian and historical novelist with a passion for Italy. You can find much more about what to bring home from Italy in her guidebook series, including Made in Naples & the Amalfi Coast  and Made in Italy. These books, along with Laura's Venice-inspired historical novels, including The Gondola Maker, are available in the Italy Magazine shop.