The Lure of Abruzzo: Wendy's Story
In 2009, life took an unexpected twist: I ran away to Italy with my new partner to renovate an old Italian farmhouse. Things didn't exactly go according to plan as we got caught up in one of Italy's worst earthquakes. While we sat in the notary's office, signing the papers, we were still getting aftershocks. It was frightening. The table and walls were moving. We all held hands around the table as if we were in some kind of seance. The notaio, who was reading out the contract, spoke faster and faster. Everyone around the table—the vendor Rosario, the agents, and the staff—wanted to be at home with loved ones. We all got up to leave. Rosario handed over a large key tied to a yellow ribbon and rushed off. Sadly, when we opened the door to our new house, it was a lot more damaged than we thought. The ceiling and floors had large cracks and the balcony had collapsed.
The earthquake changed everything for us. We never restored the farmhouse, we didn't have the funds to do it but we lived, very happily, in a caravan next to the house in our olive grove. I retrained as an English teacher and went on to have a successful career teaching teenagers and adults. I loved being with them every day and became fascinated by the use of language. My partner wanted me to write a diary of our adventures in Italy. After all, I was the one with "good English skills". I never had the time, so it was quite a surprise to see him tapping away on his laptop, night after night, writing his version of events. Although he is dyslexic, when I came to read what he had written, I was blown away by his descriptive skills, though slightly less so with his spelling and grammar. I edited what he had written and it became our story, our collaboration. Our first book, together, "Olives and Earthquakes" was born.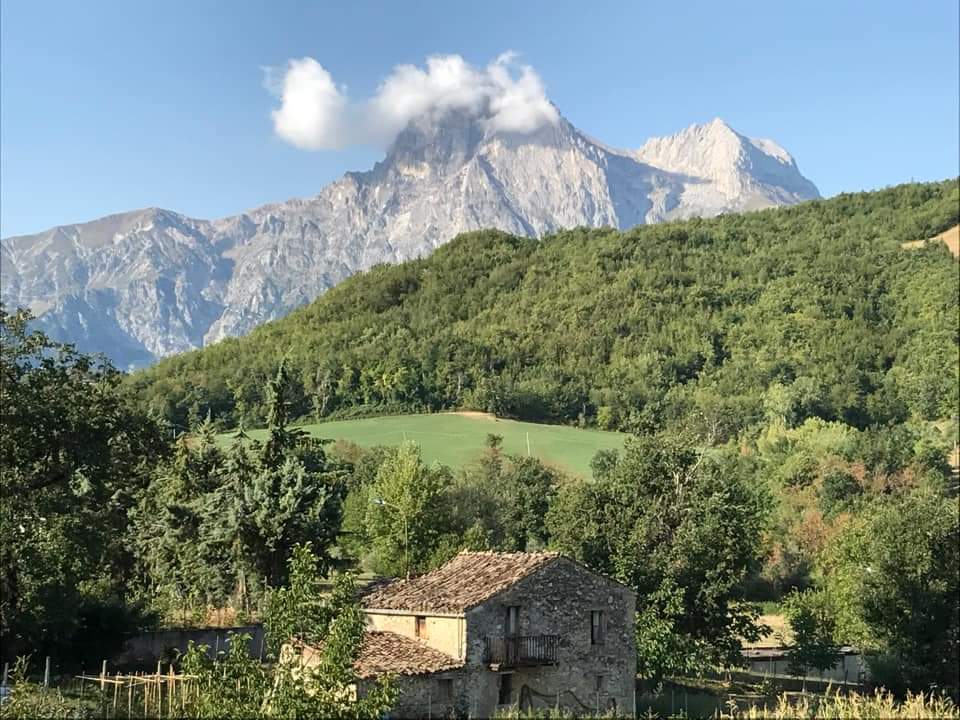 Family issues pulled us back to the UK for a few years. My partner continued to write thriller, suspense, and historical fiction novels. It was his hobby and mine, too, as I enjoyed the editing and proofreading process. Last year, in 2020, we finally went to print. I set up my own business, Sunflower Publishing, to publish his novels, as well as promote and market them. I also started to write features on Abruzzo: the life, the food, and the culture. I also write book reviews for an online Abruzzo magazine. I met Cathie, a lecturer in creative writing, and our idea of hosting writing retreats was born. We wanted to help other people on the same journey.  
My partner and I found ourselves thinking about Italy again and remembering the wonderful life we had there. In the summer of 2020, we saw a property for sale near Bisenti.  Neither of us hesitated to arrange a viewing and put in an offer. Abruzzo has such a pull. The weather is a perk, for sure, but also the relaxed and simpler way of life that harks back to a time when there was a greater emphasis on family values than on material possessions. Abruzzo overloads the senses in every way. Staring at a clear night sky that has no light pollution, a multitude of twinkling stars creates a soft glow to illuminate the dark outline of the Gran Sasso mountains. Having time for a chat with friends over coffee, being surrounded at every turn by stunning scenery. The glimmer of flickering lights on medieval hill-top towns in the warm evenings, the flashes of fireflies in June, picnics with friends on the wild plains of Campo Imperatore, and reveling in the stunning spectacle of a family of wild boar who wanders in front of the car. The wonderful smell of woodsmoke emanating from chimneys on cold winter nights. 
This is the reality, the charm, the lure of Italian life.  
Writing Your Own Story
Is there a story inside you, waiting to get out?  Join Wendy and Cathie on a creative writing retreat in Abruzzo, the heart of Italy, where there are no crowds, easy access from Rome, and a nearby airport in Pescara.  Wendy (Sunflower Publishing) and Cathie (Creative Writing Matters) reveal ways that a writing retreat can help nurture your creativity! 
Here are Some of the Benefits!
1. Enjoy a week of writing and relaxation in this spectacular region of Italy. Rich and authentic in its culture and history, Abruzzo will open your eyes to the hidden potential in your writing. Medieval hilltop towns, snow-capped mountains, national parks, sandy beaches, and of course, designer shops. 
2. Feel inspired by the breathtaking views as you wander through lavender-lined terraced gardens to the swimming pool. There are no interruptions or distractions here. You are free to write as much or as little you want. It's the perfect place to focus on creating your story.
3. Interactive morning workshops on creative writing. Advice, tips on how to plan your story, build your characters, and develop your plot. Discover how to express thoughts, feelings, and emotions in your writing.
4. A writing retreat brings people together from all walks of life, backgrounds, and cultures—a great place to share your writing journey with others.
5. It gives time to reflect on who you are as a writer, how you can engage with your readers, and the message you wish you share through your story. As a result, you'll get to know yourself better and find your unique voice. 
6. Our workshops include information and advice about how to self-publish. From designing eye-catching covers, formatting to launching your book on different platforms, or even producing an audiobook. 
7. You will have access to professional guidance and feedback throughout your stay. We offer one-to-one support, providing an unbiased, professional critique of your work to help validate your writing. Help, guidance, and motivation are always on hand.
8. You can take part in live Q&A sessions with published authors. Find out about their writing journey, learn more about the industry and apply their tips to your writing process.
 9. Discover how to share your story with the world.  We will demonstrate how to create a successful marketing strategy to promote your book and provide you with the tools you need to reach your readers and share your message with them. 
10. Enjoy the eclectic food and wine of Abruzzo which draws on pastoral, mountain, and coastal cuisine. Freshly caught seafood and fish served by the sea while "arrosticini" (meat on skewers) cooked over hot coals is enjoyed al fresco, in the wide outdoors. Served with a glass of Montepulciano D'Abruzzo, of course!    
Arrive with a work in progress or just an empty page—this is your chance to remove yourself from your everyday life and tell or finish the story buried inside you. All are welcome! 
We are waiting for an update on coronavirus restrictions before finalizing dates, but in the meantime, we'd love to hear from you. Contact us to book and find out more!
Vi aspettiamo!