Arrosticini | Lamb Skewers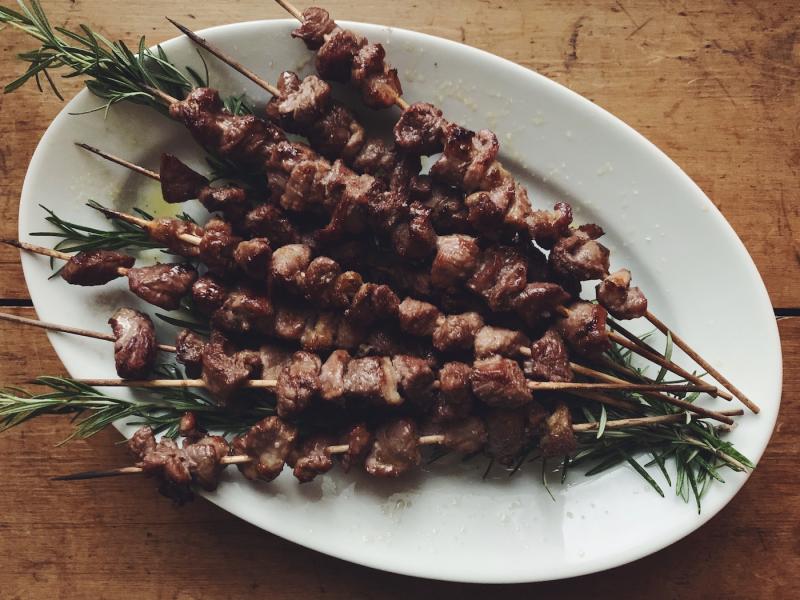 Cooking Time
about 5 minutes, plus the time to heat the grill
As teenagers, my friends and I spent many a summer night venturing into the hills above our beach town in Abruzzo in search of arrosticini—lamb skewers cooked over an open flame. We didn't have a particular destination in mind; we would just zigzag up the narrow hill roads until we found a sign, usually hand-written, with an arrow pointing us in the right direction. Even without it, all we had to do was follow the enticing, smoking aroma of grilled meat through the trees and around the next bend to find the clearing outfitted with rustic wooden tables and grills.
Even though arrosticini are composed of just two ingredients—tiny pieces of fatty lamb or mutton and salt—they are packed with savory flavor. The marbled meat is prepared in a peculiar but rather brilliant way; small wooden skewers are driven into big blocks of meat, which is then cut precisely into centimeter-sized cubes. The threaded skewers are grilled over special narrow braziers called canali. The cutting and threading was, once upon a time, done by hand but is now done mostly by machine. Originally a quick-cooking portable meal for shepherds who traveled Abruzzo's transumanza, driving sheep down into Puglia for winter and then back into Abruzzo in summer, arrosticini have become one of the region's most famous foods.
One of the best ways to enjoy arrosticini is on Campo Imperatore, the high plain near the summit of the Gran Sasso mountain range. There you will find scattered rifugi, rustic shelters with rows of narrow grills set up outside and, inside, a deli counter of sorts in which you can buy ready-to-cook arrosticini by the kilo, along with local cheeses, salumi, bread, and beverages. Every September (barring a pandemic) my tour partners and I bring our guests up to Campo Imperatore for a memorable picnic with the mountain's peak as our backdrop. We supplement the arrosticini and cheeses with homemade pickles, fresh fruit, and lots of good local wine. The highlight? Teaching our guests how to properly eat arrosticini by holding the one horizontally and using the teeth to slide the nuggets of freshly grilled lamb off the little wooden skewer.
My homestyle arrosticini are a slight variation of what you might find at a rifugio. I cut my lamb into slightly larger, more manageable pieces than traditional arrosticini, and I add a non-traditional finishing touch: I brush the just-grilled skewers with a rosemary branch dipped in olive oil. Grilled bread on the side is a must.
Makes 6 servings
Ingredients Sections
2 pounds (1 kg) boneless leg of lamb with some marbling of fat, cut into precise 3/4-inch (2 cm) cubes
Fine sea salt
Extra-virgin olive oil
A branch of fresh rosemary
Instructions
1. Soak a handful of small wooden skewers, 8 to 12 inches (20 to 30 cm) in length in cold water for 30 minutes. Prepare a fire in a charcoal grill or preheat a gas grill to high.  
2. Thread the cubes of lamb onto the skewers, packing them tightly with no space between the spaces, taking care to add some fatty bits among the pieces. Place the skewers on the grill grate directly over the heat and sear until browned on the bottom side, about 3 minutes. Turn and grill until browned on the other side, another 2 minutes or so. A minute or so before removing the skewers from the grill, sprinkle them lightly with salt.
3. Transfer the skewers to a platter and use the rosemary sprig to brush them lightly with good olive oil. Serve hot.