Stracotto di Maiale con Alloro: Pork Pot Roast with Bay Leaf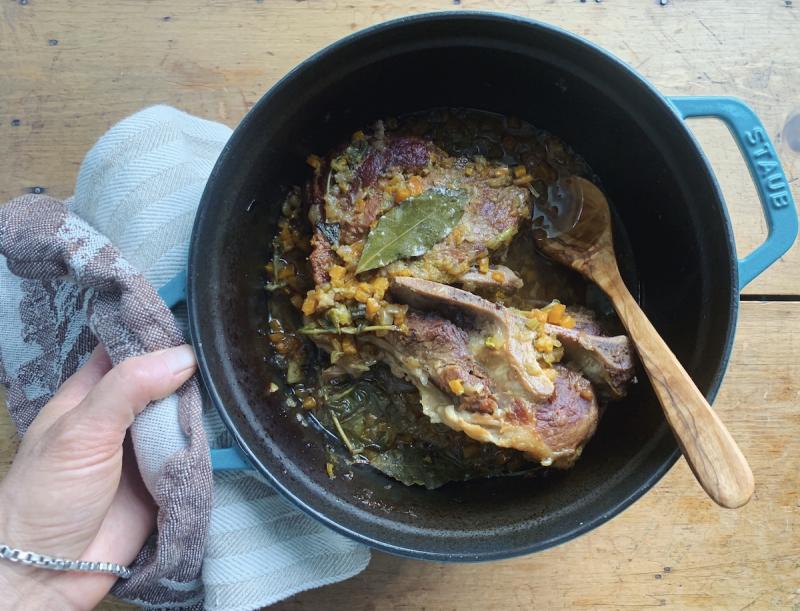 Cooking Time
2 to 3 hours (hands off)
Yield: 4 servings
September means cooler evenings and a welcome return to oven cooking. After months of grilled meats and vegetables, the appetite suddenly wants something more mellow. Enter the stracotto. The word literally translates to "overcooked" but in practice refers to meat (usually a large cut) that has been cooked slowly, either on the stovetop or in the oven, until it is meltingly tender.
Stracotto di manzo—the Italian equivalent of pot roast—is perennially popular. But a stracotto made with pork has its own appeal. It has a gentle flavor and an affinity for white wine and bay leaves, two ingredients that conjure the pleasures of early fall. In this recipe, the roast is first browned on the stovetop, and then cooked in the oven for a couple of hours, during which it perfumes the entire house with its rich, bay-infused aroma.
Be sure to use good quality heritage pork with some marbling of fat, as the mass-produced product tends to get ropy when cooked at length.
 
Ingredients
2 1/2 – 3-pound (1 to 1 1/4 kg) pork shoulder roast
Fine sea salt
Freshly ground black pepper
2 tablespoons sunflower or other neutral oil
1 large carrot, finely chopped (115 g/1 scant cup)
2 ribs celery, finely chopped (115 g/1 cup)
1 small to medium yellow onion, finely chopped (115 g/1 cup)
3 fresh bay leaves
3 or 4 sprigs fresh thyme
1 tablespoon extra-virgin olive oil
1 cup (240 ml) dry white wine
1 cup (240 l) water or chicken broth
Instructions
1. Preheat the oven to 325° F (160° C). Season the pork roast on all sides with salt and pepper. Heat the sunflower oil in a heavy-bottomed pot over medium-high heat. When the oil is shimmering, place the roast in the pan and let it brown without moving it for 3 to 4 minutes, until nicely seared. Turn and brown the other side. Remove the pork to a plate.
2. Add 1 tablespoon olive oil to the pot and tip in the carrot, celery, and onion, stirring to coat them with the oil. Lower the heat to medium-low and cook, stirring often, for 7 minutes, or until the vegetables have begun to soften. Raise the heat to high and pour in the wine; let it bubble for a minute, then add the water or broth. Stir in the bay leaves and thyme sprigs and return the meat to the pot.
3. Cover the pot and put the roast in the oven. Roast for 2 to 3 hours, turning it every hour, until the pork is fork-tender and the juices have thickened to a rich sauce. Remove the bay leaves and thyme sprigs.
4. To serve, remove the roast from the pot and cut it into thick slices or chunks. Arrange on a serving platter and spoon the sauce on top. (Note: if you prefer a smooth sauce, use an immersion blender to puree it before spooning it on top of the roast.)