Lambrusco has long been the underdog of the Italian wine world, becoming its own worst enemy by flooding the market with treacly sweet and aggressively fizzy commercial wines in the 1970s and 1980s and creating a reputation for itself as the preferred swill of high schoolers and suburban mothers across the globe. 
Over the past few decades, Lambrusco producers in Emilia-Romagna have been working hard to re-energize the brand and convince consumers to forget the "Riunite on ice, Riunite so nice" low point and take another look at this historic wine. A younger generation of vinters have put aside the sweet versions, often derided as the "Coca-Cola of wines," and instead thrown themselves into producing dry iterations with a higher alcohol content that have a balanced, fresh acidity; carefully controlled fermentation to reign in the fizz; and variety that ranges from a rosé light enough to rival Prosecco to a deep red so heady and full-bodied that it can hold its own against Italy's great Piedmontese and Tuscan flagship wines.
The effort has paid off, and Lambrusco is enjoying a deserved comeback, fueled in part by the improved quality of the wines and in part by the world's current obsession with Italian bubbly. Easy to drink, food-friendly, and affordable, Lambrusco is fast becoming the fashionable wine of those in the know, and can be found on wine lists from Brooklyn to Seoul. If you've been holding out, now is the time to give Lambrusco a second chance.
The many faces of Lambrusco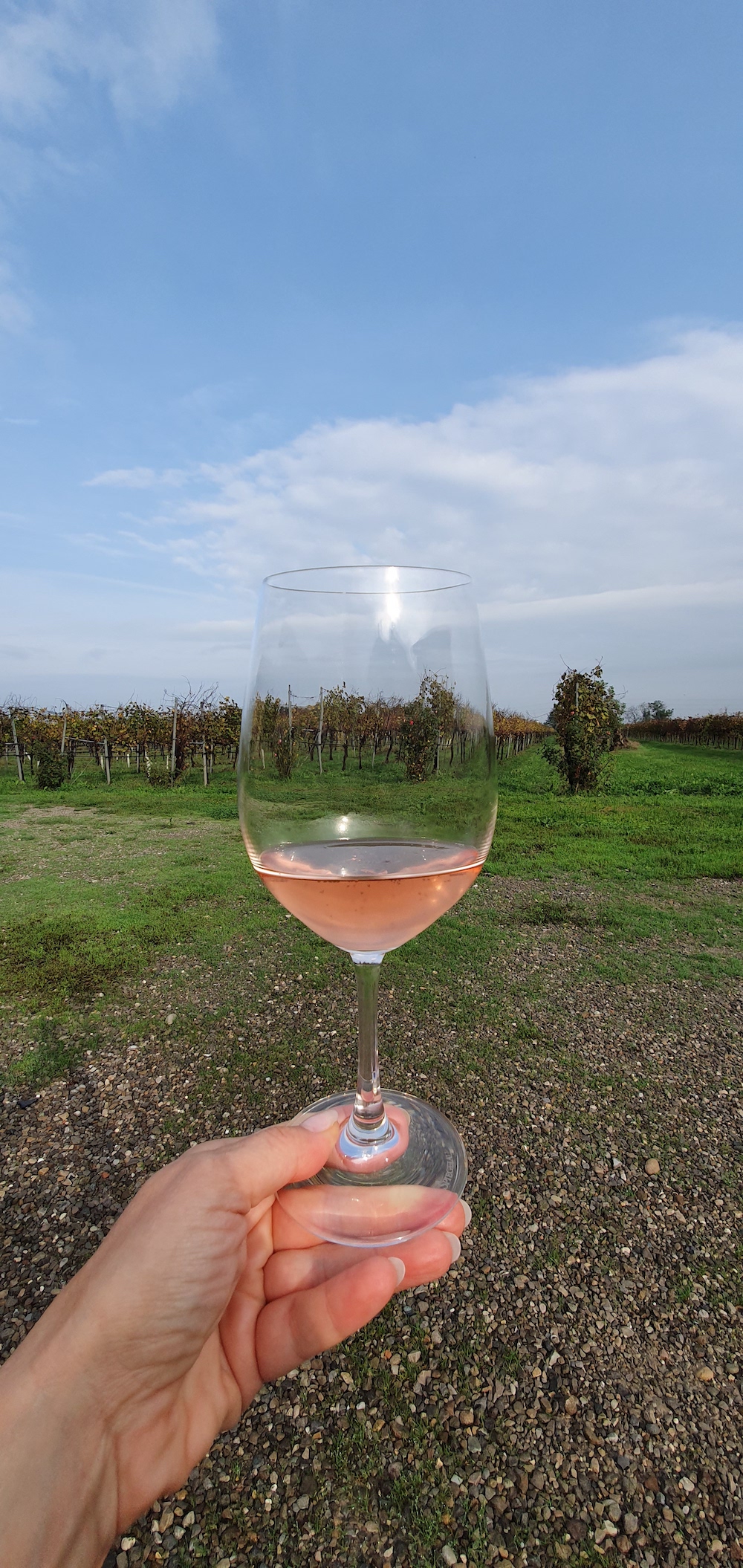 Lambrusco was a wild grape known to the Etruscans and ancient Romans—Pliny the Elder referenced the grape in Naturalis Historia—and wine made from Lambrusco grapes is the oldest documented wine produced in Emilia-Romagna. Today, roughly 60 different types of Lambrusco grapes have been catalogued around Italy, but most Lambrusco wines produced in Emilia Romagna are made from the six most common varieties: Salamino; Grasparossa; Montericco; Maestri; Marani; and Sorbara.
Rather than one monolithic Lambrusco, think of this wine as a complex family tree of many kissing-cousin Lambruschos. With dozens of types of Lambruschi grapes, six distinct Appellation of Origin areas clustered around the towns of Modena and Reggio Emilia, and additional wine-producing areas in the countryside of Mantua and Parma, keeping the varieties straight can be a challenge—and participating in a Lambrusco tasting of all of them, an Olympian feat. 
At the 2019 Matilde di Canossa Lambrusco Awards, corks were popped on bottles of the candidates in each Appellation of Origin area to give guests a chance to sample the best of the best and experience the wide range of Lambrusco varieties first hand. From delicate fizz to knockout perlage, there is a Lambrusco out there to suit any taste and pair with dishes from pizza to sushi. Here's a quick-and-easy guide to whet your whistle:
●    Lambrusco Reggiano: the majority of Lambrusco wines, especially those exported across the world, are from this vast wine-producing area in the Po river valley and hills outside Reggio Emilia. Versions range from sweet and sparkling to dry, full-bodied reds that pair well with the region's rich pastas and charcuterie. Search out Reggiano Lambrusco Salamino DOC, a fresh, floral wine with an elegant bouquet. 
●    Lambrusco di Modena: the lively Lambrusco varieties produced in this area come in both red and rosé and are distinctive for their balance and body. With their festive foam and bright color, these are a chic and easy-to-pair gateway to the world of Lambrusco.
●    Lambrusco di Sorbara: considered the best of the Lambrusco wines, this appellation's intense color, elegant evanescence, and violet bouquet set it apart. With its high acidity, it pairs perfectly with area delicacies like Parmigiano Reggiano, Prosciutto di Parma, and pasta con ragù.
●    Colli di Scandiano e Canossa Lambrusco: the Lambrusco wines produced in these hills surrounding Reggio Emilia come in a range of intensities and can be either still or sparkling. Most notable are the dry Grasparossa varieties, that begin crisp but leave a lingering fruity finish.
●    Lambrusco Grasparossa di Castelvetro: with its full body, high alcohol content, and assertive tannins, this wine produced around the town of Castelvetro di Modena is a good choice for those who like bold, in-your-face reds. The deep purple colour and notes of violets, plums, strawberries, and black cherries give it a depth and character not often associated with its more lightsome cousins.
●    Lambrusco Salamino di Santa Croce: rooted in the plains around Carpi, this is among the most structured of the Lambrusco wines, with a deep ruby-red color, persistent bouquet, and fruitiness that cuts the fatty Emilian pork dishes down to size.  
●    Lambrusco Mantovano: these wines are produced in the only appellation located across the regional border in Lombardy. Generally dry and low in alcohol, they are known for their fruity, floral notes. 
●    Colli di Parma: this dry wine has a delicate flavor and easy-going bouquet that makes it perfect for pairing with pizza (yes, pizza) and classic pasta dishes.
The science of bubbles
There are some grapes that can take a lot of wear and tear — if you throw the must of sangiovese grapes in barrel, chances are you'll be able to drink whatever comes out of it a few months later, though it may not get 99 points from Wine Spectator. Lambrusco grapes are fussier, and the wines they make highly volatile, meaning you can get a wide range of quality from delightful to undrinkable.
"The difference is in the fermentation," says Alessandra Medici, of the Medici Ermete winery in the Emilian countryside. Her father, Giorgio, was one of the pioneers of the Lambrusco comeback, and the winery consistently produced award-winning Lambrusco. "If you don't get the fermentation right, you will simply end up with a wine that you can never put on the market." And flawless fermentation, it turns out, has been Lambrusco's bete noire for centuries.
Since the 1700s, Lambrusco was fermented using the traditional, or Champagne, method in which the secondary fermentation (the magic moment when work-a-day wine becomes party bubbly) takes place directly in the bottle. In the early 20th century, large cement tanks or barrels began to be used for the secondary fermentation, but the process turned out to be very difficult to control. Producers often added must from other regions in Italy before the wine was bottled to make up for low sugar content, leading to an unpredictable reaction and countless exploded bottles. The wine also often had an unpleasant odor due to the residual yeast that was hard to gauge. 
This all changed in the 1950s with the arrival of the Charmat Method (often known as the Metodo Martinotti in Italy), in which the second fermentation takes place in large metal pressure-resistant tanks that are kept at a controlled temperature. With total control over pressure and temperature, wild cards like sugar content and residual yeasts were easier to manage and the resulting wines were much more homogeneous and stable.
This was both good and bad news for the industry, as the ability to turn out more predictably palatable and thus marketable wines meant that Lambrusco began to be mass produced and quality suffered because of it. Today, producers have begun to realize the value of emphasizing quality over quantity, and the new generation of Lambrusco wines are meticulously micromanaged from grape to glass. Though there are some wineries that are dabbling again with the Champagne Method, modern technology and dedication to a quality end product have made the process a much more exact science.
Lambrusco in the wild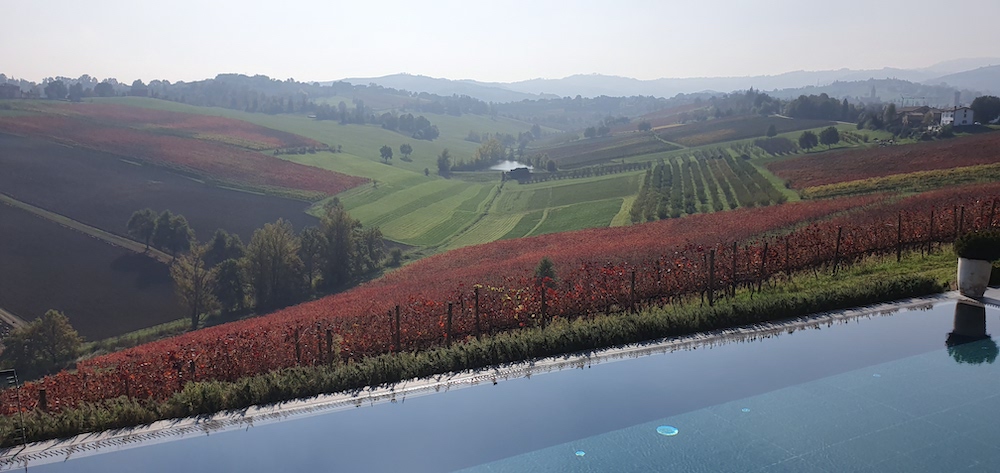 Lambrusco is a wine that should be enjoyed young and pairs well with the excellent cuisine of its homeland. The easiest way to tick both these boxes is a trip to the heart of Emilia-Romagna to visit some of the area's most storied and prestigious wineries, both boutique and flagship. Luckily, with its jewel-like towns, unparalleled culinary culture, Motor Valley museums, and rolling countryside, you'll have plenty to fill your time when you're not imbibing.
Below is a quick guide to the highlights of Modena and Reggio Emilia's Lambrusco wine country.
The wineries
●    The premier winery in this area is Medici Ermete, a must for oenophiles for its long history and continuous production of award-winning wines. Visit the family's historic cellar in the plains outside Reggio Emilia for a guided tasting, and be sure to take a peek into the traditional "acetaia", or balsamic vinegar attic.
●    For authentic appeal, the delightfully down-home Garuti winery outside Sorbara can't be beat. In addition to quaffing award-winning Lambrusco di Sorbara, you can take in the historic family home, now a period museum, and tuck into a country-style lunch of Emilian specialties prepared by family members themselves.
●    For pure Napa-Valley chic, head to Opera 02, a winery and resort set in the scenic Modenese hills. Don't let the luxe atmosphere fool you...this winery is simply the latest iteration of a historic family-run cellar known for its excellent quality. Pause over a gourmet meal on the panoramic terrace overlooking the vineyards.
The wines: Matilde di Canossa Lambrusco Award Winners from 2019
●    Colli di Scandiano e Canossa DOC Lambrusco Grasparossa Secco 2018 "Remigio 100", produced by Ca' De' Medici 
●    Lambrusco di Modena DOP Lambrusco Secco 2018 "Dei Tenori", produced by Azienda Agricola Campana Sergio
●    Lambrusco di Sorbara Dry PDO 2018, produced by Società Agricola Garuti Dante, Elio & Romeo
●    Lambrusco Grasparossa from Castelvetro PDO Secco 2018, produced by Cantina di Santa Croce 
●    Lambrusco Mantovano Dry PDO 2017 "946 - Corte del Poggio", produced by Cantina di Carpi and Sorbara
●    Lambrusco Salamino di Santa Croce Dry PDO 2018 "Tradition", produced by Cantina di Santa Croce
●    Reggiano DOC Lambrusco Secco 2018 "Assolo", produced by Medici Ermete & Figli
●    Emilia IGP Lambrusco Spumante Dry Millesimato 2018 "Marcello" produced by Ariola Vigne e Vini 
●    Province of Mantova IGP Lambrusco Semisecco 2018 "al Scagarün", produced by Lebovitz SRL
The towns  
●    Explore the compact center of pretty Reggio Emilia, birthplace of Italy's "Tricolore" national flag, without bumping into a single tourist (except Italians in the know). Sip a coffee on the elegant main square, stroll under the porticoes to take in the shops, and dine at the offhandedly excellent restaurants. 
●    The de facto foodie capital of Emilia Romagna, the delightful provincial city of Modena is thick with gourmet emporiums, cafés, and eateries tucked along its porticoed roads. Prepare for the meal of your life, but also be sure to admire the beautiful cathedral and stay out late to savor the vibrant aperitivo scene.
The food
●    Many Lambrusco-producing wineries also have traditional "acetaia" balsamic vinegar attics, one of the most prestigious specialties from Reggio Emilia and Modena. Be sure to taste this complex elixir (the real stuff) while exploring the area.
●    In addition to Lambrusco and aceto balsamico, this area is known as the land of Parmigiano Reggiano. Visit the Hombre farm and cheesemaking workshop to see how these massive wheels are produced and taste organic Parmigiano aged at least 18 months.
The zoom
●    Lambrusco country overlaps with Motor Valley, the stretch between Modena and Bologna where some of Italy's most famed names in automobiles are located. Gearheads and racing fanatics shouldn't miss a stop at the spectacular Enzo Ferrari Museum in Modena
●    While sampling parmigiano at the Hombre farm, take a turn through the wonderful Umberto Panini Collection, a private automotive museum that is home to a number of historic Maseratis, as well as other record-breaking cars and motorcycles.
●    If you'd like to toodle (or zoom) through the Emilian hills on your own, Canossa Events offers guided and independent driving itineraries on board anything from a zippy Fiat 500 Abarth to a vintage Ferrari.