Experiences are better than things, you seem to read everywhere lately, and we couldn't agree more, so this Valentine's Day, rather than buying cards and flowers and jewelry, why don't you head somewhere truly romantic? Italy is full of idyllic spots for romance and we've asked some of Italy's bloggers to share their favorite one in the place where they're based. Check their insider's tips below (ordered by location, north to south), and remember, you don't have to be romantic just on Valentine's Day!
TURIN – tip from Rosemarie Scavo, blogger at Turin mamma
"It's hard to go past the site bearing the name of the saint who gave us the most romantic day of the year, Parco del Valentino. Situated along the western bank of the river Po, this public park enchants locals and visitors alike with its gardens, Baroque-era castle, liberty-rococò fountain and replica medieval village. There's even a "lovers' bench" sculpture in honour of the many couples who come to enjoy a leisurely passeggiata ('walk') in the park's stunning surrounds. The perfect place to bask in the beauty of nature, on Valentine's Day, and all year round."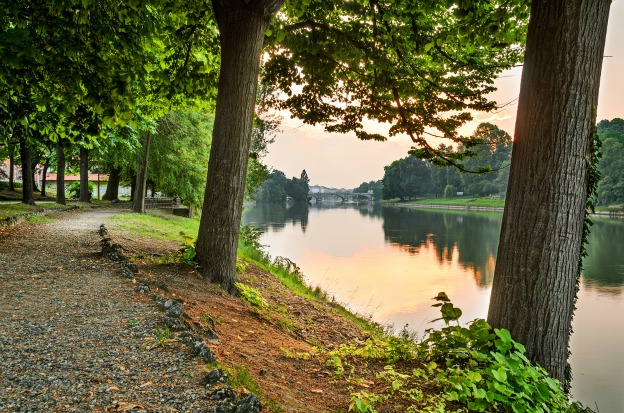 VICENZA (VENETO) – tip from Orna O'Reilly, blogger at Orna O'Reilly: Travelling Italy.
"When looking for romance in the Veneto, I can personally testify to the romantic credentials of the beautiful Palladian city of Vicenza. The River Ritrone weaves its placid way through the centro storico passing under five characterful bridges. Most romantic of all is Ponte San Michele, which is studded with cobblestones and is a favourite meeting place for lovers to steal a kiss. Built between 1621 and 1623, it was modelled after the single-span bridges which dot the canals of nearby Venice and is well worth a visit."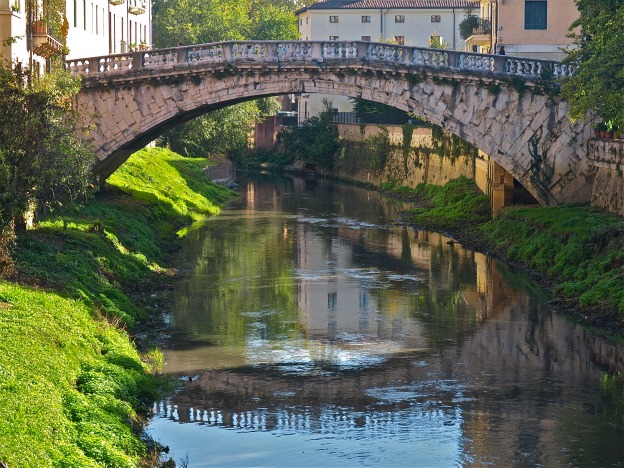 [Photo credit: ©The Palladian Traveller.]
VENICE – tip from Liz Salthouse, blogger at Dream Discover Italia
"For me, Venice is unquestionably the most romantic city in the world. Its alleyways and canals brim with echoes of clandestine courtship and Casanova's love affairs; what better place for romance to bloom!
Personally, I have two favourite spots to make the heart sing. The first is on top of the Accademia Bridge, looking down the Grand Canal towards the Salute church. It's a stunning view made famous by Canaletto and Monet and is best at dusk as lamplight reflections bounce off the jade green water and the tourist crowds dissolve.
The second is walking along the quiet Rio di Misericordia canal in the low-key district of Cannaregio. Little cafes and bars offer a taste of the real Venice and an escape from the hubbub, with tables for two lining the canal side. It's a perfect spot to stop for an afternoon spritz and watch as the Venetian world glides gently by."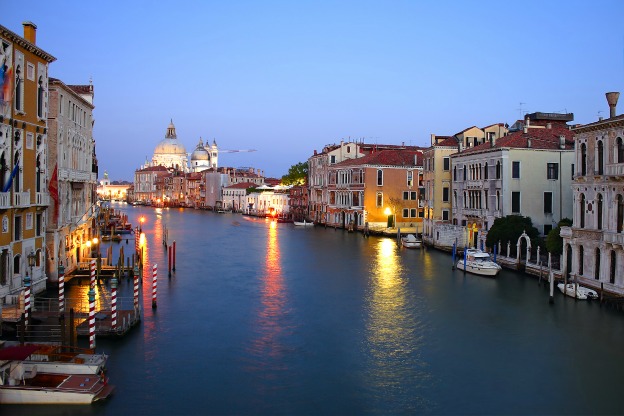 PORTOVENERE (LIGURIA) – tip from Sarah Dowling, blogger at Italy Project 365
"Everything about Porto Venere emits romance; from the colorful buildings and narrow streets, to the breathtaking views of cliffs jutting out into the bright blue sea. It was in this small Ligurian town that Lord Byron drew inspiration for his poetry, giving the rocky bay area, now known as "Byron's Cave" (Grotta Byron), its current name. Today, many lovers leave behind a small token of their affection: locks of love dangle from the railings, engraved with their initials and forever sealed by tossing the key into the water. Visiting the Church of St. Peter, sitting just above the shoreline, is a must; the view of the sun setting over the water through its Venetian style archways is truly stunning. Visitors can wander through the town's quaint inner alleyways where there are many small shops as well as eateries that offer fresh seafood and local Vermentino wine in an intimate setting."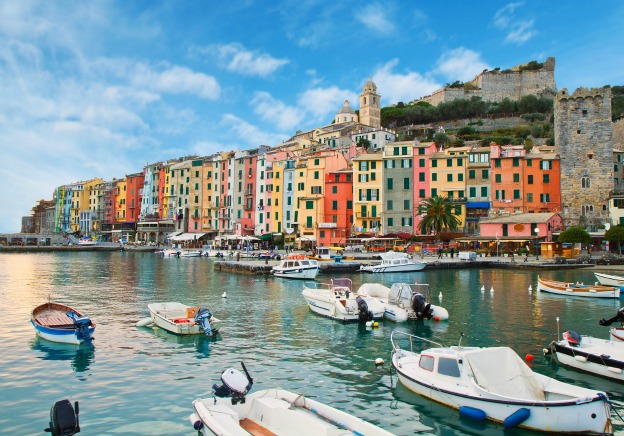 Bologna & Emilia-Romagna – tip from Silvia Donati, writer at Bologna Uncovered
"In Bologna, I find especially romantic Piazza Santo Stefano at night. To me, it has always felt more intimate than Piazza Maggiore, Bologna's main square (which is also truly beautiful and evocative at night). Piazza Santo Stefano, which technically isn't a square, but rather a widening of the Via Santo Stefano, is dominated by the Complex of the Seven Churches and several ancient ocher-colored buildings so typical of Bologna. You could top it off by spending the night in the uber-romantic Torre Prendiparte, a 12th-century tower converted into a bed & breakfast consisting of one multi-level suite.
Emilia-Romagna has a number of charming little villages, the so-called borghi, which make for great romantic escapades in the countryside. My two favorites near Bologna are Dozza and Monteveglio. In Romagna, don't miss San Leo, and you can perhaps follow the visit with a side excursion to the seaside, not too far, for a romantic walk on the beach. In the Duchy of Parma and Piacenza, check out the medieval villages of Castell'Arquato and Vigoleno."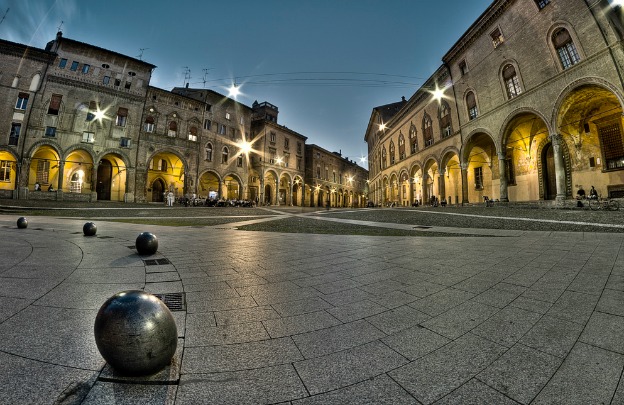 [Photo credit: Romeo De Gennaro, Flickr.]
TUSCANY & FLORENCE  – tip from Georgette Jupe, blogger at Girl in Florence
"In Tuscany, what could be more romantic than visiting one of the region's natural hot springs! My personal favorites include the Cascate del Mulino in Saturnia, just think natural rock pools with a mad rush of water flowing over you both, it is one of the coolest experiences one can have here. Another natural option is Terme di Petriolo. Otherwise a romantic excursion at one of the resorts that typically have themed evenings for Valentine's days, like the Terme Antica Querciolaia in Rapolano Terme (just an hour from Florence), which is close to a great restaurant, Taverna Castelnuovo Berardenga; or stay at the quiet and elegant town of Bagno Vignoni, overlooking the UNESCO Val d'Orcia.
In Florence, there are too events that are perfect for Valentine's Day . There will be a #bacioalpiazzale kiss in the panoramic terrace of the city, Piazzale Michelangelo, to kick off an inauguration of the restyling of the square (car-free); you can check out more details here. 
In addition, my ideas would be to go to the Chocolate Fair in Piazza Santa Maria novella, after stopping by the beautiful, and ancient, Pharmacy of Santa Maria Novella, where your lover of course would purchase rose water tonic, fancy soaps with a break for tea. Also, a photo-op under the sign of 'Via delle belle donne' (street of the beautiful women), which heads to this square, would be fun too!
Lastly, in Florence there will be a special wine tasting of Chianti on February 14th from 4pm-10pm with over 100 local producers at the Ex Manifattura Tabacchi in via delle Cascine (15 euros -- more details can be found here.
Timeless or evergreen options include walking up to the church of San Miniato al Monte, the highest in the city (with a better view than Piazzale Michelangelo) for a stunning view of the city with less crowds. Or go on your very own 'Dante Inferno' tour using guides like this one."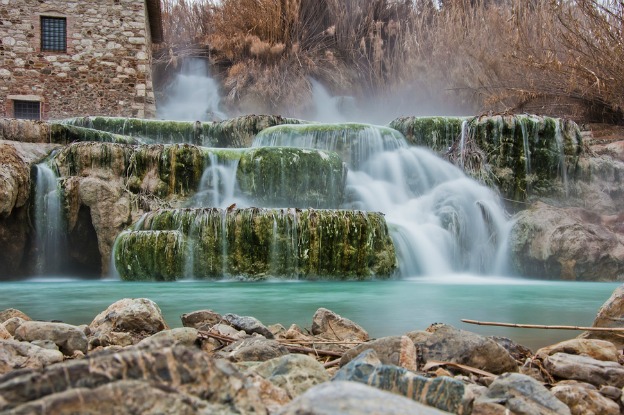 [Photo: Terme di Saturnia.]
ABRUZZO –  tip from Anna Lebedeva, food and travel writer who runs Abruzzo With Gusto, a food walks company, and Green Holiday Italy, a blog about sustainable travel in Italy.
"The majestic ruins of Rocca Calascio, the highest fortress in the Apennines, is one of the most beautiful and most romantic spots in Abruzzo. I love going there to admire spectacular views of the sweeping alpine meadows of Campo Imperatore, which are often called Italy's "Little Tibet", and the Plain of Navelli. Built in the 11th century, the castle and its small hamlet were ruled by Norman counts Da Celano, powerful Piccolomini and De' Medici families. Despite its formidable fortified structure, Rocca Calascio did not see any sieges or wars. A strong earthquake in the 1400s badly damaged the fortress and since then it has stood abandoned.
However, it is not just the stunning vistas that make this place romantic. In 1984, it was a location for shooting Ladyhawke, a beautiful fantasy film starring Michelle Pfeiffer and Rutger Hauer. The story was about two lovers, Captain Etienne Navarre and Lady Isabeau d'Anjou cursed by the evil Bishop of Aquila, whose dark spell turned Navarre into a black wolf during the night and Lady Isabeau into a hawk during the day to stop them from being together. At the end, the lovers break the curse and live happily ever after. Every time I spot a hawk floating above the crumbling walls of Rocca Calascio, I am reminded of that beautiful fantasy and can't help but think that love conquers all."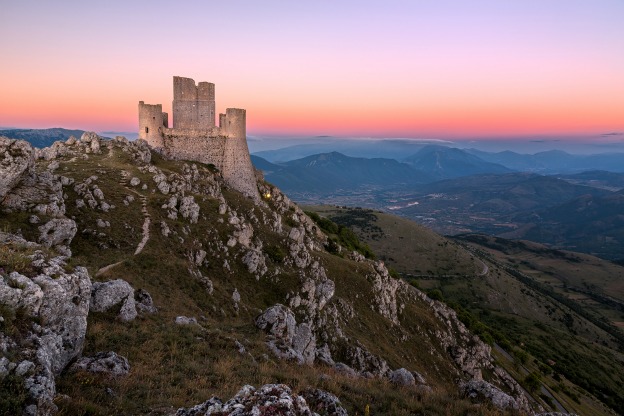 ROME – tip from Gillian McGuire, blogger at Gillian's Lists
"Start your Romantic day in Rome with breakfast at the very pretty Coromandel, tucked away near Piazza Navona. After your coffee sipped from thin porcelain cups and a plate of sugar dusted pancakes or freshly scrambled eggs, head to the Palazzo Barberini to seek out the painting by Raphael known as La Fornarina. Legend says that Raphael was so besotted with Margherita Luti, the daughter of a local baker depicted in the painting, that he couldn't concentrate on his work. Linger over coffee or a flute of prosecco at the old school Caffé Greco. There are plenty of cozy corners and velvet sofas for two here. The newly restored Trevi Fountain is a showstopper. Stop here late at night and throw your coins in peace."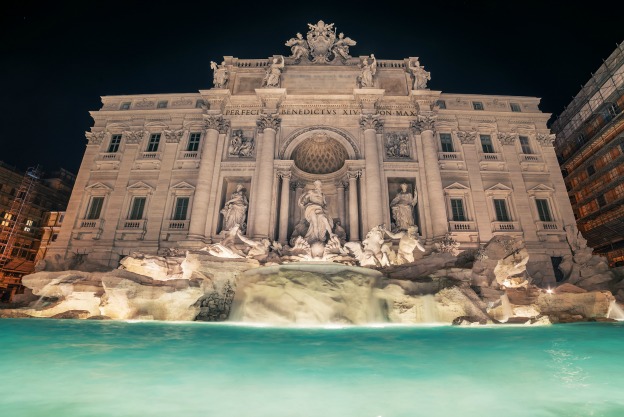 AROUND ROME – tip from Rick Zullo, blogger at Rick's Rome
"The city of Rome has plenty of romantic locations that inspire couples to fall in love. But sometimes lovers want a little more peace and quiet than can be found within the bustle of the historic center. If that's what you're searching for, then hop on a train at Termini Station and ride one hour to the charming village of Tivoli.
Here you will find the opulent gardens of Villa D'Este where you can linger amidst the lush elegance of sculpted hedges, worn statues, and cascading water features. The centerpiece is a "singing fountain," (La Fontana dell'Organo), which uses hydraulic energy to power an automated pipe organ that plays a wistful tune every two hours.
If you want even more seclusion than that, a short walk from Villa D'Este is Villa Gregoriana, where you can descend into a gorge surrounded by dense trees and towering waterfalls. At the bottom, you'll discover the partially concealed caves of Neptune and the Sirens, where your total privacy is assured. Once there, well, that's between you and your Valentine."