"We're neither Ionians nor Dorians, we are Sicilians," said the Syracusan Hermocrates as early as 424 BC. Nowadays, many will say, "We're not Italians, we're Sicilians," stressing the island's fierce identity, which does indeed differs from mainland Italy. In their language, behavior, cuisine, religion, traditions, Sicilians carry pieces of the Roman, Greek, Byzantine, Arab, Norman, Catalan, Angevin, and Aragon cultures, the many civilizations that, through the centuries, have inhabited the largest island in the Mediterranean, leaving many architectural and artistic wonders that make Sicily an open-air museum – and a delight for travelers.  
Read on for a list of useful things to know when planning a trip to Sicily.
How to get there & how to move around
The best way to reach Sicily is by plane. There are three airports on the island, Falcone Borsellino in Palermo (32 km from the city), Fontanarossa in Catania (7 km from the city, good if traveling to eastern Sicily), and Vincenzo Florio in Trapani Birgi (15 km from Trapani and Marsala, the gateways to Western Sicily). There are several airlines flying into Sicily, including Alitalia and the low-cost carriers RyanAir and EasyJet.
If you're driving to Sicily, then you'd need to catch a ferry at Villa San Giovanni in Calabria, traveling across the Strait of Messina; this way you can take your car on board. You'd disembark in Messina. If you don't have a car,  but you'd still rather travel via sea, you could also catch the hydrofoil from Naples or Livorno (Tuscany). Pleas bear in mind that prices go up June through September.  
The best way to move around the island is by car. Traveling by public transportation in Sicily is slow and complicated, although not impossible. Connections between major cities and tourist destinations are good, but if you intend to go off the beaten path then you may have some problems. Prefer buses to trains, which are extremely slow; some bus companies include AST, SAIS Autolinee, and SAIS Trasporti.
Hydrofoil and ferry connections to the islands off the Sicilian coast are good during the high season, but decrease considerably in the winter season. Some companies include Siremar, connecting Palermo to the Aeolian Islands and Trapani to the Aegadian Islands and Pantelleria, and Ustica Lines for travel by hydrofoil, which is faster.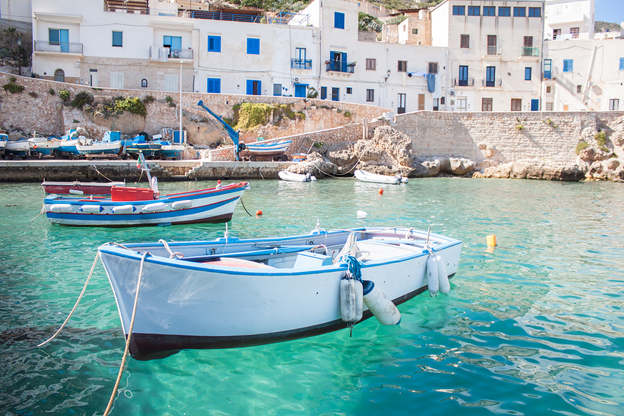 When to go
The best seasons to visit Sicily are the spring and the fall, when temperatures are pleasant; most likely you'll still be able to bathe in the sea, and at the same time you won't be oppressed by the summer heat when visiting the cities and sites. Summer is obviously the busiest season and you'll find crowded beaches and higher prices.  
Where to stay 
You have your pick of places to sleep in beautiful Sicily but to make the most out of your time why not consider a stay in one these fabulous Holiday villas in Sicily. They have a wide selection of family-friendly villas or for those in big groups, almost always with a pool and a stunning vista of some of Sicily's most picturesque locations. They come complete with all mod-cons (wireless internet, bbq, washing machine etc). 
What to see
There's so much to see in Sicily that a trip won't be enough to cover it all – unless you have several months at disposal. You could plan your trip according to area or perhaps according to a theme you wish to explore, say archeology, the beach, cities, villages, landscapes, or Sicilian Baroque. Whatever you decide, one of the fascinations of Sicily lies in its diversity, the result of the many cultures that settled the island: Palermo, influenced by the Arab and Norman cultures will provide a different experience from Agrigento and Syracuse, where the influence of the Greek civilization is stronger, and all of them are quite different from the rugged interior of the island, not just in the landscape, but in the ancestral traditions still surviving there.
Having said that, there are certainly places that are a must on any Sicilian itinerary; here's what we selected with links to our features for going more in depth:
Palermo, the capital of Sicily; not to miss are the 12th-century Cathedral, the neoclassical Teatro Massimo, the 9th century Palazzo dei Normanni, the Cappella Palatina, which features Byzantine mosaics, as well as the city famous markets of Ballarò and Vucciria. See our Day Tripper.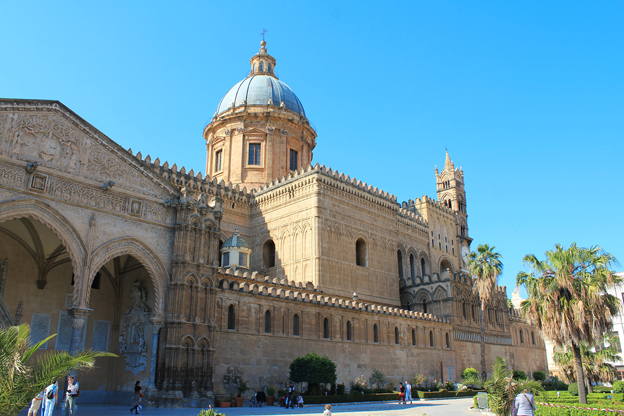 Near Palermo, visit pretty Cefalù, known for its 12th century Norman Cathedral, and Monreale, renowned for its Norman-Byzantine Cathedral and ceramics production.   
From a beautiful coastline to villages frozen in time, from archeological sites to natural reserves, Western Sicily has it all. Visit Marsala and the Stagnone Lagoon, a marine area famous for its salt ponds, and the archaeological site of Motya, founded by the Phoenicians; the Zingaro Nature Reserve, Sicily's first park; the former fishing village of San Vito Lo Capo and its beautiful beach; the delightful village of Erice; and Selinunte, Europe's largest archeological site.
The highlight of southern Sicily is Agrigento's Valley of the Temples, once one of the most important cities of Magna Graecia. Mix it up with some time at the beach at beautiful Sciacca.
South-eastern Sicily is all about Baroque, in fact the towns that you'll see here have given birth to a style known as Sicilian Baroque. Val di Noto is especially famous for its Baroque towns, which have been inscribed by Unesco in its World Heritage list. Also, pay a visit to Ragusa Ibla and Modica, the town of chocolate, before heading to Syracuse's Ortigia.
Moving north along the eastern coast of Sicily, visit Catania, the other major city in Sicily; an ancient port at the foot of Mount Etna, Europe's largest active volcano, which you can climb; and of course see that little jewel that is Taormina.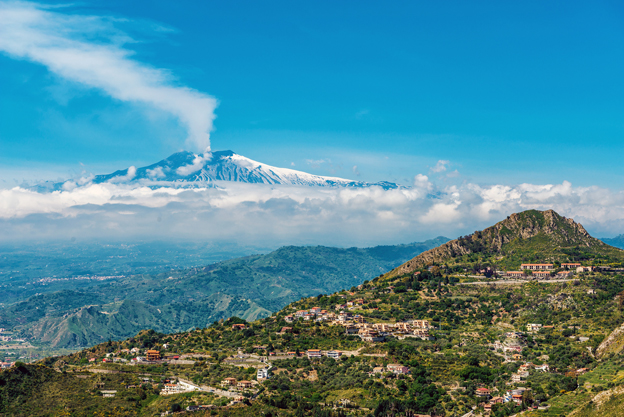 The sites mentioned above are surely the most popular, but there are plenty more that are worth exploring, and we've written about many of them here on Italy Magazine; you can visit our dedicated page for more Sicily coverage.