[Waving from the ISS. Photo: ESA.]
We couldn't think of a better subject to write about for International Women's Day than the extraordinary Samantha Cristoforetti, an ESA astronaut, whose dedication, determination and humility is an inspiration for us all. In her recent memoir, "Diario di un'apprendista astronauta," ("Diary of an apprentice astronaut"), Cristoforetti takes us on the thrilling ride that led her to become the first Italian woman to fly into space.
"I don't remember a precise moment in my childhood when I decided that, as an adult, I would be an astronaut," writes Samantha Cristoforetti in her memoir, Diario di un'apprendista astronauta  (2018). "Rather, I think it was a piling up of many stimuli that, at some point, reached critical mass. Then yes, I started telling everyone."
European Space Agency (ESA) astronaut Cristoforetti was the first Italian woman to fly into space when, on 23 November 2014, the Soyuz TMA-15M spacecraft launched from the Baikonur Cosmodrome in Kazakhstan to carry her and two other astronauts, Russian Soyuz commander Anton Shkaplerov and NASA astronaut Terry Virts, to the International Space Station (ISS), docking five hours and 48 minutes after liftoff and four orbits around the Earth. 
[Cristoforetti before entering Soyuz TMA-15M spacecraft hatch for a dress rehearsal fit check.]
During her time on the ISS - 199 days - Cristoforetti performed several scientific experiments, including Italian research projects. And, she was the first person to brew an espresso in space! The mission was named Futura, in reference to the science and technology research Cristoforetti would carry out in weightlessness "to help shape our future," wrote ESA at the time. 
Cristoforetti and her crewmates returned safely from the ISS on 11 June 2015. At the time, she held the record for the longest uninterrupted spaceflight by a woman, a record that was broken in 2017 by American astronaut Peggy Whitson (Cristoforetti still holds the record for the longest spaceflight of a European).
Cristoforetti's accomplishments came after years and years of training, dedication, daily commitment, and effort. In her own words, "It took me a quarter of a century to get to space."
Yet, as she points out in her memoir, she doesn't want to make it look more heroic than it was. Yes, it was demanding and it required constant labor, she concedes, but, she writes, "Becoming an astronaut also implies much luck, a sequence of many possibilities in life that could have gone differently." (True, but we still think hers was a pretty remarkable feat.")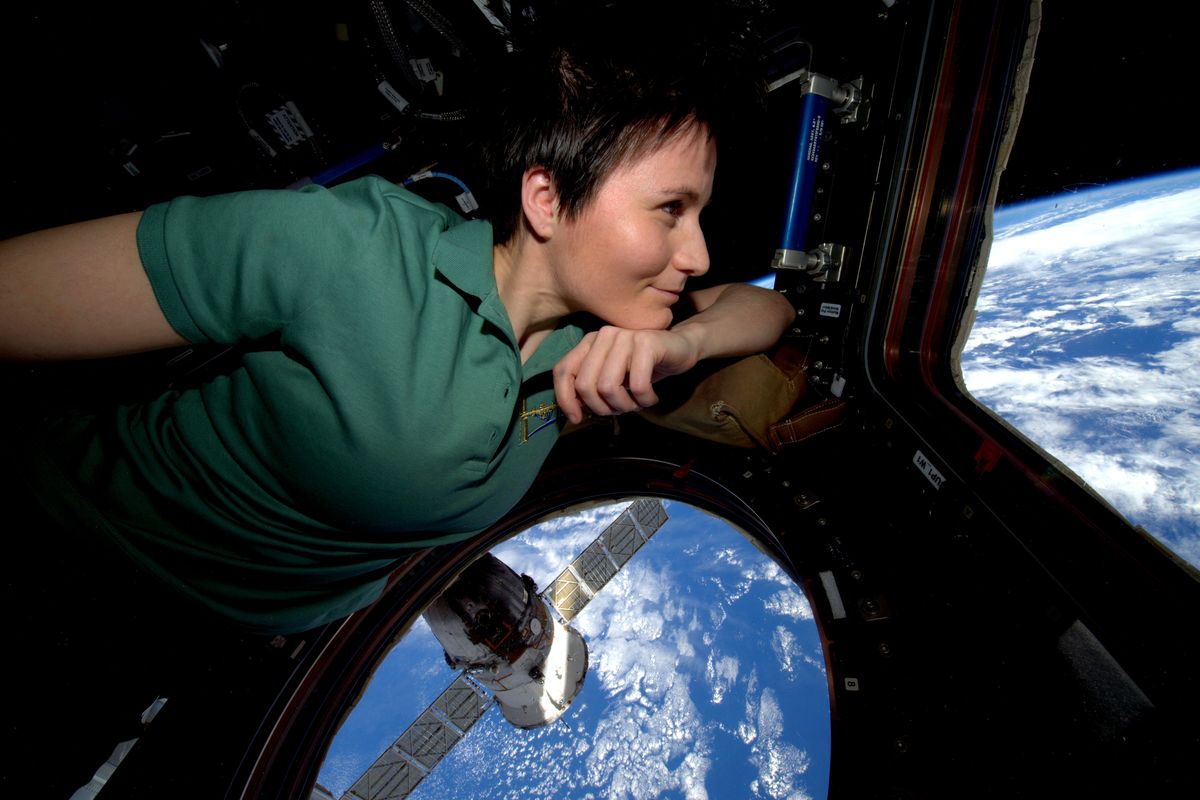 [Cristoforetti on the ISS.]
She wrote her memoir to "share a journey," and she describes the journey as she would "to a friend." In Diario di un'apprendista astronauta, Cristoforetti writes about both the activities she performed while in orbit and the years she spent in different places around the world to train for them, about both the alarms and the routine, the docking of a cargo spaceship and the repair of the toilet. The sublime and the mundane.
Born in Milan on 26 April 1977, Cristoforetti grew up in Trentino's Val di Sole. In 2001, she graduated from the Technical University of Munich, Germany, with a master's degree in mechanical engineering with specializations in aerospace propulsion and lightweight structures. She studied at the École nationale supérieure de l'aéronautique et de l'espace in Toulouse, France, and at the Mendeleev Russian University of Chemistry and Technology in Moscow. As part of her training at the Italian Air Force Academy, she completed a bachelor's degree in aeronautical sciences at the University of Naples Federico II in 2005, thus becoming one of the first women to be a lieutenant and fighter pilot in the Italian Air Force. She has logged more than 500 hours of flying and has flown six types of military aircraft. [The years of training that led to Cristoforetti being selected as an ESA astronaut (2009) and subsequently for the expedition on the ISS (2012) are recounted in a documentary worth watching, "AstroSamantha."]
The culmination of all those years of training and hard work comes when Cristoforetti is selected as an ESA astronaut, which she recounts this way in the memoir:
"Istrana Military Airport, Treviso, May 18, 2009. I'm sitting on the bed [...] when an email arrives that makes me jump. Subject: 'ESA Astronaut Selection'. I open it, thinking it would merely indicate a number to call, or a time. Instead a simple sentence, dry and technical, dissolves in an instant all my tension. Each fiber of my body, each cord of my spirit, relaxes. I don't burst into cheers, I don't laugh, I don't cry. [...] There is no past and there is no future, there exists only this dazzling present. The whole universe has stopped and is smiling benevolently at me." So Samantha, even then. Her composure and self-awareness never seem to falter.  
"Emotions should be earned," Cristoforetti has said. She has not only earned them, she has made them our own.   
All proceeds from Cristoforetti's memoir, "Diario di un'apprendista astronaut," go to Unicef Italia. At the moment, the book is only available in Italian, but we do hope for an English translation and we'll keep you posted.