In the sweltering month of August, Italians from Torino to Messina flock to the beach. Temperatures sore to well above 35 degrees centigrade and everything reaches a sort of raucous crescendo on August 15th, the national holiday of Ferragosto. Extended families bring multi-course picnics, foldout tables, awnings, flotation devices, nonnas in wheelchairs and a hodgepodge of seemingly non-essential beach paraphernalia to temporarily colonize over 7,000 kilometers of Italian coastline until children return to school the second week of September.  
While this wild mess ensues at the beach, a restive calm incongruously lurks about 50 meters below ground in the 3,000-year-old city of Naples. Subterranean temperatures average 22 degrees centigrade and your balmy companions are the dearly departed saints and sinners of Naples from the past several millennia. 14,000 years ago a nearby phlegrean volcanic eruption dramatically altered the continental shelf of Europe, also covering the region that now constitutes Naples in several meters of ash.This ash later became the malleable rock, a sort of yellow tuff, ideal for constructing aqueducts, tunnels and catacombs.  
The result is a vast network of underground tunnels in one veritable secret city. Think of Naples as an iceberg, what you see above ground is merely its visible tip. This is where the original Greek settlers buried their dead, a place where paleochristians worshiped and Norman kings stashed artillery. Ruling Bourbons built secret passageways, German soldiers hid to escape allied detection— this my friends, is the fabled underground of Napoli. And if you are seeking a temperate antidote to the country's beaches, venture below ground for a history lesson on a quietly cool Neapolitan afternoon.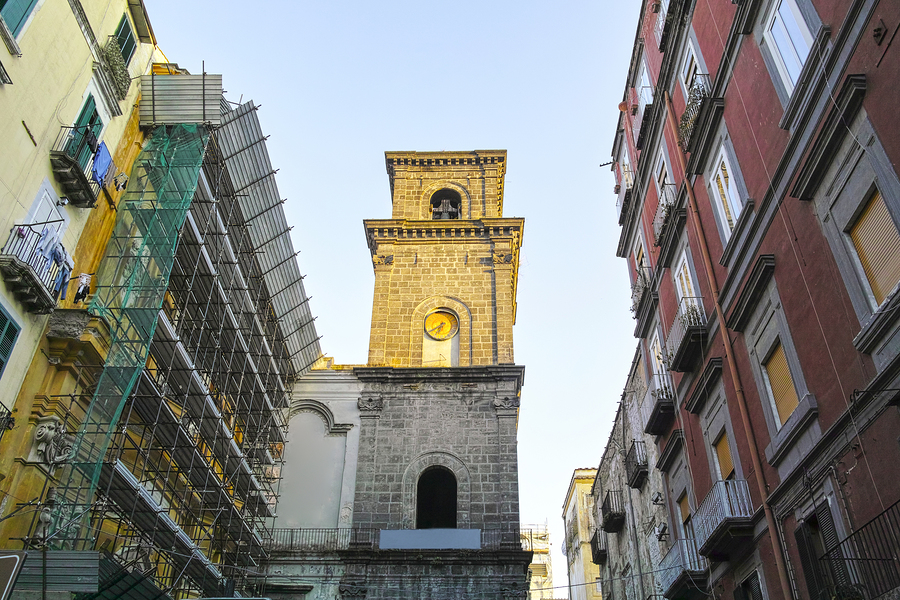 Below are five underground networks to visit in town.  
1) Hellenic Necropolis of Borgo dei Vergini
Just outside the ancient city walls of Naples lies the neighborhood of Rione Sanità and its historic entrance at Borgo dei Vergini, the village of virgins. This area was once covered by torrents of lava and subsequent rainfall, which created natural outcroppings of yellow tuff volcanic rock.  Years later, Greek settlers built homes into these dramatic rock cliffs above ground and by the 4thcentury BC had created an interconnected series of necropoli where noble families buried their dead.  
Today local cultural organization Celanapoli organizes guided tours of the necropolis, the highlight of which is the Togati, an ancient burial chamber that was only recently rediscovered following the Naples earthquake of 1980.  Although previously used for other purposes (as a cistern from Roman times until the cholera epidemic of 1884 and as an anti-aircraft shelter during the two world wars), this sepulcher dates back to about 2300 years ago, as a burial ground. Its owes its name, Togati, to the finding of a high stone relief representing a man and a woman wearing togas, likely to honor the death of a noble Greek city dweller. To visit, contact Celanapoli for guided tour.  
2) Napoli Sotterranea
Forty meters below the crowded historic center of Naples, you will find Napoli Sotterranea, an ancient series of cisterns that supplied water to the town for twenty-three centuries.  Part of the Serino Aqueduct network, which covers over 140 kilometers, Napoli Sotteranea is one of the oldest cisterns in the world. The fact that it sits directly below a busy urban center makes it all the more remarkable. Throughout WWII, it was also used as an air-raid shelter. Today it is home to the Feeding the Planet Project, an experiment to cultivate fresh vegetable below ground without the benefit of photosynthesis, but protected from acid rain, pollutants, smog and harmful microorganisms. All visits are guided and advanced ticket reservation is recommended with Napoli Sotterranea.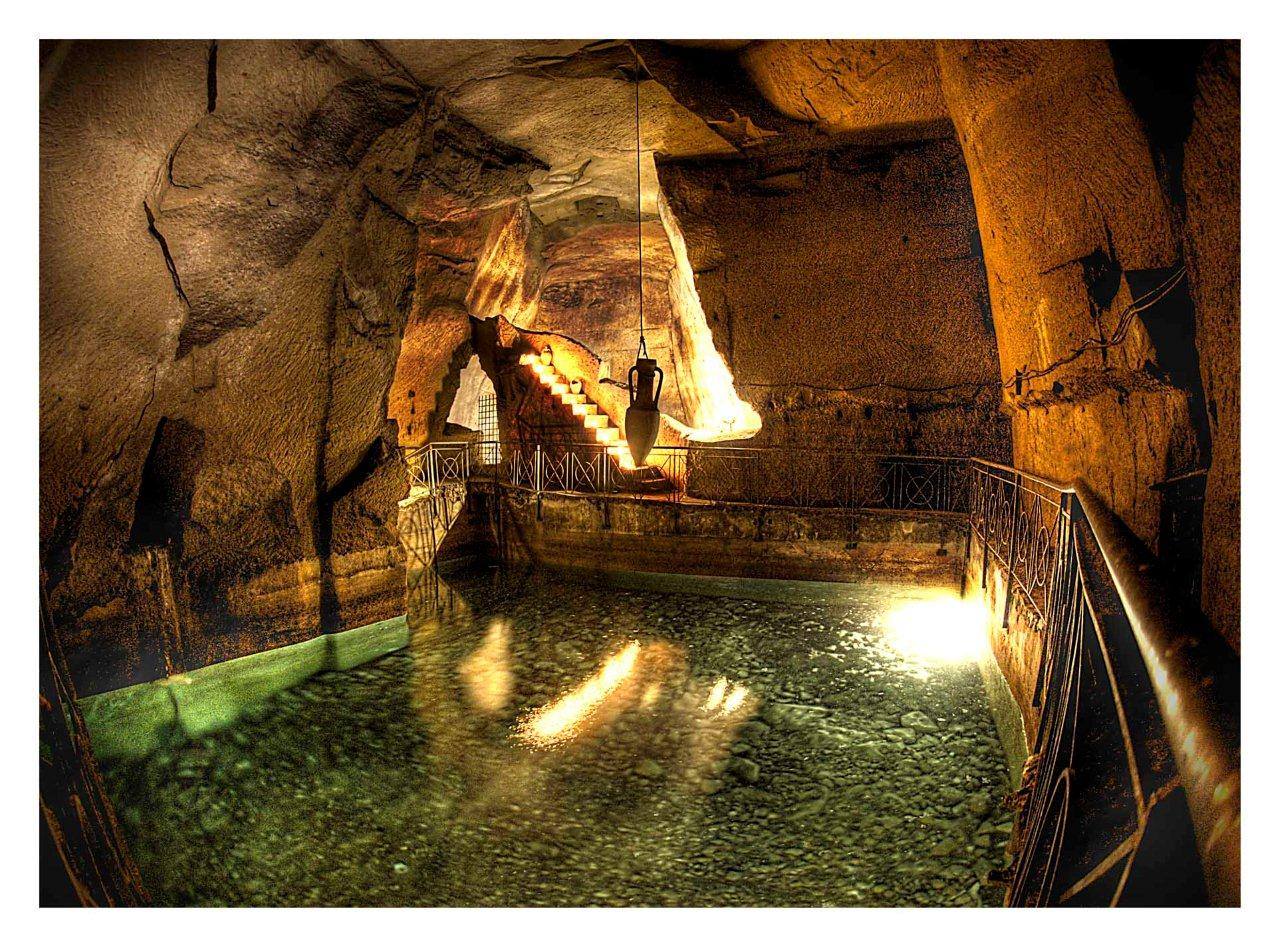 3) Catacombs of Capodimonte 
Early Christian inhabitants of Naples had a rough go of it for several centuries.  Many of them including the town's patron, Saint Gennaro were martyred in the second century AD.  One of the original archbishops of Benevento, Saint Gennaro met his untimely end at the Flavian Amphitheater in the town of Pozzuoli. Early believers collected vials of his blood and secretly hid them for several generations.  This blood now miraculously liquefies every September 19th at the Duomo of Naples.  Saint Gennaro's non hemoglobinous remains hopscotched around Europe for several centuries until they were finally and rightly returned to Naples in 1497. Today you can visit Saint Gennaro as well of the remains of roughly 3,000 other Neapolitans at the Catacombs of Capodimonte. In recent yards the catacombs also offer a generous apericena cocktail hour so now you can get sauced in the salubrious company of Naples' finest martyrs. For full schedule of events and to schedule a guided tour, visit the Catacomb website.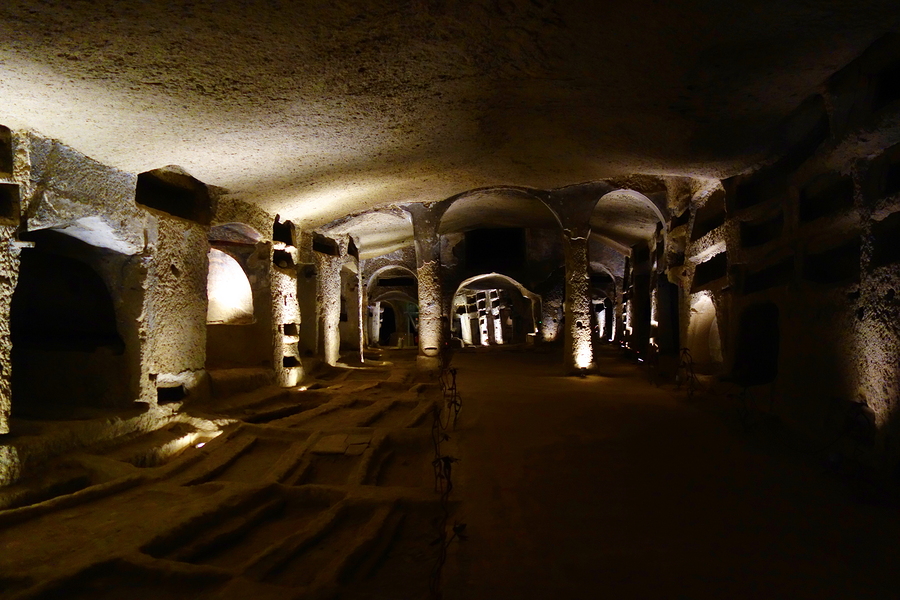 4) Napoli Sottosuolo 
A natural yellow-tuff rock gallery fifty meters below ground, Napoli Sottosuolo has served as secret lodging, cistern and air-raid shelter through out the past four thousand years. According to local legend, a hunch backed munaciello or little monk inhabits the cistern, occasionally venturing above ground through the plumbing system of Naples to furtively steal personal items of the city dwellers. Today you can visit the ghost of the munaciello at Napoli Sottosuolo while also attending a subterranean concert series. The underground acoustics of this gallery are excellent and the Sunday performances of Dante's Inferno are curiously otherworldly. All visits are guided and performance tickets can be booked online.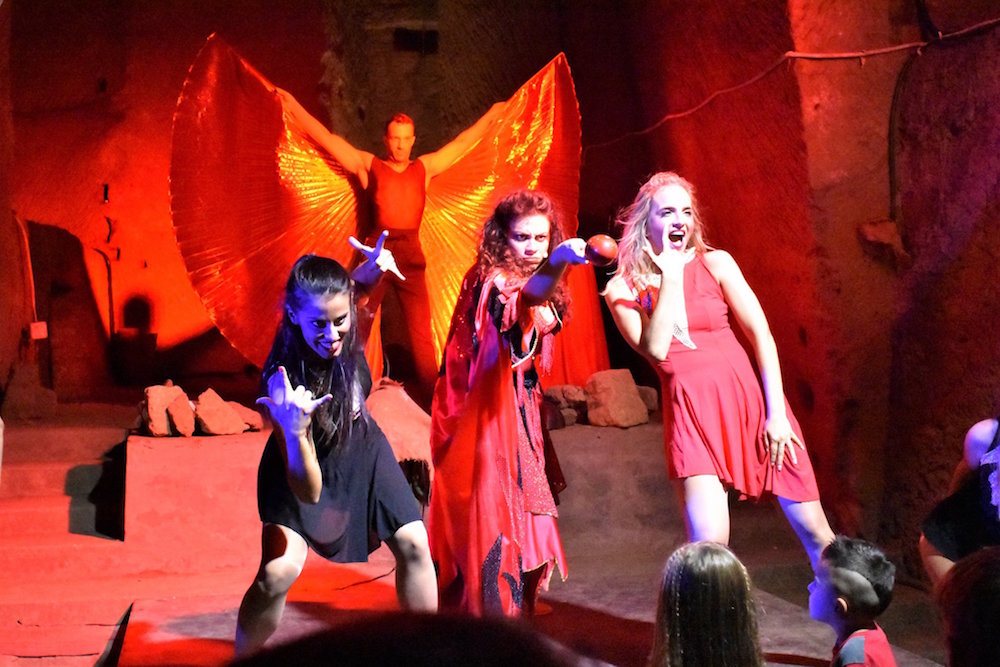 5) Bourbon Galleries 
The final ruling dynasty of the Kingdom of Two Sicilies was the Bourbon family. They famously lived in the Royal Palace on Naples' Piazza Plebiscito, where they also constructed a world-class national library and the San Carlo Opera House. Not just ten years before Italian unification, King Ferdinand II of Bourbon signed a decree by which he commissioned the construction of a series of underground viaducts to join the Royal Palace with Piazza Vittoria, where the Kingdom's military barracks were stationed. Ingenious architect Errico Alvino navigated pre-existing cisterns and the medieval Bolla aqueduct to create a vast underground network of defensive tunnels known as the Royal Road. The purpose of the underground road was distinctly military, providing secret escape and supply routes to the Bourbon armed forces. 
Following Italian unification in 1861, the Bourbon Kingdom and its military would cease to exist less than ten years after the road's initial construction. For years, the Bourbon Galleries, one of the finest civil engineering feats of its time became largely forgotten. The tunnels served as an air raid shelter in WWII. Following the war, the Bourbon Galleries became buried under tons of debris, illegally dumped underground from the end of the World War II until the 1970s, when the Bourbon Tunnel was used as a police car pound. Following a massive renovation project in the 1980s, the Bourbon Galleries were largely restored. Today you can visit this architectural wonder by reserving online.
Like this article? Don't miss "29 Things You Must Do In Naples".