Photo: Renata Scotto, Wikimedia Commons
Italy has always been considered to be the home of opera and because of this has produced many great singers, tenors like Enrico Caruso and Luciano Pavarotti. Piero Cappuccilli, considered by scholars to have been one of the greatest lyric baritones and of course the celebrated mezzo-soprano, Cecilia Bartoli, whose concerts attract opera fans in their thousands.
So continuing with our, Take Five series, this month we shall be looking at the lives and careers of five of Italy's great sopranos.
Brigida Banti (? – 1806)
Mystery surrounds the early life of Brigida Banti; born, Brigida Giorgi in Monticelli d'Ongina, a village in the province of Piacenza, Lombardy. The actual year of her birth is unknown, with opera historians thinking it was between 1755 and 1758.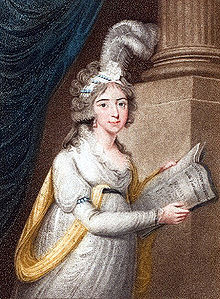 It is said that her singing career started young and she would follow her father, a mandolin player and entertain the public in the streets where they lived. Again there's no real documented evidence that this is true, with the first established fact being that in 1777 she was in Paris, and it was here at this time that her professional career began.
More speculation surrounds this early time with sources claiming it was a meeting with the composer Antonio Sacchini that introduced her to opera, while others believe whilst singing she caught the attention of Anne-Pierre-Jacques Devismes, who later became the Director of the Académie Royale de Musique. Whichever meeting occurred it went on to change her life greatly.
She began singing in Paris and later while performing in London she became engaged to dancer and choreographer, Zaccaria Banti; the pair married in 1779 and although in Italy wives do not usually take their spouses surname she soon adopted his as her own.
She made her Italian debut in 1782 performing in, I Due Fratelli Sciocchi di Guglielmi, at the Teatro alla Pergola in Florence, following this she was hired to sing in private for the Polish king, Stanislaw Poniatowski,
Considering she had no formal training and could not read music, throughout her career she was continuously engaged in lead roles at some of the world's most prestigious theatres, including La Scala, Venice's, La Fenice and London's, King's Theatre, where scandal came in the accusation of her having a torrid affair with the theatre's manager, William Taylor.
While still in demand in Italy and with her voice beginning to fail due to ill health she was forced to retire. Her premature death led to tributes from her contemporaries many of which proclaimed that she had the perfect ear and learned her parts by just listening. Lord Mount Edgcumbe wrote "Her voice was of most extensive compass, rich and even, and without a fault in its whole range. She possessed, an exceedingly powerful voice, with an exquisite timbre and such remarkable flexibility."
Giulia Grisi (1811 - 1869)
Coming from a musically gifted family, Grisi, the daughter of one of Napoleon's Italian officers based in Milan was destined for the stage. Her maternal aunt was an established opera singer, her older sister, Giuditta was also a singer and is credited for creating the 'breeches-role', (a male role played by a female), of Romeo in Bellini's, I Capuleti e i Montecchi.
At the age of 17, Giulia made her debut in, Rossini's, Zelmira, and from early on it was established that she had a pure and unique voice. At 20 she created the part of Adalgisa in, Bellini's Norma. Admired by both composers they took a great deal of interest in her and in 1832 Rossini convinced her to come to Paris and play the title role in his opera Semiramide, and in 1834 she became the darling of the London scene after appearing as Ninetta in, Rossini's, La Gazza Ladra.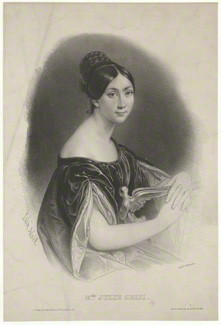 Operatic equals described her voice as having a smoothness and of exceptional beauty and in 1854, she undertook a major tour of the United States of America, where she was treated as major international celebrity.
In 1869, during a family trip to St. Petersburg, Russia, the train she was travelling in was involved in an accident after crossing the border into Germany. She spent her last few days resting at a hotel in Berlin and passed away on November 29.
In total, her career spanned 30 years and during this time she performed with many eminent singers and had parts written specifically for her by many of the world's top composers; one the most famous pieces being the great quartet, I Puritani, by Bellini.
Mafalda Favero (1903 – 1981)
Anyone lucky enough to have heard and privileged enough to see Favero perform would ever forget her, she was a recognised tour de force within opera circles.
At the age of 17, Mafalda who was born in Portomaggiore began studying at the Conservatorio di Musica, 58km away in Bologna and during this time she was spotted by composer, Franco Alfano, who took a great interest in her early career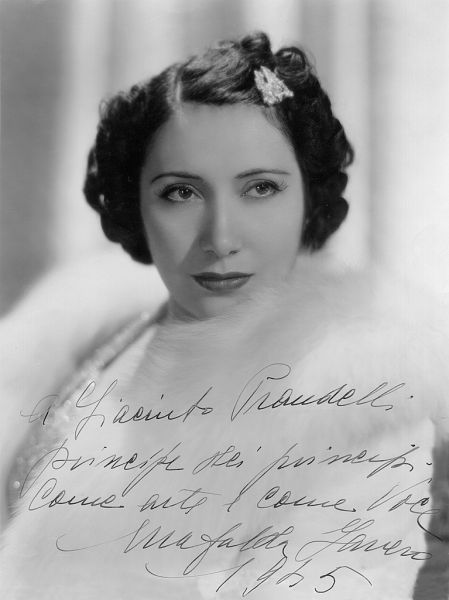 Photo: Malfalda, found via giacintoprandelli.com
She made her stage debut in Cremona at the age of 20 and worked in various locations including the opportunity to take on the role of Liù in Turandot at Parma's Teatro Regio, before she was eventually engaged to perform at La Scala where she debuted singing Eva in Die Meistersinger von Nürnberg.
Favero was a regular at La Scala taking brief trips abroad to perform at venues including the Royal Opera House in London. In 1938 she travelled to the US, but due to worries regarding WW2 she undertook only two performances of La Boheme, playing Puccini's tragic heroine, Mimi.
Favero had an extensive repertoire and it was not just her voice that captivated audiences for she was considered a great actress and a natural beauty and these attributes were said to make her the ideal interpreter of a libretto, and her lavish use of vibrato created a vocal electricity that could be directed from performer to spectator. In fact, Italian mezzo-soprano, Giulietta Simionato once said of Favero, "She gave away a great deal of herself, more than was good for her. But the result was extremely moving."
In fact her passion for her art would be the destruction of her talent. Mafalda was a great lover of the role of Cio-Cio-San in, Puccini's masterpiece, Madam Butterfly and she once remarked, "The role was my ruination. To sing it as I did, giving everything I had and then some, exacted an enormous price. I am quite aware that Butterfly cut short my career by at least five years".
The multi-faceted Favero retired from the theatre in 1954.
Renata Scotto (1934 – present)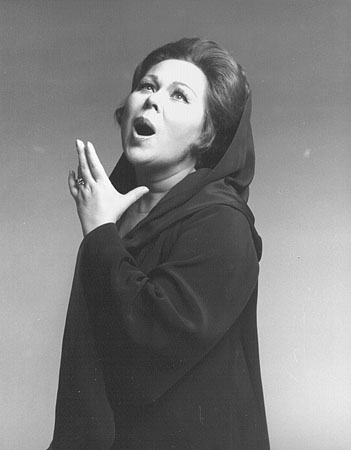 Photo: Renata, credit: operaclick.com
American writer of Demented: The World of the Opera Diva, Ethan Mordden wrote 'Only Scotto takes the trouble to distinguish Adriana from Hélène, Norma from Lady Macbeth. These women are not a chorus; each is different. Why not sing them differently? Scotto is the last of the mad-genius sopranos. When she goes, opera is in a lot of trouble."
Born in Savona on February 24th 1934, Renata Scotto made her opera debut on Christmas Eve 1952 at the age of 18. Playing Violetta in Verdi's, La Traviata, this first public performance took place to a sold-out house in her hometown, the following day she travelled to Milan and at the Teatro Nuovo she reprised the role in her first professional opera debut.
With a career spanning 50 years, it's not surprising that she has worked with some of the world's most eminent singers and directors, has a wealth of awards and a substantial back catalogue of recordings many new singers wouldn't dare to dream of.
In 1953 she had already auditioned and won a place at La Scala, but her international breakthrough came in 1957, when the, La Scala production of, Bellini's, La Sonnambula with Maria Callas as Amina performed at the Edinburgh Festival. Due to its success an additional performance was added to the schedule which Callas declined to perform; stating illness as her reason. 23 year old Scotto covered the role and overnight was declared one of opera's greatest stars.
Throughout her career, Scotto appeared to be tireless, recording television shows with the likes of Pavarotti performing all over the world at the most prestigious of venues and recording numerous albums. She has performed in over 45 roles in operas written by 18 different composers and even now since her retirement in 2002 she has a boundless energy and works a stage director. With credits such as, Madame Butterfly (Metropolitan Opera), La Sonnambula (Catania,) and an Emmy Award-winning telecast of La Traviata among her CV, so it's hard to imagine the world of opera without her.
Laura Macri (1990 – present)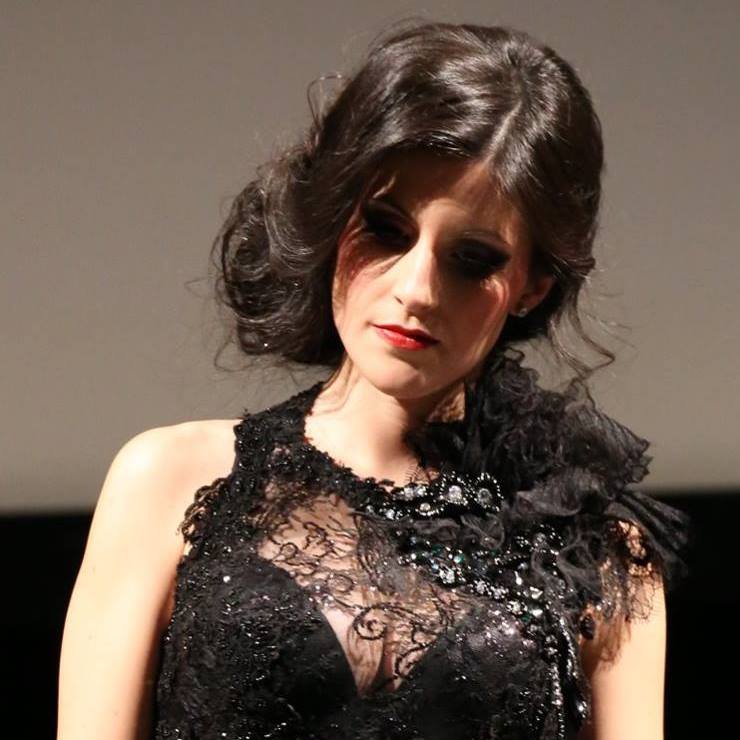 Photo, Facebook, Laura Macri.
The youngest of our five sopranos is also the most diverse. Born in Caltanissetta, Sicily on 29 June 1990, Macri has had a less than traditional operatic career. She began lessons aged 15 after finding a tutor who would help to prepare her for an audition at the conservatorio and after winning a place, four years later she graduated.
Like most singers she auditioned for roles and also entered competitions, after winning first prize in an international competition she continued to study in Paris before taking on roles in opera performances one of which was in, Bizet's, Carmen in 2002 at the Teatro Petruzzelli in Bari.
Macri then became part a four-girl classical crossover group called, Div4s and went on to tour internationally which also included performances with the acclaimed tenor Andrea Bocelli.
Macri is no stranger to the recording studio, in June 2014 she released the single, Ancora una Volta with the follow-up, Viva la Vita released in September with the album, Terra yet to be released.
But perhaps her most diverse work has been with Dutch, death metal band, MaYaN with whom she has recorded two albums and also toured internationally.  When asked if there was any similarity between death metal and opera, Laura has been recorded as saying, "I already thought that the two types of music were similar. The pathos and the atmospheres are similar."