Francesco, 41, is executive chef at Bobadilla Restaurant in Bergamo, and has cooked in some of the most famous hotels in Milan. Three times a year, he and his celebrity chef team visit Chester in the U.K., in order to demonstrate authentic Italian cuisine to English diners. Having recently won the Italian final of the prestigious Global Chef competition, Francesco is looking forward to the European final next year. In Italy's 44-year history of the competition, he's only one of two Italian chefs to do so. In a unique show of expertise, he recently appeared cooking blindfolded, on TV's 'Italy's Got Talent' – which attracted millions of viewers. He is married with two children. 
Congratulations on your success so far with Global Chef… what did it involve?
'Well, winning with my meal of salmon, halibut and langoustines, which will lead me to the final in France, next July. Competing against 16 countries, from the U.S., to Asia, Africa and others, will mean creating within four hours a four-course meal for 12 people… so, no pressure there! Then again, having worked in restaurants from the age of 14, first as junior chef in Rimini, and onto Milan's Four Seasons Hotel, the Principe de Savoia and Forte Crest, you'd think I'd be used to it by now!'
What do you consider makes your cooking distinctive?
'I think my main skill is in making simple, yet special, cuisine; paying extreme attention to detail and the way in which food is prepared, while using local produce. Plus, I've had plenty of practice. From when I was very small, I was found cooking for other people, and seeing them enjoy eating gave me immense pleasure. By developing and understanding this process, I found I had a gift for it.'
How do you think Italian food stands out from other cultures?
'Italian cuisine has the most interesting variety, and the best quality in every regard.'
What is your signature dish and why?
'Risotto is so versatile…eat it with fish, meat, cheese, vegetables, or plain butter.  I think that only a few people know how to cook rice properly – not even the average Italian housewife! Risotto with saffron and grated liquorice is my personal favourite. A bowl of rice is a bowl of rice but there is a specific technique in its best cooking. That alone took me years of restaurant training to achieve. To provide ten tables with ten different preferences in risotto is an art form in itself!'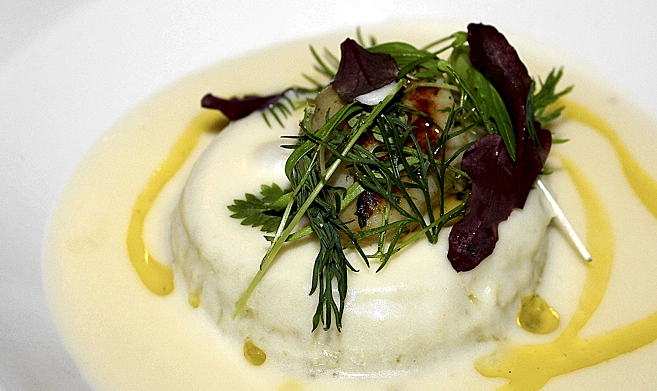 What do you think of food philosophies such as slow cooking?
'Simplicity is key to me. I feel it's important to have a good knowledge of authentic, old-fashioned cuisine, yet at the same time, be aware of all the world food movements. I am definitely more of a food purist. I respect other food cultures and experimentalists - such as English 'food scientist' Heston Blumenthal - but for me, I very much cook from my Italian heritage. My first feeling towards food came from being part of a big family, where the kitchen was the heart and centre of the home. While mum prepared for the family dinner, all us six kids helped out. It was our meeting place.'
Have you noticed any changes taking place in traditional Italian cookery?
'In recent years in Italy, there's been an increase in the average person becoming interested in the cookery culture as perpetrated by TV, on these 'how to' cookery shows. The downside is it can all get a little amateur, and can lead to confusion as in, say, an untrained singer or presenter cooking, and the viewers following their example. Mistakes can creep in.'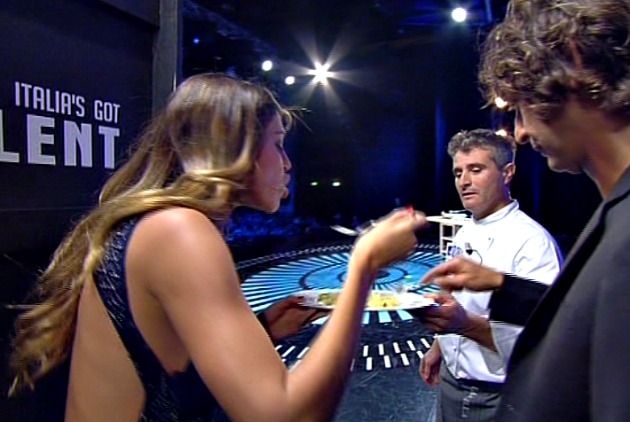 You yourself took part on TV recently on 'Italy's Got Talent' – and incredibly, cooked while wearing a blind-fold. How did that come about?
'Well, I was invited on the show! I have never cooked blindfolded before and I have to say, it was at my son's suggestion, which he says he now regrets sending his daddy to do! Luckily, it was only an omelette, however! When working in restaurants I often go into the cellar and don't need to switch the light on; I know everything by touch. Even in the dark, I can sense whether an onion or courgette is ripe. I can smell recipes when they're ready, rather than having to watch them. I suppose what I did on the show showed my passion regarding my expertise. That said, I don't recommend it and won't be repeating it!'
After a hard day in the professional kitchen, do you enjoy cooking for friends and family?
'The reality's a bit different…even in my own house, I belong to one boss, and that's the wife! In Italy, the general consensus is that no-one can touch his wife's kitchen - not even me. At least we have an understanding in that she is also in the food business: she runs her own local produce in Bergamo.'
What's next on the agenda for 2014?
'Further to opening restaurants in Athens and New York, also opening a cookery store in the 'Big Apple' for Agnelli Pentole. In the New Year, my big U.K. project will be right here at Bollicini restaurant in Chester, England, where all of the kitchen staff already follows my philosophy. Along with my fellow chefs on this latest trip, Gianluca Tomasi and Gaetano Raguni, we agree it's always great fun teaching the English authentic Italian cooking techniques. This time, we demonstrated how to make tagliatelle authentic to Emilia-Romagna, using 1 kilo of flour, and up to 14 eggs, no salt; plus ravioli with beef stock soup, a traditional Christmas dish of the region…finished with chocolate mousse with forest fruits and almonds, typical of Northern Italy. We want to expand the grassroots reality of Italian cuisine here in the U.K., so watch this space!'
Finally, Francesco: your favourite festive recipe for Italymag readers?
'Here's my favourite traditional Christmas starter: Bignè Ripieno con Astice, Burrata e Melanzane Caramellate (choux balls  with lobster, burrata and caramelised aubergine).'