The Italian chef Nadia Santini of the restaurant Dal Pescatore is completely self-taught. Nevertheless, in 1996, she became the first Italian female chef to be awarded three Michelin stars. And, as if that prestigious honor was not enough, last year she was crowned the "World's Best Female Chef". ITALY Magazine has met her.
"I remember that as a child I was always in the kitchen with my mother. While she was cooking, I'd watch everything she was doing. When she made ​​pasta, she did it the old-fashioned way. Eggs were cracked open in a pyramid of flour, and then she began kneading. Afterwards, when we were sitting at the table, I remember how happy I felt eating a well-prepared and delicious meal. Now and again that same feeling of happiness wells up inside me when I sit down at the table to eat."
The Italian chef Nadia Santini reminisces about the kitchen of her childhood. Decades later, 59-year-old Nadia is still in the kitchen surrounded by family whom she holds dear. One might be tempted to think that nothing has changed in Nadia's life throughout the years. Nothing could be further from the truth.  
Nadia, who never studied cooking except at her mother's apron strings, has learned by doing. Through trial and error, she's created the dishes of her dreams. Her diligence and perseverance through the years have paid off. In 1996, she became the first Italian woman to be awarded three Michelin stars. And, even more impressive, she has managed to hold onto the stars for 17 ​​years. A record in Italy. Last year, Restaurant Magazine, which annually publishes the well-known list "The World's 50 Best Restaurants," crowned her the "World's Best Female Chef."
Nadia Santini put aside her rolling pin to chat with ITALY Magazine in her restaurant Dal Pescatore, located in the small town of Runate near Mantua.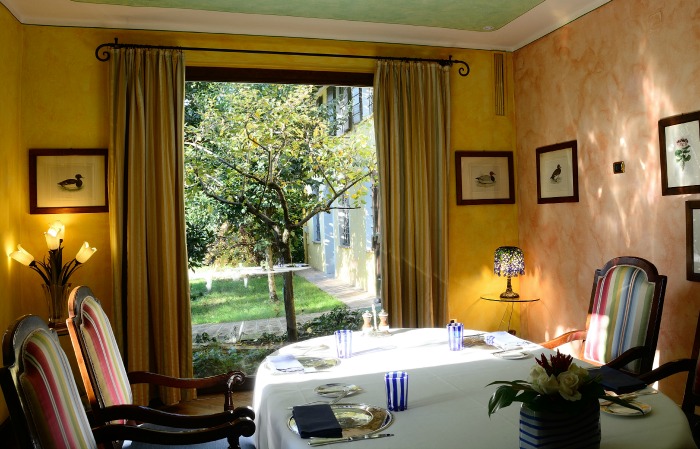 Ristorante Dal Pescatore in Canneto sull'Oglio (Mantua)
Nadia, how did the world's best female chef begin her career?
In 1974, Antonio and I got married. Antonio's family had a restaurant, Vino e Pesce (Wine and Fish). We shared the dream of wanting to create high-quality cuisine. So we decided to take a long honeymoon in France - about a month and a half - where we were fortunate to study French cuisine.
In 1996, you were the first Italian woman to receive three Michelin stars, a notable achievement. What is the key to your success - in three words?
Persistence, equilibrium, and honesty in what I do. And, then, of course, I also have to mention my family. Dal Pescatore is a typical Italian family business. My husband, Antonio, is the manager. In the kitchen, I work alongside my oldest son, Giovanni (who in 2012 received the prestigious title "Future Young Chef," ed.). Giovanni's wife, Valentina, takes care of the guests and so does my youngest son, Alberto, who is also in charge of the wine cellar. And then we must not forget my mother-in-law, Bruna. She is 84 years old and no longer participates as she once did in the kitchen, but she has passed on several local and historic recipes to me.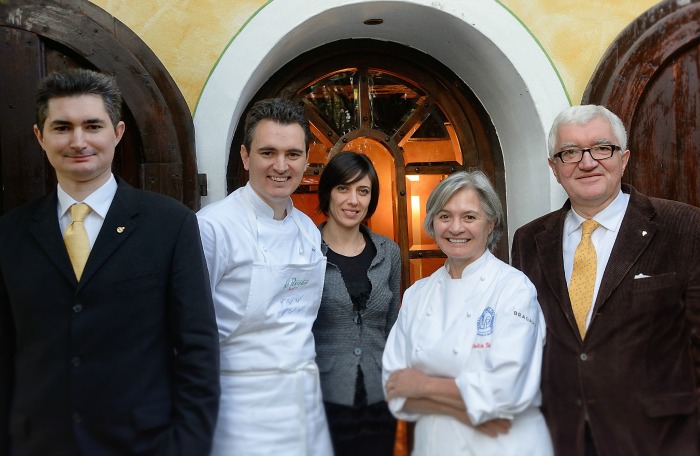 The Santini family
Do you have a secret or a philosophy behind the dishes that you prepare?
I believe that the taste of the dish must speak to the heart of the person who eats it. Taste is more important than aesthetics. The scent of the food and even the sound of the food when you eat it are important because they reveal the quality of the ingredients. Once the famous French chef Paul Bocuse told me, "When you taste a dish, close your eyes and imagine the fields from which the food came. If the land is fertile, the culinary tradition will be conveyed from the fields onto your plate. And you'll taste it immediately. This means that what you are tasting in that moment is the region's culinary tradition." I couldn't agree more.
Chefs often speak about the quality of the ingredients and about the importance of using local products. What is your opinion?
Seasons change and what the earth gives us is extremely important. I grew up in the country and have spent many years living here. This gives you the chance to know, understand, and watch how the animals are bred and the crops cultivated. This is really the knowledge at the core of a chef's work. It's important to have a wide knowledge of the entire food chain - from the farm to the fork. We really must have more appreciation for what the earth gives us. In this period, the pumpkins are at their peak, so this obviously means we will create many pumpkin dishes. And then radicchio salad will be in season and different kinds of truffles and so on. We follow the seasons as they change and at their rhythm. I think in some way we've become slaves to technology and the speed of today's society. We risk losing the philosophy behind nutrition. We must slow down and let nature guide us through the slow changing of the seasons.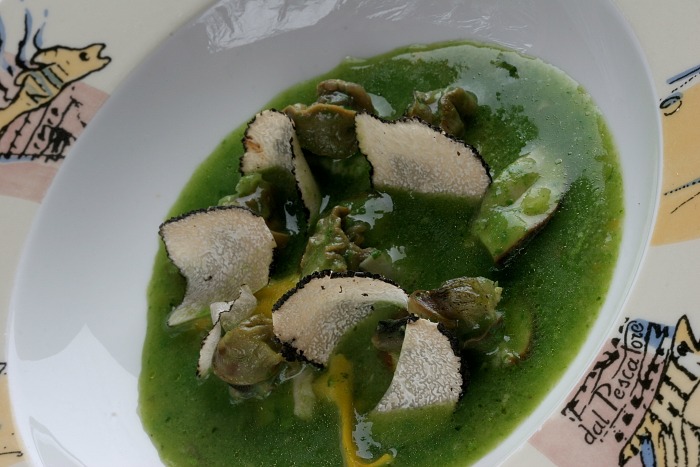 You mention the speed of today's society resulting from new technologies. This speed has also had implications on how our food is prepared. How would you describe the mix in your kitchen between modern and traditional elements?
Well, today a word like 'tradition' almost seems to be a swearword. Nobody likes to speak about tradition, whereas many are focused on innovations. However, we must remember that there can't be innovation without tradition. Tradition means roots. Tradition means respect for what previous generations have created. An Italian sociologist, Costantino Cipolla, has said that "tradition is everything that deserves to be passed on from one generation to another." It's a definition that I really like. Tradition is certainly an important word in my kitchen.
In the Italian press, it's often debated why there are so few women among the top chefs. What do you think?
First of all, I don't think that you can speak about a male kitchen and a female kitchen. I'm in the kitchen with my son who is an excellent cook, and I often learn things from him. You could say that we complement each other. I believe that male chefs are generally a bit more focused on aesthetics, while we women focus more on taste. Remember that the taste we create is a photograph of who we are and our culture.  Generally, I think that female chefs are a little more old-fashioned and a little more romantic compared to our male counterparts.
And then sometimes you'll even find surprising male-female combinations in the kitchen, such as when your mother-in-law, Bruna, cooked with the famous Spanish cook, Ferran Adrià.
Oh yes (smiling brightly, ed.). Some years ago we were preparing our signature dish, tortelli pasta with pumpkin, on the occasion of a Slow Food dinner for more than 100 people. Adrià, who was with us in the kitchen, was adding small pieces of parmesan cheese to the dish, and Bruna wanted him to add more. So she said to him in dialect, "Zo zo..." meaning "come on, add some more!" At that time, Adrià was considered the greatest chef in the world, so it really made me laugh to see that he simply obeyed her without saying anything! (laughing, ed.)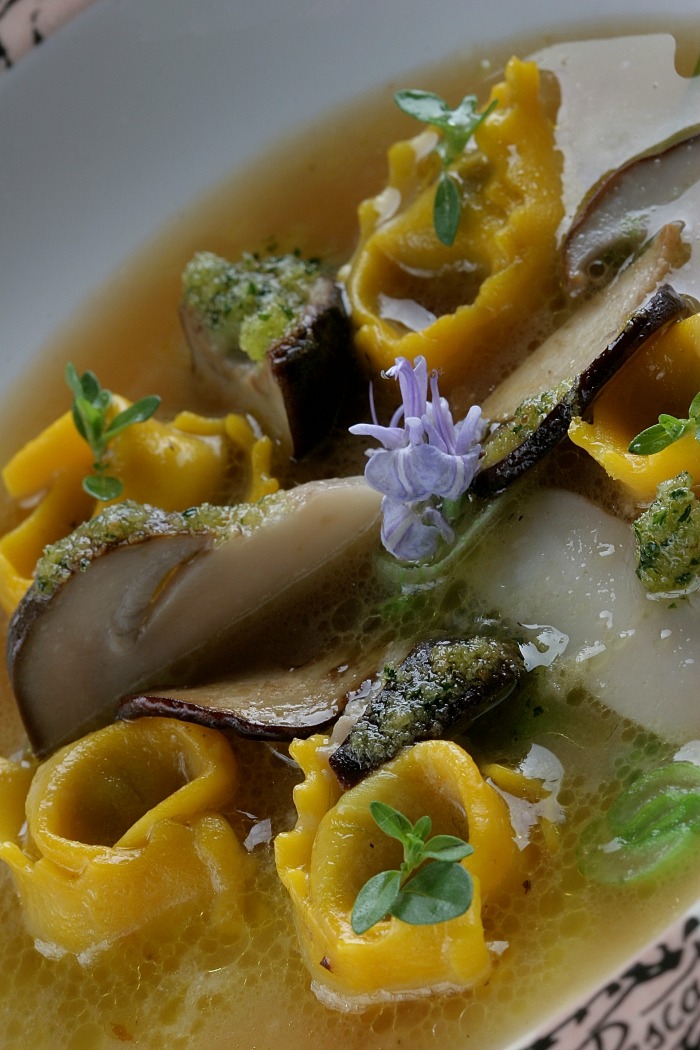 Speaking about the pumpkin, this vegetable is part of arguably your most famous dish, tortelli pasta with pumpkin. Your son Giovanni has said, jokingly of course, that one could perhaps imagine Mantua without its famous St. George's Castle, but not without tortelli pasta with pumpkin...Why is pumpkin so important?
In the area around Mantua, the pumpkin is used in an incredible variety of ways. It's made into crème, used in gnocchi, with pasta, in risotto, and so on. The pumpkin is a perfect example of why tradition and history are so important. It's very popular in our region of Lombardy and in Emilia-Romagna, but it's not used very often in the neighboring region of Veneto. Why? About a hundred years ago, this area was ravaged by a serious plague. The local population was cured by pumpkin extracts, which contain a protein that strengthens our respiratory system. So this shows you that history and tradition are extremely important when we speak about cuisine.
These days programs like MasterChef are highly successful in Italy and in many other countries. What do you think about the MasterChef format?
I know several of the chefs participating in MasterChef Italia. And they are really lovely people. But the show's format is very aggressive. And that's not my style. On TV, these famous chefs seem very serious and arrogant, almost hostile.  But I know that in reality they're not at all like that. MasterChef is a fad that will probably disappear at some point. The tradition and the culture behind eating well, on the other hand, will live on.
What has the title of world's best female chef meant for you?
Oh, it's been fantastic. It has been like a window on the world for me. I have had the opportunity to look out that window, and people from around the world have been able to look in at me. Specifically, it has made me realize how many young people are interested in the culinary arts. I also hope that this title will show women interested in a career in food that it is actually possible for a woman to succeed as a chef in a superb restaurant.
Nadia, last question before you return to the kitchen: where does the world's best female chef go when she wants to eat out?
When I go out with Antonio or with my family, we sometimes make plans to meet with other chefs. We like to pick places that we've learned about through various food guides. What I personally look for in the dishes is a sense of enthusiasm. I also like to see how a restaurant is set up in terms of interior design and atmosphere. And then if there's a small library with books, which is evidence of the importance of culture, that's even better.