Raised in Liverpool by an Italian father and a British mother, novelist Nicky Pellegrino has been immersed into Italian culture and lifestyle since she was a child, when she spent her summers with relatives in southern Italy. Her father instilled in her a love for cooking and Italian food and, even now that Nicky lives in New Zealand, she still enjoys spending time in the kitchen playing with recipes from her childhood. 
Her novels are all set in Italy and are inspired by the stories, people and way of life of 'il bel paese.' 
"I get lots of messages from readers who say they dream of visiting Italy but can't, for one reason or another, and that my books have taken them there," Pellegrino said. "To me that's the definition of success for a storyteller, to take people out of their own lives and to someplace different where they can walk in other people's shoes."
Pellegrino plans to run a small group to Sicily in October 2020 "to bring to life some of the scenes" in her novel "The Food Of Love Cooking School." (For more information, contact Pellegrino via her website, www.nickypellegrino.com.)
Pellegrino's latest novel, "A Dream of Italy," is set in southern Italy, in a "dilapidated medieval town" which attracts a few characters when its houses are put up for sale for €1 in an effort to save it from abandonment.
We talked to Pellegrino about where she gets her inspiration, what she loves about Italy and if still makes sense to talk about "a dream of Italy."
- Can you talk a little bit about your Italian heritage?
My father, Dino, is Italian. He comes from a town near Naples called Giugliano and all of his family is still there - so I have lots of Italian cousins. He moved to Liverpool in the early 1960s because he met my mother (they fell in love in Rome while he was doing his military service and she was having an adventure living there for a while with her girlfriends). Even after all these years my father still feels very Italian and he has been hugely involved with the community in the UK - recently he was made a cavaliere for his services, which was very cool.
- Obviously Italy is the inspiration for your books, but how did/do you pick the subjects/topics for each novel? You wrote 11 of them! 
Ideas are the easy part; it's writing an entire novel that is difficult. I visit Italy as often as I can and get lots of inspiration there but sometimes ideas come from the things people say or the stuff that is going through my mind. My last novel, A Year At Hotel Gondola, came out of thoughts I was having about getting older and how I wanted to be more adventurous rather than less. And my new novel, A Dream Of Italy, was the result of a night with a bunch of girlfriends and one of them mentioning an article she had read about an Italian mountain town that was selling off houses for one Euro. After several glasses of wine, we decided to buy one together. Funnily enough, the next morning it didn't seem like such a great plan but by then I had decided it was a premise for a story.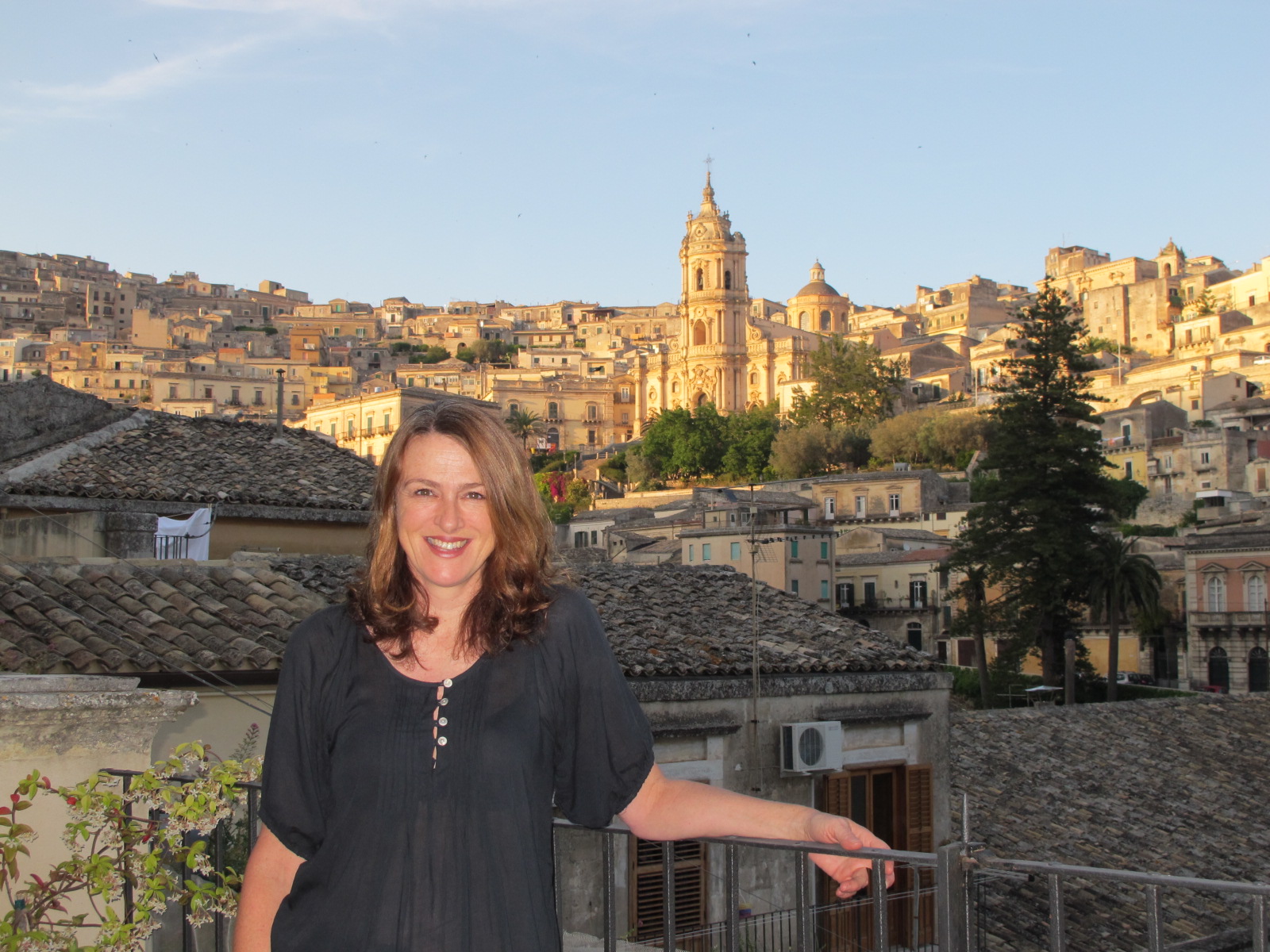 [Author Nicky Pellegrino in Modica Sicily.]
- "The picturesque mountain town of Montenello is selling off some of its historic buildings for just ONE EURO each. The only conditions are that purchasers must renovate their new home within the next three years and that they plan to contribute in a meaningful way to this small community." The central idea behind your latest novel is inspired by actual facts. How did you investigate this current trend of promoting houses to buy in remote villages in southern Italy for €1, and what surprised you the most during your research? 
I read a lot about it and started sending emails to find out if any of the schemes had worked but then I stopped…because a novelist's job is to dream up the story, while a journalist's is to report the facts, and I wanted to approach this purely from a fictional perspective and not let the truth get in the way of invention.
- What do you think of this idea of selling houses for 1 euro to save small towns from disappearing? Is it working? 
I'm not sure how well the one euro schemes are working.  But since writing the book I've come across other initiatives to save  towns from falling into ruin that seem to be going well. One called Santo Stefano Di Sessanio is being restored by a hotel group. And the region of Molise is paying people to go and live in their small towns (less than 2,000 residents) if they open a business there. I guess if these things rescue the historic place, and provide employment for the remaining inhabitants, it has to be a good thing. 
- Food features prominently in all your novels. Where does the love for Italian food come from? Are you a cook yourself?
My father missed the flavours of home so much and when I was a child he took over the kitchen. He asked his sisters to send recipes and then he hunted through the shops for ingredients that were then considered exotic like dried pasta, olive oil, peppers and aubergines. I still cook a lot of those dishes he made when we were kids although they never taste quite the same. I'm pretty obsessed with food. I love to eat and that means I have to cook. I'm not a "Masterchef" though, more of a "throw things together and make them delicious" type of cook. And I love to travel and experience new places through food. In Venice you'll find me at the Rialto market rather than a museum!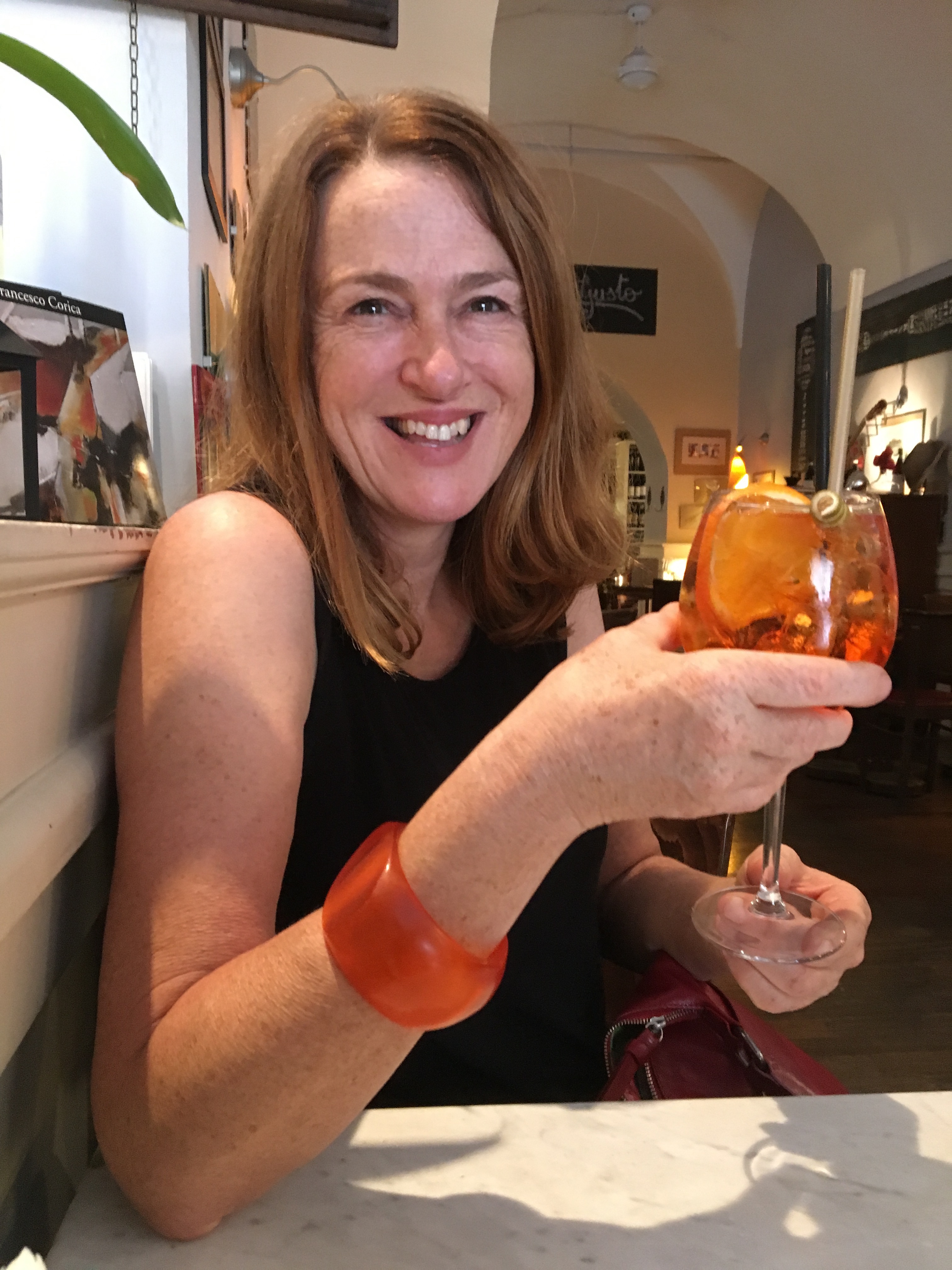 [Nicky Pellegrino enjoying a Spritz in Rome.]
- You're a journalist, you edit a women's magazine, and you write novels. How do you manage to do it all?
I don't edit a magazine any longer but I do combine writing fiction with a lot of freelance journalism. Sometimes when all the deadlines arrive at once it gets stressful and involves too much time sitting on my own in a room staring at a screen. So I try to balance that with lots of activity - walking my dog, riding my horse. And I have a friend who writes children's fiction that I work with at a cafe sometimes which is great for preserving my sanity. Failing that, there is always chocolate.
- What are the aspects of Italian culture and lifestyle you love the most?
I love the diversity. Every region of Italy has its own character, culture, food, often even language and that makes it such a rich and interesting place. Also I love the warmth and generosity I have found, particularly in the south. Once in Puglia we stopped off at a butcher's shop in a small town to find something to put on the barbecue of the trullo we were staying at. I asked if there was anywhere nearby to get vegetables and the guy said, 'follow me' then jumped in his car, led us to the vegetable shop, took us inside and introduced us to the owner. I can't imagine that happening anywhere else. It's slightly insane and totally wonderful, which kind of sums up Italy for me. 
- We often hear of Italy's economic/political woes, high unemployment, brain drain, organized crime, tax evasion, and so forth. Is the 'dream of Italy' still alive?
Every country has its issues - particularly it seems at the moment - and while I don't want to downplay the problems Italy faces, they aren't everything. This is still a unique country filled with natural beauty, history, culture, colour and life. I certainly dream of spending more time there.
- What's Italian culture like in New Zealand, can you find any Italy-inspired shop/event/happening there?
There's quite a small Italian community, but it's lively. In Auckland there is an annual festival with a street party and lots of stalls. There's also a film festival, a Dante Alighieri Society and some great restaurants run by Italians. 
Thanks, Nicky, for taking the time to answer our questions for ITALY Magazine readers.
To learn more about Nicky Pellegrino's novels and to buy them, visit her website, www.nickypellegrino.com.